You might have walked through the Orchid Garden in Singapore's Changi Airport or shopped in LAX's duty-free boutiques, but there's more to these places than their airports. Rather than dashing on to your final destination, a stopover en route can really enrich your experience.
In a couple of nights you can explore the eclectic cultural landscape of Hong Kong or visit fertile valleys north of Muscat. Our specialists have chosen their top picks for a stopover that offers far more than an airport lounge.
Flying via Oman? Spend a few nights in the Jebel Akhdar Mountains
By Kate from our Hidden Beaches team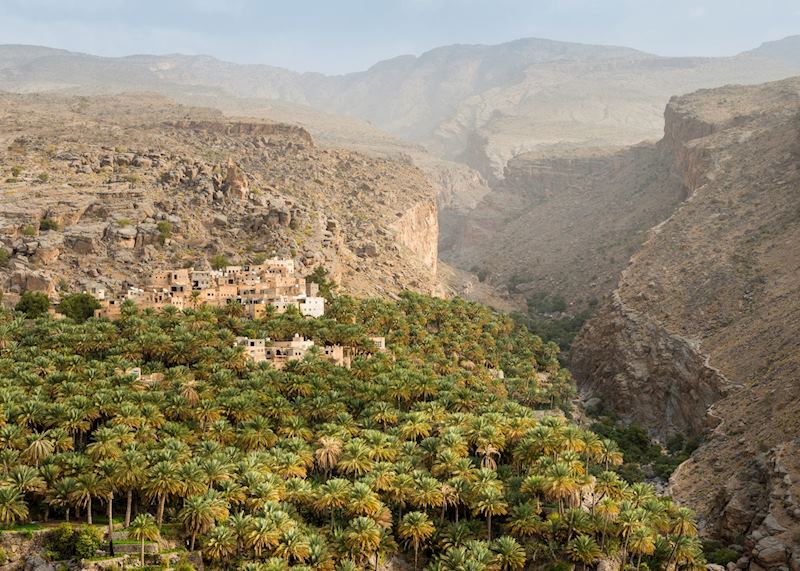 I struggle to decide between the fresh air and dramatic panoramas of the mountains, or the swash of waves breaking on a postcard-perfect beach. By stopping off in Oman en route to Zanzibar, I managed to incorporate both experiences into one trip.
Just a few hours' drive inland from Muscat is Jebel Akhdar, the northern section of the Hajar Mountains. The jumble of sand and rocks that surround Muscat may look devoid of life, but as you drive up the mountain passes, the landscape begins to look more verdant. Jebel Akhdar translates from the Arabic 'green mountains', in reference to the thousands of agricultural terraces cut into the mountainside.
Driving through the region with a local guide, we paused regularly to admire the walnut groves, grape vines and pomegranate trees, their boughs heavy with fruit. The derelict villages of the Bani Riyan Tribe, an Arabic farming people, cling to the side of the valleys. It's possible to visit some of the more accessible settlements where you can walk down the steep pathways to explore the empty houses and old irrigation channels.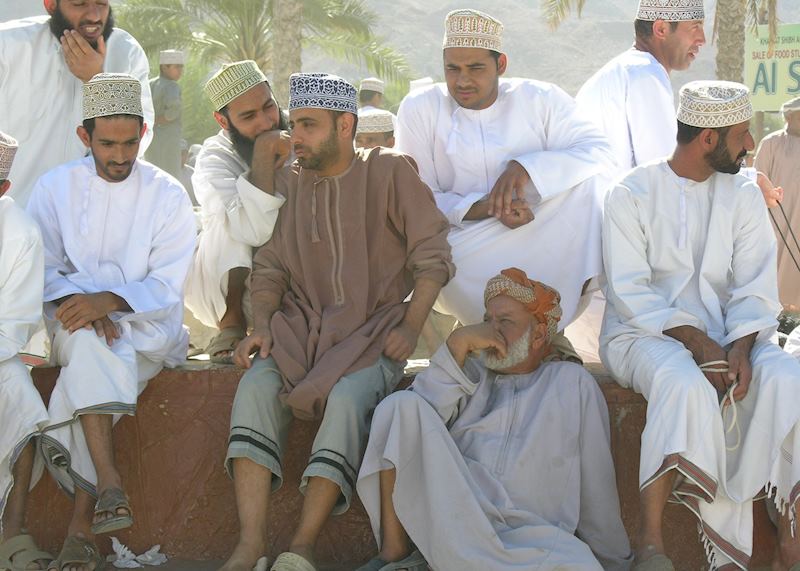 Most locals have re-located to nearby Nizwa, one of the oldest cities in the country. Visit on a Friday and you'll catch the chaotic cattle market, otherwise you can trawl the souqs or visit the 17th-century fort. The men, including my guide, wore long white dishdasha (robes) while the women dress in the traditional abaya (a loose black dress) and headscarf.
A three-night stay in the area before flying onward gives you enough time to see the key highlights as well as to pause and appreciate the scenery. The Anantara Al Jabal Al Akhdar Resort might look a bit like a military base from the outside, but inside it's furnished with glittering chandeliers, carved sandalwood and Omani-inspired archways. The infinity pool is perched on the edge of an immense canyon.
Fly onward to Zanzibar
Once an overseas holding of Oman, Zanzibar was used by the Sultan as a trading port en route to the west coast of India. Sat in the Indian Ocean, it's now part of Tanzania. The island still bears an Arab influence with Omani architecture, busy spice markets and fishing dhows lining the horizon. With uncrowded coral-white beaches, quiet fishing villages and some comfortable hotels, it's ideal for a beach break.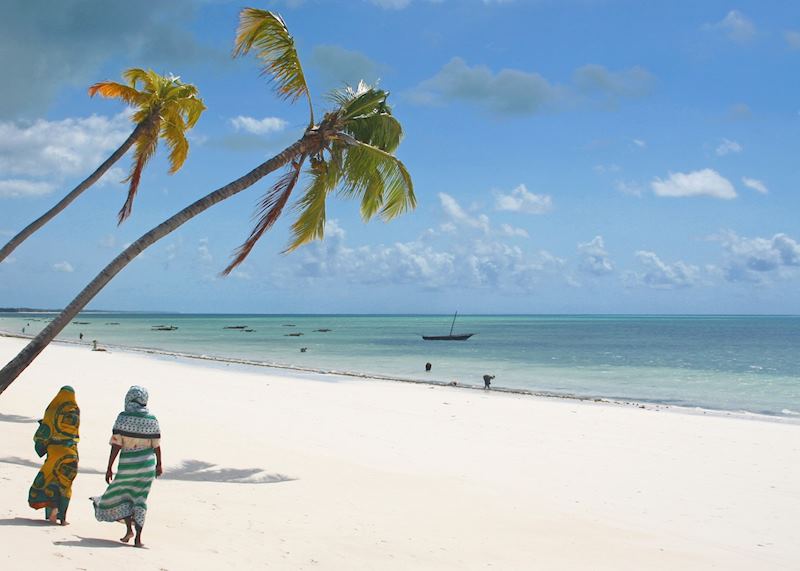 Flights
It's a seven and a half hour flight from London (regional connections are also available) to Muscat with Oman Air. From Muscat, it's a five and a half hour flight onward to Zanzibar.
Flying via Singapore? Get out into the city
By Craig from our Southeast Asia team
Singapore's Changi Airport has just been awarded the title of World's Best Airport at the 2017 World Airport Awards. The free 24-hour cinema, rooftop swimming pool and butterfly garden make it an appealing stop between flights, but Singapore deserves to be a destination in its own right. The city boasts a concentrated wealth of sights and an easily navigable transport system, so you can pack a lot into a brief stay.
In the cool of the morning, I like to visit Little India, a vibrant district located east of the Singapore River. One of the oldest parts of the city, Indian migrants settled here to raise and trade cattle. The livestock are long gone, but Hindu temples, tandoori restaurants and incense-scented shops remain. Join a small group walking tour and, with your guide, sample Indian sweets, explore the markets and meet some of the local shopkeepers.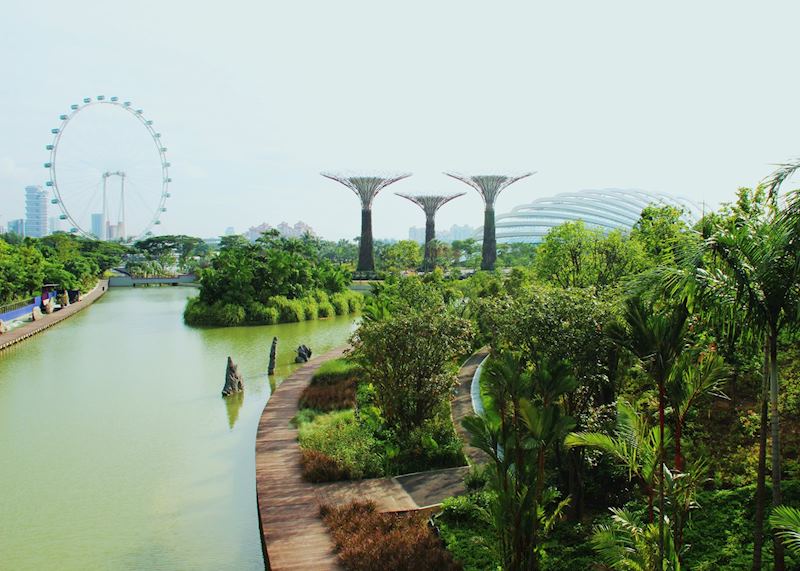 Singapore is warm year round, so to escape the heat and humidity of the afternoon, I suggest exploring the Gardens by the Bay. Two futuristic, air-conditioned conservatories have been built behind the Marina on reclaimed land, and filled with plants from across the world. An aerial walkway cuts through the outdoor space, with views across the Marina Bay skyline.
In the evening, I like to eat at Newton's Food Court, a quick metro ride to the north of the city. With a strong work ethic, Singaporeans usually work late and then meet friends in this huge food court. You can choose from Chinese, Indian, Malay or Peranakan dishes that have been influenced by the city's multicultural history. The chicken satay is a particularly popular delicacy.
If you're eager to continue, Chinatown comes to life in the evening with a lively night market. Shop houses are brightly lit, selling books, herbal teas and Chinese lanterns. You can sit out at a street-side table and enjoy a Singapore-brewed Tiger beer. As the night draws to a close you might want to have a night-cap at the Fullerton Hotel which sits proudly overlooking Marina Bay. This neoclassical building was once home to Singapore's General Post Office and government offices, but is now a luxurious heritage hotel with an infinity pool overlooking Singapore River.
Fly onward to Borneo
Because you can't catch a long-haul flight direct to Borneo you'll need to stop en route and Singapore, only a two-hour flight away, works well. The futuristic, high-rise cityscape of Singapore is a stark contrast to the tangled jungles and rugged mountains of Borneo.
Flights
It's a 13-hour flight from London (regional connections are also available) to Singapore with Singapore Airlines. From Singapore it's then a two-hour flight onward to Kota Kinabalu with Silk Air, Singapore's regional airline.
Flying via Los Angeles? Explore the city's laid-back coastal communities
By Rob from our USA team
Being one of the USA's biggest urban areas, Los Angeles can feel like a daunting place to visit, particularly if you're short on time. But I've found that staying here for just two or three nights can reveal a few different sides to the city.
When you're in-transit, convenience is key, and the coastal community of Santa Monica lies only 16 km (10 miles) from Los Angeles International Airport. I much prefer being by the beach to staying in the busy city, and from here you still have easy access to Hollywood and LA's other attractions.
Having long been a stomping ground for Hollywood stars, Santa Monica is full of beachside mansions, and high-end restaurants and boutiques.
A fitting way to explore is on a private four-hour tour in a restored 1960s Cadillac with a local driver/guide. The distinctive vehicle has room for up to five passengers, and with the top down you'll still be able to soak up the Californian sun.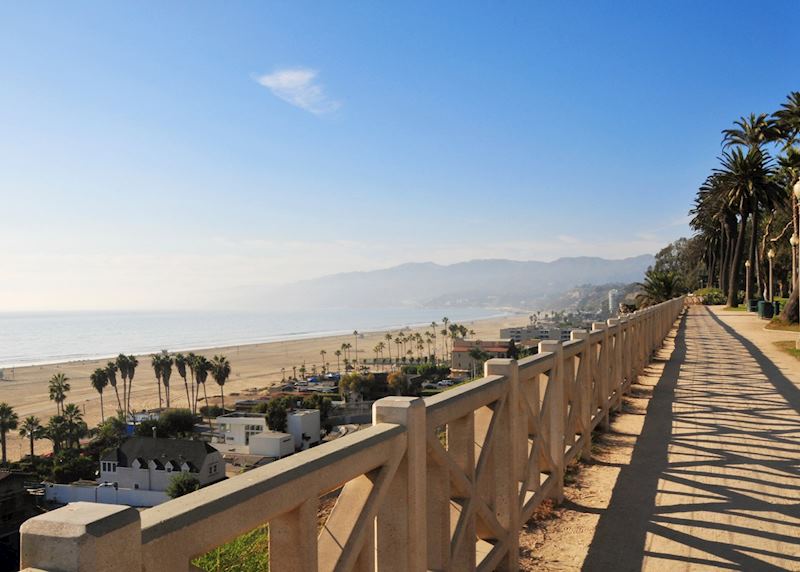 Your driver can take you to the places that most interest you: from the glowing lights of Santa Monica Pier, to the glamour of Sunset Boulevard. Along the way, he or she will tell you about the various sights you pass by and answer your questions about life in LA.
If you'd prefer something a bit more active, I recommend joining a guided electric bicycle tour, taking in both Santa Monica and nearby Venice Beach. The 500-watt motor will take over when you don't want to pedal, as you follow the cycle path that runs along the shoreline.
We stopped at Muscle Beach to pose for photographs with bronzed bodybuilders, before cycling to the Venice Canals built to replicate those found in the Italian city. You're also able to experience the laid-back atmosphere of Venice Beach, home to surfers, skateboarders and artists.
Fly onward to French Polynesia
Far-flung French Polynesia is a whopping 33-hour journey from the UK, so it's almost essential to make a stopover en route. LA works well, contrasting the island experience with a city stay. Once in French Polynesia, domestic flights make it easy to island hop.
Aside from all the water-based activities you'd expect, like snorkelling, paddle-boarding and kayaking, heading inland, Moorea's forests hide old temple ruins where sacrifices once took place. Bora Bora's US military history is evident in its World War II bunkers.
Flights
It's an 11-hour flight to Los Angeles from London. Heading onward, French Polynesia is an eight-hour flight away with Virgin Atlantic. You fly into Tahiti, the largest of the islands. From there, you can catch domestic flights to Moorea, Bora Bora, Huahine and the Marquesas Islands.
Flying via Hong Kong? Visit night markets and fishing villages
By Kara from our China team
With its mixture of Chinese culture and European influences, Hong Kong makes a good introduction to the Far East. It's definitely one of the cities I most enjoy visiting, where cosmopolitan bars and Michelin-star restaurants are found alongside traditional markets selling everything from electronics to jade-stone good-luck charms.
The city is an excellent stopover destination en route to Australasia. It's surprisingly compact and easy to get around, with the efficient, air-conditioned MTR (Mass Transit Railway) system able to zip you between different districts. The Airport Express line also means you can stay almost anywhere within Hong Kong and still be within a short distance of the airport.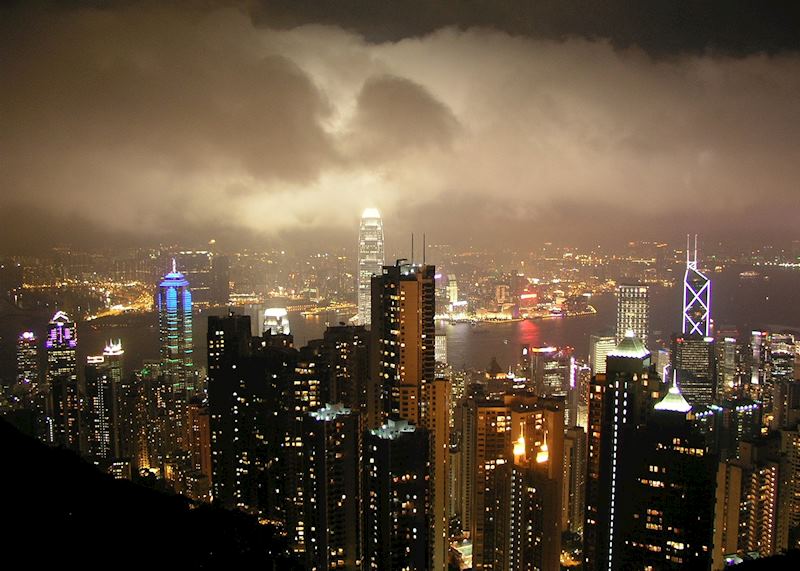 I recently stayed for three nights, which gave me enough time to explore both the neon-splattered city streets and take a one-hour ferry ride over to Cheung Chau, one of the 260 outer islands, with a local guide.
On many of these islands, a more traditional way of life resumes. You can visit tiny fishing villages where people live in stilted houses raised over water. Forests provide hiking and wildlife-viewing opportunities, and you can dip your feet in the sea from quiet sandy beaches.
Back in the metropolis, you can browse the many shops and markets. Temple Street Night Market is one of the best, a vibrant snapshot of Chinese culture as you pass the stalls of traditional herbalists, fortune-tellers and jewellers. Afterwards, enjoy some dim sum or cocktails in a rooftop bar overlooking the city skyline.
For an even better vista, take the Peak Tram up to the island's highest point, Victoria Peak. Not only will you get to travel on the world's steepest funicular, but once at the top you have panoramic views over the entire city and the surrounding forested hills.
Fly onward to Australia
Everyone heading to Australia gears themselves up for the long flight ahead of them. Stopping off at Hong Kong for a couple of nights makes the journey much more manageable, and adds a different flavour. Whether you're flying to Sydney or Melbourne, you can easily travel on to anywhere else in the country, from the Great Barrier Reef to the remote national parks of Tasmania.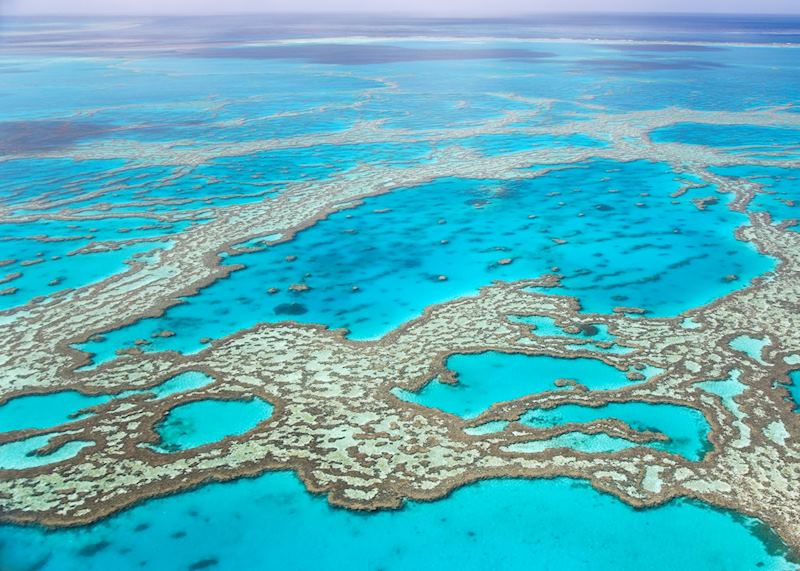 Flights
It takes around 12 hours to fly from London to Hong Kong. After spending two or three nights in the city, you can catch a nine-hour flight to Sydney or Melbourne with Cathay Pacific. Flights to other Australian cities are also available, with varying flight times.
Start planning your stopover
Kenya and Zanzibar Archipelago

Australia and New Zealand
Start thinking about your experience. These itineraries are simply suggestions for how you could enjoy some of the same experiences as our specialists. They're just for inspiration, because your trip will be created around your particular tastes.
Further Reading