The Seychelles plus Sri Lanka; the Maldives then Singapore? Our beach holiday specialists have eschewed the obvious to suggest some trips that use unusual pairings of destinations to combine time on the coast with contrasting culture.
A tranquil island pairing: Sri Lanka and Ko Samet, Thailand, by Matt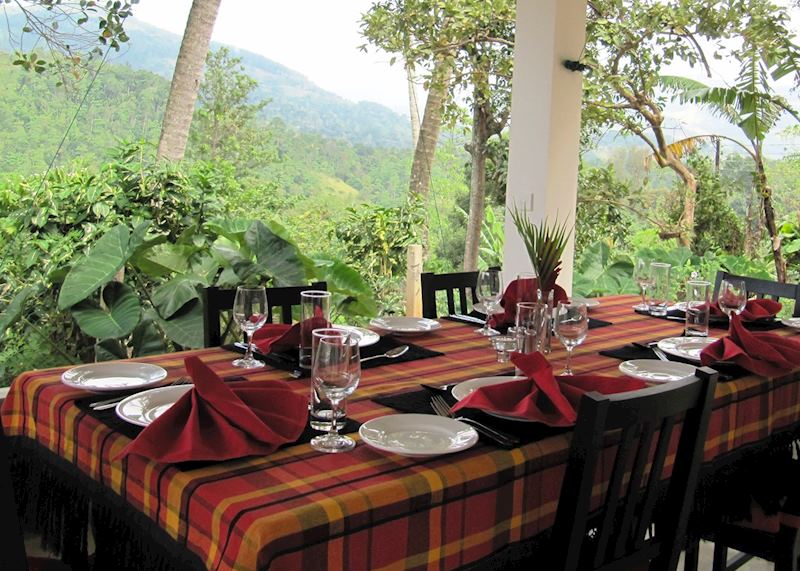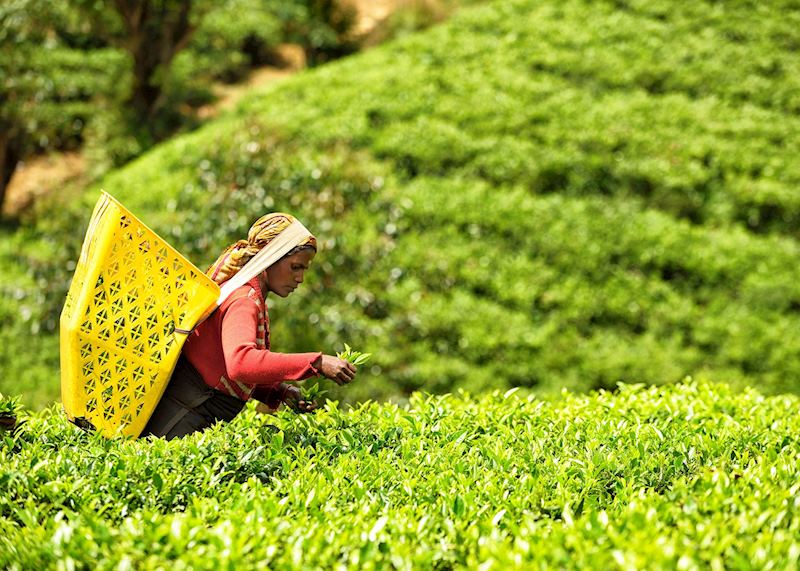 Adventure doesn't have to be exhausting. If you're looking for a relaxing destination to complement your Thai beach stay, I suggest a stay in Kandy, the gateway to the sheer mountains and mist-covered tea plantations of Sri Lanka's hill country. Flights run daily from Colombo direct to Bangkok.
Just a three-hour drive from Colombo airport brings you into the geographic centre of the island, from which Kandyan kings, followed by colonial entrepreneurs, once ruled the island. There's still an aura of authority here, thanks to the presence of neo-Baroque colonial buildings and the Temple of the Tooth, the country's most revered Buddhist shrine.
Up in the hills above the city is the Ellerton, a cluster of whitewashed plantation bungalows that have been converted into a boutique hotel. Airy lounges furnished with plush sofas and coffee tables piled with books — not to mention the warm welcome — make you feel like you're staying with friends.
If you're feeling active, you can hike along the walking trails that surround the resort (there's a hand-drawn map in each room). I toured the nearby Orange Field Tea Factory where my charismatic guide, Sebastian, explained the tea process from bush to bag.
For a more relaxed trip, you can spend your days indulging in tea and cake on the veranda or swimming in the infinity pool, which overlooks an untouched jungle valley.
Onward to Ko Samet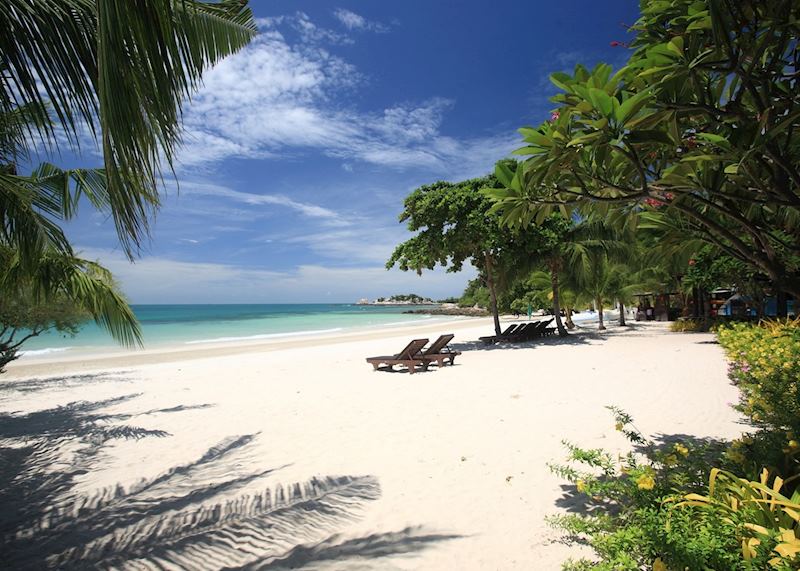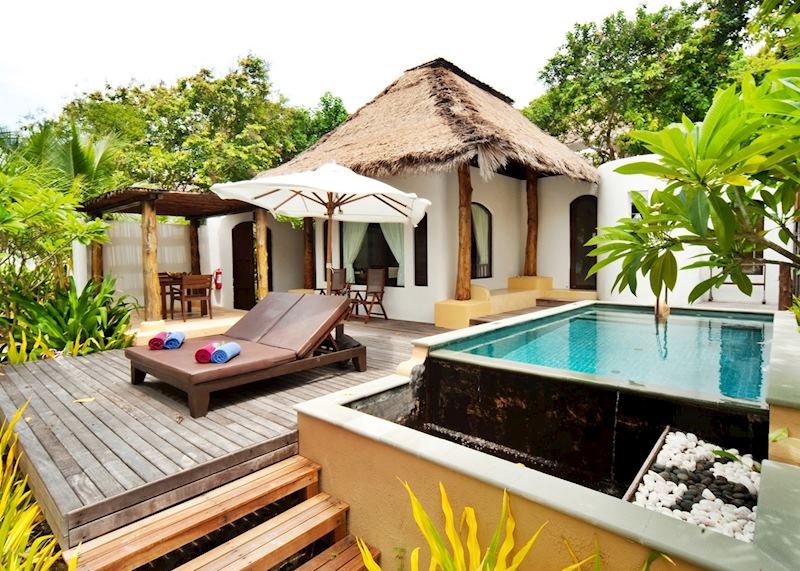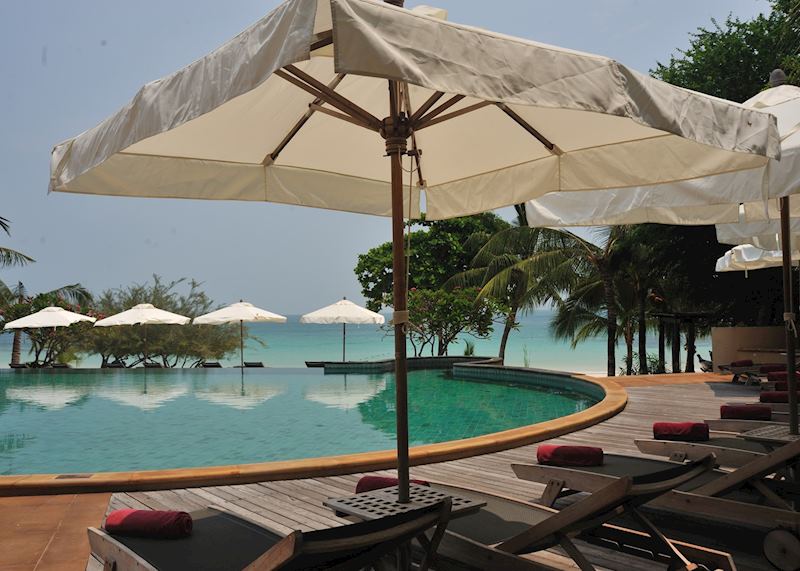 Paradee Resort's remote location on the island of Ko Samet gives it the feel of a private island. A solitary island in the Gulf of Thailand, Ko Samet is just a two-and-a-half-hour drive through the Thai countryside from Bangkok airport. It's then a 20-minute speedboat ride straight into the resort.
As I arrived at the resort the staff, including the chefs, lined up to welcome me: I felt like royalty. There's a real attention to detail here, right down to the hand-selected toiletries (you're asked for your favourite scents before arrival). Aside from the pool there are few facilities — this is a place to lay back and relax.
Located on a secluded section of coastline, the 40 individual villas are nestled between the palm trees. I prefer the garden pool villa, which comes with more space than you'll know what to do with, including a sala (an open-air dining pavilion) for private meals and a private pool.
The ultimate contrast: Maldives & Singapore, by Vicki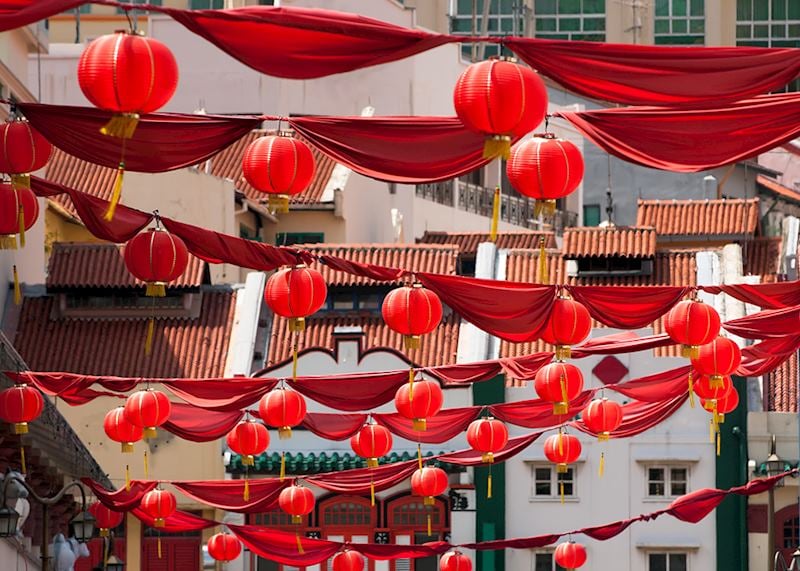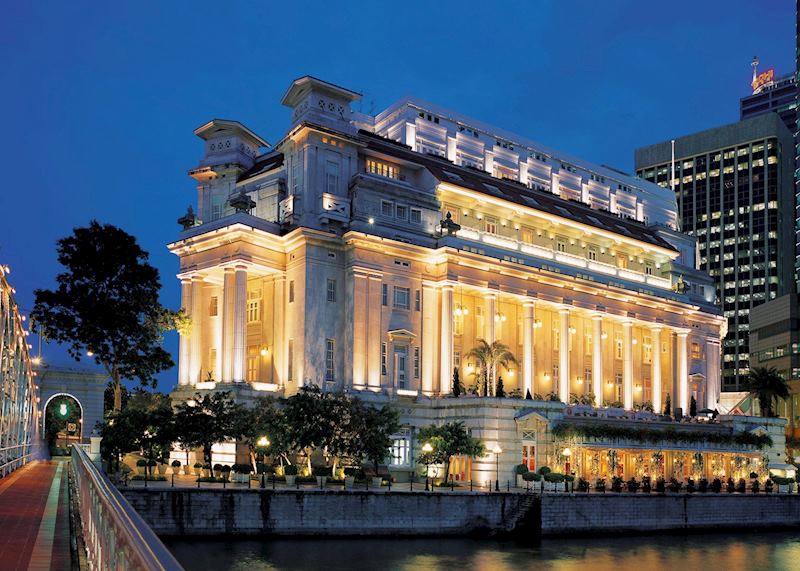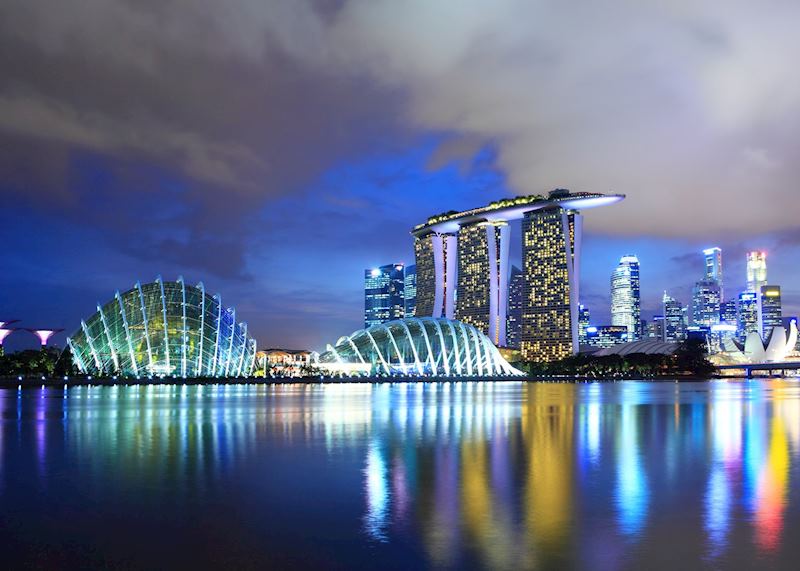 On a recent trip, I ate breakfast crammed elbow-to-elbow with my fellow diners in the chaotic fervour of Singapore's Chinatown. A few days later, I was indulging in a candlelit tasting menu on a private patch of Maldivian sand. The excitement of a busy city followed by a languid beach stay is one of my favourite combinations, one that's made easier thanks to the daily direct flights from Singapore to Male.
In Singapore I opt for the Fullerton Hotel, located between the grand museums and civic buildings of downtown and the ultramodern architecture of the marina. The Fullerton has been part of Singapore's skyline since 1928, commissioned as part of the British colony's centenary celebrations. Originally housing the city's administration offices and post office, the neoclassical pillars and cloistered ceilings have been carefully conserved.
With a slick transport system, it's easy to get around on the city's network of monorails, subways and buses. Start the day in Chinatown and you can enjoy a fresh cup of kopi, a full-bodied coffee with a subtle caramel-like sweetness that fuels most of Singapore. I admired the district's pastel-fronted shophouses and incense-filled temples, many of which date back to the 19th century.
My highlight of Singapore is the Gardens by the Bay, a creatively landscaped area of reclaimed land in Marina Bay. Like a garden from a science-fiction novel, Supertree Grove is a glade of metal trunks planted with bromeliads, orchids and ferns. You can walk along a skyway that connects their upper boughs for views right across the gardens to the two vast conservatories. (They are air-conditioned, so I like to visit midday for a respite from the heat.)
Onward to the Maldives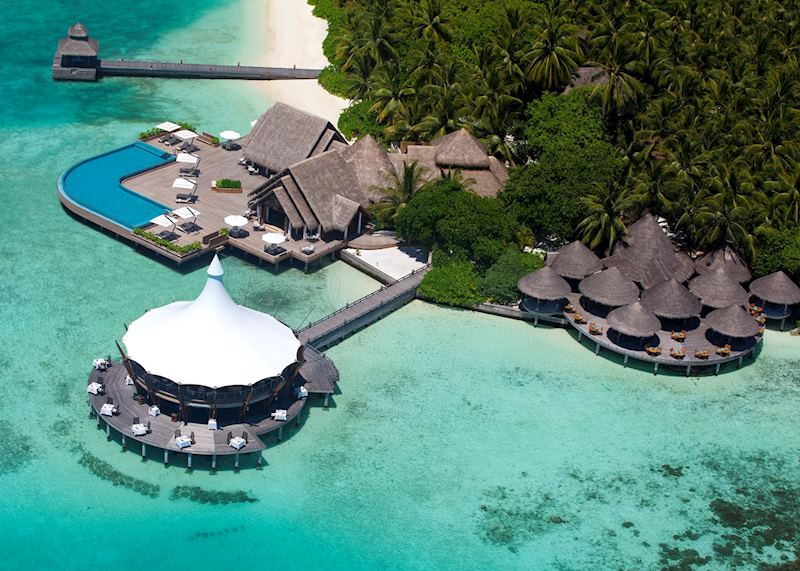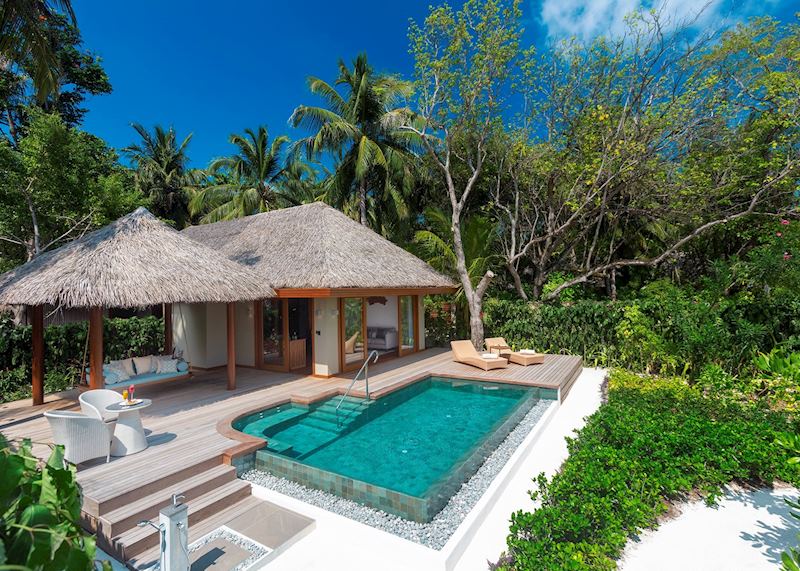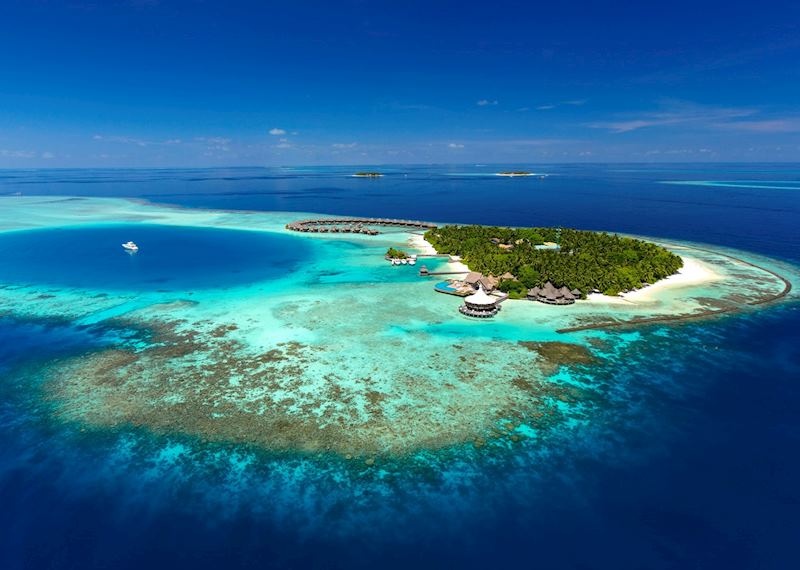 After the sprawling metropolis of Singapore, it felt liberating to catch my speedboat across the open ocean to Baros, after a direct flight from Singapore to Male. Opened in 1973, Baros is one of the oldest resorts in the Maldives. With 34 years of experience, it's hard to find another resort that's so well run and their complement of long-term staff gives the island a community feel.
The island has won awards for its extravagant dining experiences, from breakfast on your own private sandbank to a sunset dinner on a dhoni (a Maldivian fishing boat). Book a table at the overwater Lighthouse restaurant and your dinner will be cooked on a grill next to your table: my lobster bisque was flambéed right in front of me.
While the overwater bungalows are popular, I'd choose a beachfront option as you have more privacy, and get your own loungers on the beach. In the early morning you can watch the dark shadows of the black-tipped reef sharks coming in to feed and if you're lucky, a few of the resident turtles. The marine biologist at the resort's Marine Centre explained that the pattern on each turtle's face is like a thumbprint. She could tell me the name and age of the turtle I'd spotted just from a photo I'd taken.
Honeymoon with a taste of adventure: Sri Lanka and the Seychelles, by Lucy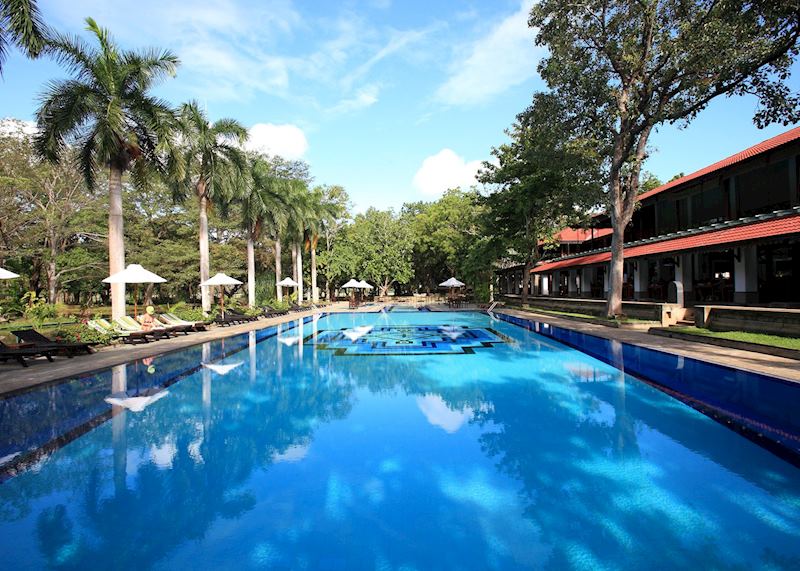 I find that many honeymooners are after a secluded tropical escape, but often look for an experience that offers more than a well-placed lounger to flop on. Combine the cultural highlights of Sri Lanka with the jungle trails and snorkel spots of the Seychelles, and you're unlikely to get bored.
Cinnamon Lodge is a low-rise complex of sleek lines and pillars which nod to the influential Sri Lankan architect Geoffrey Bawa. A four-hour drive past neat paddy fields and banana plantations from Colombo Airport, the lodge is within Sri Lanka's Cultural Triangle. Once the heart of the powerful Singhalese kingdom, the region is peppered with the civilisation's legacy of temples, forts and monasteries.
Three nights at Cinnamon Lodge is enough time to see the area's highlights. Sigiriya is an outcrop of sheer rock protruding from the surrounding flatlands. On its summit are the remains of a fifth-century royal palace and fortress, reached by an imposing rock staircase. Originally parts of the climb to the summit involved precarious hand-holds carved into the rock, but these have now been replaced with sturdy metal ladders.
Almost every rock formation on the surrounding landscape bears the remains of a cave temple or shine. The Dambulla Cave Temples boast the most vibrant and skilled artwork. Tour the area with a chauffeur-guide and you can explore as many sites as you wish.
Onward to the Seychelles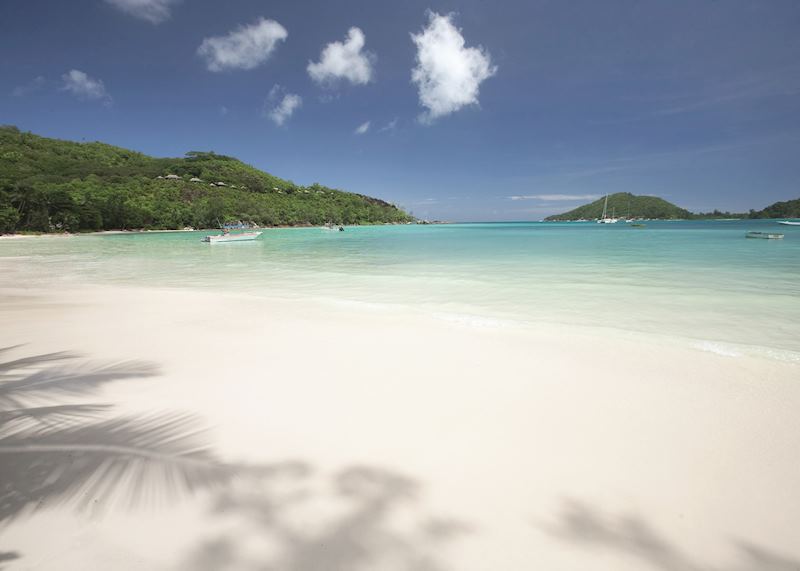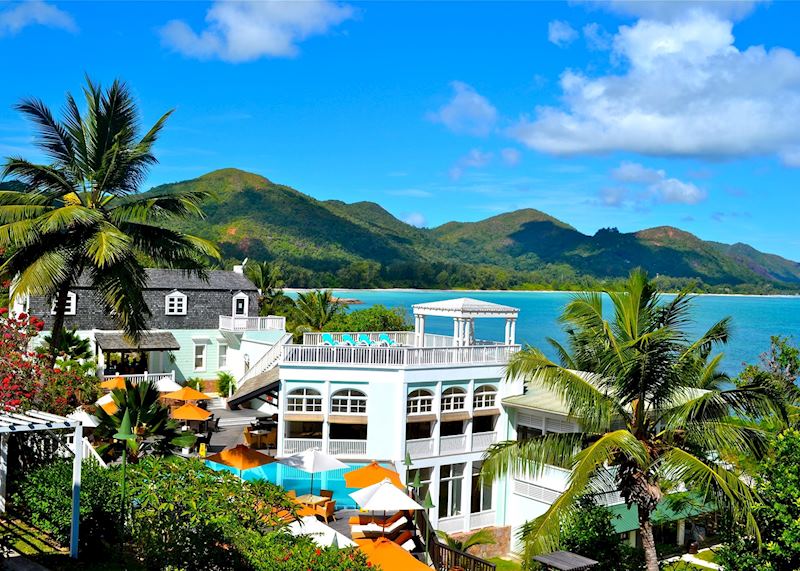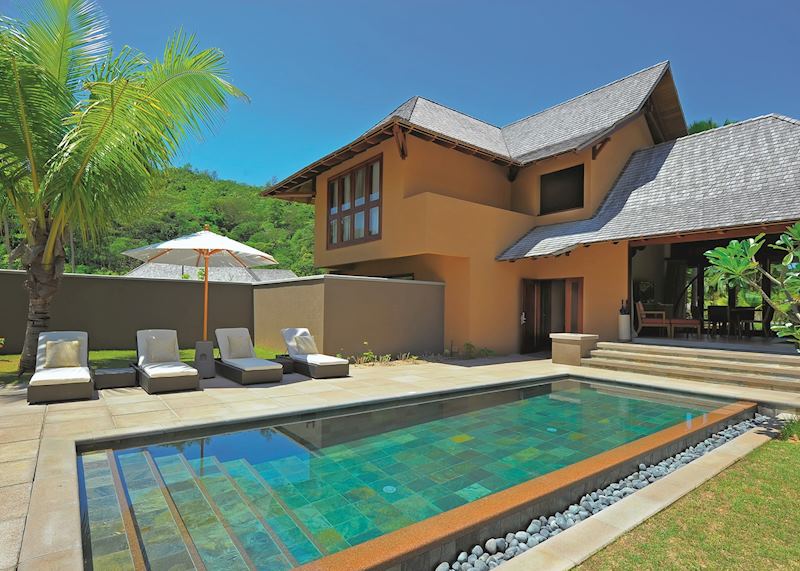 A direct flight from Colombo brings you Mahé, the Seychelles's largest island. The Constance Ephelia hotel straddles a peninsula between two aquamarine bays, backed by the Morne Seychellois National Park. Honeymoon couples will be pampered with in-room gifts, as well as a menu of specially designed experiences to choose from (oenophiles should try the well-informed private wine tasting).
The secluded beach villas have their own pool and sunbeds, which were so comfy they encourage complete idleness, which I found difficult due to the amount of activities available. The national park offers a plethora of activities from guided hikes along jungle trails to zip-lining through the tree canopy. Snorkelling, windsurfing and kayaking equipment are complimentary at the water sports school.
To up the adventure levels, consider island-hopping to Praslin, a scenic twenty-minute flight away. L'Archipel looks out across Curieuse Island Marine National Park. From the hotel's quiet cove I snorkelled among shoals of shimmering angel fish, hawksbill sea turtles and a pair of whale sharks.
Wildlife encounters: South Africa and Muscat by Ludo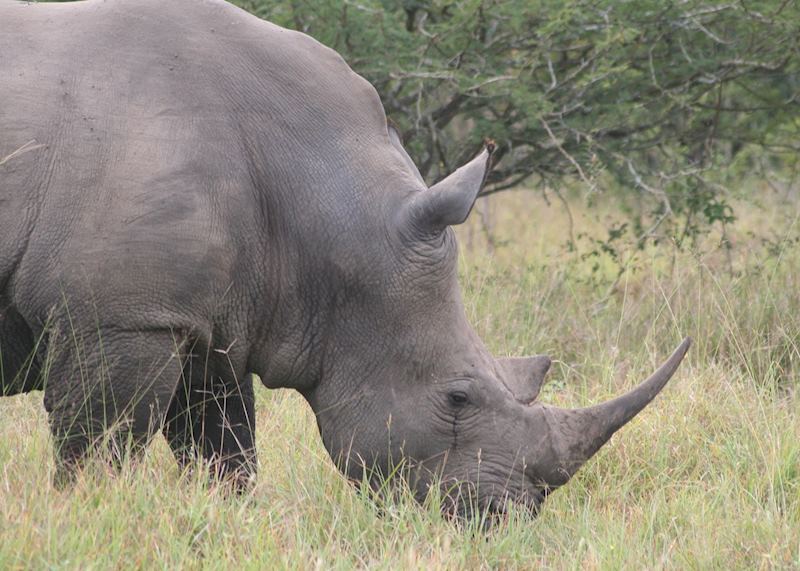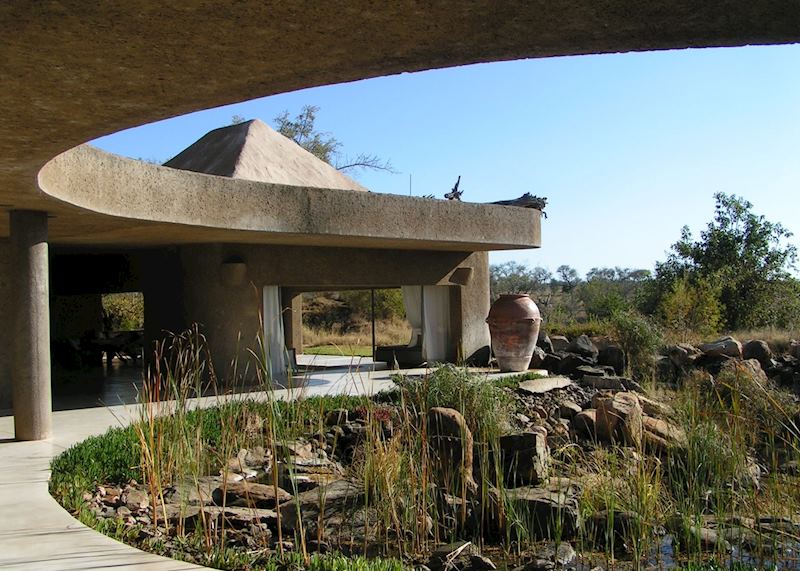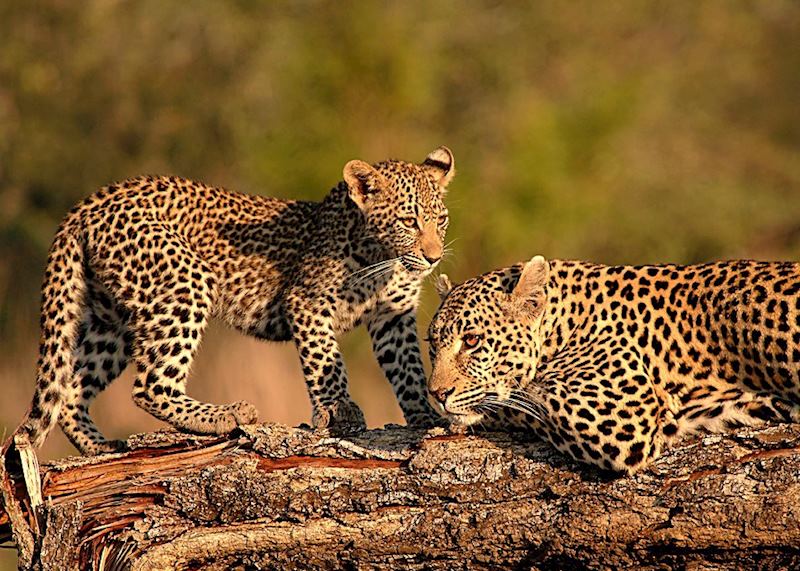 For a well-rounded wildlife trip, try a few nights' spotting game in a South African reserve before seeking out the marine life around Oman. This unusual pairing allows you to embark on a variety of wildlife experiences as well as time on an exotic beach.
The private game reserve Sabi Sands sits adjacent to Kruger National Park, one of the largest game reserves in Africa. Across its grazing land and low-rise bush, you'll find the hallowed Big Five. From Johannesburg, it's a short light aircraft flight to Skukuza Aerodrome, followed by an hour's drive. Private reserves may be pricier, but with far fewer jeeps and more experienced guides, a unique animal encounter is far more likely.
I suggest a three-night stay at Earth Lodge, a luxurious ecolodge, for the optimum experience. The lodge looks like it's straight from a luxe lifestyle magazine, with huge suites of contemporary furniture and artwork by a local-born sculptor. I dined alongside grazing elephant and soaked in my private plunge pool as an impala passed by.
Your stay includes twice-daily game drives, guided bush walks and night drives, all led by trackers who really know their stuff. During my stay we saw hyena scuffle, a leopard drag an impala off into the bush and a pride of lion dozing in the afternoon sun. One morning, my jeep driver switched off the engine, letting me sit and watch a group of rhino, listening to the squeaks of the babies and the bellowing adults.
Onward to Muscat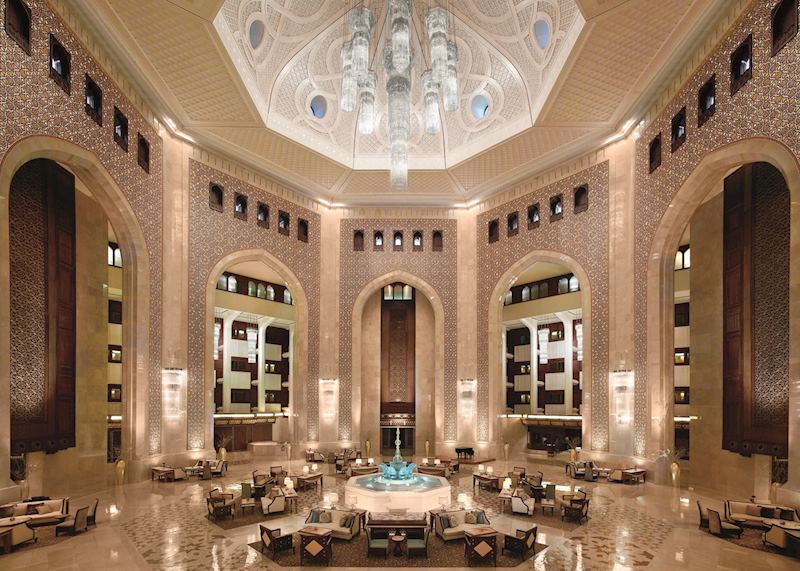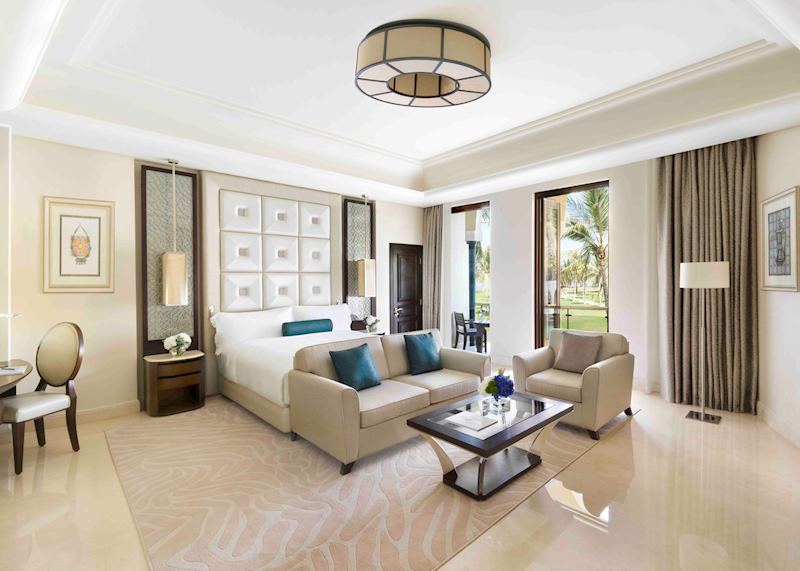 On flying into Muscat from Johannesburg, the arid red landscape doesn't look promising after the fertile South African soil. However, the Omani coast shelters a healthy array of coral, which attracts a diverse variety of reef life. You can often glimpse dolphins frolicking off the coast and, if you're there between July and October, you might see nesting turtles.
Al Bustan Palace is built on a private beach just a 90-minute drive from Muscat Airport. With mirrored domes, marble muqarnas (a traditional vaulted arch) and walls of geometric tiling, you won't forget you're in Oman. There's a large pool and the efficient service you'd expect from an extravagant hotel, but the key feature is the golden beach and bathwater-warm water of the gulf.
Unfortunately you can't snorkel straight from the beach but there's an extensive programme of snorkel and dive trips (there are more than 20 dive sites nearby) available. Join an early morning boat trip to see the shoals of spinner dolphins skip through the waves.
A luxury combination: Jebel Akhdar Mountains, Oman and Khao Lak, Thailand, by Kate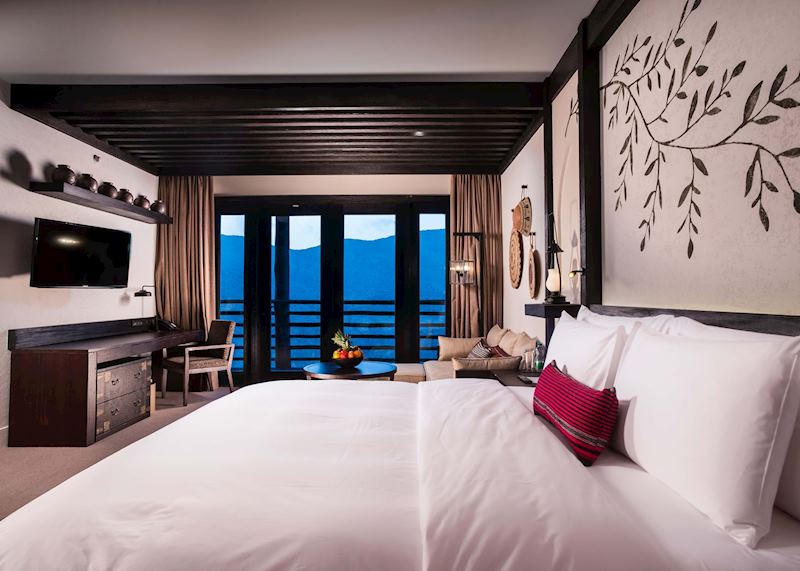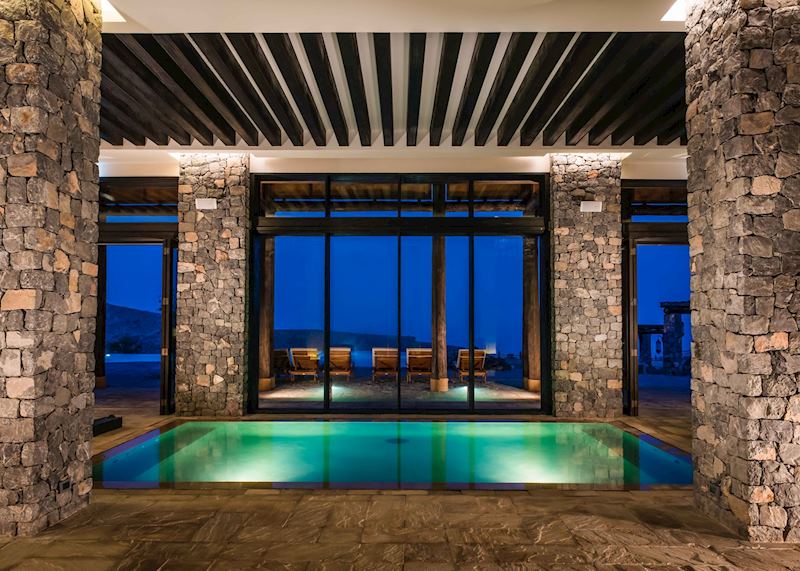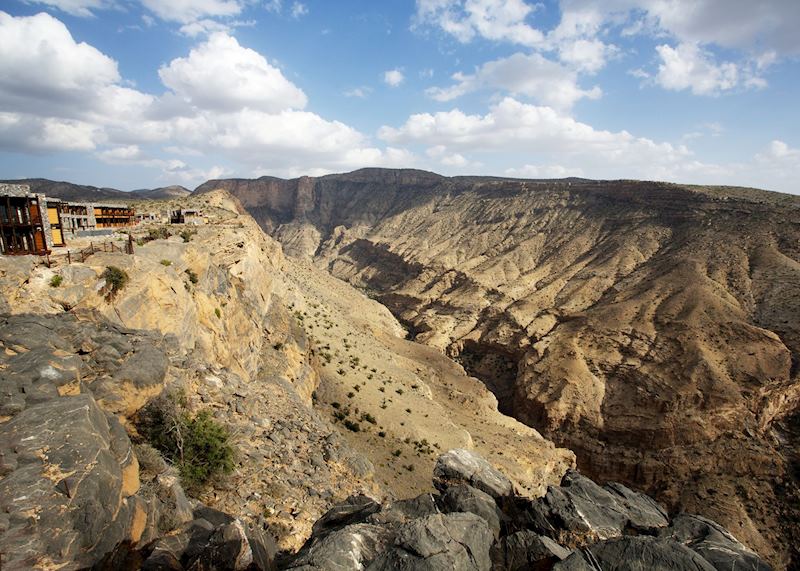 With great swathes of beach and some indulgent hotels, Thailand has long been a favourite luxury beach destination of mine. If you're after a little pre-beach adventure but have explored Thailand before, consider a few nights in a Sultan-worthy hotel in the Jebel Akhdar Mountains of Oman.
A two-and-a-half-hour drive from Muscat airport, the Jebel Akhdar Mountains rear up from the surrounding plains. Known locally as the green mountains, their steep sides are covered with flourishing pomegranate, apricot and rose orchards. Visit between March and April and you'll see the roses in full bloom (rose water is a key export).
The Alila Jabal Akhdar has been built using traditional Omani techniques, with chunky hand-carved doors and gleaming copper ornaments. More than 2,000 m (6,561 ft) above sea level, the hotel is perched on the edge of a gaping green valley, which is best seen from the infinity pool. I suggest a mountain-view suite if you want to watch the sun set from your veranda.
I took a tour with a local guide through the surrounding area, including Nizwa, one of Oman's oldest cities. The souq, fragrant with frankincense and cloves, is a warren of spice sellers, date merchants and silversmiths. My guide explained that this is where the most skilled khanjar (a ceremonial curved sword) makers can be found. As well as visiting the fort and sampling fresh fruits at a date plantation, you can stop off at Wadi Bani Habib, one of the region's abandoned stone villages that clings perilously to the side of a steep mountainside.
Onward to Khao Lak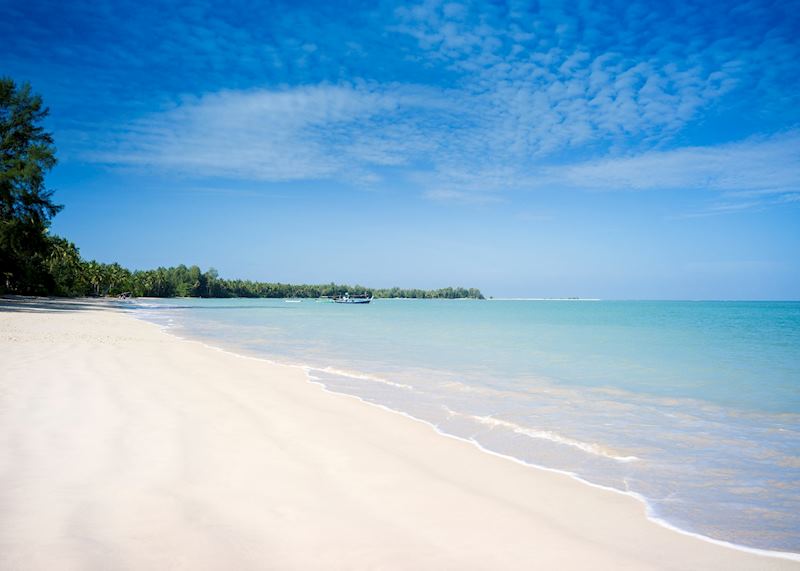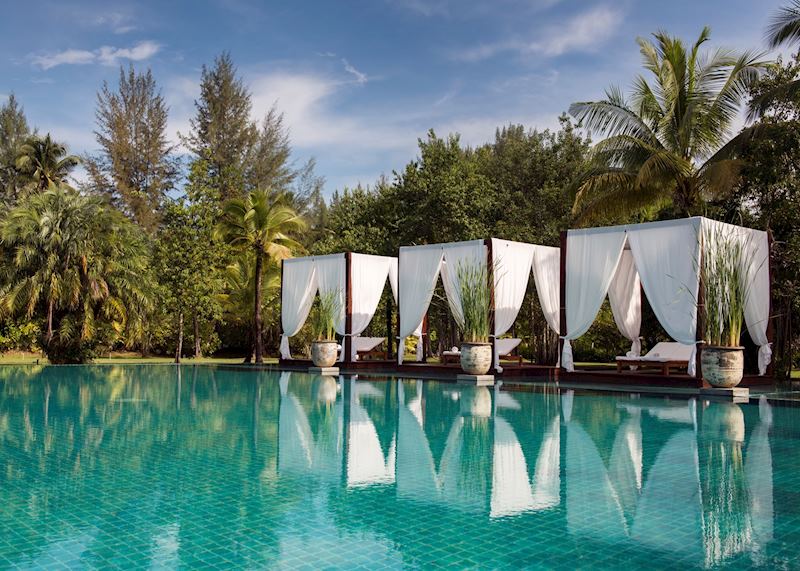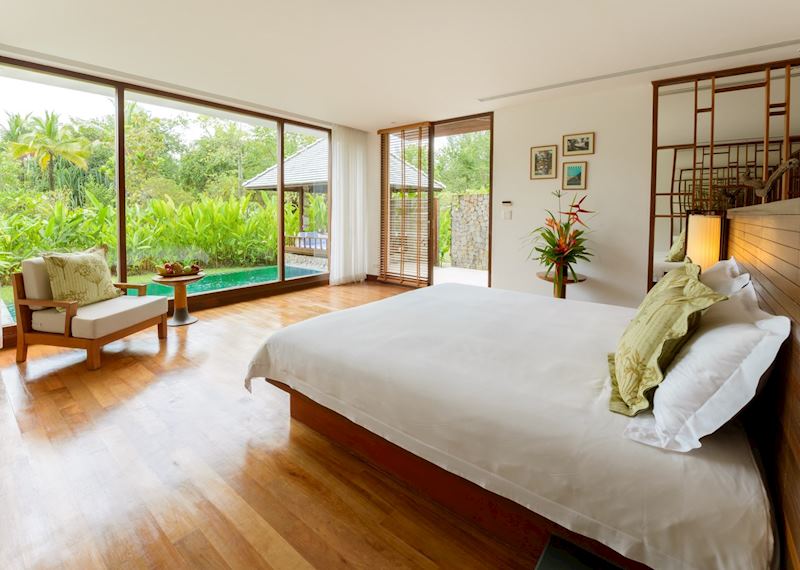 After flying into Phuket, via Bangkok, Khao Lak is a one-hour drive away. The Jabal Akhdar is a difficult hotel to follow, but I think The Sarojin is a worthy fellow. On a section of brilliant white beach, it feels less like a hotel and more like a swanky private estate with lavish sun pavilions and individual private residences.
The pool and Jacuzzi area is so tempting that it's won a raft of awards, and the extensive spa menu could keep you in a state of bliss for days. Don't worry about waking up early for breakfast — it lasts all day. For dinner, I recommend a private dining experience where you'll devour a candlelit dinner in a jungle clearing next to a pounding waterfall.
If you're tempted to leave the hotel, Khao Lak Lam Ru National Park is laced with trekking trails through some of the oldest evergreen rainforest on the planet. Keen snorkellers and divers can book a day trip out to the coral reefs that surround the nearby Similan Islands.
Start planning your beach stay with a twist
South Africa and Mozambique
Start thinking about your experience. These itineraries are simply suggestions for how you could enjoy some of the same experiences as our specialists. They're just for inspiration, because your trip will be created around your particular tastes.
Further Reading