By Brazil specialist Georgia
Brazil's landscapes, including coastline, rainforest, mountains and wetlands, and its folk traditions — from the mystical Candomblé religion to the nimble art of capoeira — never fail to fascinate me.
During my travels, I've found that Brazilians more than live up to their samba-dancing, carnival-loving reputation, but in a country as ecologically and culturally diverse as theirs, that's far from the whole picture.
A staggeringly large country, Brazil has a land mass almost equal to the United States, so domestic flights and stopovers are necessary if you wish to visit more than one area of the country within the same trip. Self-driving is also possible in places such as the Bahia Coast and the northeast beaches.
Explore vibrant Rio de Janeiro

Most trips to Brazil start in Rio, as this is the main entry point to the country. It's worth spending a few days exploring this coastal metropolis, a sprawling conurbation that spills down the surrounding granite mountainsides to a lagoon. It's dominated by the monolith of Sugarloaf Mountain, while the statue of Christ the Redeemer surveys it all from the top of Corcovado Mountain: it can be seen from virtually anywhere in the city.
Taking a cable car up to Sugarloaf Mountain is a popular activity, but it does provide some of the best views over Rio, especially if you go in time for sunset. Conversely, for sweeping views of the city and Sugarloaf Mountain, you'll need to visit Christ the Redeemer or head up into one of the favelas (shanty towns) like Rocinha. They can be visited on tours, with guides who'll help you put into context this complex yet important feature of Carioca (a word used to refer to Rio) society.
I like walking from Copacabana to Ipanema, the city's most famous beaches, in the coolness of the morning while the locals are busy jogging, swimming, or taking a pre-work stroll.
Come nightfall, the best bars are found in the downtown Lapa area, as well as some of Brazil's most celebrated samba and bossa nova clubs and the Selarón Staircase — a flight of kaleidoscopic tiled steps that connects Lapa with Santa Teresa.
The latter is an arty district of museums, galleries, cobblestone streets and colonial and Art Nouveau houses, with people selling graffiti art on street corners. It has a relaxed, bohemian air, a world away from the modern resort hotels, tower blocks and shopping streets that border Rio's beaches.
See the Iguaçu Falls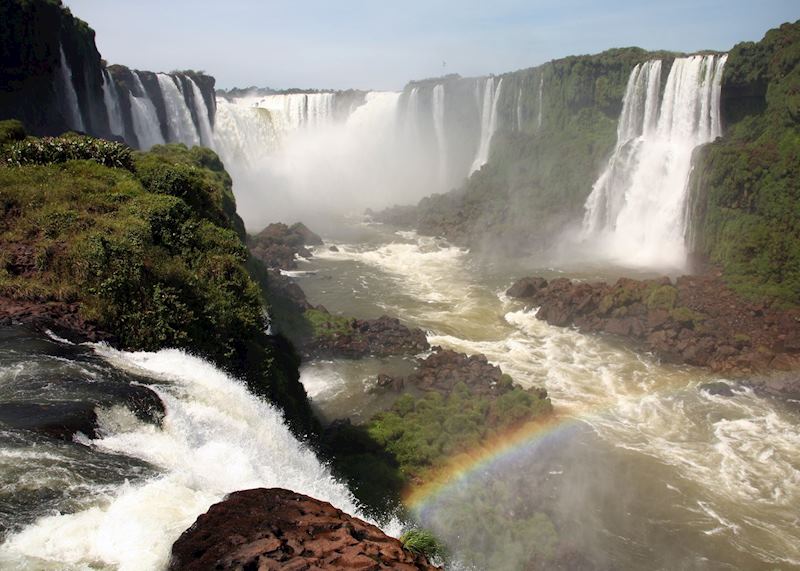 A two-hour flight southwest from Rio brings you to one of South America's natural wonders, Iguaçu Falls. I've always found the strength of the water pounding down from roughly 275 individual waterfalls that border Argentina awe-inspiring. To make the most of your time at the falls, I suggest staying there for a couple of days at the hotel Belmond Das Cataratas.
The beauty of staying at this hotel is the access it gives you to the falls' walkways and viewing platforms when the surrounding national park is closed, and the crowds have dispersed. At full moon, there's even the chance to see the rare natural phenomenon of lunar rainbows refracted in the spray of the falls.
By day, you can take a boat trip that skirts extremely close to the base of the falls (be prepared to get soaked). It's also worth crossing to the Argentinian side (a two-hour round drive) to reach the walkways that lead you to the brink of the most powerful section of the falls. This is a U-shaped chasm named the Devil's Throat, which sends up clouds of mist. You can't see its base, which lead local indigenous peoples to believe that it was the mouth to the underworld.
Go wildlife watching in the Pantanal

Flying north from Rio to Campo Grande or Cuiaba, you enter a vast wetland region that's sparsely populated but rich in wildlife. In fact, due to the open spaces and relatively sparse foliage of these savannah-like lowlands, you're more likely to see wildlife here than in the dense, jungle-clad Amazon basin.
During a trip to the Pantanal, you'll stay in a remote ecolodge that will act as your base for exploring the wetlands via boat trips, on horseback or on short hikes (many areas are inaccessible to cars).
Within minutes of setting out into the swamps in a motorised canoe I saw two large river otters frolicking, and a pair of eyes poking out of the water. They belonged to a caiman — a small alligator. Minutes later, I saw another one sunning itself on a rock. On a sunset trip, there were several eyes glinting back at me out of the dark marshes.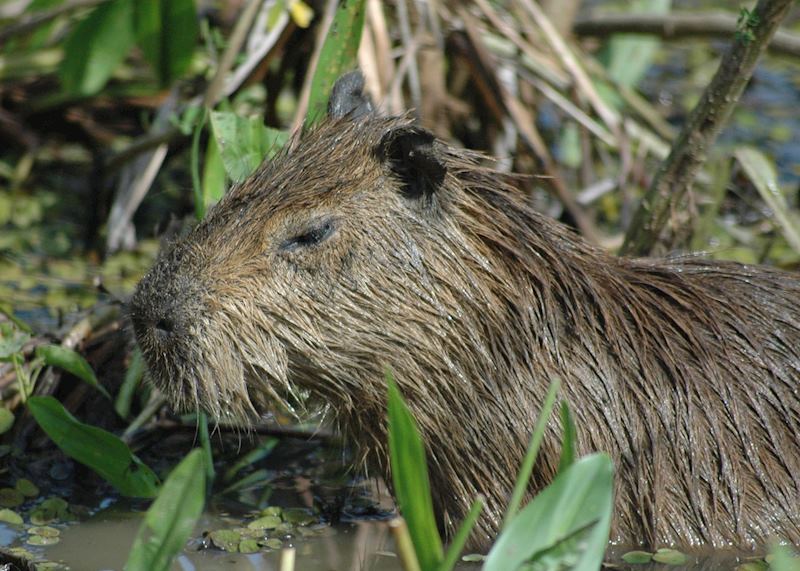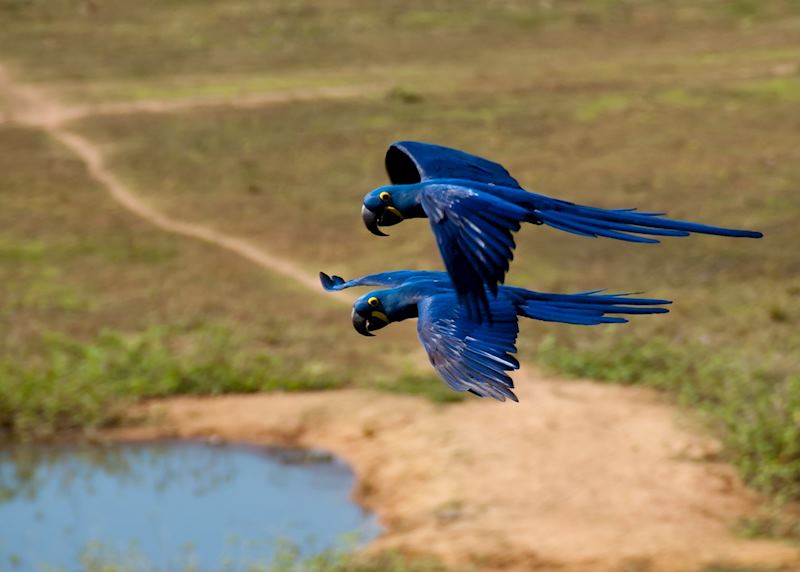 I soon realised that, in the Pantanal, these creatures were everywhere. The same goes for capybara, which resemble oversized guinea pigs: I would see families playing on banks or snuffling in the gardens of my lodge.
There's also a good chance of seeing armadillos, anacondas and anteaters. If you go between July and the end of September, and stay in the Hotel Porto Jofre in the northern Pantanal, you may even spot jaguars.
The Pantanal also has a huge variety of birdlife. I loved glimpsing toco toucans flying from tree to tree (their huge yellow and orange bill makes them easier to spot than other species).
Even Pousada Rio Mutum, where I stayed, was a veritable aviary: its grounds were taken over by many different species of bird, such as jabiru storks. They would move around in groups making the most splendidly discordant calls and squawks at all hours of the day.
Visit remote areas of the Amazon Rainforest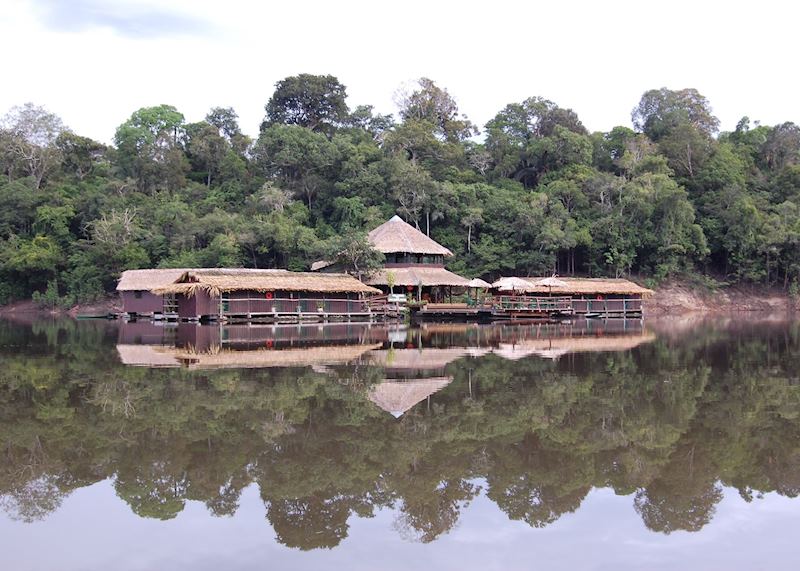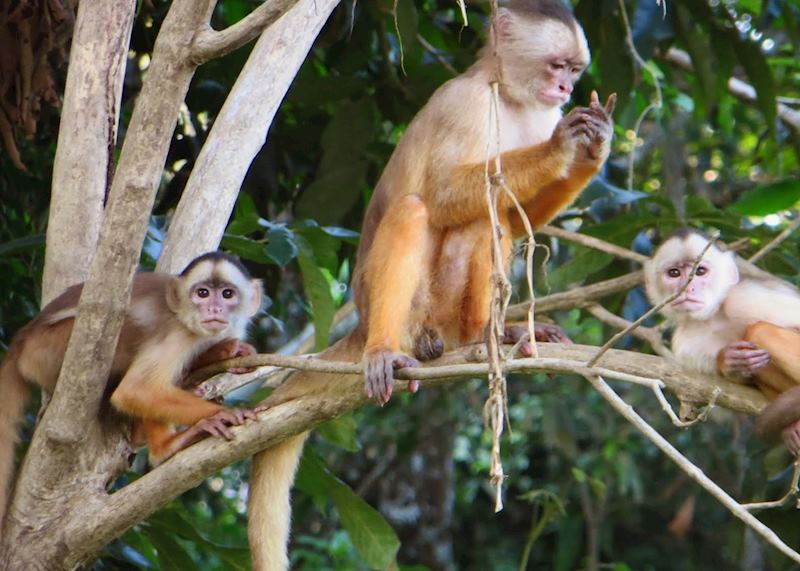 While the Pantanal is remote and barely visited by Brazilians, the Amazon enjoys an international reputation. However, it's still possible to get off the beaten track by visiting some of its far-flung tributaries. As in the Pantanal, your accommodation acts as your base and all activities and expeditions are organised from there.
I recommend staying at Amazon Lodge, which floats in the middle of the quiet River Juma. Admittedly, getting here is a bit of a slog, involving a four-hour flight from Rio to Manaus, then a 50 m (80 km) onward journey by 4x4 and motorboat. Facilities are simple (electricity is only available at night). But the location more than makes up for both the journey time and the cold showers.
Deep in the rainforest, away from the busy main watercourses, you explore quiet backwaters that are ideal for getting close to the Amazon's flora and fauna. I remember being startled awake on my first morning by what I mistook for the grumble of traffic — only to be told that it was the local howler monkeys who are always noisiest at dawn.
A guide's local knowledge is key to making the most of your time in the rainforest. In one instance, my guide noticed a group of trees shaking a little way down river and brought our boat up alongside. As I pushed away the overhanging branches, I glimpsed a group of squirrel monkeys swinging along the canopy, as well as a three-toed sloth camouflaged high up in the trees.
Look out for the giant lily pads clustered in the middle of tributaries. As you move through them, you'll hear the croaking of concealed frogs and toads. Moving into slightly larger rivers, you may see pink or brown Amazon dolphins streaking through the water.
Get an insight into Afro Brazilian culture in Salvador

If you only see one other Brazilian city aside from Rio, I'd suggest Salvador. The country's former capital, on the Bahia coast it's a two-hour flight from Rio. A short stay can easily be combined with self-driving trips to Brazil's quieter northeastern beaches.
If you can, stay in the UNESCO World Heritage Site, the Pelourinho district (Salvador's old town) and simply wander the cobbled streets and squares, which often ring with Samba drumming. As you walk, you'll come to rows of tiny shops cascading down Pelourinho's hilly lanes, all selling different types of bright beads.
These beads are a crucial part of Candomblé, the syncretic religion central to the identity of many Afro Brazilians, whose slave ancestors fused Catholic worship with African voodoo traditions. You'll see women wearing the customary dress consisting of wide-hooped skirts and head wraps, while many followers sport beads that signify their devotion to different gods.
I watched a folkloric ballet where the participants dressed as the orixas (Candomblé gods). Ogum, the god of warriors, must always be dressed in blue and carries a dagger, while Omolu can be recognised by the straw that covers his face. It was a frenzied, energetic dance that helped me grasp the importance of this religion in the lives of many Brazilians.
Go hiking in Chapada Diamantina National Park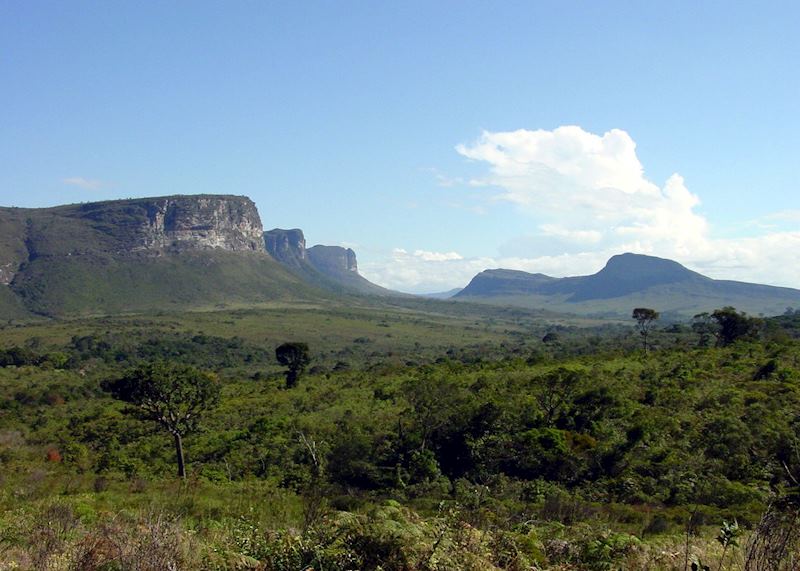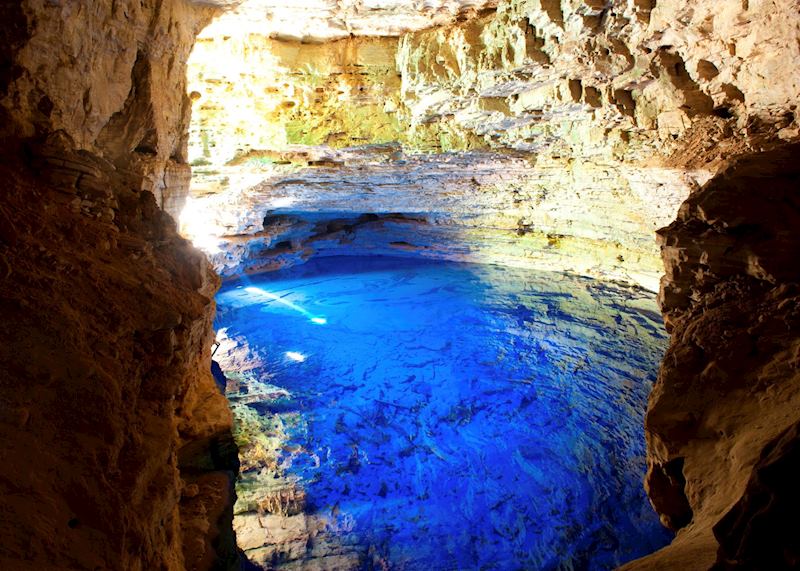 A 45 minute flight from Salvador takes you to one of Brazil's lesser-known national parks, a region of table-top mountains, barren rocky outcrops, caves, forested valleys and waterfalls.
Chapada Diamantina National Park enjoys a cooler, drier climate than the humid waterworlds of the Pantanal and the Amazon, making walking here pleasant. There are a number of trails, for all fitness types. Some of the mountain tops can be reached by car on the first leg, leaving you to walk for an hour on foot to reach the summit.
It's worth exploring the area's underground caverns on a day tour. You can swim in and admire the crystalline waters of the flooded cave called the Poço Azul (Blue Well). Between April and September, the water of Poço Encantado (Enchanted Well), is lit a brilliant electric blue when a shaft of sunlight enters the cavern from a hidden crevasse.
Accommodation is limited to camping in the national park or staying in nearby Lençois. A former diamond mining town, it has an air of faded grandeur, but it's a close-knit, warm community. During World Cups, the townsfolk gather to watch matches on large screens in the main square.
Relax on Brazil's beaches

A four-hour drive south from Rio, the Green Coast is a strip of white-sand beaches fringed by rainforest. Many of them, such as the beach close to Pousada Picinguaba, can be visited on day trips from the pretty colonial town of Paraty.
A hub for artists, Paraty's historic and well-preserved central area is a maze of low-rise white buildings with pastel features, as well as numerous cafés, galleries and boutiques. It has several important churches, including the rustic, Our Lady of the Rosary and Saint Benedict, built and used by the town's former slave population. Bring suitable footwear — due to the tides that flood the town at certain times of the year, you may need to wade back to your guesthouse at the end of an evening.
Although the Green Coast's beaches are picturesque, I prefer the beaches of northeast Brazil. They're non-commercial, locals' beaches without an upmarket resort in sight. You will find roaming coconut sellers, swaying palm trees, and a more laid-back atmosphere.

At beaches such as Porto de Galinhas, you can walk out to natural pools during low tide. They're ideal for snorkelling and it's pleasantly surreal to be able to stand so far from the shoreline.
I also have a soft spot for Praia do Madeiro near the tiny but fairly smart town of Pipa, which has resident dolphins that regularly swim close to the beach.
Overall, the beaches of Morro de São Paulo top my list. A one-hour boat ride from Salvador, they receive comparatively few foreign visitors compared to other Brazilian beaches such as Búzios (Brazil's equivalent of St Tropez).
Life is laid-back on Morro de São Paulo. Cars are prohibited and the markets teem with local tropical fruit. I feasted on fresh açai berries served with granola and honey, and sold in iceboxes from sellers on the beaches. As I tucked in and gazed out at the Atlantic, a group of people came and began performing capoeira nearby. This graceful combination of martial arts and dance has almost become a national sport in Brazil, and I stayed there watching them for hours.
Start planning your trip to Brazil

Start thinking about your experience. These itineraries are simply suggestions for how you could enjoy some of the same experiences as our specialists. They're just for inspiration, because your trip will be created around your particular tastes.
View All Tours in Brazil