Whether it's camping overnight among the vines, open-air cinema nights or a variety of gourmet dining experiences, winery visits are no longer just about the wine.
When it comes to boutique wineries, it's out with the old, off-the-shelf tastings, and in with the new: a greater emphasis on experiential visits.
Let's shine a spotlight on the more unusual experiences we've enjoyed, many focusing on less obvious wine-growing areas, which we think are just as enticing (not to mention less crowded).
You have to visit these wineries around the world.
Private Wine-Cellar Dining at Bodegas RE, Chile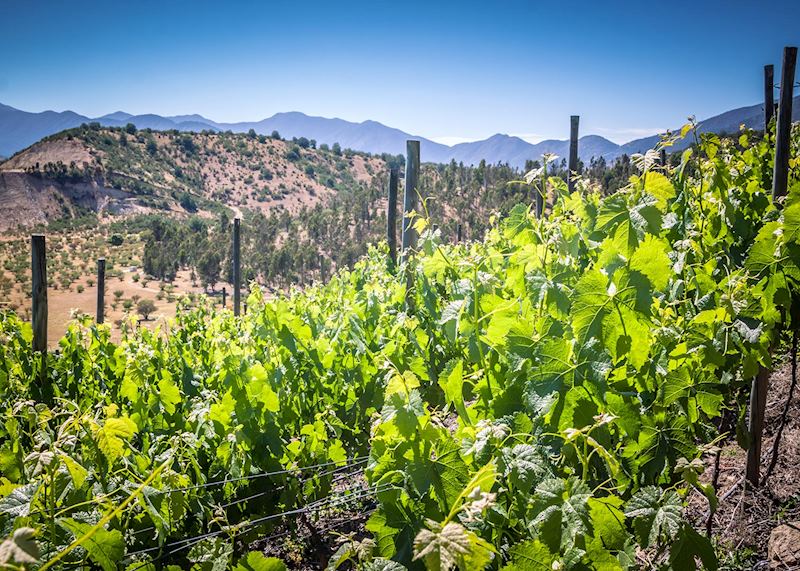 Chile's a relatively new kid on the block when it comes to wines (production only started in the mid-1980s), and Bodegas RE is one of the newest of the lot.
Days are hot in Chile's Casablanca Valley, but ocean breezes waft in and out. The area lies on a coastal plain, sandwiched between the Andes and the Pacific, just west of Santiago.
In the morning, the neat rows of vines that lace the valley floor are often blanched in fog, that burns off as the heat rises. The climate results in a longer-than-average growing season, helping to create ideal conditions for intense sauvignon blanc, chardonnay and pinot noir.
Like many a boutique winery in the Casablanca Valley — which usually plays second fiddle to the Maipo and Colchagua Valleys — Bodega RE is a tech-savvy, sleek outfit that creates its own fusions such as "chardonnoires."
The tasting room is airy, smart and contemporary, decked in natural woods. You could opt for a tasting of all RE's various fusions, accompanied by a platter of local meats and cheeses, as well as the estate's homemade balsamic vinegar. Or, you could indulge in the four-course tasting lunch at a private table in the blissfully cool cellar, surrounded by wine fermenting in a jumble of terracotta amphora.
Camping at Rymill and Lake Breeze wineries, South Australia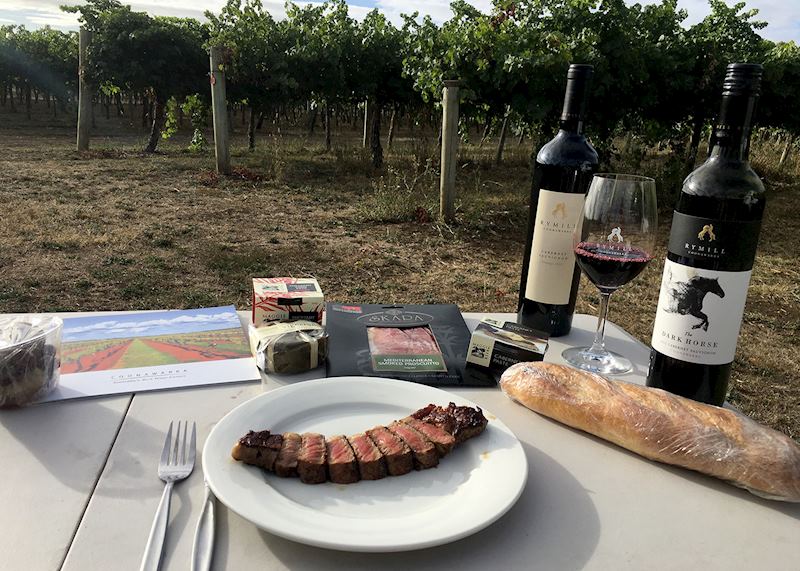 Yes, you can sleep among the grapevines of Rymill Coonawarra, a family-owned winery that sprawls on the rich, loamy, red-clay soil (terra rossa) of South Australia's Limestone Coast.
The owners can set you up with a hamper of local cheeses, meats, breads, pâté and a fine cabernet sauvignon, their star wine (and one I'm particularly fond of). You'll sit in total privacy among the vines — only one campervan is permitted per night — munching and sipping away as you watch the sunset.
The best part? You can repeat the experience all over again the following night at Lake Breeze Winery in Langhorne Creek. It enjoys a balmy riverbank setting, its grounds full of eucalypts as well as vines.
Here, they'll present you with wines and a bountiful charcuterie board that wouldn't have looked out of place in any top restaurant in the south of France.
It's worth pointing out, too, that both of these wineries will tailor your stay to your interests. If you have time, they'll even let you have a go at making your own wine.
Explore trip ideas for South Australia
State-of-the-art eco-winery in Uruguay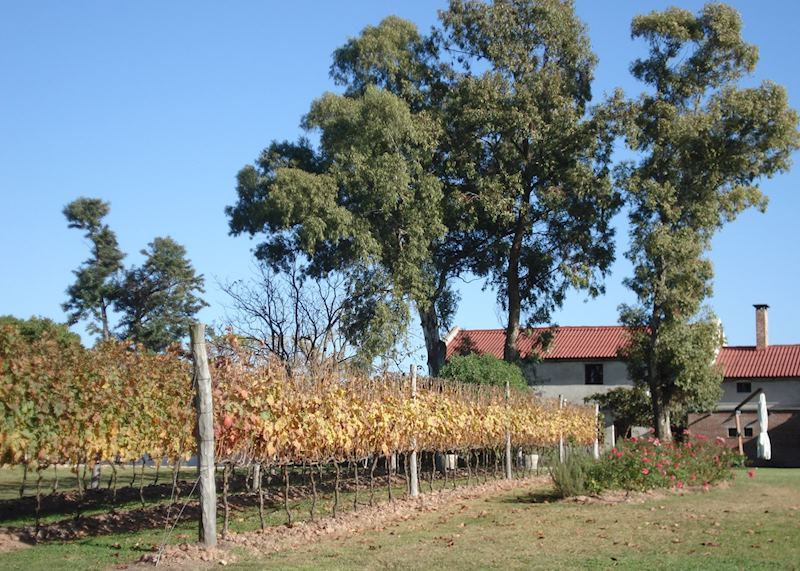 Just getting there is pleasant. Heading inland from the sophisticate beach town of José Ignacio, you'll drove for a relaxing 90 minutes through tiny villages on a road that follows the rise and fall of low-lying, rolling hills.
As you approach the destination, the hillsides start to resemble a neat mosaic of vines bisected by white roads. But nothing will prepare you for your visit to the winery.
Bodega Gárzon is an understated winery that secretly wants to make a statement. The tone is immediately set by the entrance, which takes the form of a walkway over an ornamental pool. Meanwhile, an enormous metal-mesh chandelier hangs in the restaurant. But the estate is actually fairly small.
The buildings themselves are unobtrusive against the surrounding landscape. Everything is made of natural materials: the stonework a shade of light dun, and desks made out of salvaged trees. Its vineyards make use of wind power, rainwater collection, and other sustainability initiatives, and no external wine additives are used in the production process.
Even if you don't particularly like tannat, the traditional wine of Uruguay, this is still easily one of the best boutique wineries you'll ever visit. (Pro tip: try their white, the Albariño Reserva).
There are showier touches — you can tour the winery's nearby olive groves by hot air balloon.
Or you can simply sample their olive oil over a wine-pairing lunch in the restaurant or its outdoor terrace, overlooking more pools and the vineyards.
Outdoor cinema nights at Cape Mentelle, Western Australia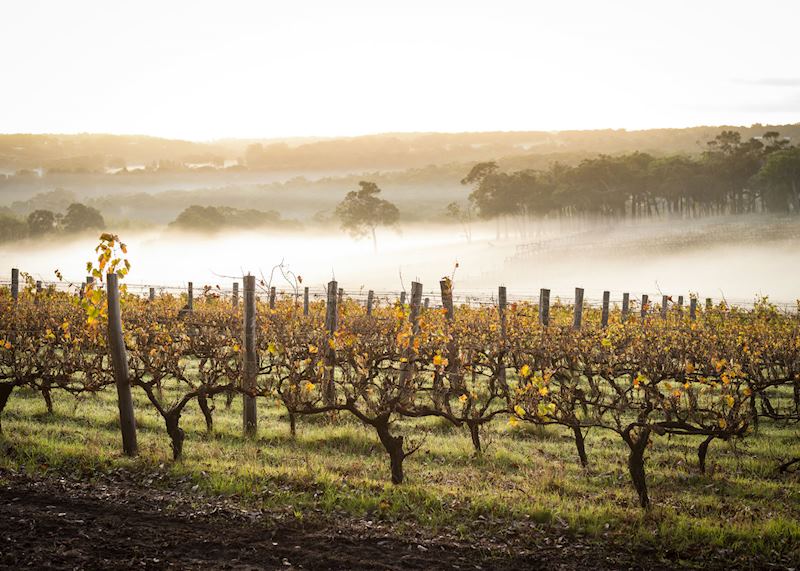 You might be pretty relaxed by the time you reach the breezy vineyard of Cape Mentelle, especially after a day of wine tasting in the Margaret River region. But this initially modest-looking winery has its own particular highlight.
Each summer evening, big reclining beanbags and warm blankets are laid out on the lawns, just in front of the vines. The latest movie releases are projected onto a screen erected amid the native karri trees, while an open-air bar serves beer and Cape Mentelle wines.
Cabernet sauvignon is their bestseller, but you could also sample their zinfandel, semillon, cabernet franc and shiraz varieties. You can bring your own picnic, or order a cheese and meat platter (as well as more substantial dishes) from a gourmet food van.
As darkness falls, everyone starts to snuggle into their beanbags, and the film begins. Every now and again, try to remember to look up at the star-studded sky (there's little light pollution around here). You might just get rewarded with glimpses of several shooting stars.
New Zealand's oldest winery, near Hawke's Bay, Napier, North Island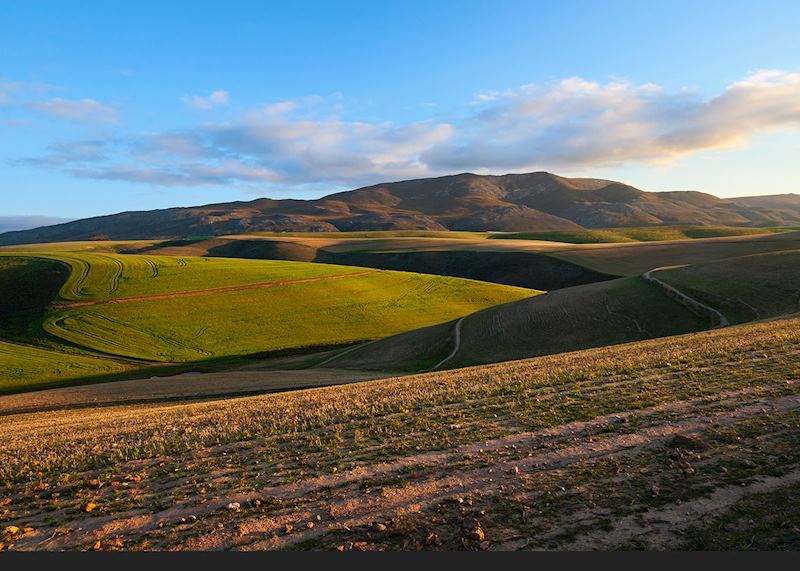 A stately white house on a hill. That's your first sight of Mission Estate, a winery ensconced in the Taradale Hills with views stretching all the way to Hawke's Bay and over the farmland surrounding the city of Napier.
Founded by French Marist missionaries in 1851 to produce Eucharistic wines, the estate is still owned by the Catholic Church. The main building is a restored seminary (a cross stands over the entrance) with immaculately clipped lawns outside. Inside, it's all vaulted ceilings and French doors.
You can learn more about Mission Estate's storied history on a tour, or visit it as part of a wider circuit of local wineries. It produces almost every kind of wine grown in New Zealand, including an award-winning chardonnay, Mission Huchet, named after Brother Cyprian Huchet, one of the estate's pioneering winemakers.
During a meal at the winery's gourmet restaurant, you can also enjoy their dessert wine, which is particularly tricky to perfect in New Zealand due to the climate.
Mission Estate offers accommodation, but you might prefer to stay nearby in Kanuka Cliffs. This highly artistic, homestay-style property is located in the middle of a natural bush reserve, close to many of the area's wineries.
A sophisticated vineyard stay at Leeu Estates, Franschhoek, South Africa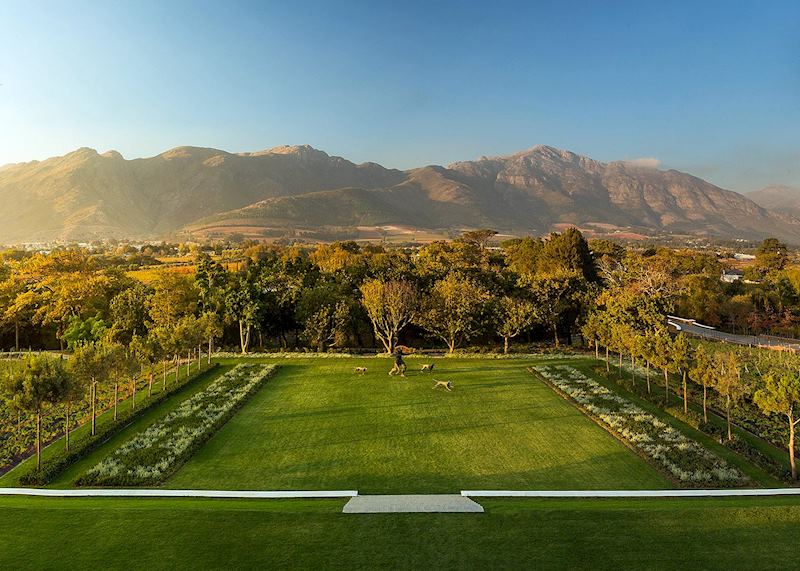 Just an hour east of Cape Town, the Cape Winelands is an area of rolling hills quilted in vineyards, surrounded by great fists of mountains. Here, the French-influenced town and valley of Franschhoek is home to more than 50 wineries.
While many of these can be visited on a whim, to throw yourself into the winemaking culture we recommend staying at Leeu Estates. Set on the town's outskirts, this boutique winery is owned by Mullineux & Leeu Family Wines and forms part of the Leeu Collection (along with nearby Leeu House and Le Quartier Français).
The estate's 19th-century manor house offers six spacious guest rooms and suites. A further 11 are housed in cottages scattered among the grounds. Guests can make use of the spa, infinity pool, and various walking trails that lead through vineyards and manicured gardens. Meanwhile, the dining room serves local dishes using ingredients from the estate's vegetable garden, accompanied by its own fine South African wines.
While there, make sure you visit the Wine Studio. Here, you can take part in wine tastings hosted by the Mullineux & Leeu team, who tell you more about the wines, the winemaking process and the estate itself.
There are three tasting experiences to choose from, but the Mullineux Signature Tasting is complimentary to guests. We recommend sipping your way through four different vintages covering Mullineux white and syrah blends, as well as the estate's refreshing red and white Kloof Street wines.
A classic Tuscan vineyard experience, Italy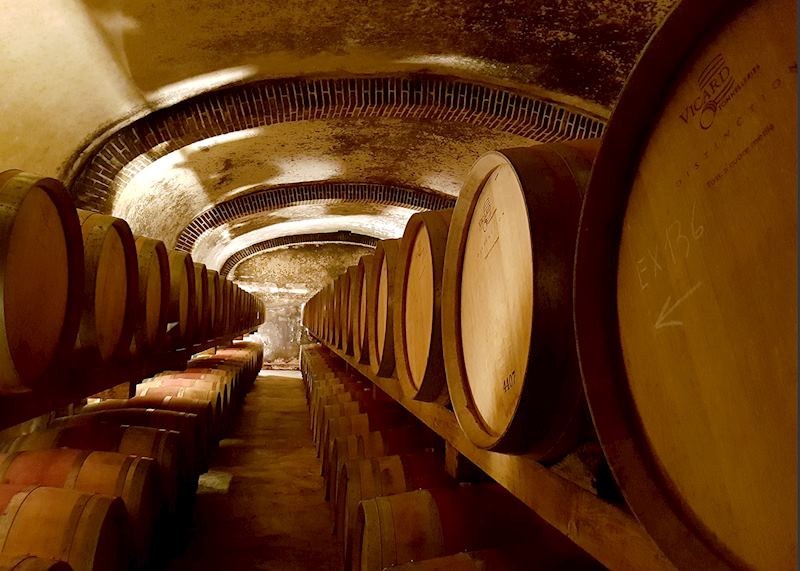 Spanning both the Chianti Hills and the Ombrone Valley, the Fèlsina estate was once part of the farmlands directly owned by the Grand Dukes of Tuscany.
It's a picturebook Tuscan winery: long drives lined with towering cypresses, views to ramshackle hilltop farms, and cavernous cellars with row after row of barrels, pungent with the scent of maturing wine.
The estate tour takes you by 4x4 through the grounds, and you might have a chance to stroll among the bedecked sangiovese vines. After exploring the cellars you'll head to a private tasting room to sample some of their renowned Chianti classicos and extra virgin olive oil which is also produced on the estate.
Afterward, it's on to Villa Vignamaggio, an aristocratic home surrounded by immaculate formal gardens, with wine cellars dating back over 600 years. After touring the grounds, you'll head to the restaurant for a four-course lunch, based around fresh seasonal produce from the estate and paired with four of their wines.
Plan Your Trip
Sound like your kind of adventure? Check out these itineraries in France, New Zealand and Australia.
Ready to plan your trip? Here's how to get started.
Further Reading