By South Korea Specialist Rebecca
BTS. Squid Game. Blackpink. Kingdom. Laneige. If any of these words mean something to you, then there's a good chance you, or someone in your family, is surfing the so-called Korean Wave. Also known as Hallyu, it's catch-all term for the cultural exports from South Korea over the past decade or two, from K-pop to K-dramas to K-beauty.
I'm deeply passionate about all things Hallyu, something I share with a lot of my clients (or client's children) who are visiting South Korea and want to build their trip around these cultural touchstones. In fact, I've been to South Korea twice in the past year to indulge my own love of K-dramas and to scout out the best ways for you to explore yours.
What you see depends on your fandom
This is a vast topic and what you want to see will depend entirely on which corner of contemporary Korean culture has captured your interest. I work with my clients to build their trips individually, whether they're going with a BTS-obsessed teen or they simply want to see the settings that feature in zombie thrillers like Train to Busan. Clearly I can't cover everything here, but I'll be able to help you build a trip around your particular passion, no matter how niche your interest.
The route includes some family-friendly options, because there's a chance your party might include a teen or tween. However, most of my clients are adult who were inspired by historical dramas (known as sageuk) like Kingdom or Hwarang or even their love of K-beauty products.
What to see in Seoul
Seoul isn't trendy — Seoul sets the trends. If you've ever seen people posing with heart hands on social media, you've got Seoul to thank. Though the current crop of teens consider that impossibly old fashioned and instead make hearts on the apples of their cheeks (at least, they did, a few months ago, it's likely to have changed since then).
Gangnam's COEX Mall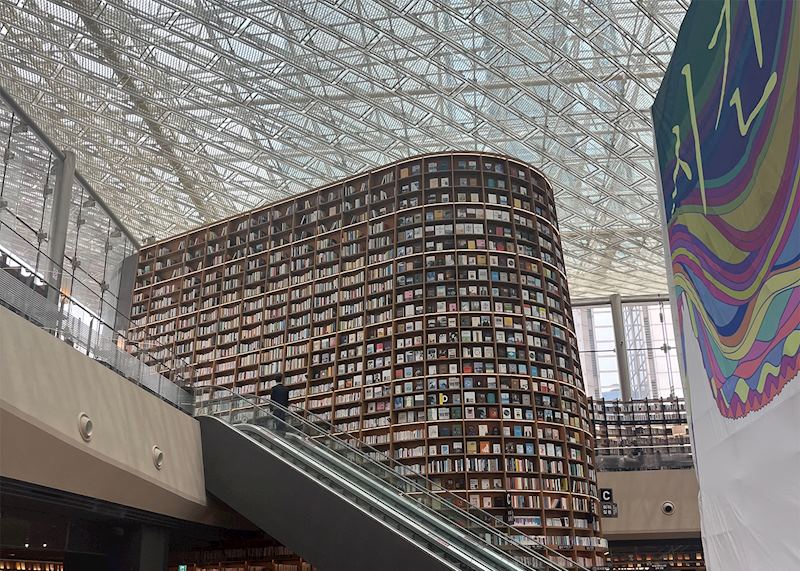 Many of those trends are born in Gangnam, the buzzy, booming enclave south of the river where the most fashionable go to live, work, shop, be seen, and take selfies. You may remember the name from singer PSY's megahit Gangnam Style, for which he received an Order of Cultural Merit from the South Korean government, who takes pop culture very seriously. You'll see an enormous statue of Gangnam-style hands in front of the first stop I suggest: Starfield COEX Mall.
Despite its name, COEX is more than a shopping plaza — it's a sprawling underground entertainment experience. For some, the highlight is Starfield Library, where almost the entire structure seems to be made from bookshelves that stretch more than five stories high. However, I was particularly exciting to visit the wall of handprints from popular SM artists (more on that in a moment).
You'll also find quirky cafes that can only be called adorable, populated by big-eyed cartoon cats with bows in their ears, and pink heart emojis on the wall. Additionally, there's an aquarium, a huge multiplex cinema, and pop-up shops for whatever happens to be the craze of the moment. K-beauty fans can do their shopping here, too. It's easy to while away a whole day in COEX, merely taking in a frenetic nowness of it all.
HYBE Insight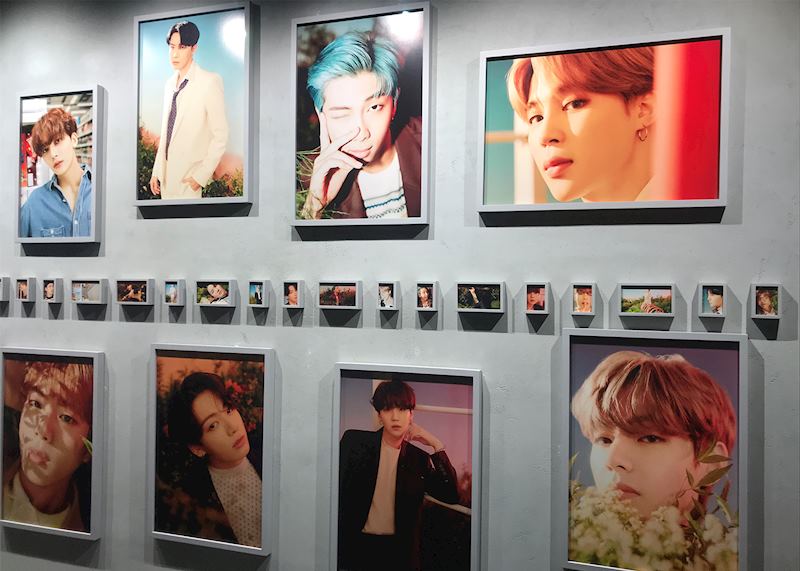 From here, where you go probably depends on your particular fandom. Korean artists tend to be grouped under a handful of specific companies, often with initials as names: SM Entertainment, which includes Red Velvet, NCT, and Aespa; JYP, which includes Stray Kids and Twice; and HYBE, which is home to the megaband BTS.
Even if you're not a member of the BTS ARMY, the band's official fan club, I recommend HYBE Insight. Many of the exhibits, of course, focus on the band — on a recent visit, I saw the costumes worn during the Drop the Mic tour and the guitar that belongs to member Suga. But there's also an immersive installation that examines the power of music and many exhibits that detail the process that creates hits from various artists. As you can imagine, it's a popular destination, but we can help you book tickets ahead of time.
Lotte World & Myeongdong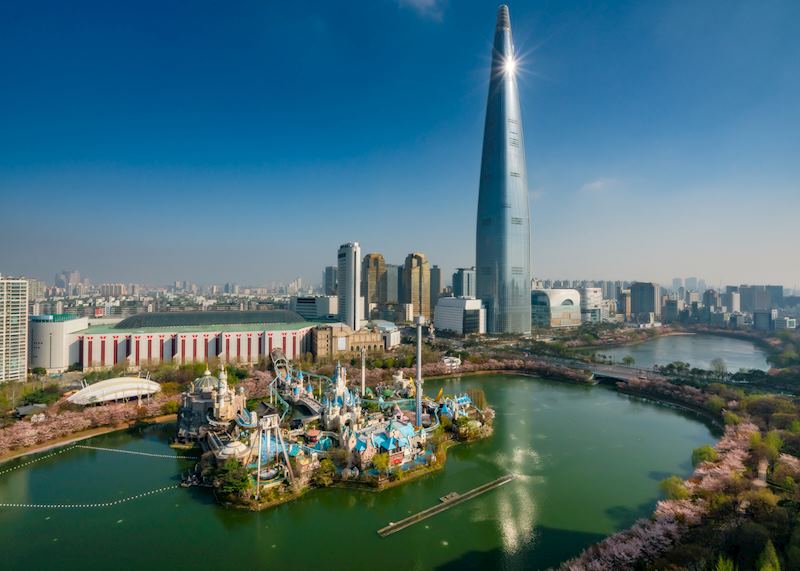 Another must-see stop in Seoul is Lotte World. This vast indoor entertainment complex includes rides and a water park, a department store and mall, a cinema, an ice-skating rink, an aquarium, a shooting gallery, a folk museum… Honestly, I can't list all the things included because it would take too long, but if you or members of your family love amusement parks, I suggest including a day to visit Lotte World.
For pure retail therapy — especially if you're interested in Korean beauty products, which can be hard to find elsewhere — I suggest allotting a day to wander through the Myeongdong area. The name translates literally to Bright Cave and this neon-drenched shopping district, with its huge underground concourses, certainly qualifies. You can fill your luggage with brands like Laneige, Innisfree, and Sulwhasoo, while also shopping for band-branded t-shirts, phone cases, stickers, and bags.
Korean Folk Village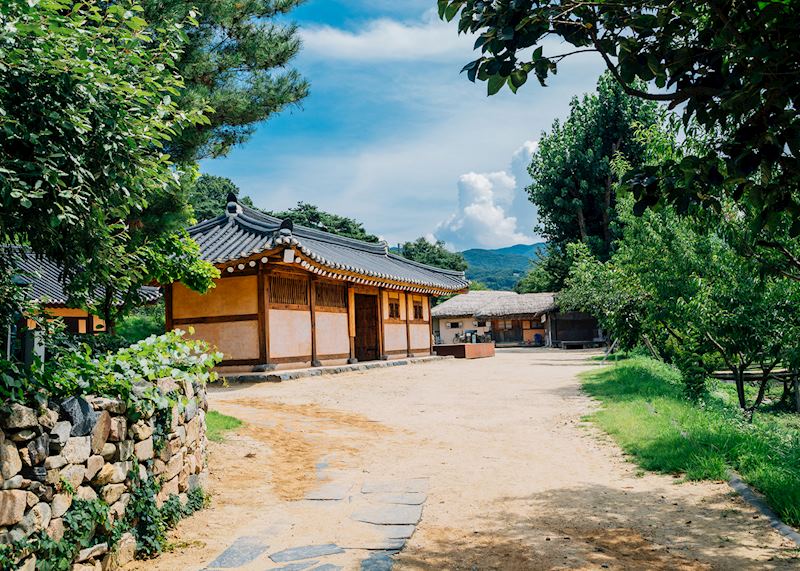 An hour's drive outside of Seoul, the Korean Folk Village is an open-air museum dedicated to examining the country's past with loving re-creations of buildings from different time periods. It's also a popular sight with filming crews who are shooting historical K-dramas from classics like Dae Jang Geum to more recent hits like Kingdom.
In fact, because it's such a popular filming location, when you visit, parts will sometimes be closed off to visitors. Some people feel like this is a downside, I'm always thrilled at the chance to be close to a shoot and perhaps see some of the action. We can arrange a visit while you're staying in Seoul (though I can't guarantee any movie-star sightings, of course).
What to see in Gyeongju & Busan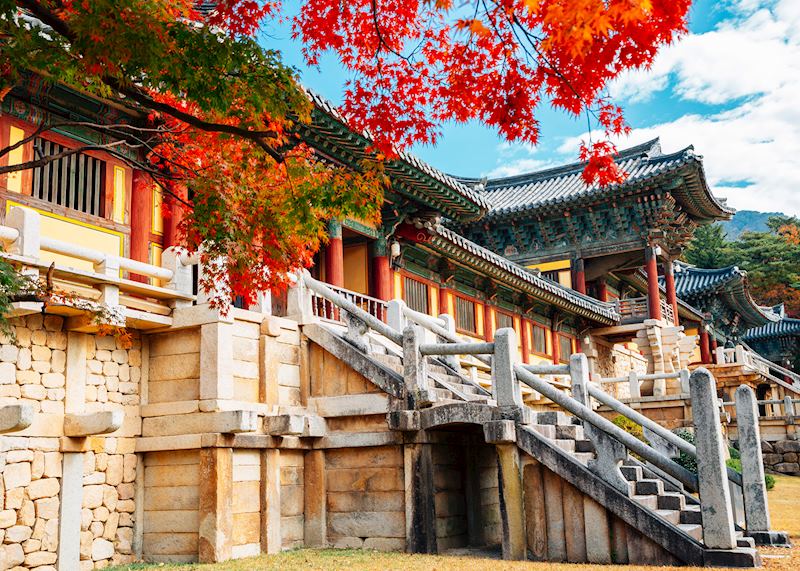 The best way to get from Seoul to Busan is on the high-speed bullet train, which is fast, convenient, and the setting for the 2016 zombie thriller Train to Busan. While I can't control the lack or presence of zombies, I've taken the route several times without an incident.
However, if you don't want to risk it, you might consider including a few days to visit Gyeongju, the historic heart of the Korean peninsula and the capital of the Silla Dynasty (57 BC to 935 AD). The city's many palaces, forts, temples, and tombs have been the setting for many of the historical K-dramas. For example, Hwarang: The Poet Warrior Youth, which is actually set during the Silla Dynasty and includes a stint of acting by BTS member V. You can explore on your own or take a guided tour to learn more about the history that inspired the films.
If you do decide to go straight to Busan, I suggest staying in the Haeundae Beach area. Not only is it as trend-setting as Gangnam, it's also the home of the Busan International Film Festival each autumn. If you time your visit just right, you're likely to bump into some beloved actors — last time I visited, I strolled right past Song Joong-ki (from Vincenzo) on the beach.
Even if you're staying near Haeundae, venture across the river to the Gamcheon Culture Village. Once a home for war refugees, it's now a pastel-painted art enclave where you can easily spend an afternoon wandering among the streets, stopping at chic cafes.
Unsurprisingly, the photogenic village has also played a role in several movies and TV series, as well as Kyuhyun's Goodbye for Now music video. It's also the hometown of BTS members Jungkook and Jimin — there's a very Instagrammable mural of the pair.
Where to stay in Busan
If you're feeling indulgent, I suggest the Hotel Paradise, right on the beach. This is a luxe stay, with spacious rooms and ocean views as well as exceptional restaurant. It's wholly suitable for international film stars, who you might see if you stay here.
What to see on Jeju island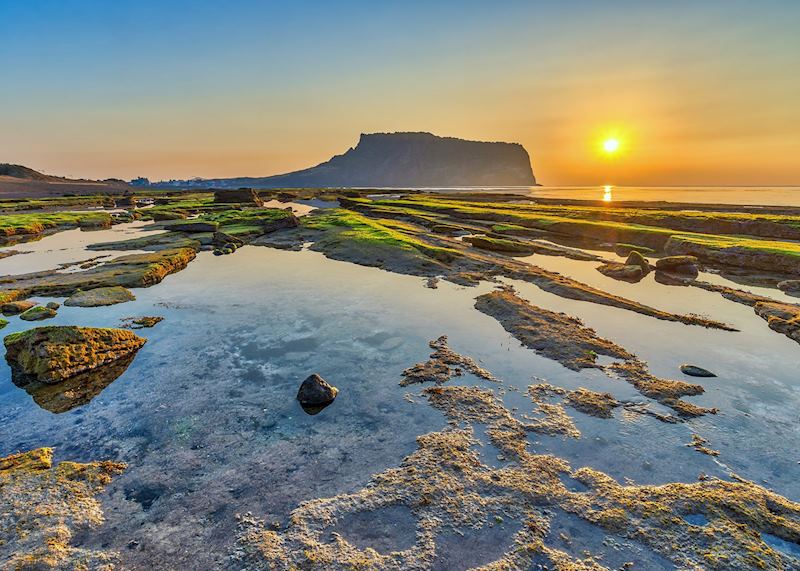 With sprawling beaches, a densely green countryside, and a volcanic interior, the natural beauty of Jeju island has earned it both the nickname 'The Hawaii of Asia,' and the role of filming location for at least a dozen K-dramas, including Boys Over Flowers, Something in the Rain, and more recently Our Blues.
It also plays a pivotal role in a few important episodes of Extraordinary Attorney Woo. In the show, the legal team pays a visit to fictional Hwangjisa Temple, which is portrayed by the real-life Gwaneumsa Temple. You can also visit Changkkom Rock — a natural formation with a hole that gives it its name, which translates to Window Rock. One of the things that draws people — and location scouts — to Jeju is its playful atmosphere. Where else can you see a museum filled entirely with exhibits of teddy bears recreating historical paintings and people, from the Mona Lisa to Gandhi?
Where to stay on Jeju island
The Bloom Hotel is a good-value option for families, with a pool and a convenient location in the Jungmun area, near all the attractions and eateries. If you prefer to end your visit somewhere a bit more opulent, PARNAS Hotel boasts an oceanfront location and huge infinity pool (with a water view) as well as spacious, contemporary rooms.