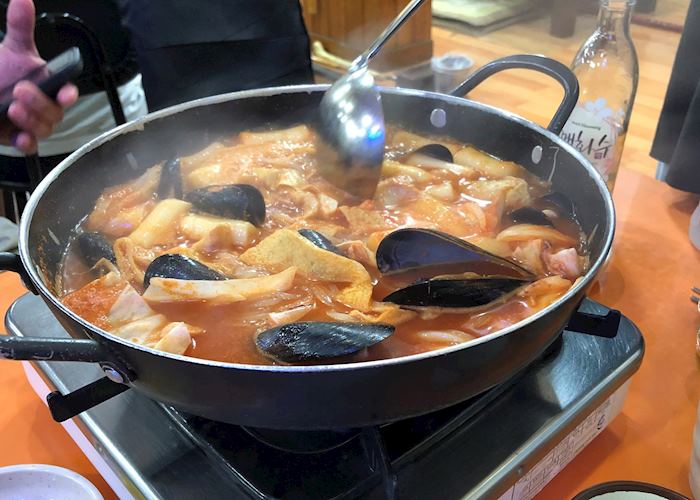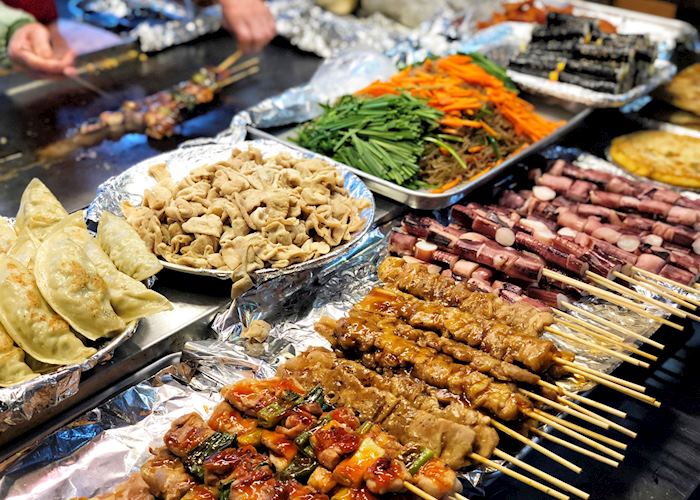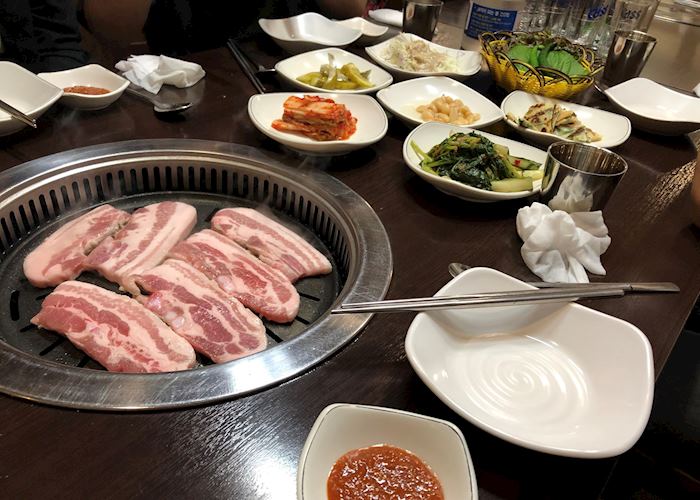 Street food tour of Seoul
Street food tour of Seoul, South Korea
One of the first things you notice when you arrive in Seoul is the sheer number of street stalls and market vendors steaming, stir-frying and barbecuing fresh food right before your eyes. As a visitor, it can be hard to know where to begin. This tour aims to introduce you to the country's food scene, from local ingredients and dishes, to the culture and traditions that surround certain foods.
Meandering along the tight-knit tangle of streets in some of the city's oldest districts, you'll visit markets and food stalls to try ginseng soups, freshly-cut noodles, spicy pumpkin porridge or maybe tofu stew.
From pop-up tents selling local beer and fried chicken to bustling night markets and traditional tea houses, you'll get an introduction to the best local dishes, figure out which sauce or side dish to try, and gain confidence in trying different foods during the rest of your trip.
Your tour begins in the traditional Insadong district, where you'll meet your guide and, if joining a small group tour, other participants. Taking the tour in the evening means you'll see the city and its markets at their most vibrant as locals leave work and shop for dinner supplies or sit down at food stalls to discuss the day. You'll also visit night markets as they get into full flow.
Your guide will lead you through the small alleys and traditional markets of Insadong, introducing you to classic Korean dishes and the best places to try them. You might begin with a stop to sample bindaetteok, mung-bean pancakes, a traditional Korean holiday food, or perhaps bulgogi, marinated barbecued beef grilled with garlic and onions, wrapped in lettuce and served with ssamjang —a thick, red spicy paste.
Your guide will help you understand which sauce goes with which dish and why banchan — fermented side dishes — extend well beyond the renowned kimchi. Try bibimbap, a barley rice dish served with fresh vegetables, and hear about how it varies by region, or possibly soondae, a blood sausage that's light, spicy, soft and far tastier than its ingredients suggest.
You then move on to the Ikseondong district. One of the oldest parts of the city, young entrepreneurs have rejuvenated it by setting up businesses there. You'll visit tea houses and beer tents, maybe try some freshly steamed dumplings or stir-fried noodles, stop for some hotteok, a rice pastry filled with cinnamon sugar, or try the local staple, makgeolli, a milky rice wine with a sweet, tangy taste. Wash this down with the local spirit, soju, now the world's most popular alcoholic drink.
If there's a dish you've heard about and particularly want to try, just let your guide know — the markets here are so vast and varied, you're sure to find almost any dish you can think of.
By the end of your tour, you'll have a whole new appreciation for Korean food, a better understanding of the importance of food in the Korean cultural experience, and the skills to decipher menus on your own.
Your guide will take you back to your starting point in Insadong district at the end of the tour and from there you can continue your explorations on your own.
Speak to someone
who's been there

Start planning your tailor-made trip by contacting one of our South Korea specialists
Photos of Street food tour of Seoul