By France specialist Samantha
I visit Provence to unwind — time seems to slow here, stretching out like a cat basking on a windowsill. Sun-drenched and seductive, the region boasts medieval hilltop towns made of honey-toned limestone, gnarled olive groves and weekly markets that sell fragrant olives and bunches of lavender. All of it saturated in a tender golden light that makes everything seem more vibrant.
Artists have long flocked to Provence. This is the land of Picasso and Cézanne, where you might walk around a corner and come face to face with a Van Gogh painting come to life.
Things to see and do in Provence
Gordes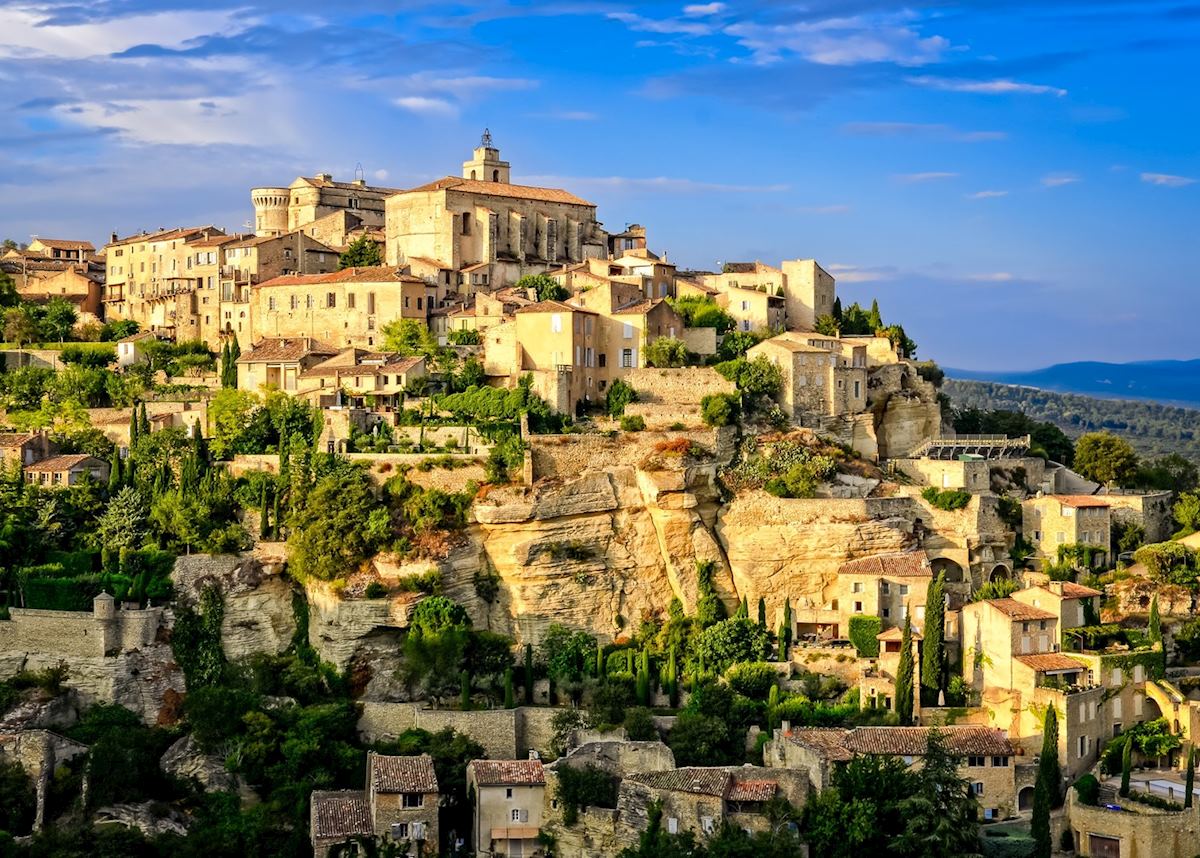 Gordes, Provence
Provence is dotted with hilltop villages that date back to the Middle Ages or even the Roman era. Though they each have their own personality, they share many similarities — narrow streets, buildings made from gold-tinted limestone, terracotta roofs and sweeping views of the surrounding countryside. Many still have the vestiges of medieval fortifications or castles, built to take advantage of the strategic high ground.
The hills are quite steep and the villages perched upon them are often subject to the mistral, a cold, hard northwesterly wind that blows through the region at unpredictable intervals. It has shaped the area's architecture in many ways — crooked streets are designed to blunt the wind's teeth and traditional farmhouses are always built with their backs to the mistral.
Though there are many villages, Gordes is the one that I return to time and again. Located on the western edge of the Parc Naturel Régional du Luberon, it owns some of the region's best views, overlooking the steep hillsides down into dusty-green olive groves and fields of lavender.
Like most of Provence's hilltop villages, Gordes hosts a weekly open-air market. Every Tuesday morning, the booths and stalls open up at the foot of the chateau, tables shaded by bright umbrellas. The vendors sell a wide array of goods that are grown or produced locally: sun-warmed tomatoes, bunches of happy sunflowers, cheerful table linens, handmade soaps and herb-scented olives in little bags.
A short drive from Gordes you'll find the Village des Bories. This open-air museum consists of a clutch of about two dozen stone huts that were built without any mortar. The enigmatic buildings look like nothing so much as old-fashioned beehives, thanks to the corbelled construction of the roofs. The pebbled mounds are a dusty gold shade, pierced by tiny square doors that provide the only light into the bare interior.
Saint-Rémy-de-Provence and Arles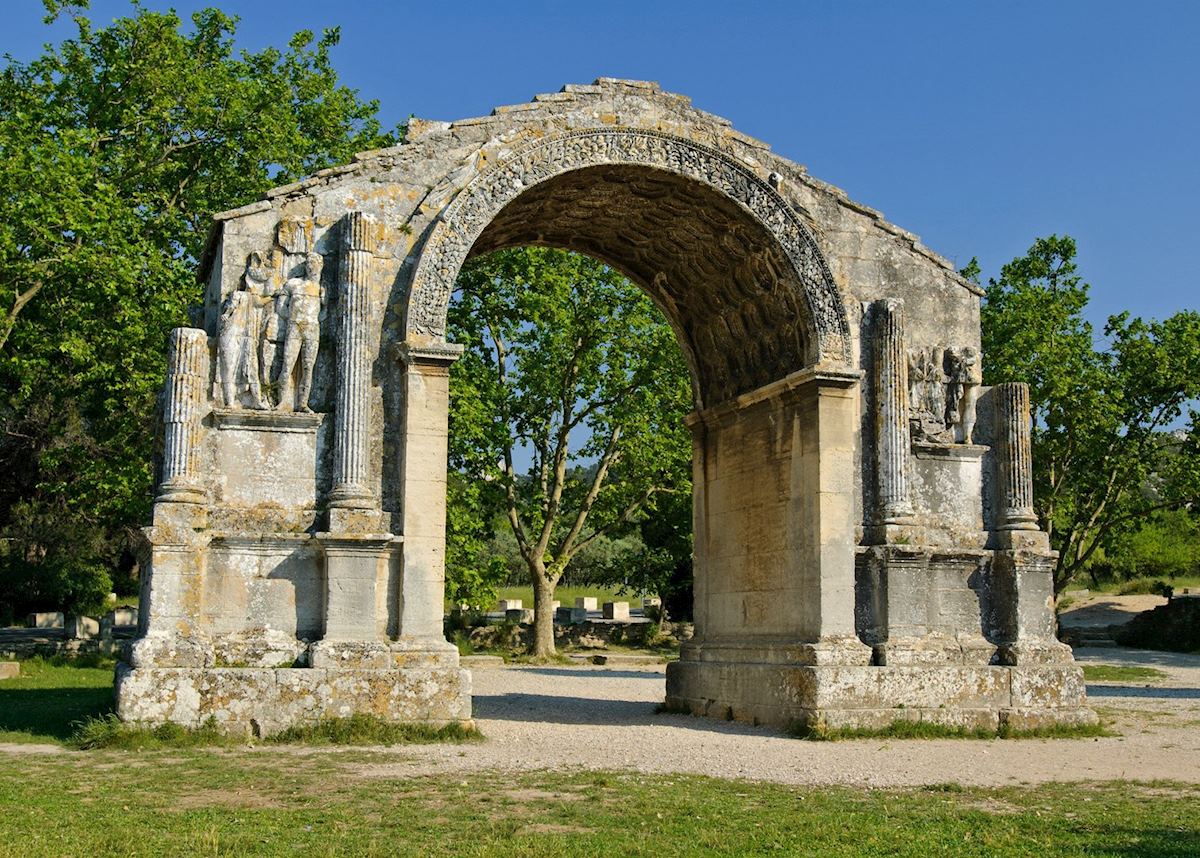 Glanum archaeological site
As an admirer of ruins, I'm particularly interested in the area's Roman roots. The very name, Provence, derives from the Roman era, when it was called Provincia Romana. Nowhere are these ancient antecedents easier to explore than in the Site Archéologique de Glanum, located at the foot of the Alpilles mountains.
Excavated over the past century and well preserved by the Mediterranean climate, the white-stone bones of the Gallo-Roman town remain largely intact. Visitors can even see glimpses of the ancient Greek village that preceded the Roman settlement. Many buildings still exist, including the country's oldest triumphal arch, which acted as the northern gate. Despite the richness of the site, Glanum has avoided the spotlight and you can visit without fighting through crowds.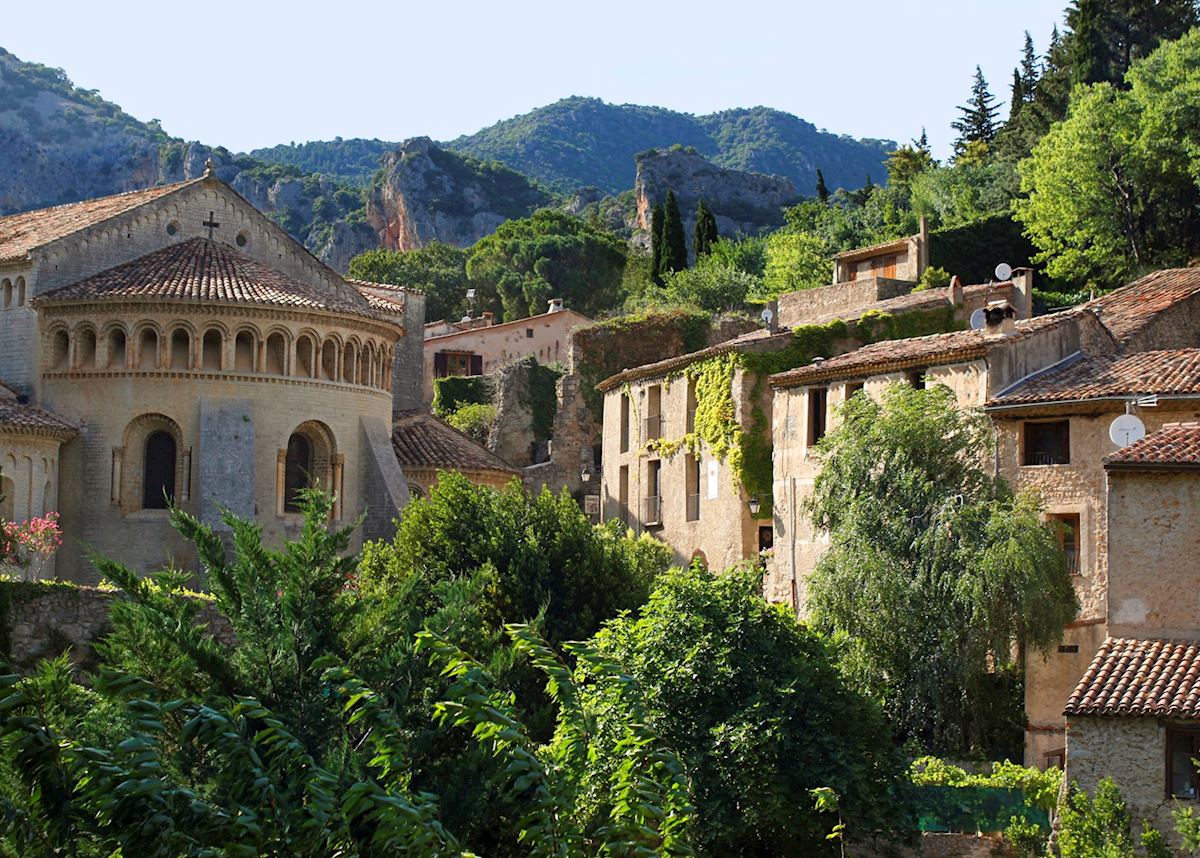 Arles, Provence
In the nearby commune of Saint-Rémy-de-Provence, you can visit the Saint-Paul de Mausole Monastery, the psychiatric house where Vincent van Gogh admitted himself after he mutilated his ear. During his time in Saint-Rémy, he produced more than 140 luminous paintings, including The Starry Night, Irises and The Room, which depicts his bedroom here.
About half an hour away, the city of Arles was also a frequent subject for Van Gogh. Last time I visited, the friend I was with had Café Terrace at Night on her phone case. As we came around a corner, she rocked to a stop, her face alight with joy. There was the real-world scene that inspired her beloved painting.
The cafe has been repainted a glorious yellow to more closely mimic the artist's vision, and I was reminded of his quote: 'I often think that the night is more alive and more richly coloured than the day'.
Pont-du-Gard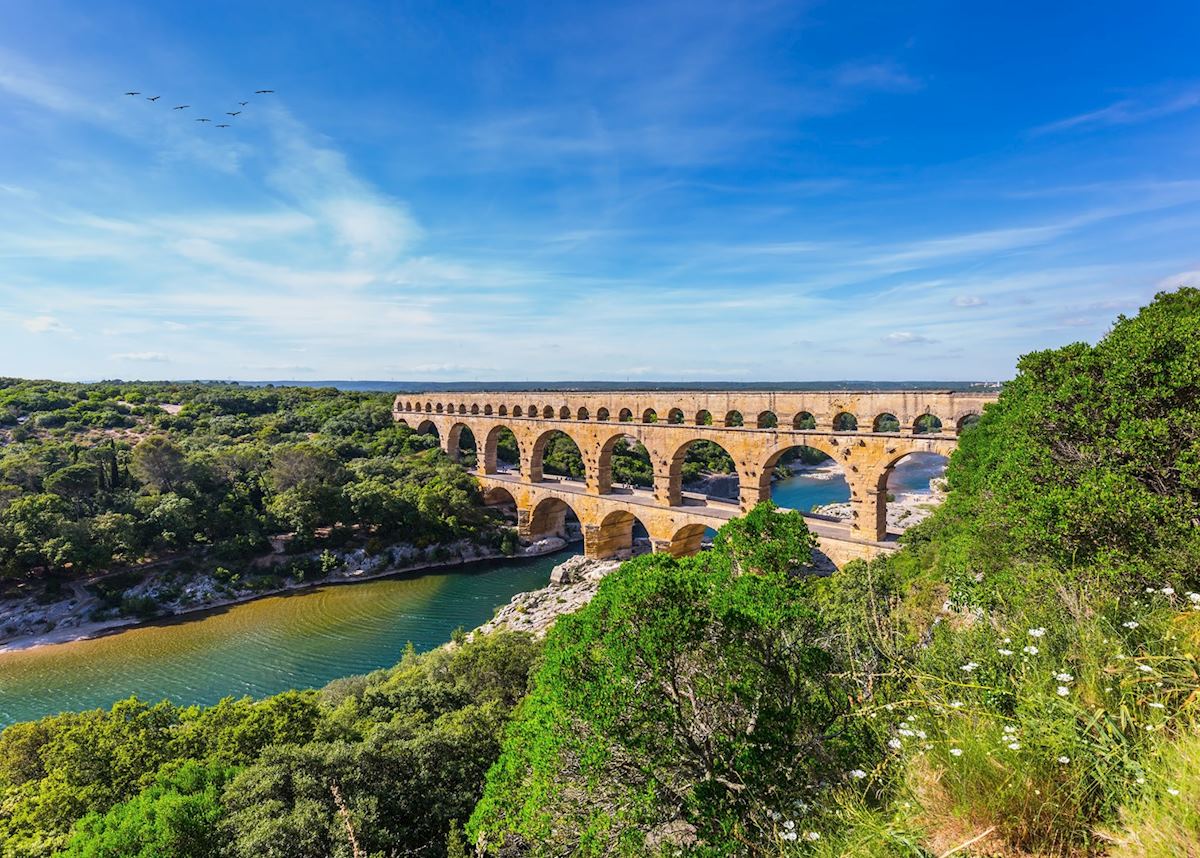 Pont-du-Gard, Provence
The largest relic that the Romans left behind is the Pont-du-Gard. The tallest Roman aqueduct in the world, it's the last-surviving remnant of a 50-km (31-mile) conduit built to convey water from a spring at Uzès to the Roman city of Nemausus (modern-day Nîmes).
Though the rest of the aqueduct fell into disrepair during the Middle Ages, this one stretch across the Gardon River survived by virtue of its usefulness as a toll bridge across the steep gorge. The remnant stands in isolated glory, an immense 2,000-year-old structure in the middle of the Provence countryside. A popular spot with artists and visitors for centuries, it's now protected as a UNESCO World Heritage Site.
Most people like to stroll across one of the aqueduct's three levels and admire the view down the river. While that's a fine thing to do, afterwards I like to head down to a stretch of pebbly riverbank. There, away from the crowds, you can actually see the whole width of the structure and marvel at the sheer technical prowess that went into creating it.
The classical arches span the gorge with effortless grace, even after almost two millennia. The white limestone has darkened with age but still cuts a striking silhouette, especially when the river is still enough to provide a reflection.
Châteauneuf-du-Pape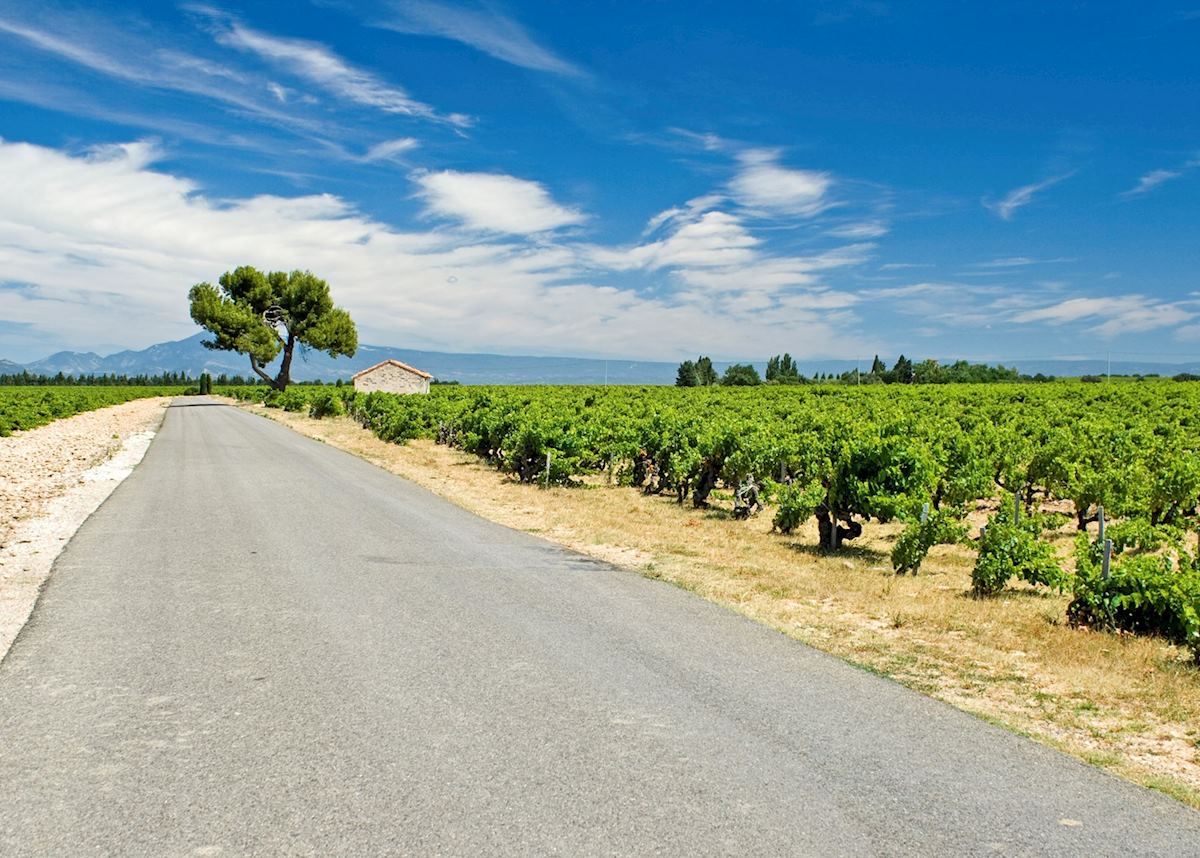 Vineyard, Châteauneuf-du-Pape
This tiny medieval commune is home to about 2,000 locals, a half-ruined castle and some of the most renowned vineyards in the world.
Even in its dilapidated state, the castle dominates the town. The summer home of medieval popes, the once-glorious chateau has been reduced to a mere skeleton following neglect and German bombing during World War II. (The Pope's Palace in nearby Avignon escaped bombardment.) The grounds are a pleasant place for a picnic against a backdrop of the area's many vineyards.
The village is at the heart of an AOP-protected region of the same name, meaning that the government only allows the Châteauneuf-du-Pape name to go onto wines made here that adhere to strict regulations. Thanks to this designation and the exceptional wine that the region produces, most of the arable land within the AOP borders is planted with row after row of grapevines.
Châteauneuf-du-Pape has particularly harsh growing conditions — the stony soil lacks organic matter, there's very little rain and the mistral whisks away moisture. Viticulturists cover their fields in rounded stones, called galets, to prevent evaporation and to regulate the soil temperature.
The lavender fields
Nothing prepared me for the overwhelming scent of lavender. Sachets and essential oils simply don't compare to the perfume that rises off a field filled with rows of the purple blooms, blossoming happily in the hot sun. It was like floating in a sea of flowers.
If you visit Provence during the months of June or July, almost any route through the countryside will take you past the lavender fields that give off the heady fragrance. The whole area is awash in vivid purple and humming with fat-bodied bees.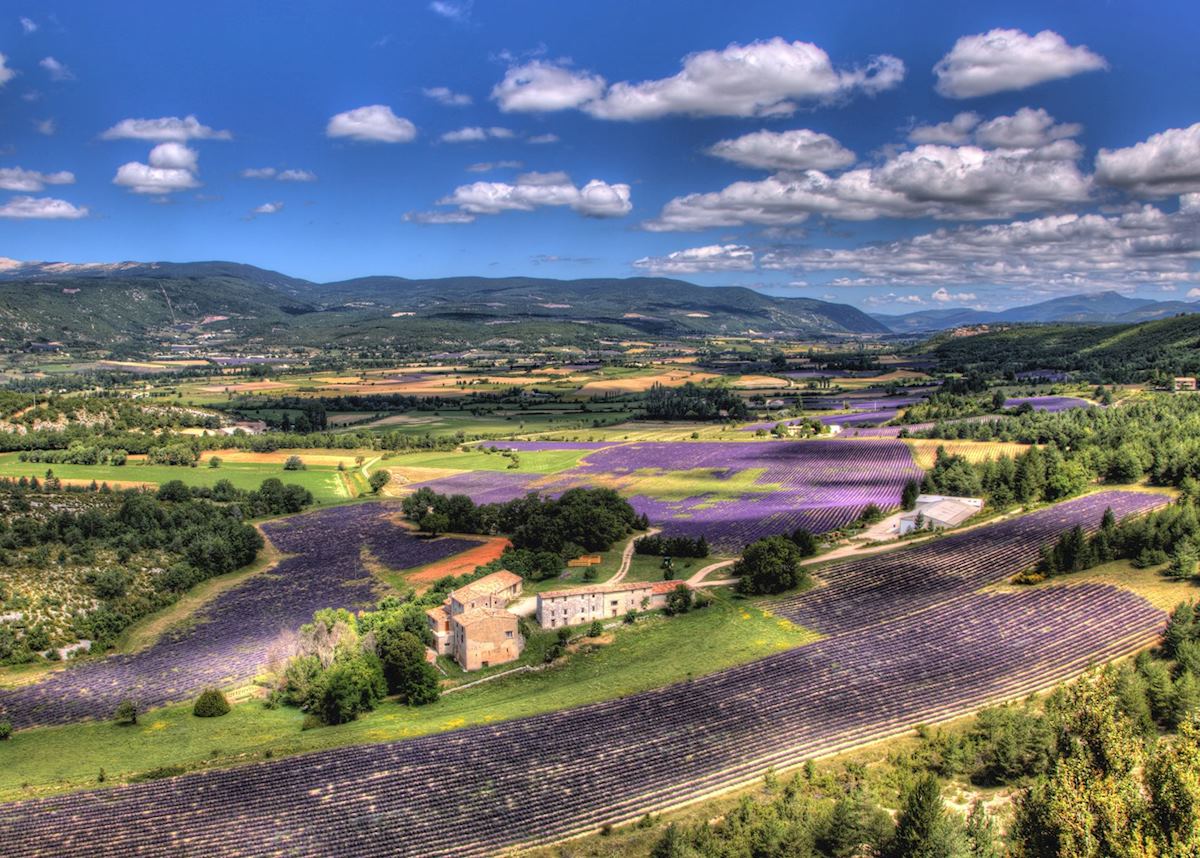 Lavender fields, Gordes
At the Abbaye de Sénanque, just outside Gordes, the small community of resident Cistercian monks grow lavender for their living. It runs away from the front of the Romanesque abbey in thick, billowing rows, and is the raw ingredient for a range of lavender-infused oils, honeys and soaps made by the order on site. On a tour, you can visit the fields as well as the abbey church and cloister.
Hidden Provence
Truffle hunting with Robert and Kita
My guide, Emanuel, parked the car at the side of a road, seemingly in the middle of nowhere. There were no buildings in sight, just low shrubs, stunted oaks and patches of spiky grass, a landscape known as garrigue and common to Southern France.
It didn't seem like much, but truffle hunting is all about looking beyond the obvious.
Emanuel introduced me to Robert and Kita, an experienced pair who were going to lead us on the hunt for the mysterious summer truffle. An older man, Robert had the wind-roughened appearance and spry footsteps of someone who'd spent his life walking under the Provençal sun. Kita was his indispensable partner, a lean black dog, her fur slightly tinged with grey, whose enthusiasm was palpable as her tail whipped back and forth.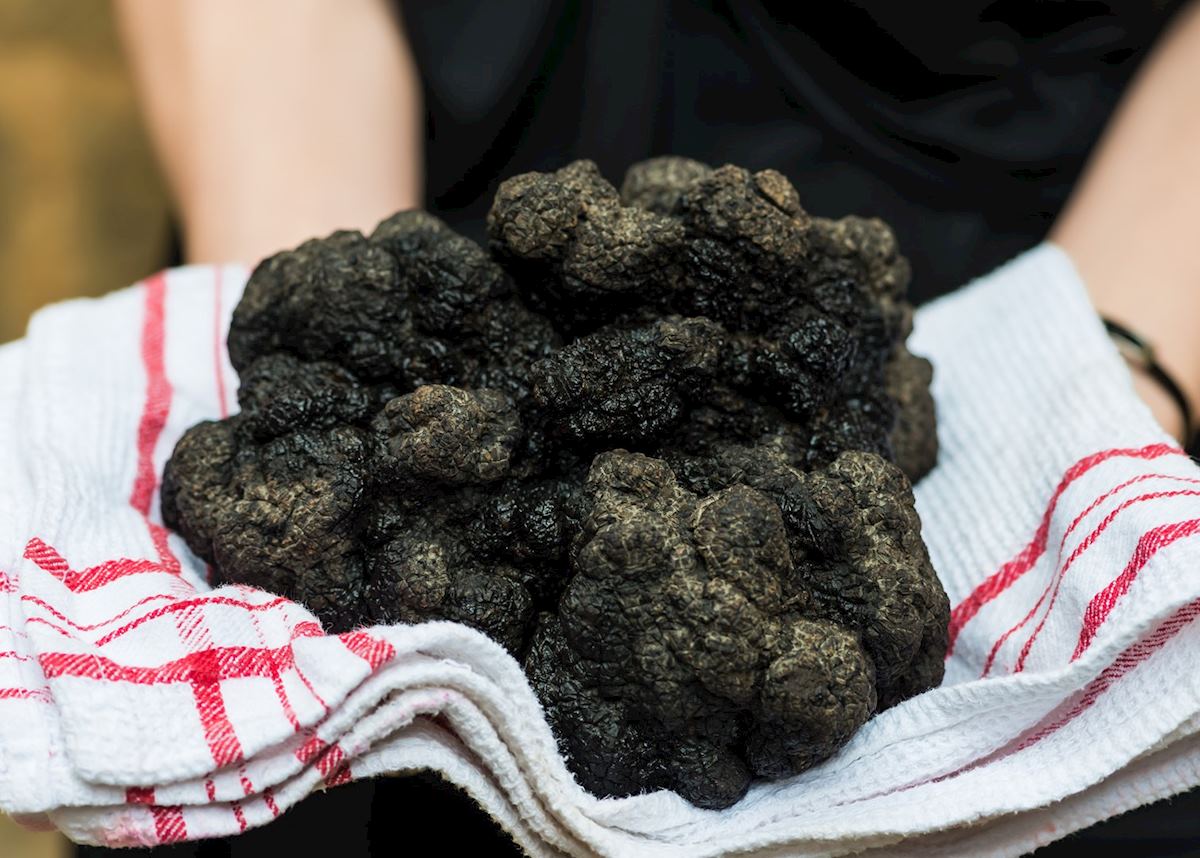 Truffles, Provence
Truffles are the fruiting bodies of a fungus that grows on the roots of trees and are very difficult to cultivate, despite repeated efforts. Instead, they must be gathered by hand in the traditional way, with the help of a trained animal to sniff them out under the soil. (Pigs were used for a long time, but now most hunters prefer dogs like Kita.)
The rarity of truffles and the effort that goes into finding them make them one of the most coveted foods in the world — a single ounce of white truffle can cost as much as a nice dinner for two. Robert explained that if I wanted to go with him to find white truffles, I'd have to return in the autumn. Instead, he was looking for the (slightly) more common summer truffle, Tuber aestivum.
At Robert's signal, Kita launched herself into the shrubland with great energy, her nose snuffling low to the ground. It wasn't long before she began making tight circles, tail wagging hard as she scratched at the ground. He patted her head and gave her a treat before gently nudging her to one side.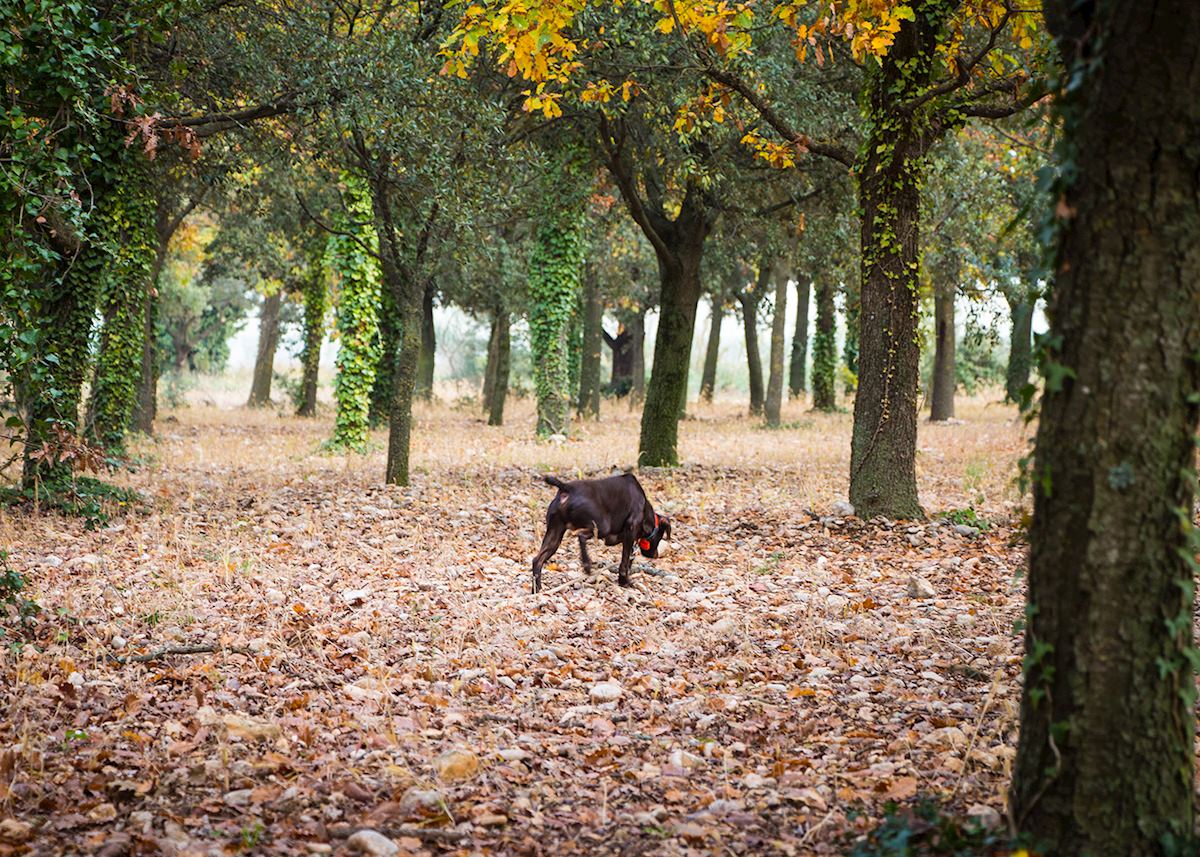 Dog hunting for truffles in Provence
The dirt in that spot was a little dusty and a slightly greyer shade of brown, with sparser vegetation. That was a subtle clue that truffles lay underneath, he explained. Then he dug in.
The irregular lump of black didn't look like much, especially with the grey-brown soil still clinging to it. But Robert urged me to take a deep whiff. Much poetry has been spilled about the scent of truffles, using words like mysterious, seductive, ethereal and earthy. Those all fail to capture the scent of any truffle, especially one that has just been dug from the earth.
We didn't have time to linger. Kita was pawing at the dirt again, not far away. In all, Robert collected more than a dozen truffles while we were there, tucking each of the nobbly, delicate morsels into his dusty bag to sell at a market later.
Provence market tour and cooking class
Markets are a central feature of village life in Provence and a guided tour of one, followed by a cooking lesson, can provide a glimpse into the local cuisine.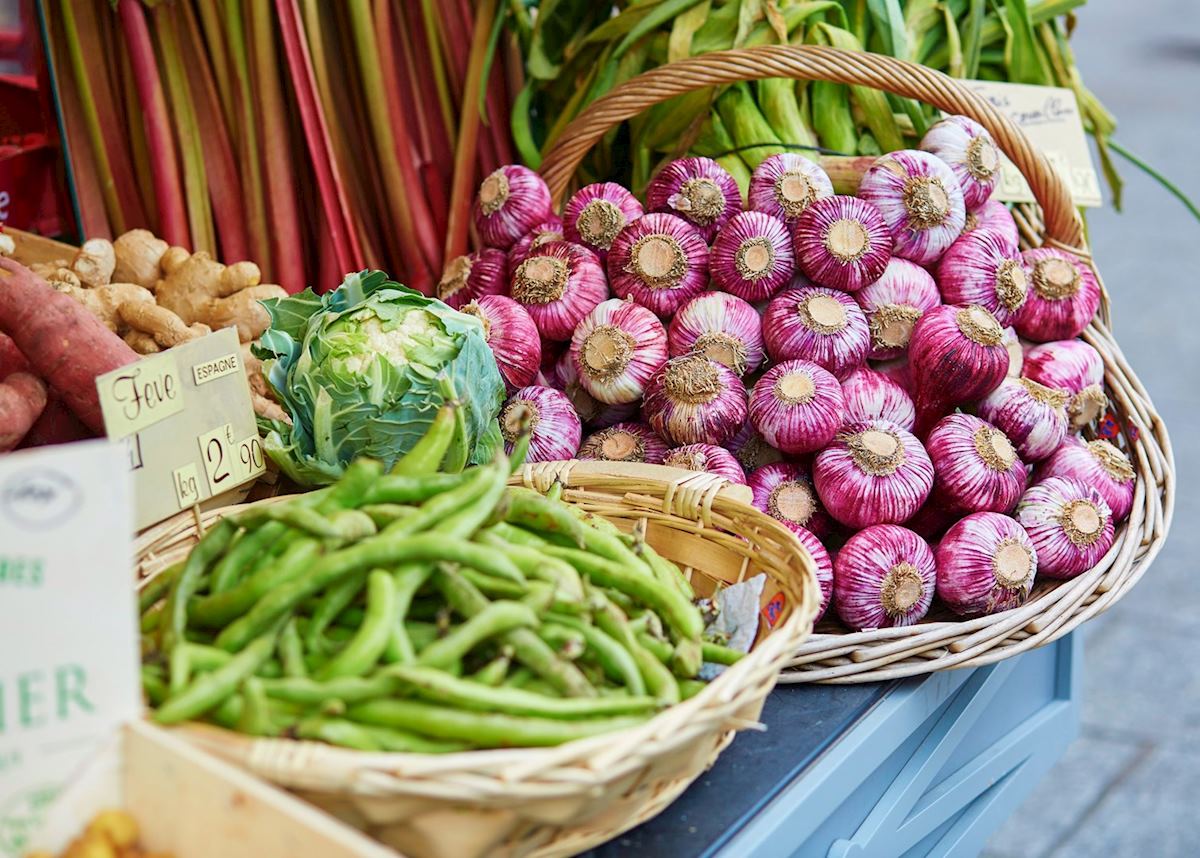 Vegetables for sale
On a recent visit, I took such a tour with a local chef named Gilles. Because cooking is such a sociable event in France, I invited several friends to come with me. An affable man from a long line of local cooks, he began with a discussion about the day's menu — what did we like, what was in season, were we interested in trying anything in particular?
Like almost everyone in France, Gilles shops and cooks seasonally. On that early summer day he planned a light meal that was suitable for the heat and the bounty of vegetables. If you take the tour in a different season, you might be treated to ratatouille or daube, a traditional local beef stew cooked in wine.
Shopping with Gilles is an education. He introduced us to the vendors and explained how he chose his produce. There were bottles of fruity oil, piles of bright-red peppers and pearly cauliflowers and heaps of fragrant stone fruit, as well as barrels filled with different sorts of olives, glistening black and green jewels that were dished out with a heavy wooden ladle. Bunches of the herbs that make up herbes de Provence — savory, marjoram, rosemary, thyme and oregano — were also laid out.
Fish lay on beds of ice and Gilles chose a nice piece of cod, which smelled briny and clean even in the summer heat.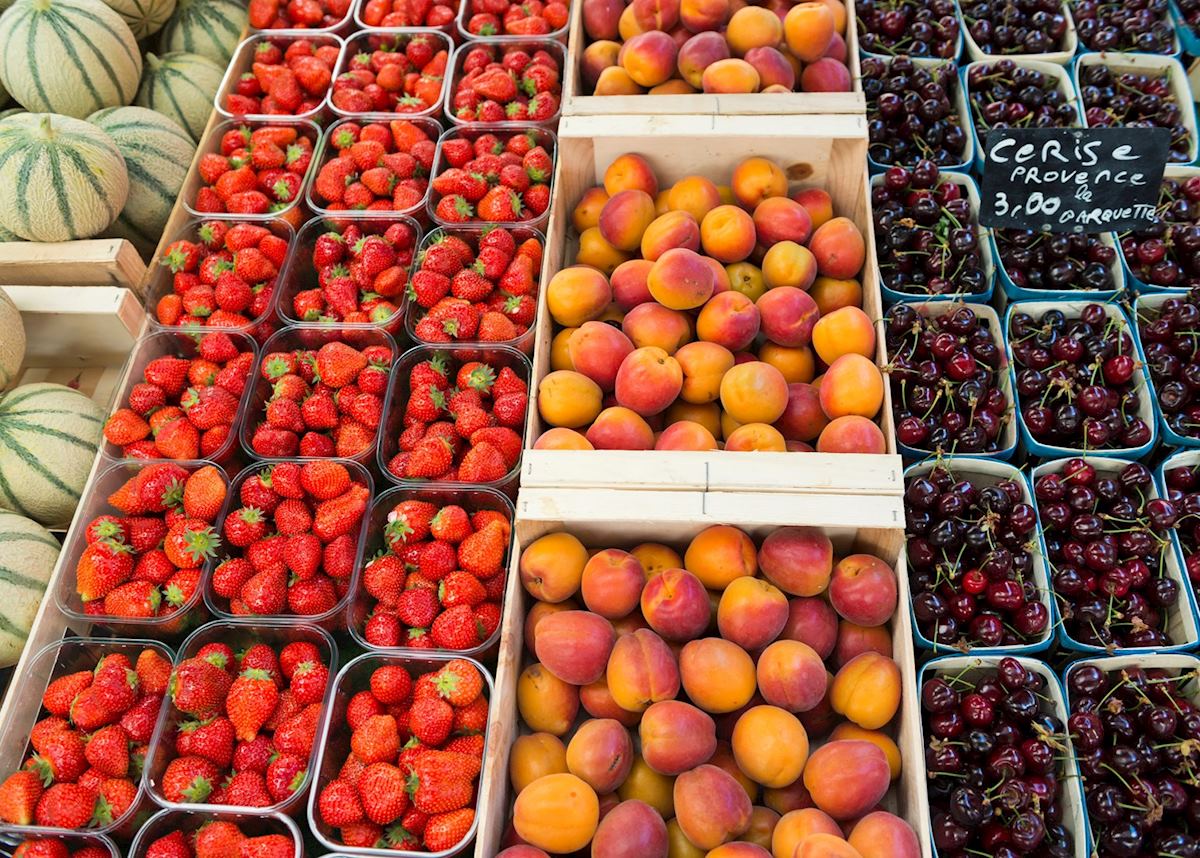 Fruit at market, France
Once he'd filled his basket with produce, we headed to a nearby chateau where we had a small tasting to help us choose wine to go with our meal. We walked out with an indulgent three bottles, two rosés and a crisp white to go with the fish.
Then you adjourn to Gilles' aunt's house, a chic modern space outside town. There, he assigned each of us a task and explained how to prepare all the luscious food he'd just purchased. I was given the job of cutting, pitting and then cooking apricots, simmering them slowly in a mixture of sugar and butter until they caramelised and their flesh turned translucent and jewel-like.
The meal itself was remarkably simple — poached cod served with crisp vegetables dipped in both pungent garlic aioli and oily, briny tapenade. For dessert, my candied apricots were tucked into a rustic tartlet, the tender almond crust baked to a golden brown.
Where to stay in Provence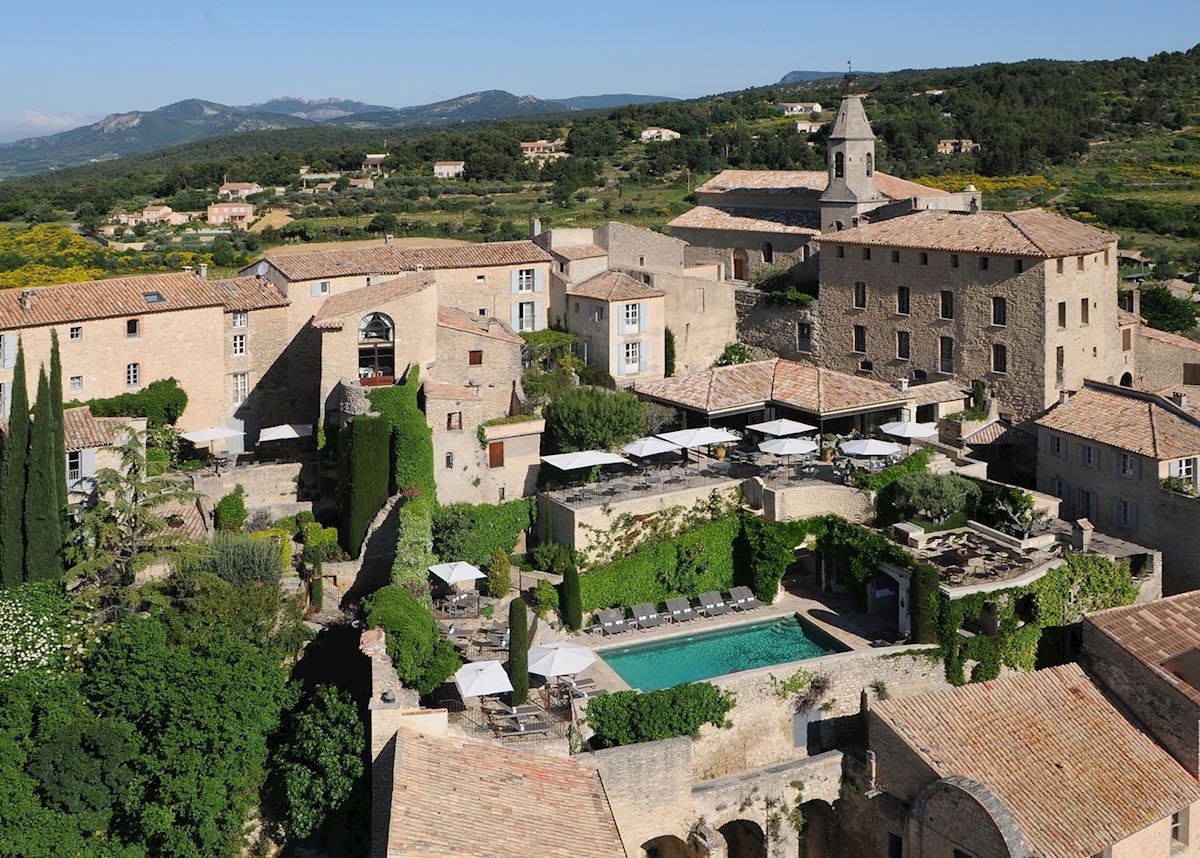 Crillion le Brave
Perched high on a hill in a village of the same name, the Crillion le Brave hotel is a small clutch of eight historic stone buildings that have been converted into airy guest rooms. Visitors can elect to stay in the house that once belonged to the village's teacher or lawyer. The converted stable is now the spa. The rooms, gardens and restaurants all have panoramic views of nearby olive groves and vineyards.
Built right into the hillside, the Bastide de Gordes is a chic retreat that's just a brief walk to the heart of the commune. The elegant rooms evoke the old-world opulence of Louis XV, and the liveried staff provide attention to every detail. The terraces and restaurants overlook the steep hillsides that are covered in shrubs and stunted cypress trees.
Best time to visit Provence
The months of June and July bring festivals to each town, as well as the purple glory of the lavender in full bloom. However, the weather will be hot and there are likely to be more visitors. If visiting the lavender fields isn't important to you, May and September provide lovely temperatures and fewer crowds.
Start planning your trip to Provence
Start thinking about your experience. These itineraries are simply suggestions for how you could enjoy some of the same experiences as our specialists. They're just for inspiration, because your trip will be created around your particular tastes.