Visit Pont-du-Gard, France
Standing below the colossal Pont-du-Gard, it's difficult to comprehend just how old this construction is. Built half way through the first century AD, the aqueduct was the crowning structure in a 50 km (30 mile) network of canals that transported water from a spring at Uzès to the Roman colony of Nemausus (present day Nîmes).
It's a masterpiece of Roman engineering more than 2,000 years old, and yet its stately proportions and august air fit seamlessly into the modern landscape. Although southern France is blessed with a large number of Roman sites, the Pont-du-Gard is one of the most impressive of all.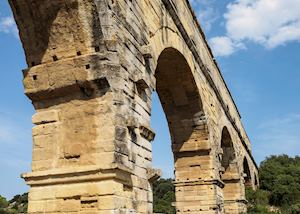 Pont-du-Gard consists of three tiers of precisely engineered arches cut from soft yellow, locally quarried limestone. Meticulously carved by hand using picks and sharp metal, the gargantuan stones were precisely engineered and placed to create a mere 2.5 cm (1 inch) drop over the course of the 275 m (902 ft) long aqueduct and keep the water flowing across.
At 50 m (164 ft) high, the structure lords over the river valley and remains the highest of all elevated Roman aqueducts. Its remarkable state of preservation has made it a UNESCO World Heritage Site, and you can walk along the tiers to marvel at the engineering involved, its 52 arches, and to admire the panoramic views it offers over the surrounding countryside.
The museum does an exceptional job of explaining all the facts about the aqueduct's construction, for both adults and children. It traces the history of how the Pont-du-Gard was built through models, life-size reconstructions, interactive displays and videos.
You also gain vivid descriptions of life in the ancient Roman world as well as a thorough explanation of why water was such a crucial part of Roman life, from domestic and agricultural uses to supplying baths and public fountains. The interactive exhibits and hands-on displays in the Ludo play area are designed for young visitors.
Speak to someone
who's been there
Start planning your tailor-made trip to Pont-du-Gard by contacting one of our France specialists
Places & hotels on the map