Tucked away in the Rhône Valley north of Avignon, the little Provence town of Orange is a modest, modern-looking place that gives little impression that it's home to two UNESCO World Heritage Sites and some of the best Roman remains in Europe.
The Théâtre Antique d'Orange, at the edge of the central town, is one of the best preserved of the great Roman theatres in the world. Its sheer scale as well as its remarkable condition is astounding.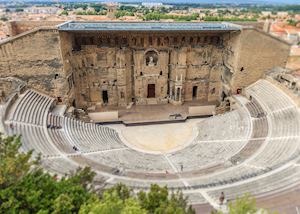 The theatre was built under Emperor Augustus in the 1st century AD but closed by official edict in 391 when the Christian church disapproved of its uncivilised performances. Today, you can soak up the atmosphere and experience this ancient site at one of the summer spectacles hosted there.
The town's medieval heart is dominated by the massive Roman theatre wall, the only one in the world still standing. At 37 m (121 ft) high and 103 m (338 ft) long, it's unmissable. The theatre was restored in the 19th century, having been used as a fort, prison and tenement since its closure. Although many of its decorative features such as friezes and statues are lost, it remains largely intact.
It was originally built to accommodate 10,000 spectators in rows of seats strictly divided by rank, but the remarkable acoustics ensured every word and note were audible in every seat. A small museum on the site displays finds including decorative friezes and plaques, amphoras, busts and vases as well as three cadastres (property surveys) dating from 77 BC. It also has displays on life during Roman times and the types of performances originally held here.
Orange's second World Heritage Site is a 1st-century monumental arch, decorated with low reliefs commemorating the establishment of the Pax Romana, a time of peace throughout the Roman Empire. It was built during the reign of Augustus on the former Via Agrippa, the Roman road network through Gaul.
Speak to someone
who's been there
Start planning your tailor-made trip to Orange by contacting one of our France specialists
01993 838 089
Places & hotels on the map