Top 20 Hotel Pools With A View
From rooftop hot tubs overlooking bustling cityscapes to a sparkling infinity pool pouring into an emerald lagoon, some of the best hotel pools are made so by the breathtaking views that they command.
Below we've chosen 20 of our favourite hotel pools with a view. With so many different places to choose from, it's difficult to pick one overall winner, therefore we've listed each by geographical region.
If you would like to find out more about any of the properties or how to book a tailor-made trip with Audley, give one of our specialists a call on 1 800 992 198.
*Itinerary prices correct as of September 2010.
Africa
Find out more about booking a tailor-made trip to Africa.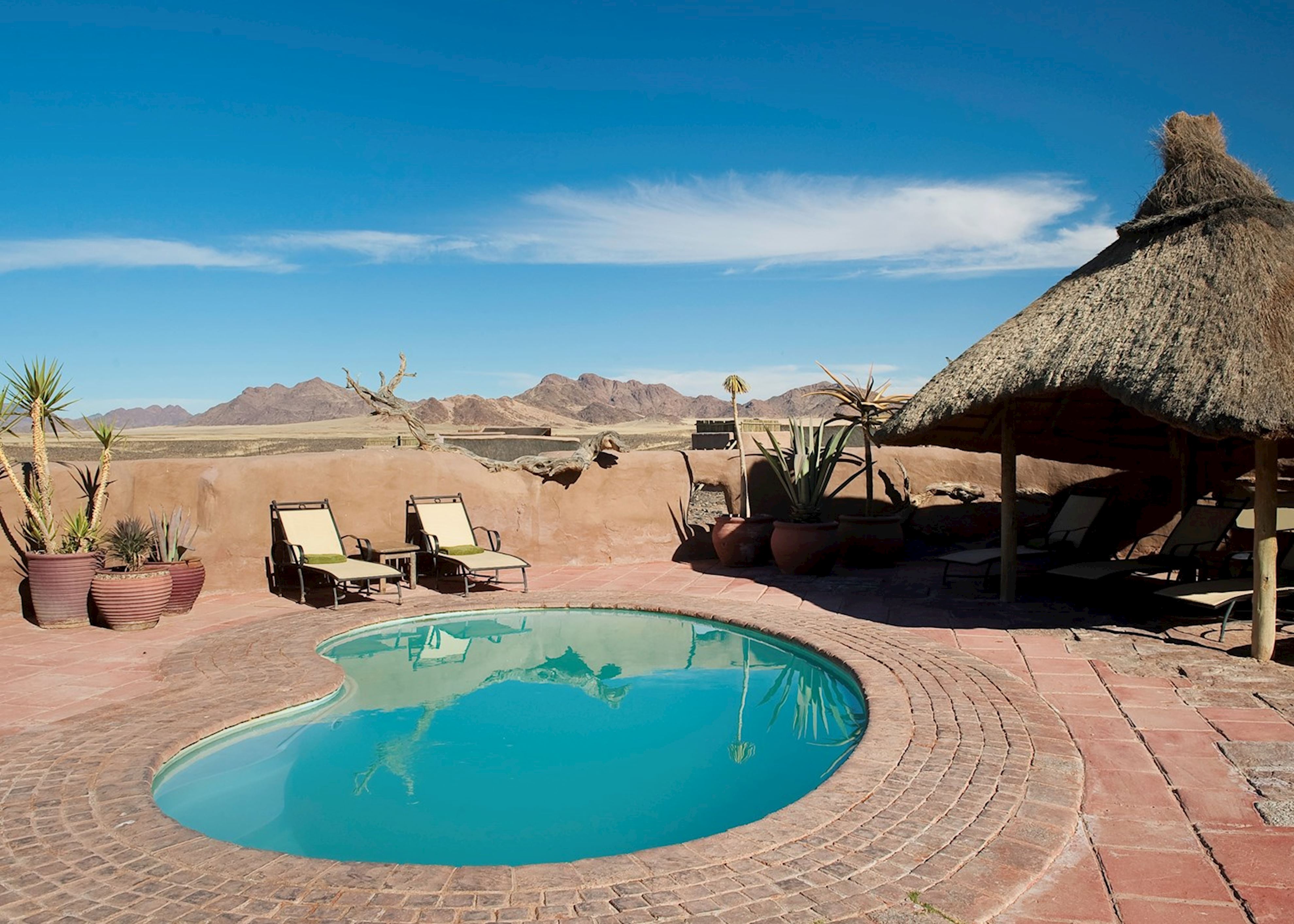 Kulala Desert Lodge, Namibia
Located next to a private entrance to the Namib Naukluft Park, Kulala Desert Lodge is the closest hotel to the Sossusvlei Dunes. After a long day exploring the baking desert, the stunning pool makes for a perfect place to relax in the cool water and watch the dunes slowly change from golden amber to a deep red in the mellow light of the setting sun.
A 13 day self-drive trip to Namibia to see the highlights, including international flights, costs from £2,875 per person.
Read more about Kulala Desert Lodge
The Royal Livingstone, Zambia
The luxurious Royal Livingstone Hotel enjoys an incredible location just a few minutes' walk from the summit of the thundering Victoria Falls. The pool here is sunk into landscaped gardens with views out over the Zambezi River and the rising mist of the falls. The manicured lawns are grazed by the resident zebra as monkeys swing in the trees above.
A 12 day trip to Zambia including a South Luangwa safari and time relaxing at the Royal Livingstone costs from £3,745 per person.
Read more about Royal Livingstone Hotel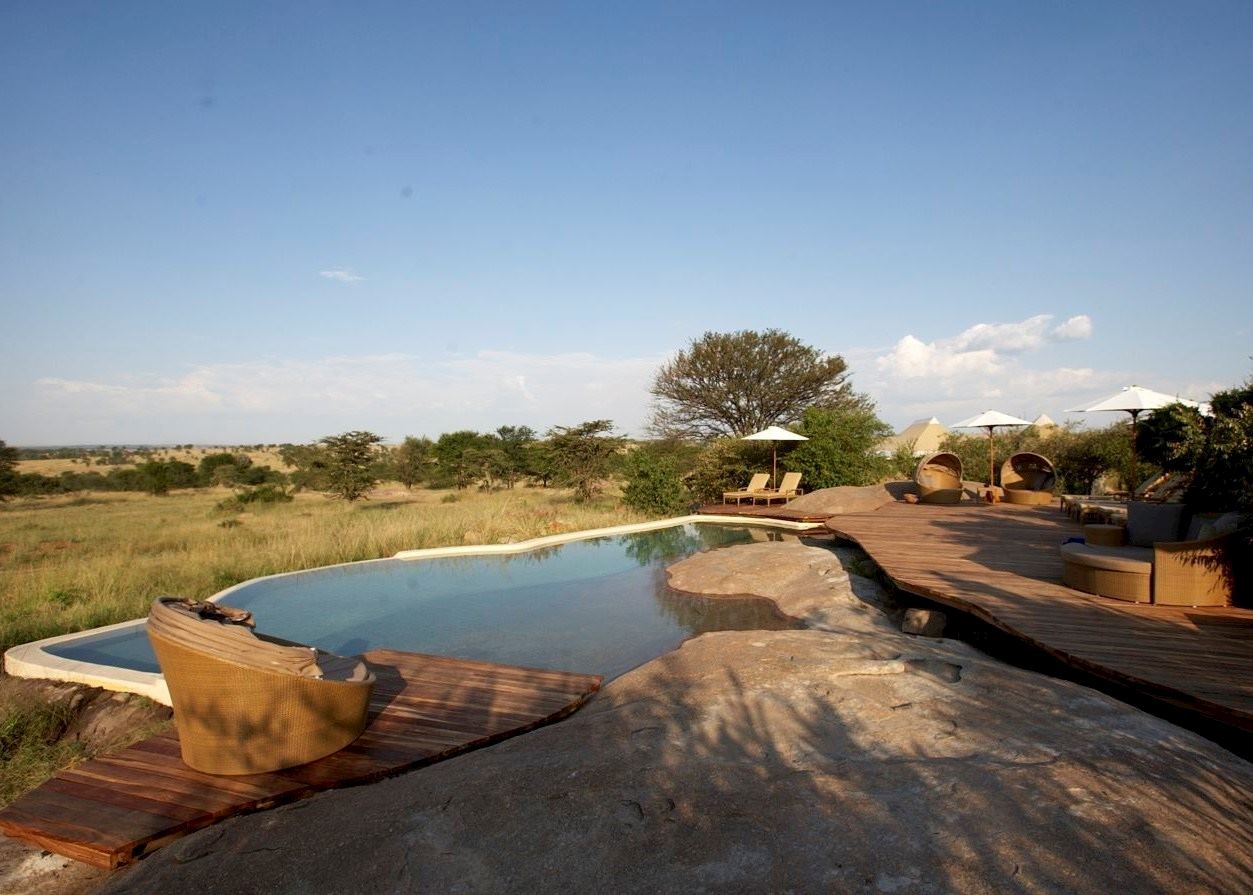 Sayari Camp, Tanzania
Sayari camp is located in one of the most remote parts of the Serengeti and offers 15 luxurious safari tents. The views here stretch out across the savannah plains and into Kenya. If you time your visit right, you can sit in the pool with a cold drink and watch one of the greatest spectacles on earth - hundreds of thousands of wildebeest making their annual migration north or south in search of fresh grazing.
A 14 day Northern Circuit safari combined with Zanzibar costs from £5,050 per person.
Read more about Sayari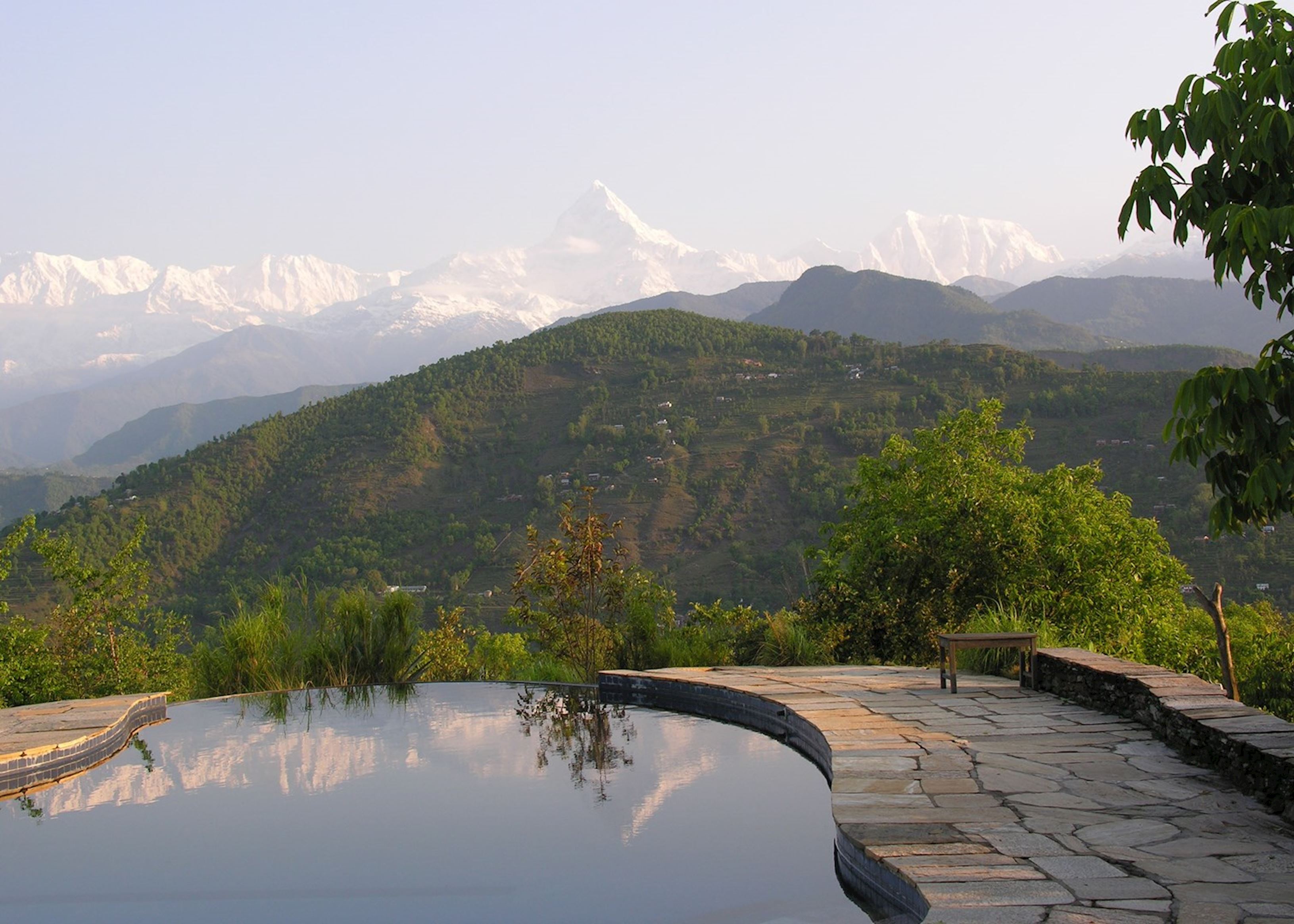 Tiger Mountain Lodge, Nepal
Set on a hillside high above the town of Pokhara, Tiger Mountain Lodge in Nepal is one of the best hotel choices in the region with comfortable and tastefully-furnished guest rooms. The tranquil pool and patio area offers views that extend beyond the Pokhara Valley to the mighty, snow-capped Annapurna mountains in the distance.
A 13 day trip to Nepal staying at Tiger Mountain Lodge and other comfortable trekking lodges starts from just £3,365 per person.
Read more about Tiger Mountain Lodge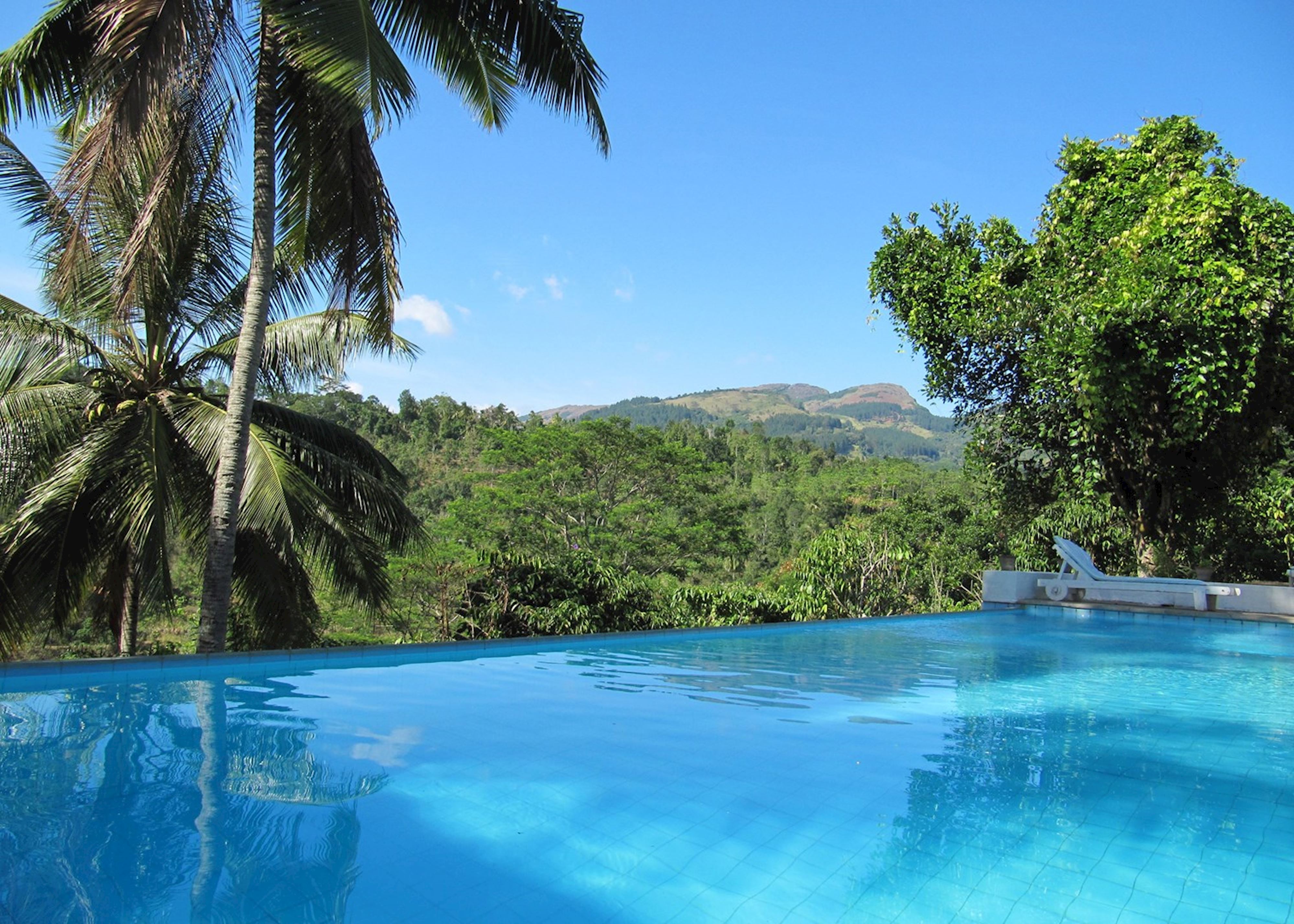 Ellerton, Sri Lanka
A small boutique hotel set on its own secluded hilltop, the Ellerton offers simple yet homely accommodation just 30 minutes' drive from the UNESCO-listed city of Kandy. Built over 100 years ago for a wealthy tea estate owner, it manages to preserve its colonial character, whilst the tranquil infinity pool offers uninterrupted views over the verdant jungle of central Sri Lanka.
A 14 day trip exploring the highlights of Sri Lanka, plus time spent relaxing in the Maldives, costs from £2,420 per person.
Read more about Ellerton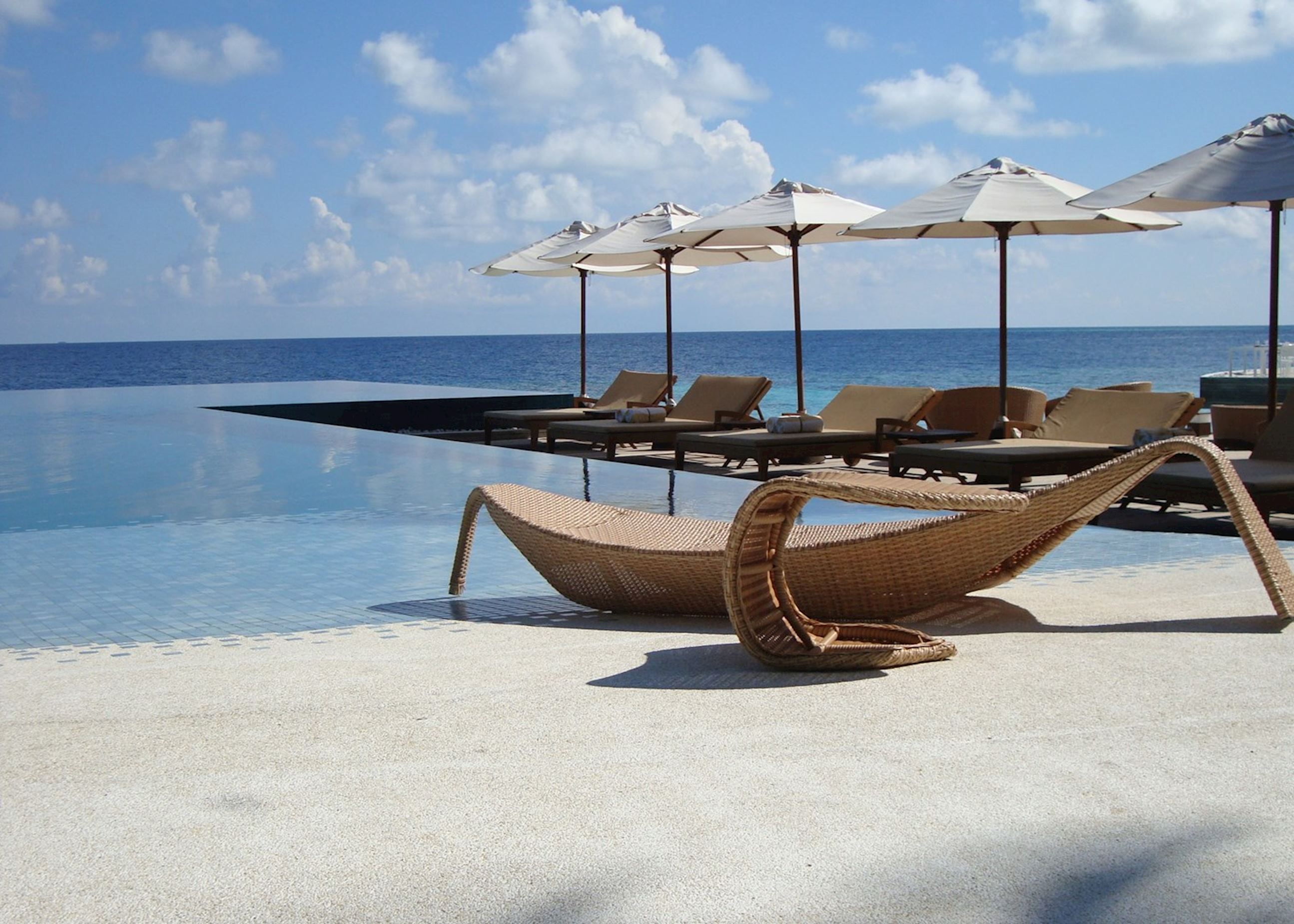 Huvafen Fushi, The Maldives
This stylish, contemporary resort manages to retain a traditional Maldivian feel, with spacious thatched bungalows extending out into the ocean on raised walkways. Each suite at Huvafen Fushi features its own private plunge pool with views out to sea, but the real highlight is the sparkling infinity pool, which, when the sun goes down, becomes illuminated by tiny glittering lights.
A nine day trip to the Maldives including a relaxing stay at Huvafen Fushi costs from £2,920 per person.
Read more about Huvafen Fushi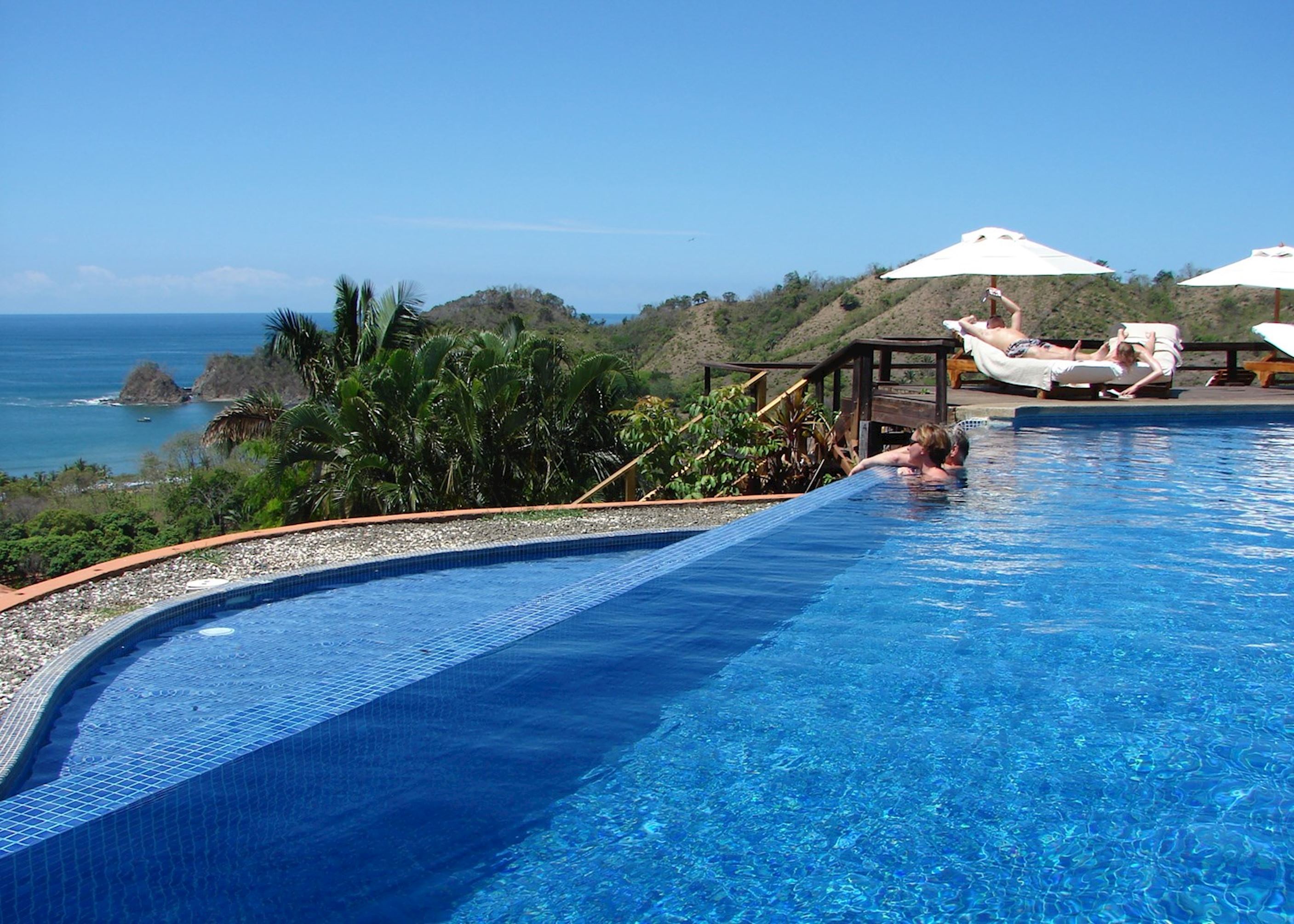 Punta Islita, Costa Rica
A welcoming, peaceful hotel with a truly novel approach to responsible tourism, Punta Islita is set into a hillside in the secluded paradise of Guanacaste on the Pacific coast of Costa Rica. The infinity pool and quiet bar and decking area look out to uninterrupted views of the sweeping, azure-blue Pacific Ocean.
A 14 day trip to Costa Rica, including international flights and a stay at Punta Islita, starts from £2,795 per person.
Read more about Punta Islita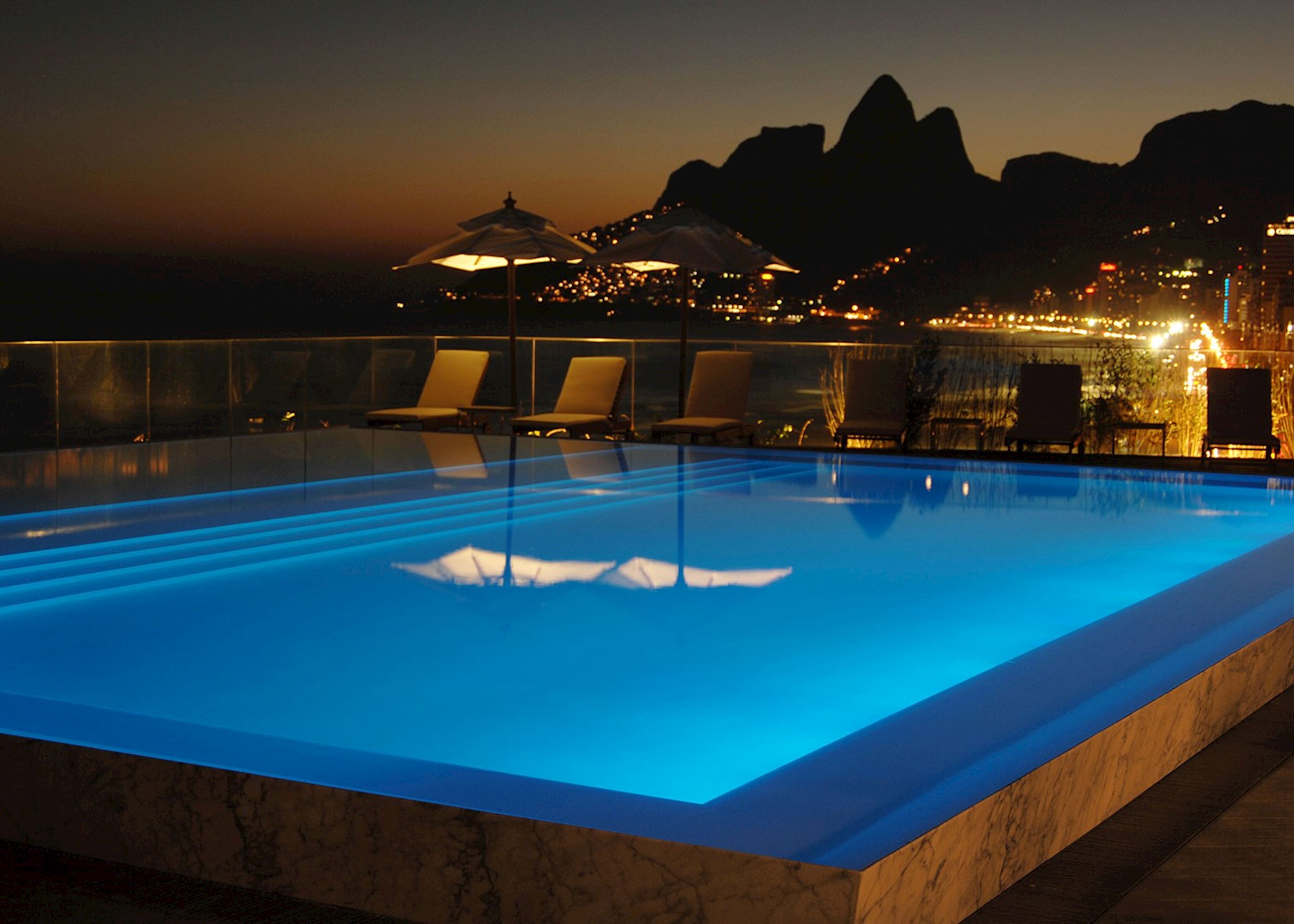 Fasano Rio, Brazil
A luxurious and stylish choice for visitors to Rio de Janeiro, in Brazil the Fasano Rio is arguably the best hotel in the city, with unparalleled service and an excellent location on Ipanema Beach. The rooftop pool is the perfect spot for relaxing with a caipirinha whilst gazing out across the vibrant, colourful cityscape below.
A 14 day trip to Brazil, including Iguacu Falls, Salvador and a stay at Fasano Rio, costs from £4,750 per person.
Read more about Fasano Rio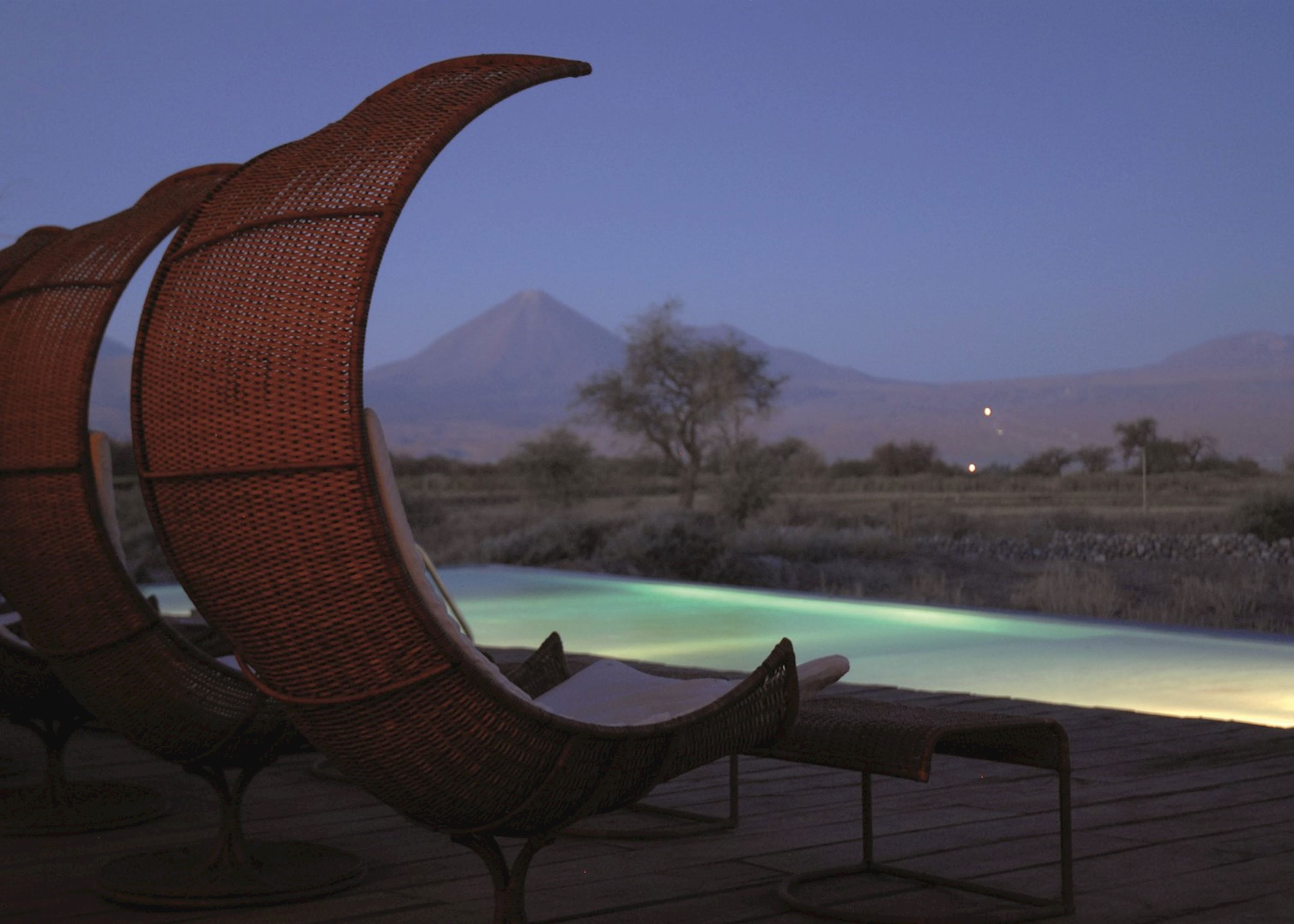 Tierra Atacama, Chile
This contemporary hotel sits at the edge of San Pedro de Atacama, a village oasis fed by two rivers and surrounded by stunning natural scenery in Chile's Atacama Desert. The outstanding spa and treatment centre at Tierra Atacama features an outdoor pool with views across the Atacama desert to the mountainous peak of Licancabur volcano.
A 15 day trip to Chile, including time in the Atacama desert and Torres del Paine National Park, costs from £4,350 per person.
Read more about Tierra Atacama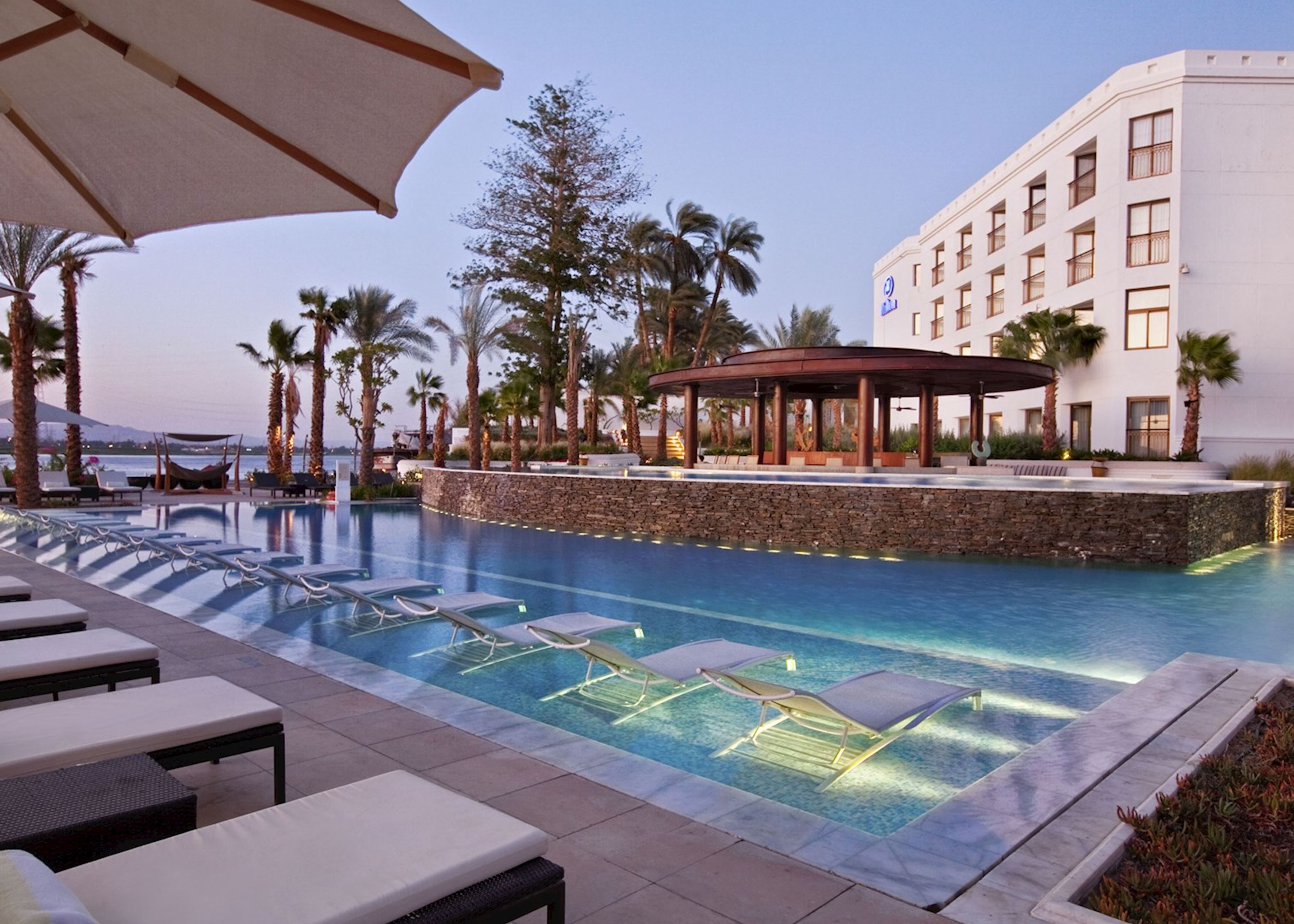 Hilton Luxor, Egypt
With an enviable location on the eastern bank of the River Nile in Egypt, the Hilton Luxor is one of the most luxurious and contemporary of all the hotels in Luxor. Two impressive infinity pools look out to the palm-fringed shores of the Nile, and the partly-submerged loungers are perfect for relaxing with a cold drink whilst watching cruise boats and sailing yachts float by.
Eight nights in Egypt exploring the historic highlights of Cairo, Aswan and a stay at the Hilton Luxor costs from £2,295 per person.
Read more about Hilton Luxor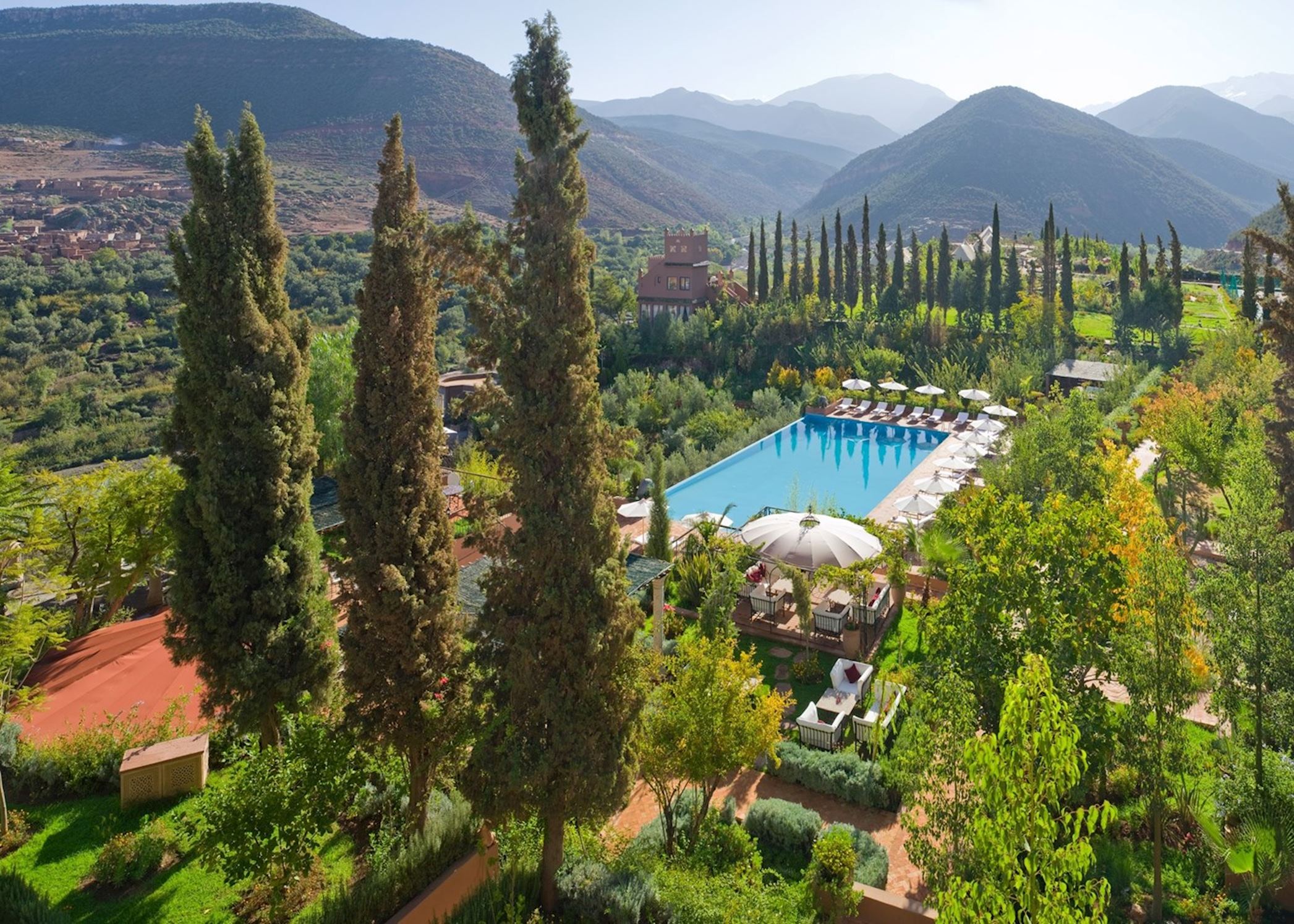 Kasbah Tamadot, Morocco
Richard Branson's Kasbah Tamadot is a fusion of traditional Moroccan architecture with fabulous modern luxury; every detail has been honoured in the renovation of this remarkable building. The shimmering blue pool, surrounded by comfortable loungers, looks out to the foothills and towering peaks of the Atlas Mountains.
A seven night trip to Morocco, including four nights in Marrakesh and three nights at Kasbah Tamadot, costs from £1,595 per person.
Read more about Kasbah Tamadot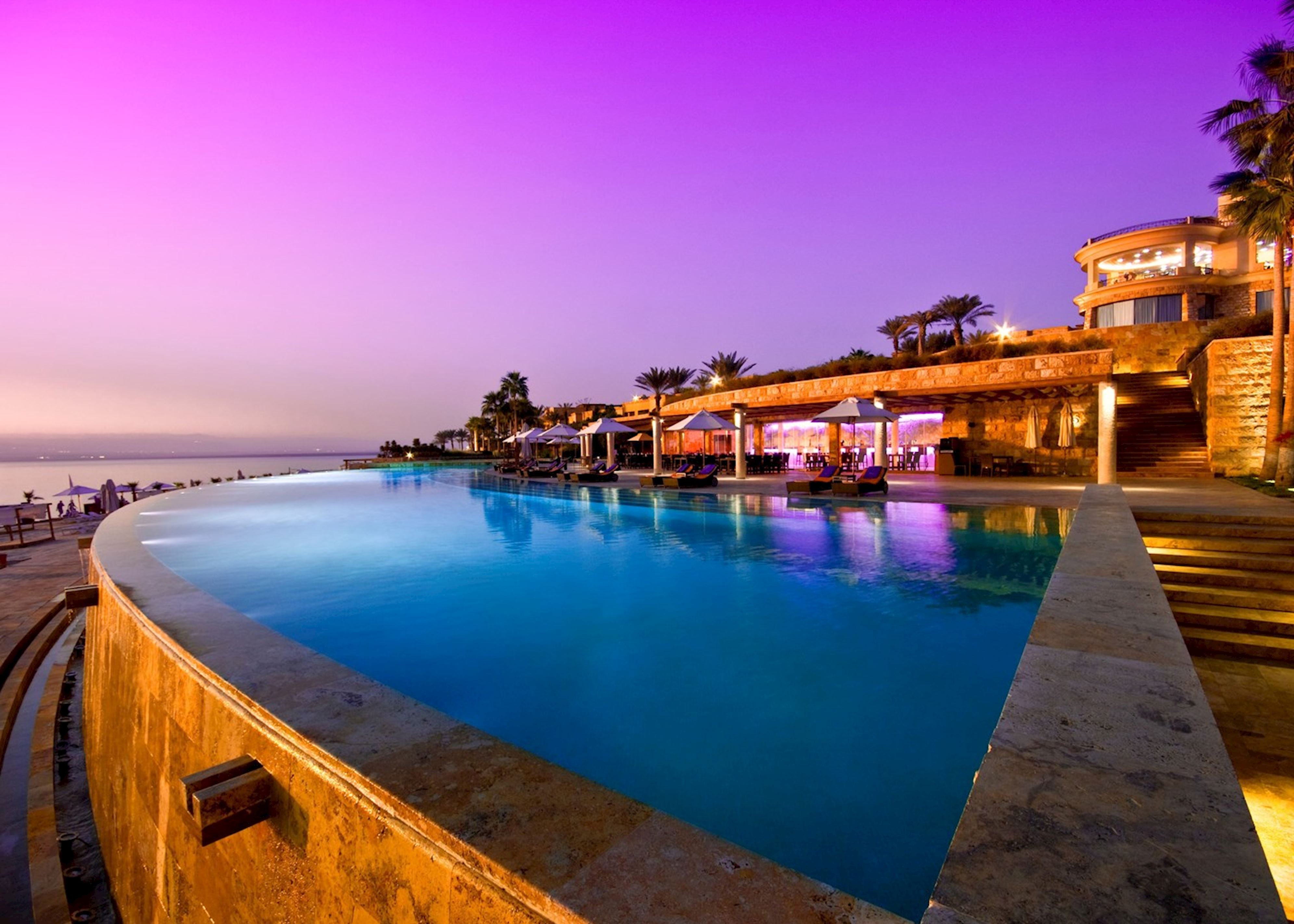 Kempinski Ishtar Dead Sea, Jordan
A world-class hotel located on the shores of the Dead Sea, Kempinski Ishtar offers service, accommodation and fine dining unlike any other property in Jordan. Carefully-sculpted infinity pools offer the perfect environment to relax and unwind, with breathtaking views of deep orange sunsets out over the still water of the Dead Sea.
Eight nights in Jordan, including time in Amman, Petra and a stay at the Kempinski Ishtar, costs from £2,350 per person.
Read more about Kempinski Ishtar Dead Sea