It may seem like an unlikely combination, but our specialists recommend combining Mumbai and Goa for an Indian trip of contrasts. After exploring the lively financial hub of Mumbai, you can breathe in the salty sea air and welcome Goa's slower pace of life.
In-between Mumbai's frantic traffic, street-stalls and sugarcane juice vendors, you can discover the enterprising Dharavi slum, or the dabbawalas' lunchbox service. Our specialist Nick proposes spending time amid Mumbai's chaotic streets so you can unearth the city's different aspects, such as waking up before dawn to glimpse Mumbai behind the scenes or setting sail to Elephanta Island.
Nearby is the mellow beach filled state of Goa. By contrast, residents here enjoy a daily siesta. As our specialist Louisa explains, in Goa you can relax, indulge in fresh seafood, or explore the vestiges of a former Portuguese town.
Why visit Mumbai?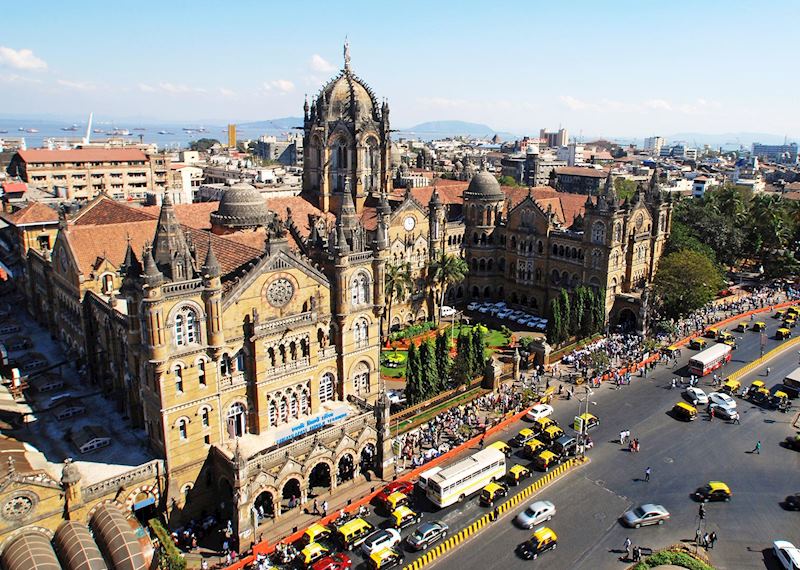 By India specialist Nick
Mumbai paints vivid juxtapositions — on the doorstep of India's most expensive house is the city's largest slum. A worker pushes a handcart down a road fringed with skyscrapers and grand hotels. Everything, and everyone is crammed right on top of each other.
Mumbaikar's are proud of their cosmopolitan city. Wherever you stray, I find that people will try to speak to you, normally starting with 'What is your good name?' and 'Where are you from?'.
I never quite know what to expect in Mumbai. However, every time, I can be sure I'll be greeted with chaos, a sea breeze and a cup of chai.
What can you do in Mumbai?
The Chhatrapati Shivaji Terminus (CST)
I always recommend people to visit the CST, even if you're not catching a train, as it's such an integral part of life in the city. I find it fascinating to think many people begin their journey in Mumbai here. Once called Victoria Terminus (VT), it showcases British influence with its amalgamation of Victorian gothic and Indian architecture.
Hordes of commuters hastily pass through the CST each day, bumping into bleary-eyed passengers from the sleeper trains — some of them setting foot in 'the City of Dreams' for the first time.
Colaba
One of the most visited places in Mumbai, the southern peninsula comprises a jumble of decade-old cafés, contemporary restaurants and cheap hotels.
Colaba Causeway nicknamed fashion street, runs through the heart of the district. It's notorious for selling imitation clothing of well-known brands. As you walk along the street you can practice your bartering skills with the persuasive shop owners.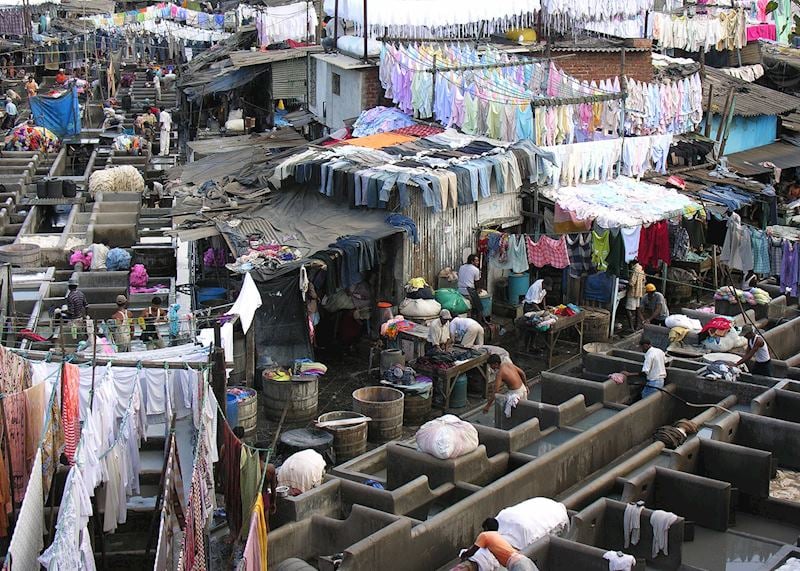 The Gateway of India
Historically, the Gateway of India was the first taste of Mumbai for those arriving by boat. The grand symbolic entrance is set on the waterfront opposite the Taj Mahal Palace. From the Taj, you can escape the pandemonium below while enjoying century-old hospitality. Visit for afternoon tea and fresh chai is served to you at a table laden with scones, tarts and pakoras (crispy battered vegetables).
From the gateway, hop on a boat across to Elephanta Island, a place fuelled by mystery — the purpose of its elephant carvings and temples are long forgotten.
Dhobi Ghats
Images of dhobis (washer men) stood knee-deep in murky water, individually rinsing each item of clothing are synonymous with Mumbai. Despite technological advances, Mahalaxmi Dhobi Ghat's concrete troughs are filled with suds each day, and you can watch as the workers manually tackle the city's laundry.
Marine Drive and Chowpatty Beach
Every time I return to Mumbai, I walk down Marine Drive at night. It's nicknamed the queen's necklace as the lights curving along the drive resemble pearls from above. Here, you can easily blend in with people walking along the street and feel slightly anonymous.
At the top is Chowpatty Beach where families sit together and enjoy a samosa or lassi, a yoghurt drink, in the evening.
Away from the crowds in Mumbai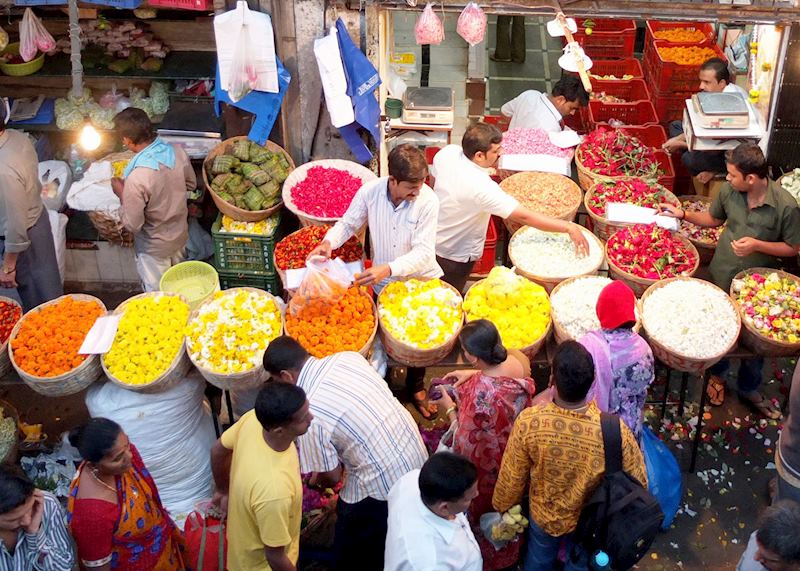 Mumbai at dawn
I always recommend exploring Mumbai at dawn. Trust me, it's worth the 5am start. You'll be surrounded by the city as it rumbles into life and the magic is, the flurry of activity is completely swept away before many have had breakfast.
You'll look on as fresh produce is distributed around the city's markets, join the bustling crowds at the docks as fish is loudly auctioned off and wander through the flower markets as garlands are hand sewn. I'm always amazed at how the different papers are sorted — the workers often don't speak all of Mumbai's languages so separate them based on the text's appearance.
Dharavi Slum
As you fly into Mumbai, you'll notice the sprawling Dharavi Slum, as featured in Slumdog Millionaire. Ex-residents have set up a charity which operates slum tours circling the profits back into the community. The place is abundant with micro-enterprises: people recycling, embroidering and huddled around vats where leftover hotel soaps are recycled into laundry detergent.
Experience Mumbai's local trains, yellow taxis and traditional red buses
You can experience the way locals move around the city by catching Mumbai's traditional red buses with a local resident, and riding in a commuter carriage to Dadar flower market. A local taxi ride takes you to meet the brains behind Mumbai's lunch network, the Dabbawalas, who run a system where thousands of lunches are collected from homes across the city and transported to work sites across the city.
Where to stay in Mumbai
The Taj Mahal Palace Hotel is my preferred place to stay. It's central, lavish and decorated with silk carpets and chandeliers.
For a more modest option, the Abode is a boutique hotel. Despite its central location, it's hidden in backstreets lined with air conditioning units. It has the façade of a stylish coffee shop and it's notoriously difficult to get a room, so book well in advance.
Why visit Goa?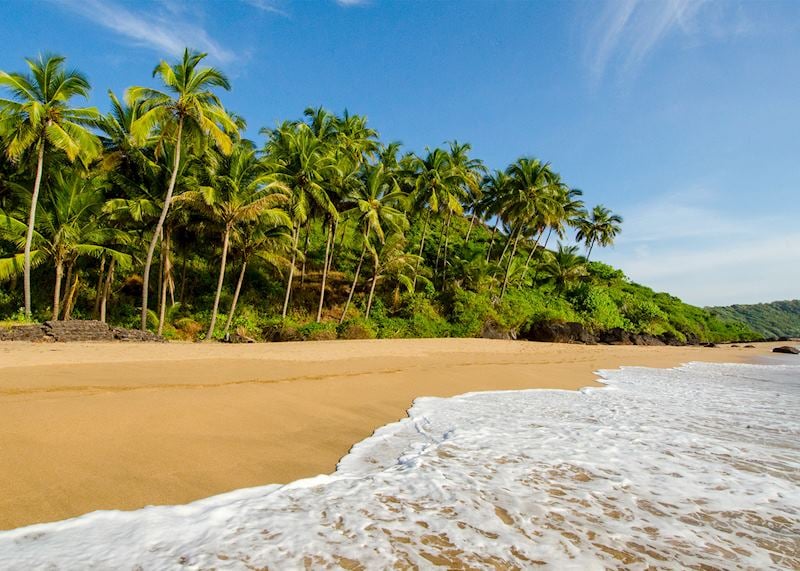 By India specialist Louisa
After a few days in the chaos and sticky heat of Mumbai city I'm always itching for Goa's peaceful shores and laid-back lifestyle.
Goa is often overlooked by visitors as it's hard to reach from other cities across India. From Mumbai, however, it's just a short 80-minute flight down India's coastline.
Goa is known for its uninterrupted succession of sun-gilded beaches encasing its shores and humming restaurants serving local seafood. I like to come here at the end of a busy trip to soak up the fresh sea-air and lounge on the warming sand. With the Goan relaxed attitude toward life, I always find it hard not to slow down for a few days.
Best things to do in Goa
Goa's Beaches
The state is made up of two halves, in north Goa the golden beaches are brimming with working fishermen, sunshades and vendors. By contrast, south Goa comprises secluded coves and stretches of sugary sand boarded by swinging palm trees.
Take a guided tour of Goa with a local resident
Accompanied by a local resident, you can gain a good insight into the nuances of Goan life. Your guide will show you Goa's highlights and teach you about the state's history.
Goa stands out from other Indian states with its heavy Portuguese influence. Catholic churches are peppered throughout, and the architecture is European in style, with intricate blue and white detailing.
You'll venture through Old Goa's cobbled streets to the red-bricked Basilica of Bom Jesus, which houses the remains of St Francis. And at Goa's oldest spice plantation, you'll be served a typical buffet laced with home-grown cardamom, cinnamon, nutmeg and herbs.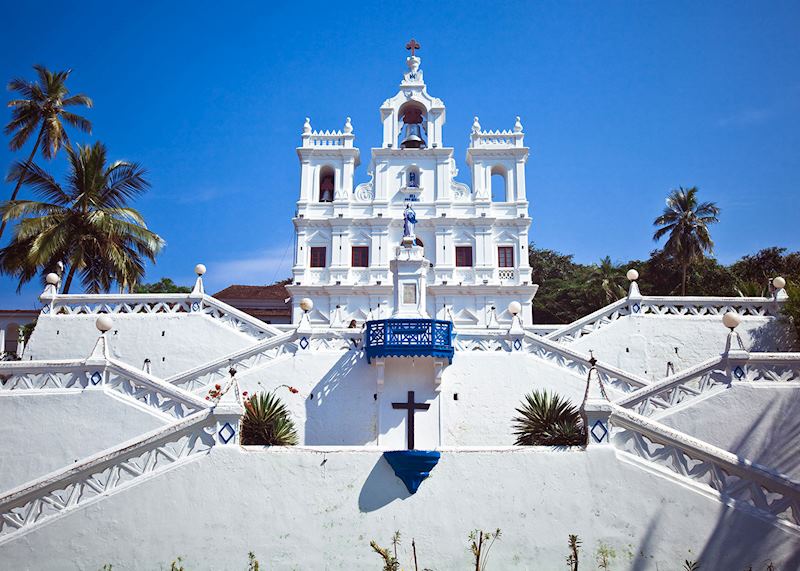 Anjuna Market
Aside from sun and sand, Goa is awash with flea markets, yoga classes, small villages and temples. Anjuna is well-known for its Wednesday market, set just behind the beach. Traders flock from across India, hanging their rugs and lanterns over the trees and lampposts.
The stalls are packed with large Goan lamps, boho bags and embroidered rugs of reds, greens and oranges, and a thick smell of incense in the air.
Where to stay in Goa
I prefer staying in south Goa, as it has a calmer atmosphere compared to its northern counterpart. Here, there are small hotels dispersed between opulent ones. They're well spaced out, which gives the illusion of a private beach.
The Leela sits on Mobor Beach and is a very luxurious resort. Or there's Alila Diwa which is set further back from the coast and provides a backdrop of rice plantations.
Read more about trips to India

Start thinking about your experience. These itineraries are simply suggestions for how you could enjoy some of the same experiences as our specialists. They're just for inspiration, because your trip will be created around your particular tastes.
View All Tours in India