By Italy specialist Cara
The sunny, beachy heel of Italy's boot, Puglia is far from the areas where everyone speaks English and the ports are crowded with cruise ships. Instead, you'll find whitewashed towns, renowned bakeries, fields of sun-gilded wheat and more olive groves than any other region of Italy.
This is where Italians come to relax, and the region is known for its more languid pace. You can visit all the highlights on a 10-day trip to Puglia and Matera, but I prefer to stay for a full two weeks — the extra days let you slow down as you enjoy the region's sun-bleached pleasures.
Guided tour in Bari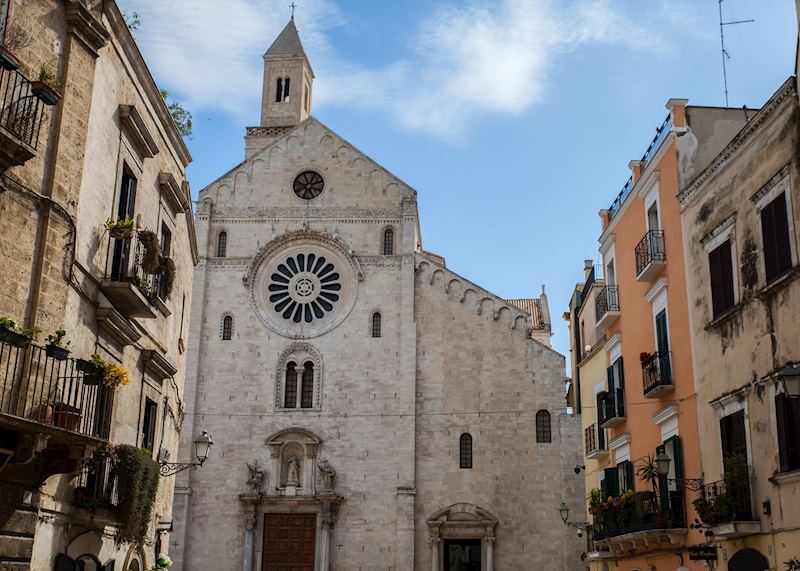 Urban Bari isn't a city that seduces on first sight — most visitors land here and leave for more rural destinations without a second glance. A guided tour can help you unlock the city's character, which is secreted away down alleyways and behind closed doors.
My guide, Anna Maria, knew how to get at Bari's true nature. She took me to the city's plain-faced cathedral and better-known basilica, but also introduced me to the people of Bari — the tiny women with white hair rolling out pasta by hand and the fishermen working on the docks to keep the city supplied with crudo.
A taste of Puglia in Altamura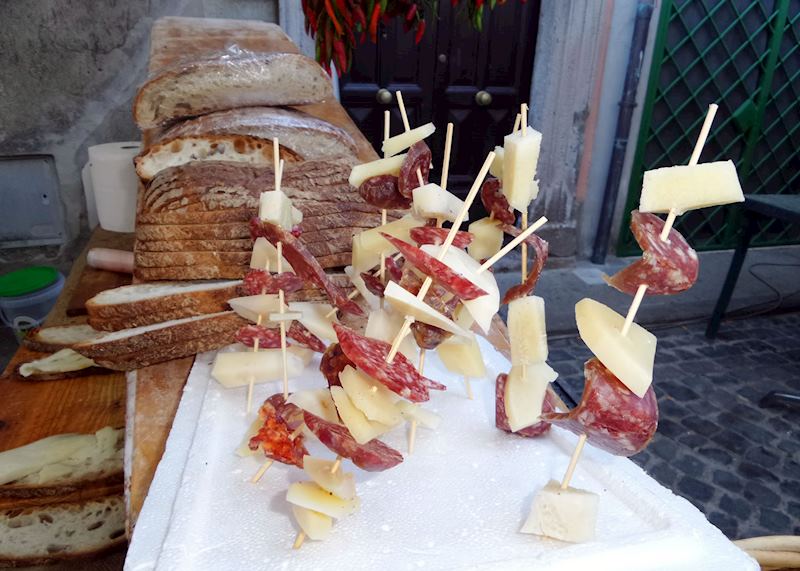 As you leave Bari the next morning, I suggest a stop in Altamura, a small city about an hour southwest. Bakers here produce a DOP-protected bread using local durum-wheat flour, a sourdough starter, wood-fired ovens and traditional methods. The round loaf has a crackling-crisp crust and a soft, open interior with a faintly golden sheen that reflects the region's high-protein wheat.
If you'd like to get an intimate understanding of the age-old process, we can arrange for you to take a bread-baking class at a fifth-generation bakery. But, even if you're in a hurry, I'd take the time to buy a loaf and indulge in one of the tastes that define the region.
Cave dwellings in Matera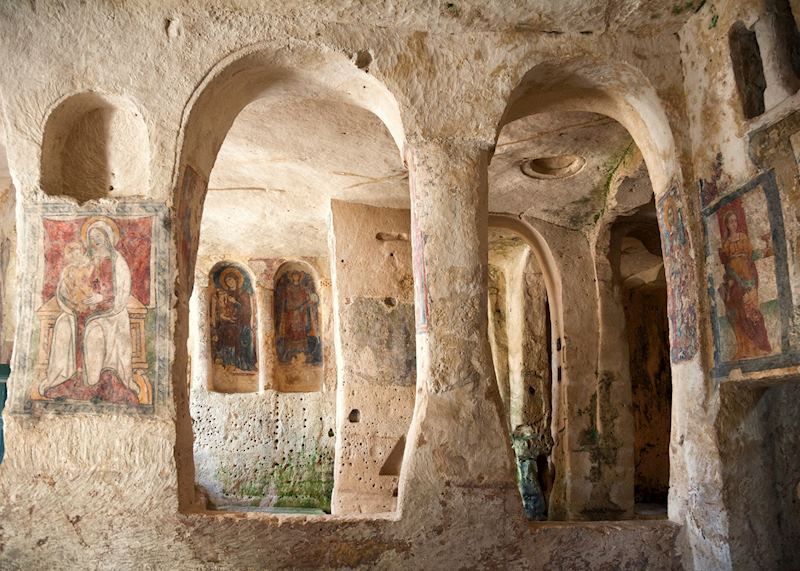 Named Europe's Capital of Culture in 2019, Matera is a destination that needs to be unlocked. The city sits just outside Puglia, in the region of Basilicata, and the old part of town, called the Sassi, is a series of caves that riddle limestone cliffs. Evidence indicates that they've been home to humans for more than 7,000 years, perhaps much longer, making Matera one of the oldest continuously inhabited places on Earth.
As late as the mid-20th century, poverty-stricken families lived in the caves' dark, airless confines along with livestock and insufficient sanitation. In a 1950s social renewal effort, the Italian government forced the residents to leave, and many caves have been converted into chic hotels, cafés and restaurants serving local cuisine.
Many have also been preserved as they were, albeit locked away behind doors in the vast honeycomb in the cliff face. To get a real feel for the city, you need a guide who can help you navigate the maze of stairs and steep streets as well as unlock the residences and Renaissance churches, where the cool air and darkness have preserved the frescoes beautifully.
My guide, Francesco, was one of the few people left who'd lived in a cave. As part of the tour, he took me to the mouth of his childhood home and regaled me with stories as he showed me snapshots of the dark-eyed little boy he was then.
Trulli towns and bombette Pugliesi in Puglia's Itria Valley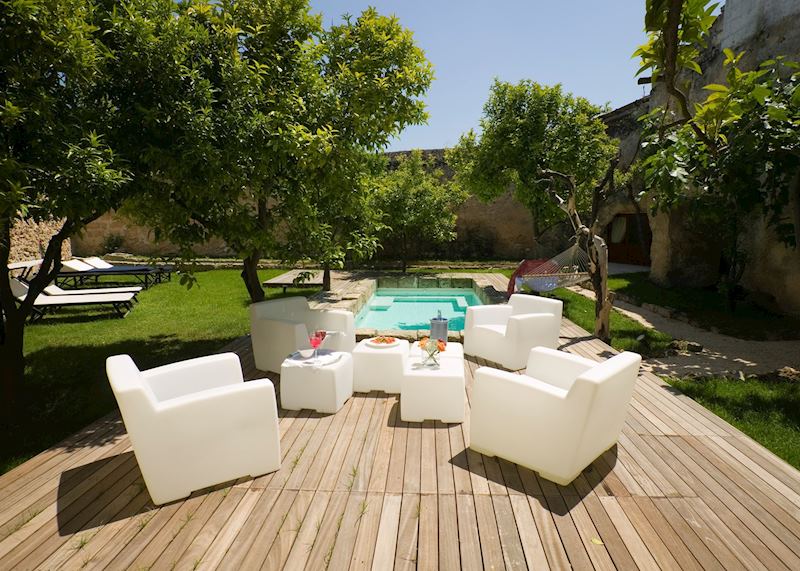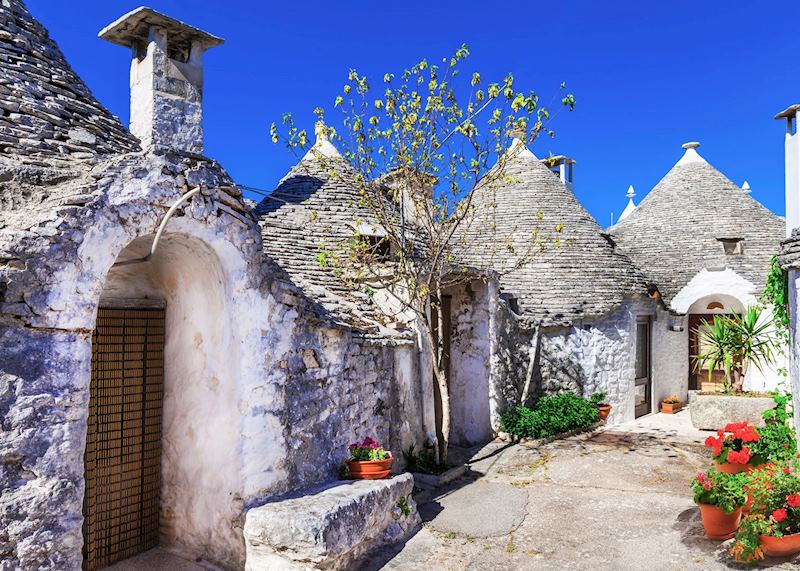 The Puglian countryside is filled with olive groves, vineyards and vast fields of wheat growing in the sun. You'll also find masserias, traditional fortified farmhouses whose high walls kept out marauding predators, both human and animal.
The one I like best is Masseria Torre Coccaro, an hour north of Lecce and just a five-minute ride on a shuttle bus to a private beach on the blue waters of the Adriatic. A rambling villa surrounded by olive groves and far from noise, it's a good place to relax as well as a convenient base for a driving tour of the local Valle d'Itria, the Itria Valley.
Perhaps the area's best-known town is Alberobello, a UNESCO World Heritage Site thanks to its proliferation of trulli. These whitewashed stone dwellings, made from unmortared limestone, dot the valley in lonesome or tiny pockets, but there are huge numbers in Alberobello, where the conical roofs seem like a diminutive mountain range. Ask your guide about the symbols painted on the roofs — each one relates to the family who lives there.
From Alberobello, it's a ten-minute drive to Locorotondo, which perches on a low hill bounded by a circular road (the name means 'round place'). It's easy to navigate the town's compact core, ambling over streets paved with smooth ivory sandstones and lined with whitewashed buildings and buckets of bright-red geraniums.
You'll find a similar historic area at the next town, Cisternino, where you're more likely to be one of just a few visitors. I suggest you talk to your driver and time your visit here for lunch, so you can indulge in the town's signature dish — bombette Pugliesi.
Many of Cisternino's butchers serve this popular street food of cheese wrapped in well-seasoned pork and then grilled. The shops have small, simple restaurants attached, where you sit down at red-and-white-checked tablecloths and sip local house wine that's served in terracotta carafes.
Ostuni, the White City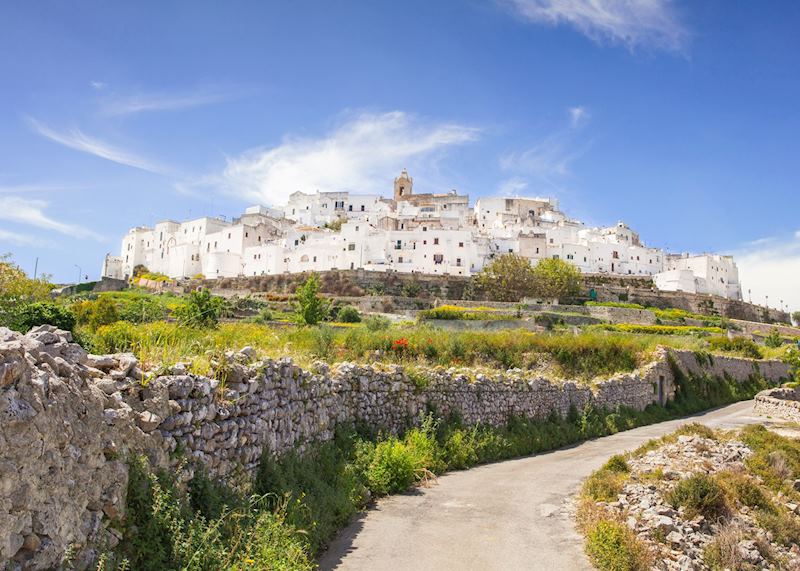 Ostuni looks like a wedding cake. Its whitewashed buildings ring three hills in tiers, rising to a 15th-century Gothic cathedral made from pale-golden limestone. It reminds me of Santorini, and a visit shows off Puglia's Greek heritage in everything from the architecture to the proliferation of surrounding olive groves.
The centro storico dates all the way back to the Greco-Roman era, and I suggest you take your time wandering through the narrow streets, zigzagging up the hill, ducking under arches and strolling over little bridges.
The main square, near the cathedral, can get crowded, especially in July and August when locals flock here for their summer break. A private guide can show you through the tangle of quiet residential streets, where the only people you're likely to see are locals.
At the very top of the highest hill, you can find a perch that lets you look out over the groves of silvery-green olive trees to the deep-sapphire waters of the Adriatic.
What to see in Otranto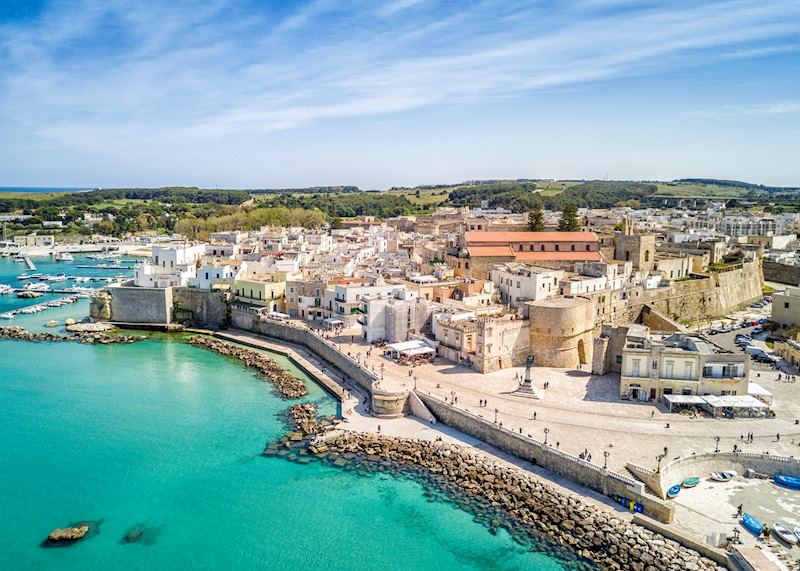 One of Italy's most easterly points, Otranto is a whitewashed port town near the tip of the heel, 90 minutes south of Ostuni. Founded by the Greeks during their empire, the town is probably best known for the Ottoman invasion of 1480, when 813 citizens were beheaded for refusing to change faith. You can see their bones on display behind the altar in the cathedral.
It's a frankly grim sight, but even if that's not to your taste, I suggest a visit to the cathedral for the giant and elaborate 12th-century Tree of Life mosaic that runs the length of the nave, sanctuary and apse.
The Turks weren't the only ones to invade Otranto. In the small, historic old town you can find examples of the many different empires that staked their claim here, including the Greeks, the Romans and Napoleon's forces. It's a small area you can explore on your own, or we can arrange a guided tour.
Right on the border between the Mediterranean and Adriatic seas, Otranto is built around a deep-blue natural port. Its sandy beaches are particularly popular in July and August, when the town is packed tight with locals, so I suggest a visit in May or September.
Underground olive oil mills in Presicce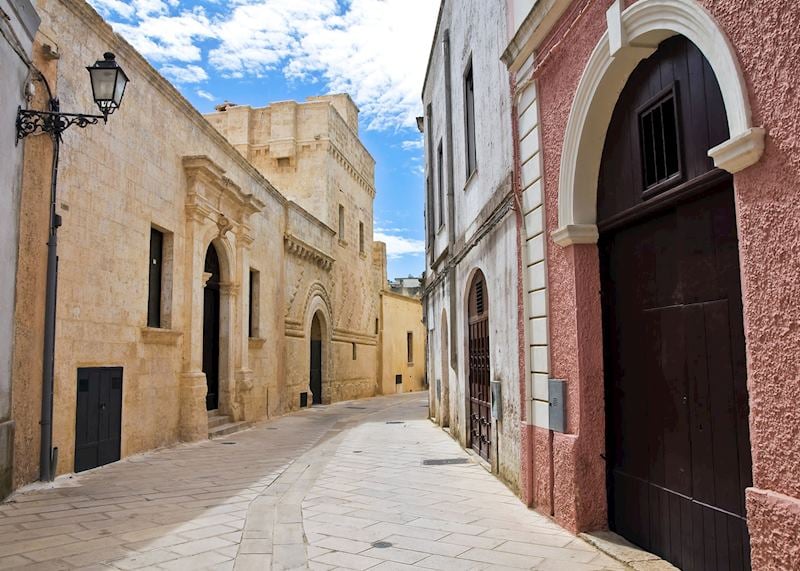 From Otranto, I suggest a jaunt out to Presicce, a 45-minute drive away. A sun-faded town that's almost at the end of the peninsula, this was once a major hub for production of lampante, a crude olive oil primarily used for heating rather than eating.
To protect the valuable liquid, the locals came up with a creative solution — mills were built in underground caverns and tunnels, where the workers and their livestock lived and toiled for months on end.
Abandoned once petroleum products were introduced, the mills have only recently been rediscovered and you can only visit with a local guide.
Today they're lit by electric bulbs, but back during their heyday the dank caves were illuminated by light filtering down through narrow shafts that also served as chutes for the olives. Inside, you can see the small, mean living quarters, which sat cheek by jowl with the stables for the donkeys who turned the huge, heavy stone mill.
Lecce, Florence of the South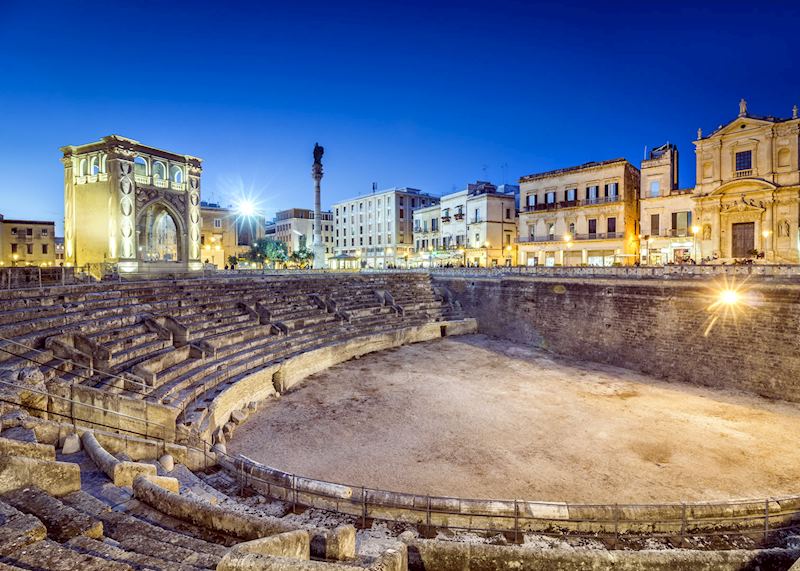 A youthful university city that overflows with Baroque architecture, Lecce is known as the 'Florence of the South' for its compact and coherent historic core. Just a half hour north of Otranto, the city's outré stone embellishments are so distinctive they've been given their own designation — Barocco Leccese.
You can get your bearings with a guided walking tour of the largely car-free heart of the city. My guide was Paolo, a tall man with a penchant for jaunty scarves who introduced me to his girlfriend, his brother, his dog and seemingly half of Lecce's population on our tour.
He also introduced me to the main sights, including the florid Basilica di Santa Croce, the 2nd-century Roman amphitheatre that once marked the end of the Appian Way, and the Piazza del Duomo, an enormous Baroque plaza dominated by the cathedral.
Once you know the lay of the land, you can while away an afternoon or a whole day wandering through the narrow streets, popping into small artisan shops and admiring the cascades of stone gargoyles, gremlins, flowers, fruits and chubby-cheeked cherubs.
Read more about trips to Italy

Start thinking about your experience. These itineraries are simply suggestions for how you could enjoy some of the same experiences as our specialists. They're just for inspiration, because your trip will be created around your particular tastes.
View All Tours in Italy