By Morocco specialist Emma
From the frenetic souqs of Fez's medina to the emptiness of the Erg Chebbi, Morocco offers a wildly jumbled assault on your senses and I can't think of a better place to indulge yourself. You'll find opulent riads, seductive cuisine and extravagantly plush, hand-tied carpets that have signified luxury for decades.
But for me, the real treasure of the country is its culture and its people — the famously warm Middle Eastern hospitality seems even more welcoming in Morocco. Here, I suggest the country's most rewarding private tours and best hotels, which you can visit on this grand tour of Morocco.
The ultimate luxury — a driver at your disposal

For a truly bespoke trip, you can't beat having a private driver. We carefully choose only the best drivers who can safely navigate Morocco's sometimes-tricky roads and who speak English well.
Once you've arrived, your driver will take you wherever you'd like to go. This means you don't need to deal with taxis to visit restaurants or other sights. It also means you have flexibility, so you can arrange for a later pick-up time if you want to sleep in or ask for your driver to pause if something catches your eye.
The best part of having a driver is the rapport you build with them. Every time I've visited, I've wound up becoming friends with my driver over sometimes-long overland trips. And while they aren't guides, they are locals who can answer your questions about everyday life in Morocco.
Visit the hidden corners of Marrakesh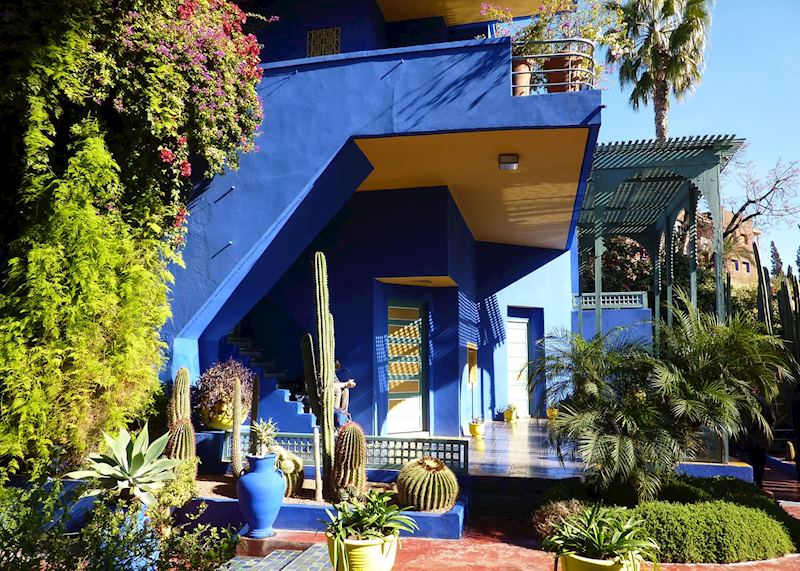 Marrakesh's narrow streets are densely packed with pedestrians, donkeys and motorbikes. Its souqs are crammed with leather goods, glimmering lanterns and richly patterned rugs. Its main square, Djemaa El Fna, bustles with musicians, acrobats, fortune-tellers and snake charmers. But, it can be hard to get past the sensory overload to slow down and really get to grips with the culture of the city. Which is why I suggest taking time out for a private tour of the hidden corners and gardens of the city.
With a knowledgeable guide, slip into the hidden areas where artisans work, spend time in a local communal bakery and explore the oldest archaeological remains from the earliest days of the city. You can also visit the city's renowned Majorelle Garden, founded by French artist Jacques Majorelle and redeveloped by fashion titan Yves Saint Laurent.
Nearby there are two small museums that you can also visit — one examines photos, sketches and clothes by Saint Laurent and the other examines the life of the Amazigh people.
Best luxury riad in Marrakesh
Of all the riads in Marrakesh, I think Villa des Orangers is the finest. In a crowded and sometimes chaotic city, its peacefully dim, spacious interior makes an elegant respite, hidden away behind traditional tadelakht (smooth earthen) walls. Located just a short walk from the Djemaa El Fna, the hotel has top-notch service, a hammam and spa, and a pool for cooling down in the afternoons.
Make 'gazelle horns' in Essaouira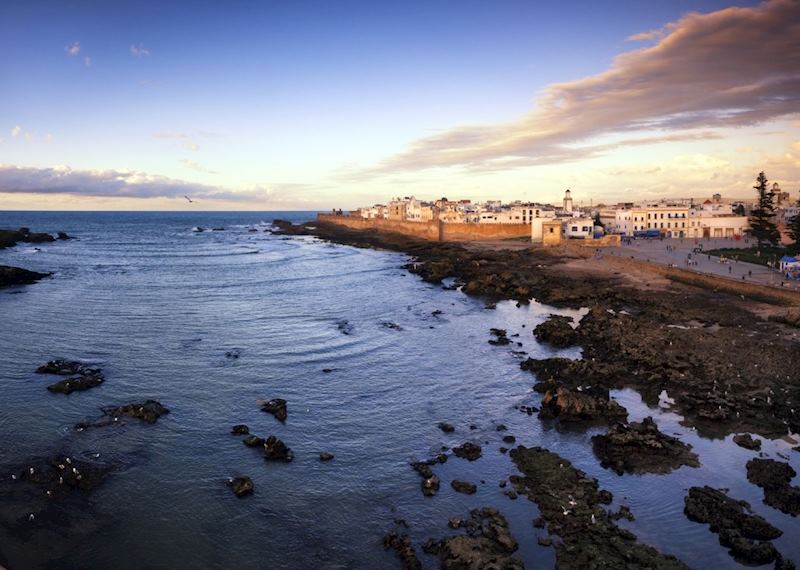 A coastal city located less than a three-hour drive from Marrakesh, Essaouira's a good place to unwind. For the most part, I prefer to keep my stays here unscheduled. I simply wander around the port and through the walled medina ― which has some of the best souqs in all of Morocco ― or sip tea in a café.
However, there's one specific activity I strongly suggest — the sweets and pastries workshop at L'Atelier Madada. British expatriate Allison interprets, while dada Mouna teaches you to make several of the region's sugary desserts.
In my class, she taught us to make kaab el ghazal or gazelle horns — long, slightly curved pastries rolled around a sweet almond-paste filling. These honey-and-nut-packed treats are just as important to the region's culinary character as tagines or hummus, but they're often overlooked.
Best hotel in Essaouira
At its heart, Essaouira is still a small fishing village and there's just one nice riad — the Heure Bleue Palais. Tucked behind heavy cedar doors, you'll find a shady courtyard and airy rooms decorated with cool tiles, dark wood and crisp white linens. While it's not luxe, the rooftop pool offers sweeping views over the Old City.
Get to know an Amazigh family in the High Atlas Mountains
The Atlas Mountains are home to the Amazigh. They've lived here for at least eight millennia, eking out a living in the green valleys hidden among the harsh slopes.
The mountains are just a 90-minute drive from Marrakesh, and many people visit them on a day trip from the city. Instead, I suggest spending a few days and nights here to really delve into the mountains' atmosphere.
If you want to learn more about Amazigh culture, you could spend the day with a local family. Last time I visited, I helped the women of the family chop vegetables and prepare meat for lunch. Then, as the tagine cooked over an open fire, I helped the family in the fields. I even tried my hand at shaping a dish on a foot-powered pottery wheel under the (gently amused) guidance of the family's patriarch. Finally, we all sat on the floor and shared the meal we'd made together.
Best luxury kasbah in the High Atlas Mountains
The mountains also host some lavish hotels. Probably the best known is Kasbah Tamadot, a one-time fortress nestled in the foothills that was converted into a hotel by Richard Branson. It boasts all the opulent touches that you might imagine, including a pool, spa and exquisite decor.
However, I also love Kasbah Bab Ourika. It's less outwardly luxurious, but its perch high over the Ourika Valley provides views even Sir Richard can't buy.
Meet the craftsmen of Fez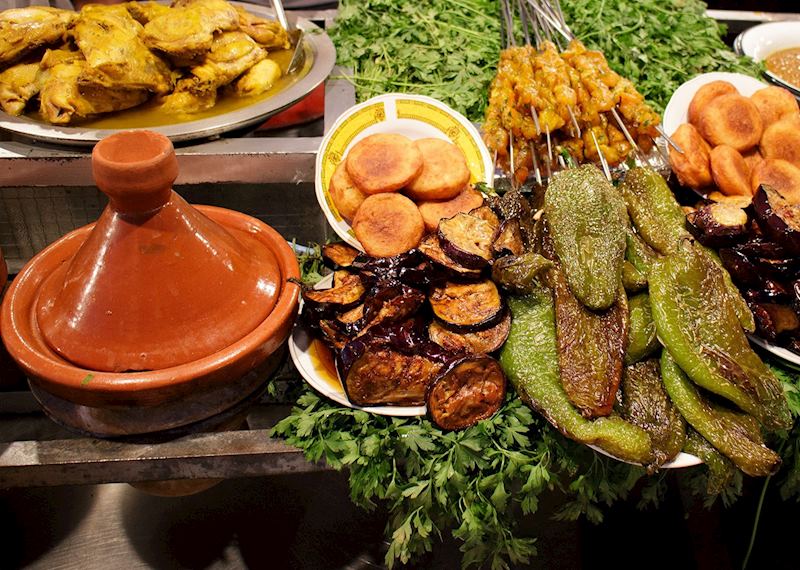 Though it's similar in many ways to Marrakesh, Fez is somewhat more traditional, with a strong custom of craftsmanship. Its souqs are dense with artisans who learned their craft from their parents.
Of course, it's easy enough to wander on your own through the labyrinth of the souqs' tiny, unnamed streets, popping in and out of shops. But if you want to slip behind the photogenic façade, I suggest a guided tour.
With a local acting as guide and interpreter, you'll meet the city's carpenters, metalsmiths, weavers, potters and leatherworkers. These are the people who make the rainbow of goods on sale here, using skills passed down mother to daughter and father to son for centuries. Because it's a private tour, your guide will delve more deeply into any area that's of interest to you, whether that's rugs, lanterns or the intricately painted tiles that Fez is known for. If you'd like to make any large purchases, our guides know the shops that also offer shipping.
If your interests lean more to the edible, I suggest a privately guided tasting tour of the city's food souqs. Strolling through the unmappable tangle of tiny alleyways and narrow streets, you can stop at booths for nibbles of local delicacies like camel meat, warm bread, spicy fried sardines and sticky-sweet Andalusian pastries.
Best luxury hotel in Fez
In Fez's blind maze of alleys, luxury isn't always just about money. Sometimes it's also knowing where to look for the best.
I love Riad Fès because it's like a secret the city shared with me, tucked behind high blank walls. The interior is an oasis of Moroccan elegance, while fin de siècle decor evokes the grand lifestyle of 19th-century Fassi merchant princes. However, amid all the kaleidoscopic zellij tiles and lace-like arabesque arches, you'll find all the modern amenities you could ask for, including a rooftop lounge with some of the best views of the city and a pool, a rarity in the crowded medina.
Explore the desert in Erg Chebbi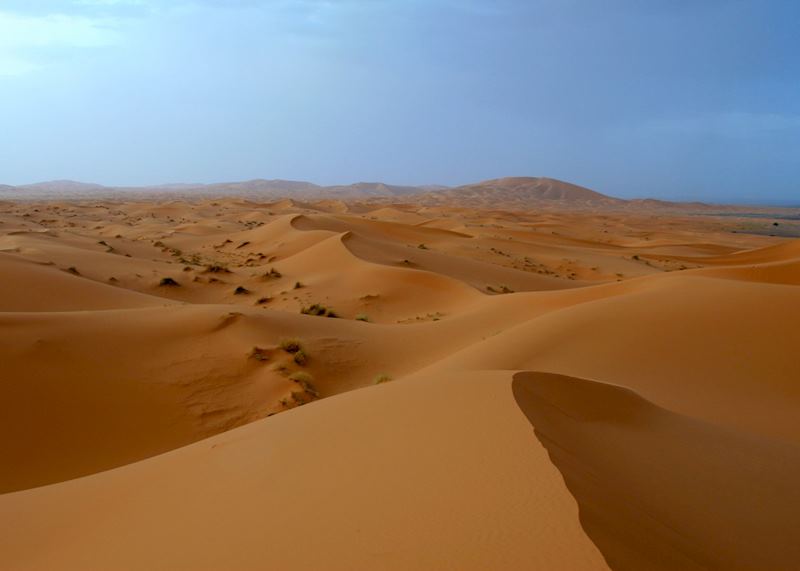 At the eastern edge of the country, the first dunes of the Sahara tower up from the landscape, high wild-sculpted hills of ochre and golden sand called Erg Chebbi. It's a majestic sight — a vast and yawning sea of coppery dunes — that's worth the eight-hour drive.
That said, if you have time, there's no reason to subject yourself to the long drive in a single day. I suggest breaking up the trip with a stopover in Skoura, located about halfway. This green palmeraie was once the first stop for caravans coming out of the Sahara, and you can still visit its twice-weekly market.
Spend the day relaxing in a hammock at Les Jardins de Skoura, or you can venture out to nearby kasbahs at Aït Benhaddou and Telouet, to see the crumbling mud-brick buildings that have starred in so many Hollywood productions, including Lawrence of Arabia, Gladiator and Game of Thrones.
In the evening, I suggest climbing to the top of a dune to watch the sunset. The changing light makes the sands shift from honey gold to deep orange to blazing crimson. Afterwards, you can enjoy a traditional meal by a roaring fire while listening to local Gnawa music. When night has fallen, you can enjoy the silence of the desert under a sky twinkling with stars that are undimmed by the light of any cities.
Read more about trips to Morocco

Start thinking about your experience. These itineraries are simply suggestions for how you could enjoy some of the same experiences as our specialists. They're just for inspiration, because your trip will be created around your particular tastes.
View All Tours in Morocco