Home to New Zealand's capital city, a centre for arts and culture, and the rolling vineyards of the Wairarapa, the southern portion of the North Island is a delight.
Wellington harbour is the docking point for the Interislander ferry, which plies the waters of the Cook Strait, bringing visitors across from the South Island.
Wellington & around
Wellington is resplendent in all its eccentricity. Housing New Zealand's Parliament, Victoria University and the famed Te Papa Museum, as well as a host of theatres and galleries, there is plenty to see and do.
Surrounding the city are rolling hills and rugged coastlines, networked with walking and biking trails and hiding secluded bays; an easy escape if the pace of the vibrant city becomes too much.
Greytown
Northwest from Wellington life gets quieter. Historic Greytown is lined with renovated colonial cottages and boutique stores. With its rich soils, this is a lush and fertile farming area.
Lake Wairarapa & Martinborough
Lake Wairarapa is a vast wetland region south of Featherston, and the town of Martinborough offers a relaxed country lifestyle on the doorstep of the Wairarapa wine region, home to some of the best wine producers in New Zealand.
As you journey through this 'land of glistening waters', each place you visit adds to the overall picture of peaceful, fecund living.
Itineraries

Start thinking about your experience. These itineraries are simply suggestions for how you could enjoy some of the same experiences as our specialists. They're just for inspiration, because your trip will be created around your particular tastes.
Highlights in Wellington & Wairarapa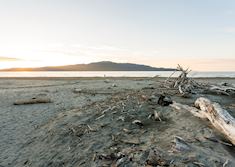 Kapiti Island is an absolute gem, home to some of New Zealand's most endangered bird species. Here kiwi and takahe roam free in their native environment, and just 50 people per day are admitted onto the island to watch them.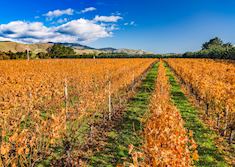 Martinborough lies in the heart of the Wairarapa wine region. A delightful day can be spent exploring the boutique wineries, mostly accessible from town on foot.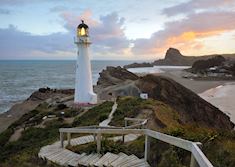 Take a trip up the cable car for fantastic views of the city, and take a stroll through the Botanic Gardens to the excellent Carter Observatory.
Some of our favourite places in Wellington & Wairarapa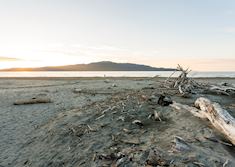 Formerly known as the Golden Coast, the Kapiti Coast extends north of Wellington past Paraparaumu and Waikane. Though the mainland coastline is stunning, this area is most famous for Kapiti Island, ten kilometres long and two wide.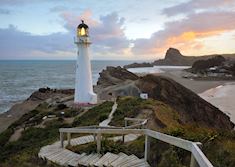 The nation's capital and the home of New Zealand's parliament, Wellington is gloriously set beside its magnificent harbour with some stunning modern buildings surrounded by quaint wooden Victorian houses, often beautifully painted in primary colours, dotting its steep, hilly suburbs.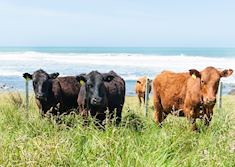 Situated at the foot of the Rimutaka Range, the colonial town of Featherston is the gateway to the Wairarapa wine region. Close by is Lake Wairarapa, the biggest wetland area in the lower North Island and home to both native and migratory birds.
Accommodation in Wellington & Wairarapa