From the Southern Alps that stretch to the skies in the east, to the western shores lapped by the cold waters of the Tasman Sea, this thin stretch of coastal land is packed with dense forest crowded around beautiful lakes and coastal lagoons.
Most notable perhaps is Lake Matheson, which on still, clear mornings offers a perfectly crystalline reflection of snow-clad Mount Cook and Mount Tasman, enveloped by the lake's forested shore.
Lake Brunner, fringed by some of the oldest podocarp rainforest in the world, is a magical sight to any keen fisherman, with countless wild trout lurking below the surface.
National parks
Five of New Zealand's 14 national parks are found in this area, which is latticed by stunning hiking trails and plenty of opportunities to explore the native bush.
Greymouth and Hokitika
Greymouth is the 'big smoke' of this isolated region and yet remains little more than a provincial town. And then, if you seek a provincial town by New Zealand definition, there is Hokitika, a sleepy seaside village, which each March is shaken awake by its annual Wildfood Festival.
Bursting at the seams, the small town plays host to thousands of brave New Zealanders there to sample wild cuisine such as pigs eyes, pickled bugs and lambs cheeks. However you want it served, the West Coast is sure to deliver.
Start planning your trip to New Zealand's West Coast

Start thinking about your experience. These itineraries are simply suggestions for how you could enjoy some of the same experiences as our specialists. They're just for inspiration, because your trip will be created around your particular tastes.
Highlights of New Zealand's West Coast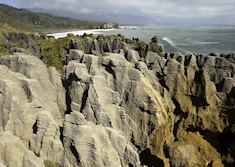 Punakaiki is home to the Pancake Rocks, where the limestone rock has been eroded over centuries by the sea and wind to create a fascinating geological formation.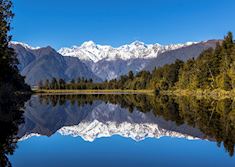 On a clear and still day at Lake Matheson you will find picture perfect reflections of Mount Cook and its neighbouring peaks.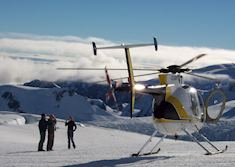 The Franz Josef and Fox glaciers are two of the fastest moving in the world, sometimes at a rate of up to 20m a year. This means that the terrain is ever-changing as crevasses close and new ones open so your guide leads you on an unplanned route which is a true adventure.
Some of our favourite places in the West Coast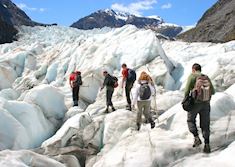 In the heartland of the West Coast, the Fox and Franz Josef glaciers pour down from the mountains to the pounding surf of the Tasman Coast - nowhere else in the world, at this latitude, have glaciers advanced so close to the sea.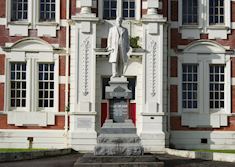 With its wide streets and historic buildings, Hokitika is certainly the West Coast's most attractive small town. Smaller and quieter than Greymouth, it makes a more interesting overnight stop on the West Coast.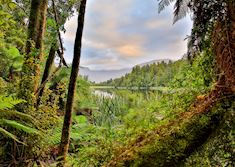 Nestled in the abundant lowland forests in the South West New Zealand National Heritage site, Haast is placed amongst some of the country's most dramatic and distinctive flora and fauna. Just north of Haast, Lake Moeraki is a fabulous fishing lake enclosed by a pristine, virgin rainforest.
Accommodation options in the West Coast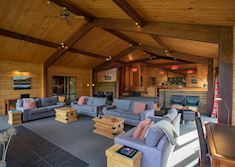 Fox & Franz Josef Glaciers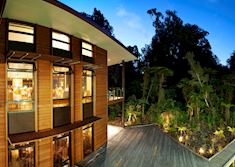 Fox & Franz Josef Glaciers