Centred around one of the world's most photogenic volcanic peaks, the Western North Island brings together wild, surf-beaten coastlines with gentle, rolling pasturelands, and exhilarating subterranean adventure with orderly, park-filled towns.
Supremely sacred to the Maori, the area has been only sparsely populated, leaving the surrounding scenery in all its pristine splendour. Here you will find plunge pools, waterfalls and endless hiking trails throughout the Egmont National Park.
Coastal living
On the coast are the Three Sisters and Elephant Rock, huge pinnacles that rise from the beach, and further out to sea lie the Sugar Loaf Islands, a vital refuge for sea birds and fur seals.
Surfers flock to the area from Auckland to take to the waves, but look closer and you'll discover dark, narrow caves, reached only at low tide, that shelter ancient Maori rock carvings of symbolic images.
New Plymouth and Mount Taranaki
Amongst the small towns that dot the shoreline. the principal settlement of New Plymouth represents life in a relaxed, content state. Most remarkable of all, however, is the presiding mountain, Mount Taranaki.
Now 120,000 years old, this volcano last erupted in 1775 and stands proud and isolated over its surroundings; its sheer size is breathtaking.
Start planning your trip to New Zealand

Start thinking about your experience. These itineraries are simply suggestions for how you could enjoy some of the same experiences as our specialists. They're just for inspiration, because your trip will be created around your particular tastes.
Highlights in the Western North Island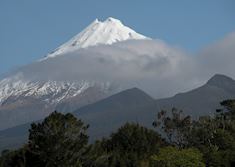 The highlights of any visit to New Plymouth would have to be walking and climbing the awe-inspiring Mt Taranaki volcano, visiting the many historical sites, windsurfing or surfing and relaxing in immaculate gardens.
The Forgotten World Highway winds its way through various scenic reserves and river gorges. Driving along this spectacular highway is the best way of exploring the less-discovered Western North Island region.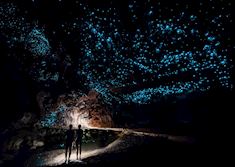 The Ruakuri Cave is the longest underground guided walk, bringing you up close to glow worms, elaborate cave formations and underground rivers as well as including myths, legends and sacred Maori sites.
Some of our favourite places in the Western North Island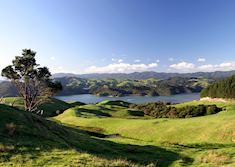 The Waikato is a region blessed with two landscapes to discover – one above ground, and one below. Fed by the mighty Waikato River the land is rich and fertile, and the surrounding towns prosperous.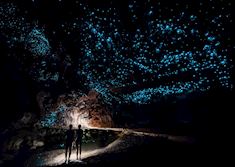 The town of Waitomo is a convenient stop between Auckland and North Island's 'thermal centres' of Taupo or Rotorua.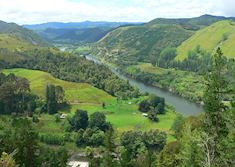 Whanganui National Park, the largest lowland native forest in the North Island, cloaks the impressive Whanganui River.
Accommodation options in the Western North Island