Madikwe and the North incorporates two national parks, two fast-paced cites in Johannesburg and Pretoria, and some stunning scenery that is well off the beaten track.
One of the best reasons to visit has to be the Madikwe Game Reserve. It's traditionally been a jealously guarded secret, known only to the initiated, but has over recent years begun to develop an infrastructure to support visitors in comfort, without detracting from the wild feel of the reserve. It's the third largest reserve in South Africa and is a little over a decade old. It has been extensively restocked with indigenous game, including the Big Five.
If you like getting away from the usual tourist routes then the Waterberg is for you. It is essentially a cluster of mountains and high plateaus whose steep slopes and steamy gullies offer scenery unlike anything else in South Africa.
The main transit hub to get to all of these places is Johannesburg, and while there's not too much reason to spend time here, the nearby and somewhat prettier Pretoria is worth seeing. It has suffered less from urban decay than Johannesburg and it also boasts many museums that are worth visiting should you get the chance.
Highlights of Madikwe & the North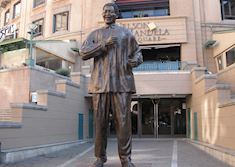 The tour begins in the affluent, leafy suburb of Houghton before making its way to Hillbrow, a jarring contrast in living conditions, before arriving in downtown Johannesburg — the historical heart of Johannesburg.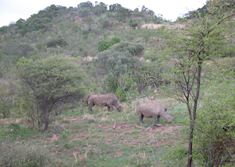 Overshadowed by many of the other game reserves of South Africa, the malaria-free Pilanesberg is a real hidden diamond.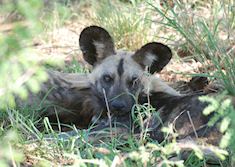 Explore this wild reserve from an open-top 4x4 and see if you can spot the Big Five. Enjoy sundowner drinks on top of a hill with miles of wilderness spread out before you.
Some of our favourite places in Madikwe & the North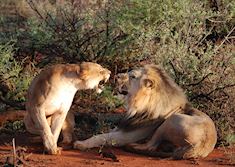 A large game reserve in northwest South Africa, Madikwe's mix of landscapes attracts a wide range of wildlife. Here, you can see the Big Five and endangered wild dog in a lesser-known area, exploring with expert guides on bush walks and game drives.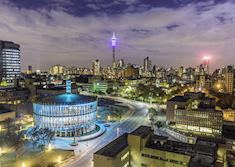 Visiting Johannesburg is an opportunity to learn about apartheid and its impacts, which are still felt by many. But the city is gradually shaking off the shackles of its past, with derelict warehouses now accommodating multicultural markets, and vibrant street art reflecting the creativity and optimism of those who live here.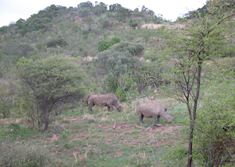 Pilanesberg is one of the prettiest parks in South Africa. As well as seeing all the normal big game, you have a good chance of seeing the incredibly rare wild dog. The park is malaria-free.
Great places to stay in Madikwe & the North