By Savina
With 115 Indian-Ocean-lapped atolls and islets, I argue that you can't possibly do the country justice by visiting just one island.
You fly into the largest island, Mahé, where the country's highest peaks loom over the capital, Victoria. But, then your choices widen. There's Praslin with its coco de mer palms, and cyclable La Digue. A supporting cast of smaller islands offer escapes, secluded snorkelling spots or the chance to spot a nesting hawksbill turtle.
With a network of local ferries and oh-so-scenic light aircraft flights, it's easy to island-hop across the archipelago. I've compared and contrasted a selection of the islands below to help you make your pick.
The Seychelles' main islands
Why visit Mahé?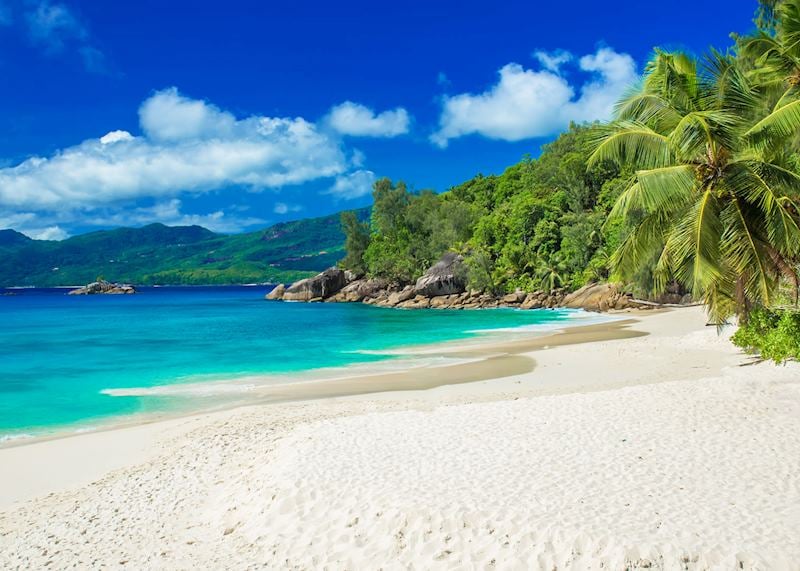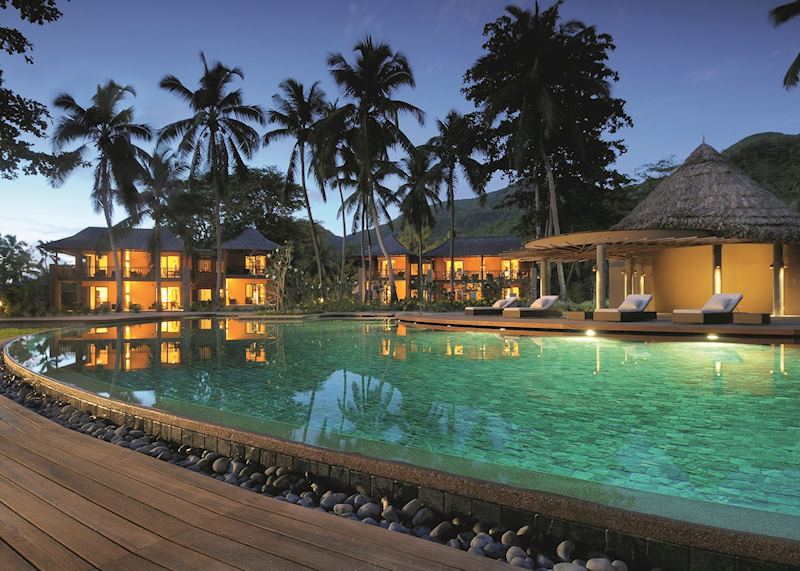 For me, there are three key draws to Mahé. Firstly, there's a lot to explore. Morne Seychellois National Park is scored with hiking trails, which lead through an almost neon-green forest, under the shadow of the country's highest peak.
Added to this are botanical gardens, rum distilleries and the walkable capital, Victoria, as well as Roman Catholic churches and the country's only Hindu temple.
As Mahé is the largest island, you'll ideally need transport. You can take a guided tour, hire a car or catch the public buses, which cost little and are usually pumping with a Sega beat. Driving along the coastal road, I passed fisherman hanging their wares on the side of the road, and pop-up coconut stalls.
The second draw is the hotels. Mahé has many spacious resorts, with long lists of facilities and packed activity schedules. Constance Ephelia even offers zip-lining and rock climbing, as well as having the largest spa in the Indian Ocean.
Third are the beaches. You could fill a day beach-hopping by car. Take a snorkel with you, because you'll find plenty of opportunities to use it — I recently discovered a small, healthy reef off Anse Soleil Beach. When I visited the palm-framed cove of Anse Takamaka in the southeast, there were only a couple of dozen people on this long sweep of beach (that's often flaunted as one of the best on the island).
What should I combine Mahé with?
Mahé is the international entrance point to the Seychelles, and the main transit point for flights around the country. Because of this, you can combine it with almost any other island. But, if you're looking for luxury, I'd point you to Denis Island.
Why visit Praslin?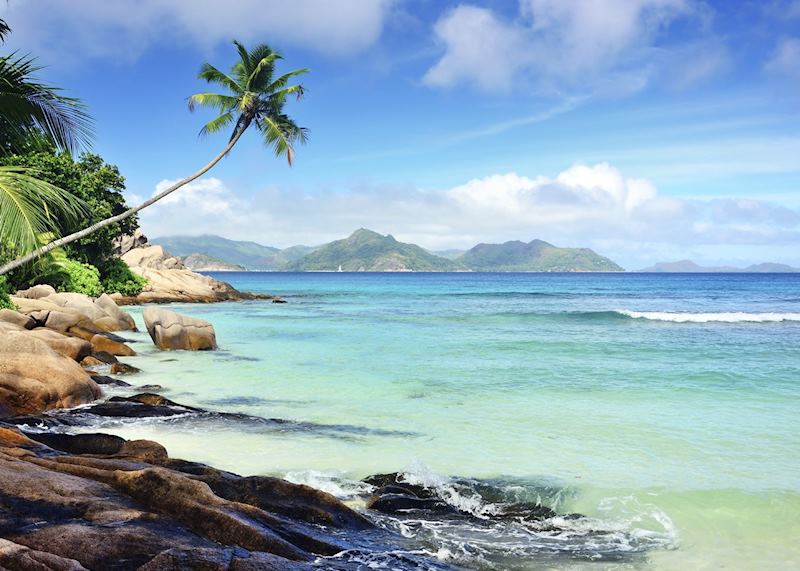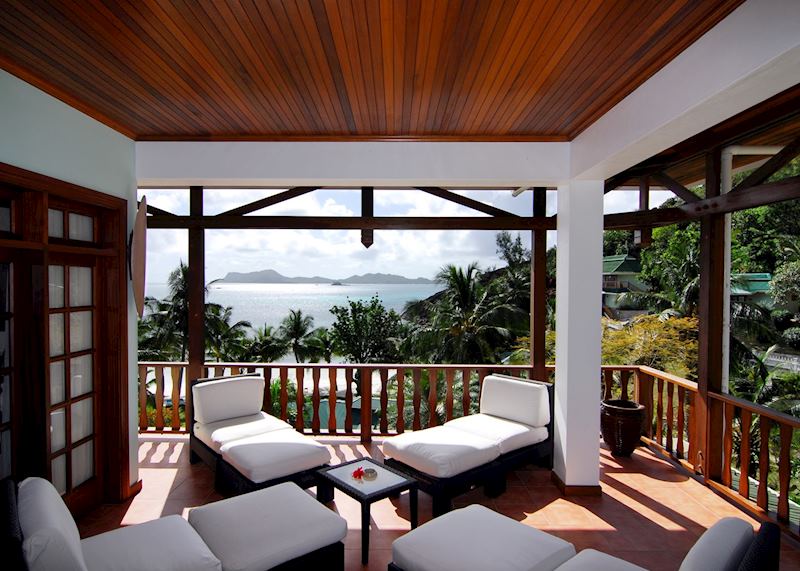 About a third the size of Mahé, Praslin is easier to explore, although it doesn't have such a long list of sights. It's also quieter, most hotels are independently owned, and it has more than its fair share of photogenic beaches.
You can take a long stroll along Cote d'Or Beach and stop for lunch at one of the plastic-table-and-chairs restaurants serving the catch of the day — usually grilled parrotfish or octopus curry. Praslin is also one of the best islands to taste locally cooked Creole food (many restaurants run a complimentary taxi service from your hotel in the evening).
Many of my go-to hotels are on Cote d'Or, including the family-run L'Archipel, which is tucked into its own boulder-enclosed cove. From here, you can paddleboard around the headland to a series of coves and inlets only reachable from the sea.
To find some of the region's best snorkelling spots — including the Soeurs, a pair of volcanic islands, and a tiny outcrop called Coco Island — tour Praslin's outlying islands by catamaran.
Moving inland, you can see Praslin's native coco de mer palms, and their rather risqué-looking seeds, in the UNESCO-listed Vallée de Mai. Trails link it to Praslin National Park, where you can seek out some of the country's rare plants and birds.
Where should I combine Praslin with?
If you like the peaceful ambiance of Praslin, you'll enjoy the pared-back ecolodge on Bird Island.
Why visit La Digue?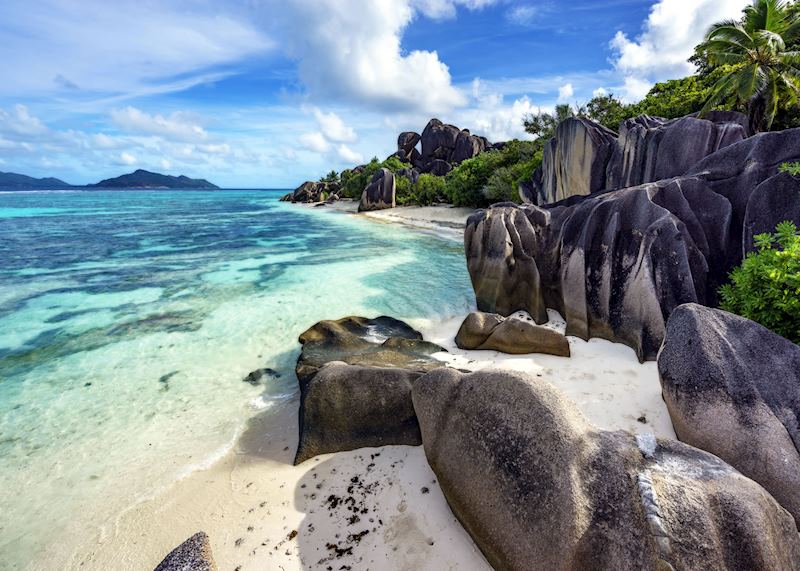 La Digue is a similar length to Central Park in New York. There are only a few vehicles on the island, and, instead, bicycles rule. I'd select La Digue if you like to explore under your own steam, cycling or hiking from beach to beach with no need of a map. The scalloped hem of the island is marked by sandy coves, many of which are untouched and, often, deserted.
The third-largest Seychellois population lives here in the village of La Passe. Walk around the marina in the afternoon and you'll see fishing boats arriving with the day's catch — which you can soon dine on in one of the tiny Creole restaurants along the coast.
Most hotels are independently run and many have just a handful of rooms. Le Repaire Boutique Hotel on Reunion Beach, a stretch of golden sand sloping into a cyan-blue lagoon where you can snorkel beside the reef.
Chances are, that photograph you've seen of a Seychelles beach with smoothed boulders and golden sand shows Anse Source d'Argent on the west coast. While I agree it's worthy of the attention, on the undeveloped east coast you can walk between a string of three beaches that get progressively quieter.
Starting at Grand Anse, you'll find coves edged with boulders so smooth they look sculpted, and vegetation so green it's almost luminous.
Keep walking and you'll finish on Anse Cocos, where you might just find a vendor ready to cut you a fresh coconut. There's no reef along the east coast, making the sea choppier. But, at the end of the beach, the boulders form a natural pool of calm, clear water.
Where should I combine La Digue with?
La Digue is a 15-minute ferry ride from Praslin, so the two combine naturally well.
Seychelles' smaller islands
Yes, there are private islands where your personal butler can arrange candlelit dinners on your private deck. But, not all the smaller islands in the Seychelles are cut from the same cloth. Consider private Bird Island, which is more of an ecolodge, or Silhouette with its protected hardwood rainforest.
Bird Island: a wildlife retreat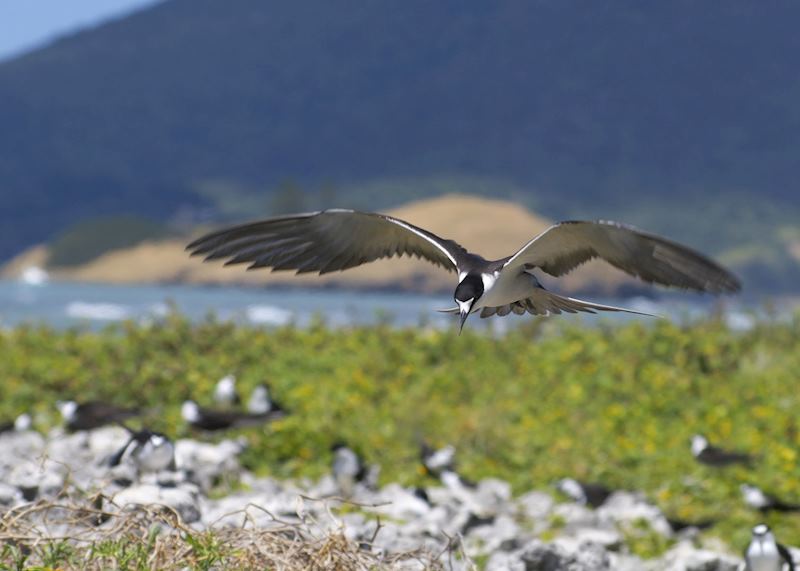 It's only a 30-minute light-aircraft flight from Mahé, but Bird Island has a decidedly Robinson Crusoe feel to it. Coconuts remain where they fall, and the sand prefers the unswept look.
The lodge on Bird Island is a collection of simple wooden chalets built under the shade of an old coconut plantation. There's no TV or air conditioning, nor will you find any phones or a daily schedule.
Instead, you're a guest of free-roaming tortoises, rare endemic and migratory birds, and a colony of thousands of sooty terns. Unchecked by predators, fluffy chicks nestle in the grasses and inquisitive sunbirds will perch on your balcony. You can follow a self-guided nature trail, borrow kayaks and drop in on a turtle monitoring initiative.
There's no pool, but, with a sea so clear, it would be pointless. Snorkelling equipment is available for you to explore the surrounding coral and seagrass meadows, which are often populated with grazing turtles.
How to get to Bird Island?
It's a 30-minute light aircraft flight from Mahé.
Denis Island: the ideal private island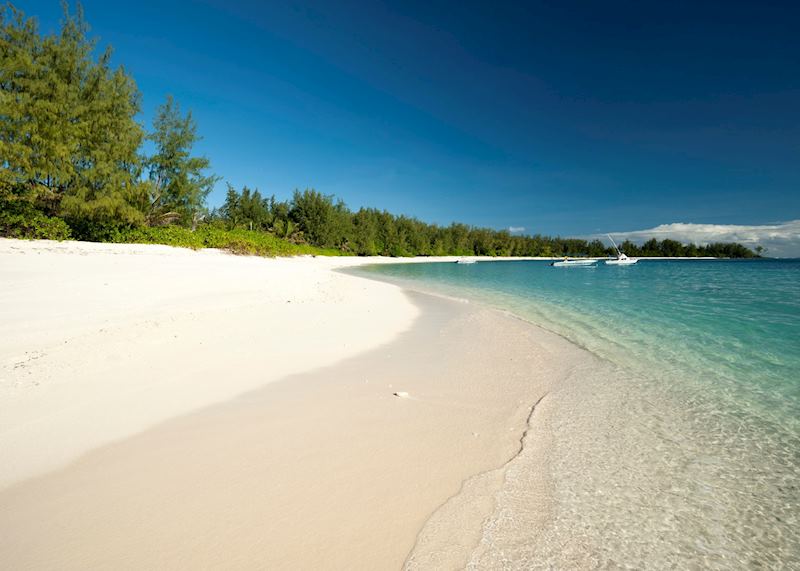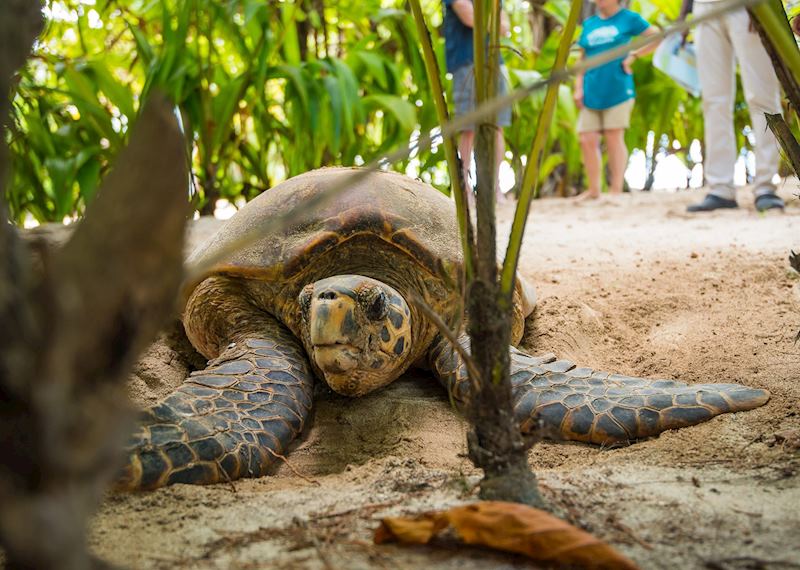 If you're looking for sandy-toed, low-key luxury, I'd pick Denis Island. It hosts similar wildlife to Bird Island (minus the masses of sooty terns) and is also a convenient 30-minute light-aircraft flight from Mahé. It also has the facilities to pander to your every need.
Its 25 cottages are slipped in-between frangipani trees and bougainvillea. You can take guided island walks with the wildlife rangers, take lessons at the PADI dive centre, or simply find a quiet spot and enjoy the feeling of having an island to yourself.
The island is pretty much self-sufficient, with tours running daily of the farm, vegetable gardens and kitchens where cheese, jams and bacon are made. This home-grown product can be enjoyed (of course) on a candlelit beach — or try a sunset champagne cruise.
How to get to Denis Island?
It's a 30-minute light-aircraft flight from Mahé.
Silhouette Island: a (mostly) untouched wilderness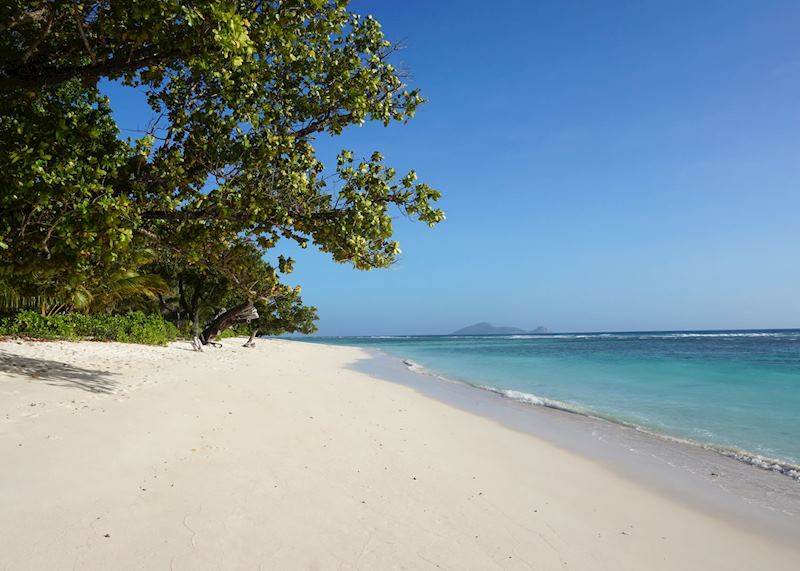 As you approach Silhouette by boat, it's tricky to see where you're going to land — it seems to rise straight up out of the ocean.
Getting closer, you'll see a tiny collection of houses and the Hilton Labriz, which have been built on the only flat part of the island. The rest of Silhouette is a virgin rainforest of hardwoods, flowering with orchids and pitcher plants, which leads up to the central peak of Mount Dauban.
The Hilton has all the facilities you'd expect from an international hotel — as well as a long flank of talcum-soft beach. But, what you really stay here for is to explore the hiking trails that cross-cross the island's jungle and the undisturbed waters that lap its shores. There's a healthy reef to snorkel and a dive school that runs trips around Silhouette.
Silhouette is the third-largest island in the Seychelles, but 93% of it is a protected national park that's considered one of the country's richest biodiversity sites. You can tackle trails that lead out onto long swathes of empty sand, or peaks that overlook nothing but trees and ocean.
How to get to Silhouette Island?
It's a 45-minute boat ride from Mahé — look out for wild dolphins, and some of the best views of Mahé along the way.
Read more about trips to the Seychelles

Start thinking about your experience. These itineraries are simply suggestions for how you could enjoy some of the same experiences as our specialists. They're just for inspiration, because your trip will be created around your particular tastes.
View All Tours in The Seychelles