I first visited Canada in 1997 when I spent a year and a half working in the Rocky Mountains. During this visit I fell in love with this wonderful country and was lucky enough to explore not just British Columbia and the Rocky Mountains, but also Ontario, Québec and the Atlantic provinces. As I traveled eastwards I was struck by the stark contrast between modern Canada and the rich and long history of the province of Québec.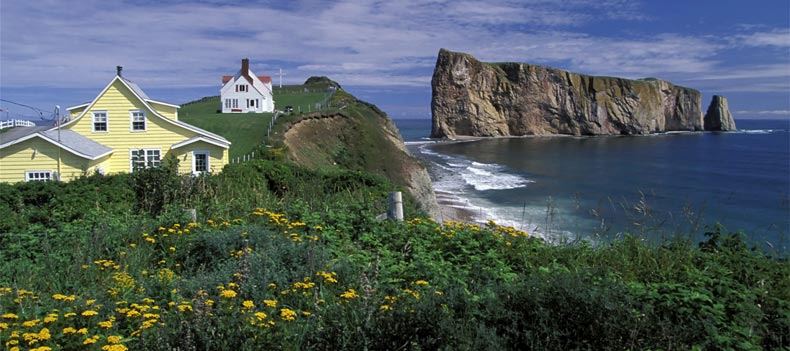 Since joining Audley four years ago I have been able to continue traveling extensively throughout Canada, and a recent visit to Québec reinforced my love for this province that was kindled all those years ago. I look upon Québec as a little pocket of Europe in the great modern continent of North America, but it is its immense diversity that I find hard to beat.
Seventeenth-century walls and cobbled streets fill with the mouth-watering aromas wafting from the restaurants, black bears thrive in the forest-shrouded mountains, pods of beluga whales play in the crystal clear waters of the Saguenay Fjord and timeless villages preserve traditions that date back, in many cases, to pre-revolutionary France. This, then, is my perfect trip — a gentle meander through 'La Belle Province's' most glorious scenery, driving along magnificent cliff-hugging coastal roads, delving into the mighty mountains to look for wildlife and, of course, enjoying a glass of wine and a simple but scrumptious meal in an historic auberge. This is my Québec.
Day 1: Getting there
The great city of Montréal (1, refer to map below) lies surprisingly close to the UK — just a seven hour non-stop flight away from London — but a world away historically and culturally from other North American destinations. Upon arrival I would take a taxi for a quick and inexpensive transfer to Montréal's historic Vieux Port area, and check in to one of the city's many character hotels.
Days 2 to 3: Montréal
I would spend a couple of days exploring the delightfully restored 18th-century cobbled streets of the Vieux Port area, which are crammed with art galleries and specialist shops and interspersed with historic churches and glimpses of the St. Lawrence River. I would also not want to miss the boutiques and trendy shops of the modern city, the lovely Jardin Botanique or the Musée des Beaux Arts. Evenings in Montréal are always a highlight for me with a vast array of excellent restaurants to choose from and non-stop nightlife from lively clubs to quiet bars. I always relish the joie de vivre of this city.
Days 4 to 6: Québec City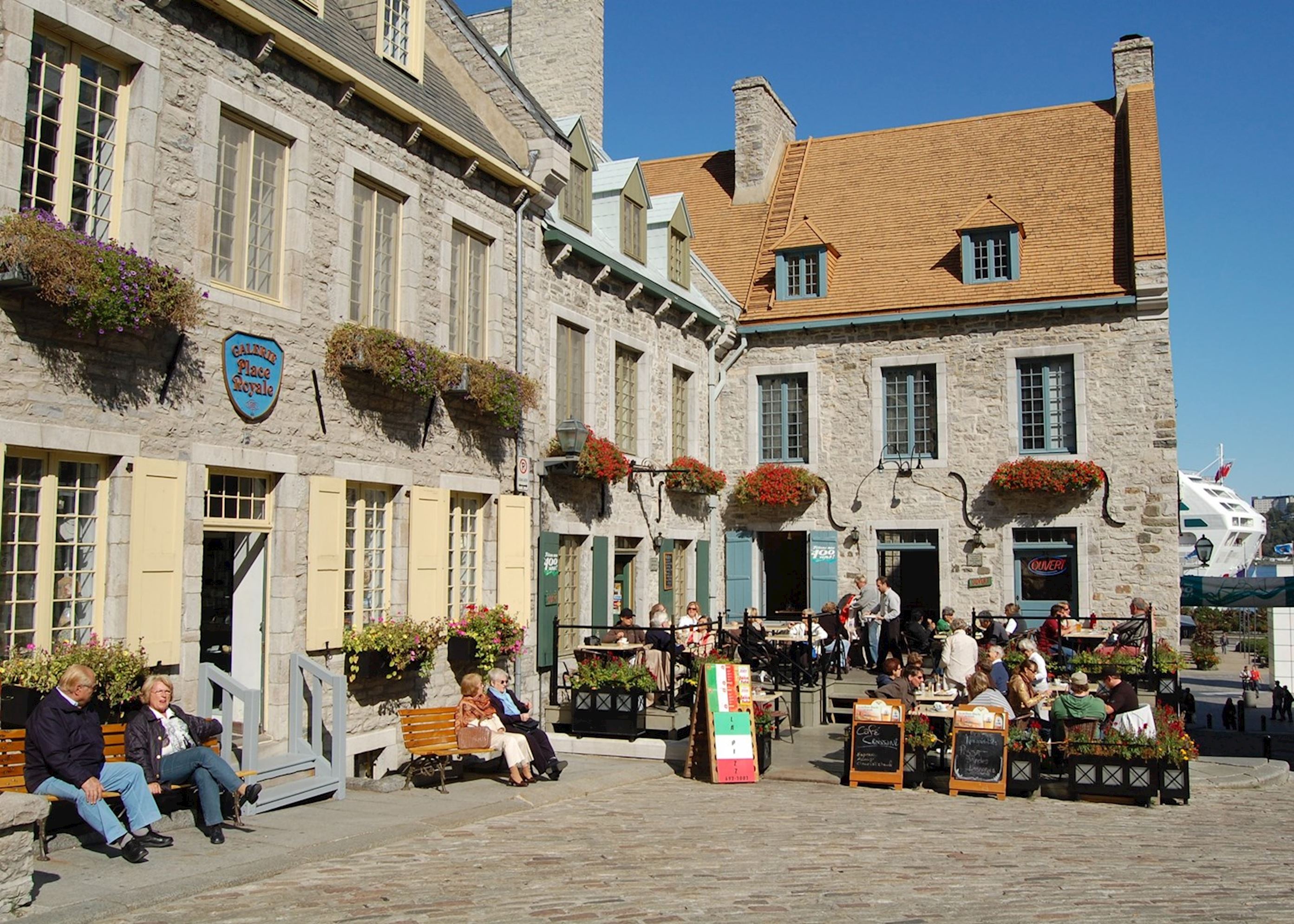 I would travel by train from Montréal to Québec City (2). I always prefer to splash out and travel in VIA 1 — First Class — where I can relax with a gin and tonic on the three hour journey and enjoy the delicious hot lunch that is served with excellent local wines. Upon arrival in Québec's capital, I would check in to one of the city's delightful, small, boutique hotels that line the old streets of Basse Ville.
History fans like me, revel in the restored old streets of Québec City. I like to walk along the Rue du Petit Champlain and enjoy an alfresco lunch whilst listening to talented street musicians and watching the passers-by. I would then explore the narrow cobbled streets around the Place Royale and walk along the Plains of Abraham to the site of the battle in 1759, where General Wolfe famously defeated the French and won North America for Great Britain. The Citadelle and old city walls are also must-see sites.
Days 7 to 8: Lac St. Jean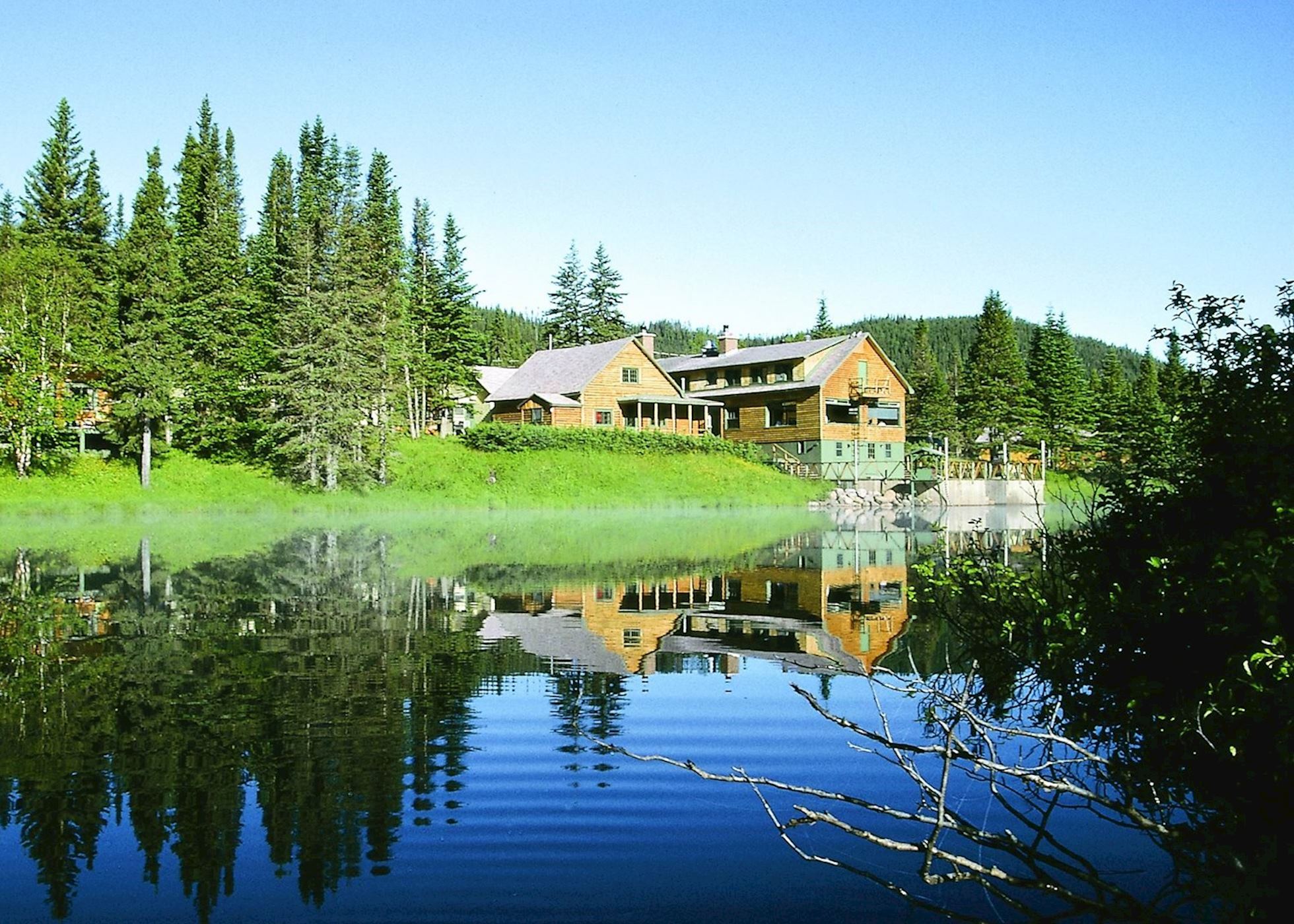 Having collected a hire car I would drive north through the Jacques Cartier Regional Park (part of the Laurentides Wildlife Reserve), a magnificent tree-clad mountain wilderness at the heart of this enormous province's interior. The shores of Lac St. Jean (3) are the perfect base for exploring the St. Felicien Wildlife Reserve. This vast inland lake, complete with sandy beaches and pretty shore-side villages, is a delight to explore by bicycle or canoe.
Days 9 to 10: Ste. Rose du Nord
From Lac St. Jean I would drive along the cliffs of the beautiful Saguenay Fjord (4) to the pretty village of Ste. Rose du Nord to take a boat trip on the fjord in search of beluga whales. This is also a lovely area for some gentle walking and for exploring timeless villages crammed with spired churches and thriving traditions.
---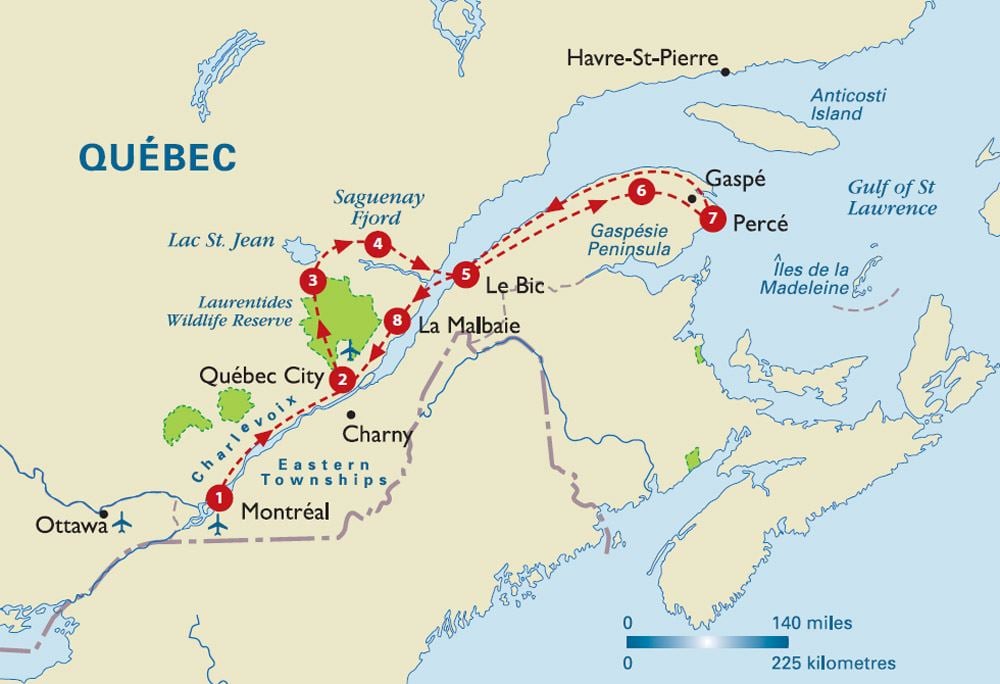 ---
Day 11: Le Bic
Leaving the Saguenay Fjord, I would then take the ferry across the mighty St. Lawrence River and drive to the little village of Le Bic (5) on the south shore. There is a lovely small auberge here that offers mouthwatering locally-sourced food such as slow roasted salt lamb. Ideally I would also have time to spend a few hours in the delightful coastal Bic National Park.
Days 12 to 14: Gaspésie Peninsula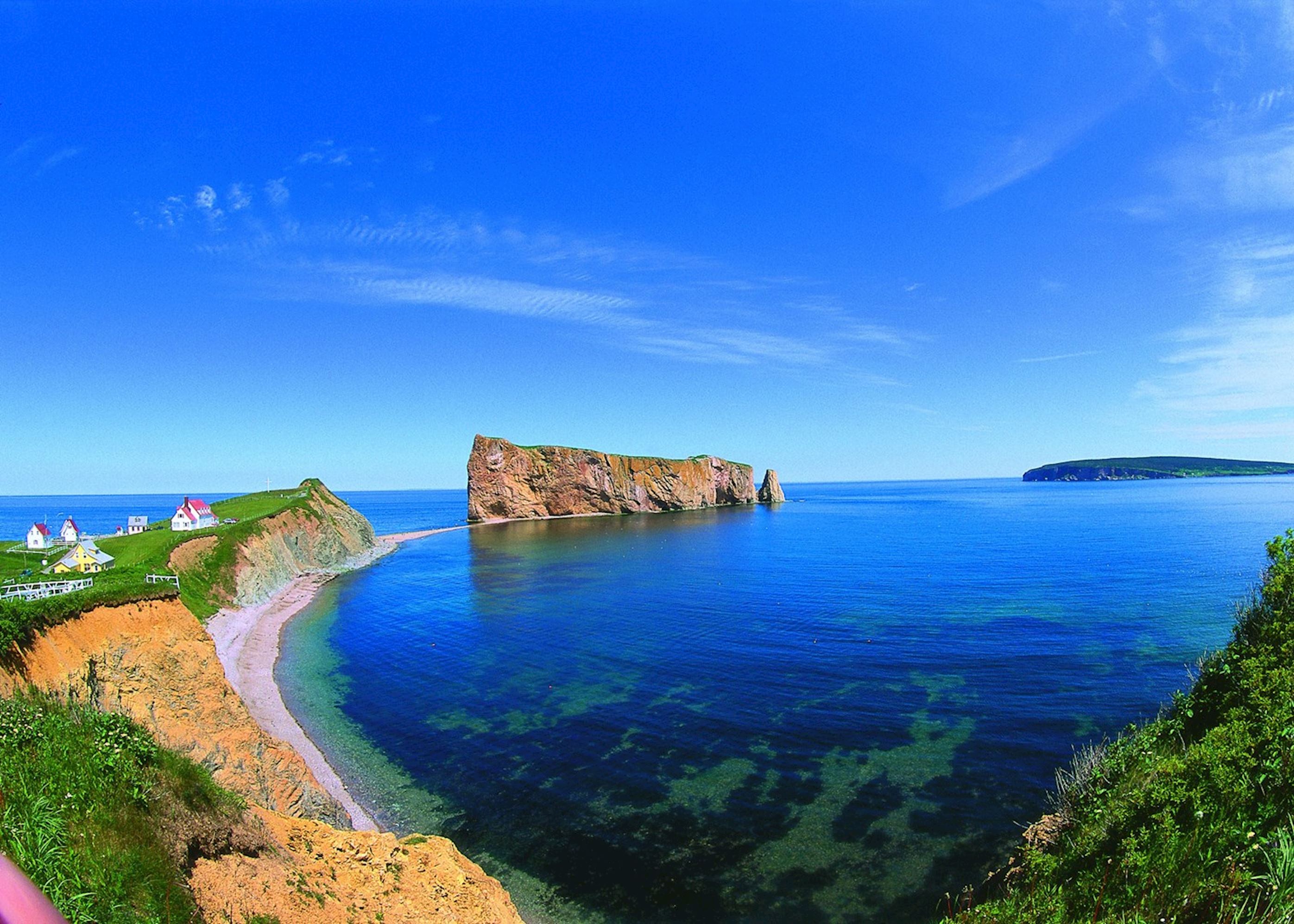 The drive eastwards from Le Bic is full of beautiful coastal views that become ever more breathtaking as I travel along the northern coast of the Gaspésie Peninsula (6). Before long I would head inland, into the mountainous interior of the peninsula, for a three night stay. The spectacular mountain ranges here include 25 of Québec's 40 highest peaks and are dotted with pristine alpine lakes. I would spend two whole days walking in these dramatic mountains whilst looking out for the park's resident herd of woodland caribou.
Days 15 to 17: Percé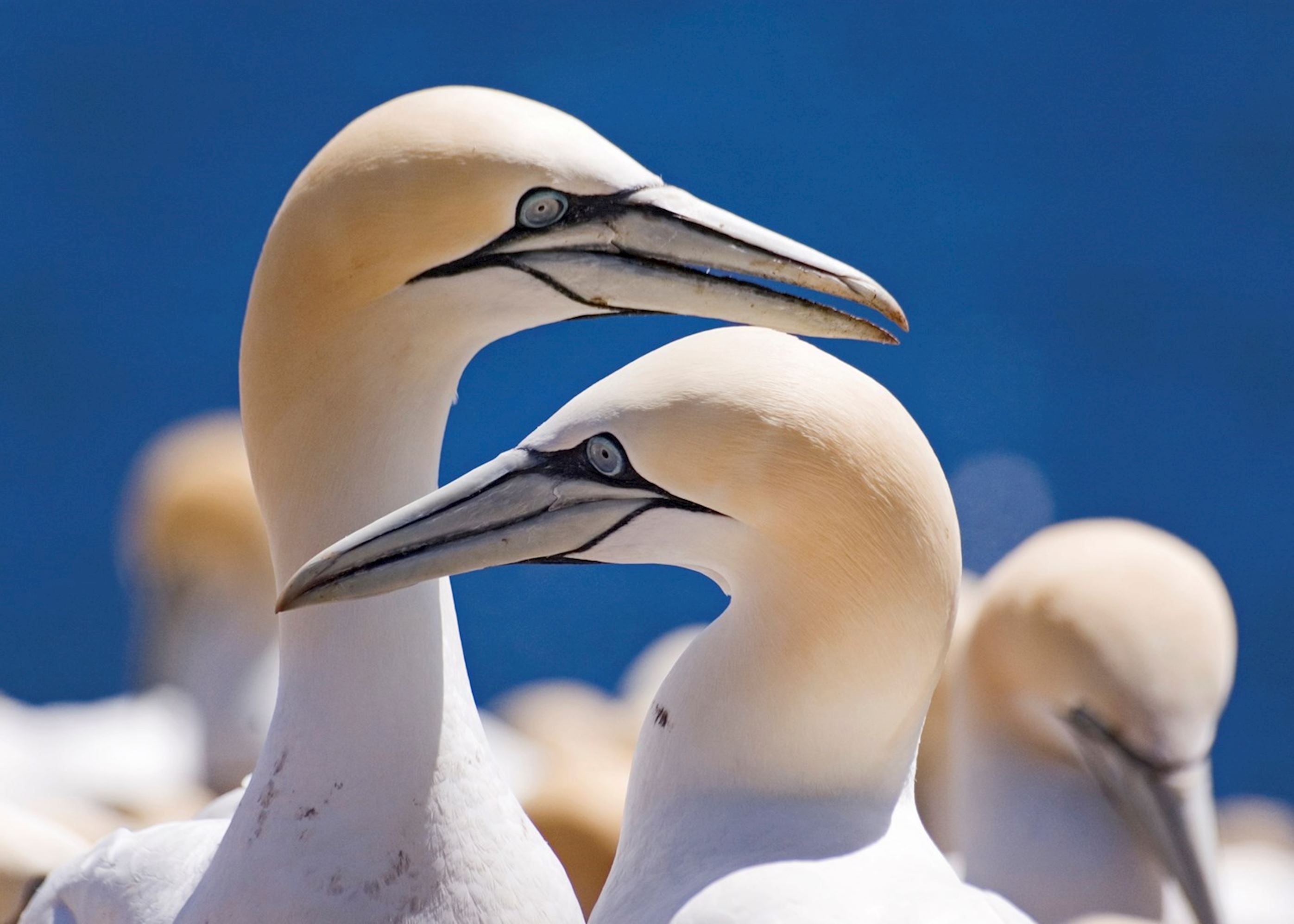 Leaving the Gaspésie Peninsula behind, I would resume my drive along the northern coast of the peninsula, admiring breathtaking sea views along the way. On arrival in Percé (7), at the peninsula's eastern limit, I would enjoy a chilled glass of wine and a lobster lunch whilst drinking in the view of the Rocher Percé and the Ile Bonaventure.
No visit to Percé is complete without visiting the Rocher Percé. This vast rock formation, at 475 m (1,558 ft) long, is one of Québec's best-known landmarks. Another 'must' here is to take a boat trip to the Ile Bonaventure, which is home to more than 200,000 seabirds, including North America's largest gannet colony. If I had a few spare hours, I would also visit the nearby Forillon National Park which moose, deer and even black bears share with seabirds, seals and whales.
Day 18: Return to Le Bic
From here, I would retrace my steps back along the north shore of the Gaspésie Peninsula to Le Bic, finding that the journey in the opposite direction gives a completely different scenic perspective.
Days 19 to 21: La Malbaie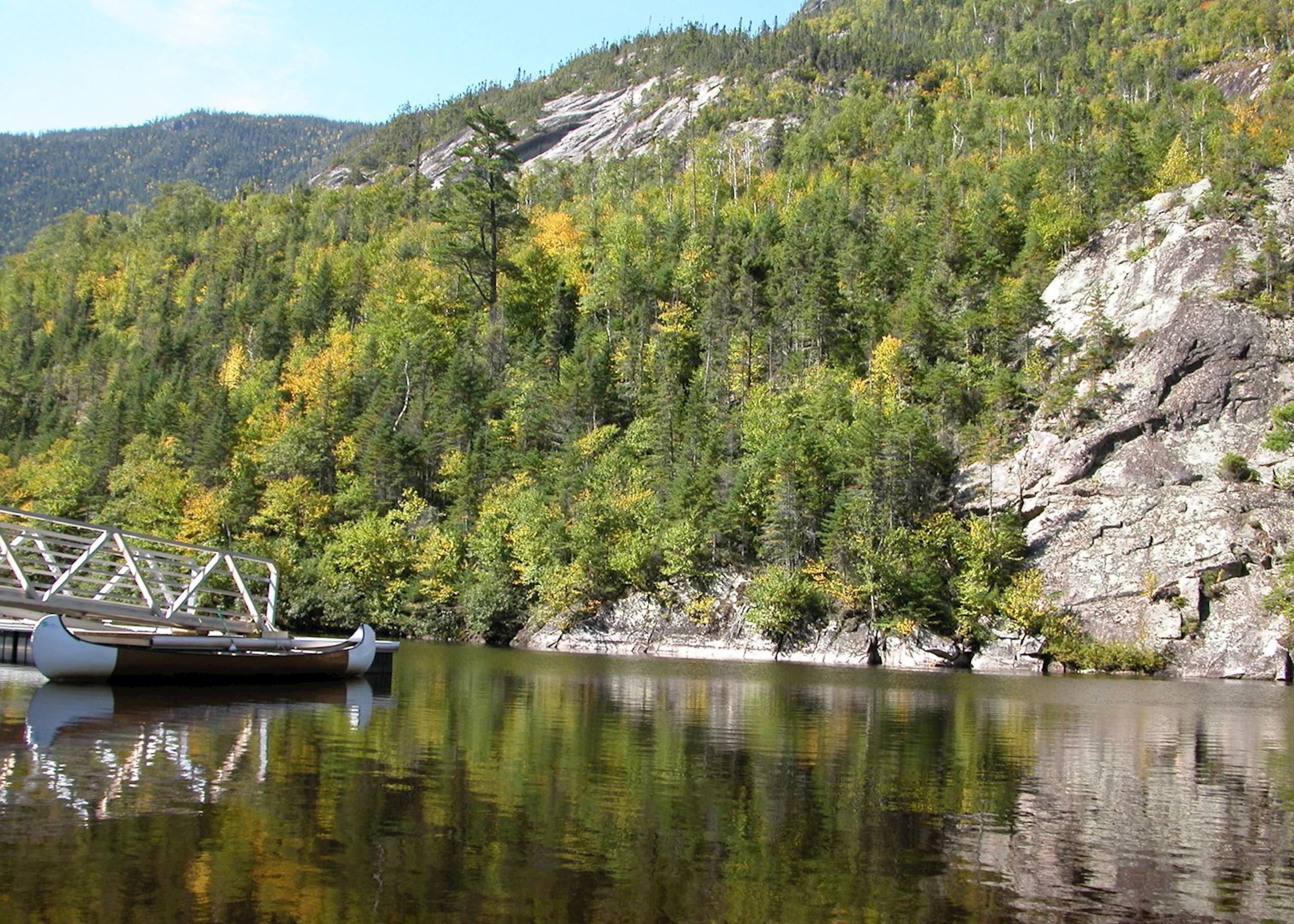 From Le Bic I would take the ferry back to the north shore of the St. Lawrence River and drive south to La Malbaie (8). This small town lies in the heart of the delightfully pastoral Charlevoix region. It is always a pleasure to tour this region by car — the roads are quiet and scenic, the people are friendly and the locally-produced food is a real treat. Artisan breads, homemade cheeses and patés are nearly always made on the premises, and are a joy to sample.
Day 22: Heading home
At the end of my tour it is an easy drive back to Québec City to drop off my hire car before flying home.