Colombia is still a place I keep returning to: sprawling Bogotá, innovative Medellín and sultry Cartagena have well and truly taken root in my heart.
Need a bit of warmth to help put winter behind you? Our long-time Colombia aficionado Jack invites you to explore the country's trifecta of popular cities — capital Bogotá, mountainous Medellín and coastal Cartagena.
Buena Bogot
á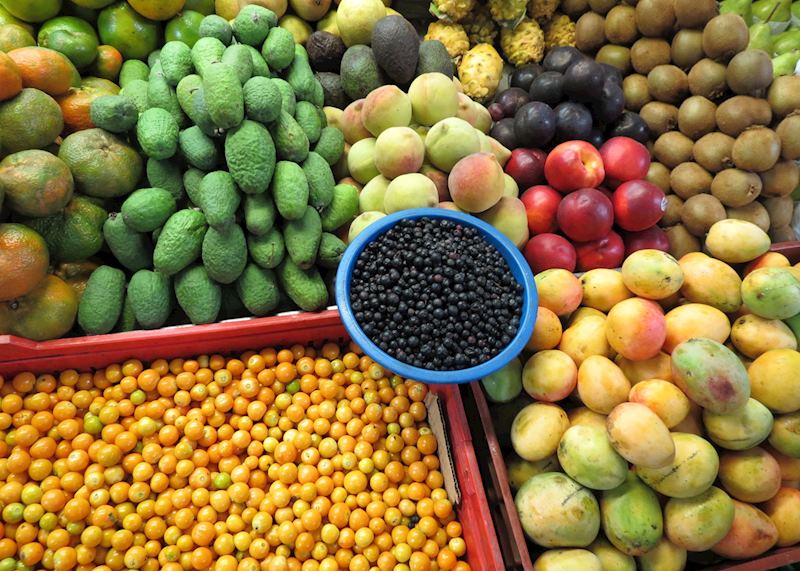 Even ten years on from my first visit, Colombia is still a place I keep returning to; it's well and truly taken root in my heart. Yes, even the capital, Bogotá — a bullish, sprawling Andean metropolis you might be tempted to skip over or treat simply as your entry and exit point to the country. I say: give it a chance (or at least two days of your time).
I like to start any visit with a morning at Paloquemao market. It's an explosion of color (it's the world's second-largest flower market) and flavor (it's bursting with food stalls selling all kinds of fresh produce and street food). Begin your day here with breakfast, Colombia-style: a buñuelo (sweet, rolled dough) and tinto (coffee served dark and sugary.) You might return for lunch, too. I like to grab a portion of lechona tolimense — an entire pig stuffed with rice and vegetables and roasted for hours. You'd be hard pressed to find many Colombians who don't enjoy this carnivorous delicacy.
Spend the day browsing the museums of La Candelaria district, Bogotá's old town. There's a wealth to choose from, but the headliners are the Gold Museum (where you'll find relics crafted by Colombia's indigenous Muisca people) and Museo Botero, one of Latin America's leading art museums. You can see several pieces here by one of the country's leading lights, artist Fernando Botero, including the El Pájaro sculpture — a big, gutsy, sumo wrestler of a bird.
Come evening, you might like to try one of the city's cutting-edge restaurants, such as Villanos en Bermudas for its artful creations. 'You're lucky,' grinned my guide Veronica, the last time I was in Bogotá, 'it was Sunday.' This was how I discovered the weekly custom of Ciclovía, when a sizeable section of the city streets close to cars so that cyclists can take over the roads. It's the ideal opportunity for visitors to see nooks and crannies otherwise missed. If you can time your stay to coincide with a Sunday, do — Bogotá has the most extensive bike path network in the world, with more than 300 km (186 miles) of trails. Riding alongside everyone from intense-looking, Lycra-clad veterans to youngsters on training wheels, you'll see the city unfold in a much calmer way. It allows you to home in on little, everyday vignettes: vendors selling empanadas and fruit, heavily bearded men hawking tinto coffee, a gallery of graffiti. You're also likely to get clear views of the Andes, released from their veil of smog.
A meander in Medellín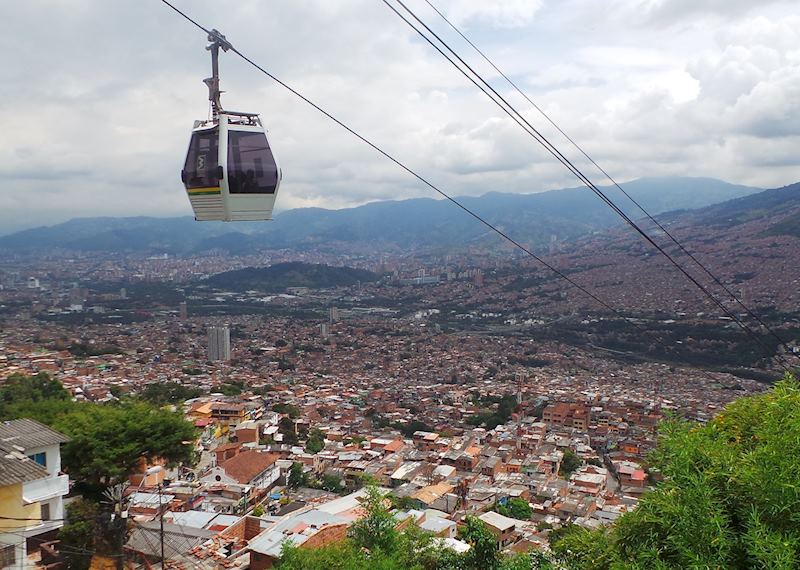 Make your next stop Medellín, a short flight from the capital. The city lounges in a valley, overlapping onto the surrounding mountainsides. The days are often bright, the air balmy yet fresh — a year-round weather pattern that gives Medellín its nickname, 'the city of eternal spring'. Of course, its name was once synonymous with something — or rather, someone — else. But the city's horrific past as the headquarters of Pablo Escobar's notorious drug cartel has been long left behind.
Now, Medellín is one of the continent's safest cities; it was named 'most innovative city' in 2013 by the Urban Land Institute. If you can, dedicate a day to witness the rapid-fire changes that have taken place in the 25 years since Escobar's downfall. Firstly, you need a guide like Adriana. She's less tour guide, more storyteller, and her tours typically begin in Comuna 13, once considered one of the most violent barrios (neighborhoods) in the city. It has now risen from the ashes thanks to creative social and urban planning from government and private investors. Getting there is a novelty: you take an open-air escalator. Located on a steep foothill, it was long cut off from the city center by drug barons, who used this topography to their advantage.
Today, the escalators serve as a symbol of hope, reconnecting citizens with central Medellín. 'Nowadays,' Adriana says, 'elderly residents can take goods back to their homes, vote in the city center and visit friends in other barrios. The escalators have helped foster a sense of community.' The barrio is brilliantly decorated with bright murals that spread messages of love and cohesion. Walking around, you might see live street dancers, a result of education projects working to create unity among Comuna 13's youth. Ask Adriana if you can stop for a mango biche (a sour green mango popsicle) from a street vendor.
In the afternoon, visit Parque Arví, a green space that stretches over 155 sq km (60 sq miles), located just outside the city. The park is easily accessed by an integrated public transport network and elaborate cable car system that has been instrumental in reforming troubled districts, reaching even the most isolated areas. The prices allow anyone, regardless of distance, to ride the metro for the same cost. Before hitting the park's walking trails, stop by the farmers' market. Try the café con queso — hot chocolate with a gooey slab of salty cheese plopped into it. Trust me — it's better than it sounds.
Classic Cartagena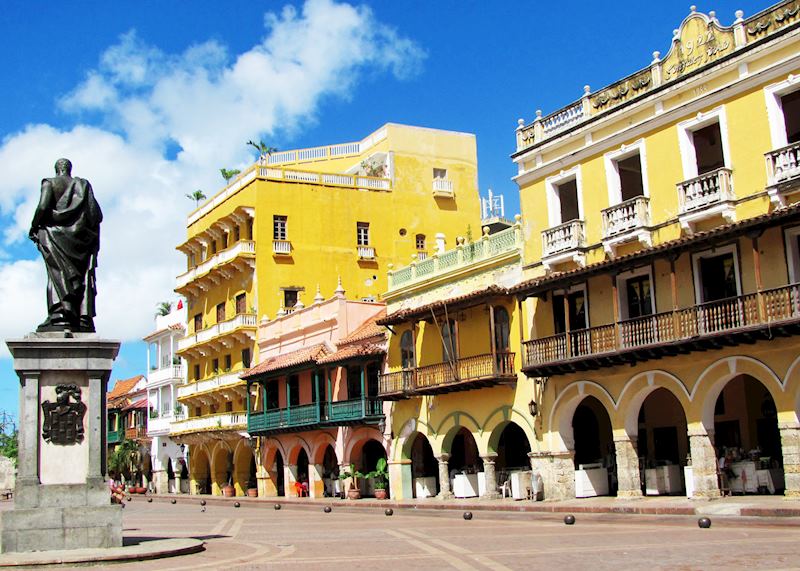 Sultry and Caribbean-fronted Cartagena is a place where people shake their hips unapologetically in the streets and the sunshine is relentless. Candy-colored houses line cobblestoned streets that echo with the click-clack of horsedrawn carriages. Bordered by large 16th-century ramparts, the colonial city center is full of visitors and locals, casually strolling along or using them as a viewpoint for admiring a fiery sunset. Their true purpose as a bulwark against pirate attacks (once a daily reality for the Spanish conquistador stronghold) is almost impossible to imagine now.
A rum and chocolate tasting experience at restaurant El Arsenal also makes for an entertaining time (it's never too early for rum here). Your guide talks you through the art of making the liquor, creating elaborate cocktails and pairing the tastes with local chocolate. Watch as the bartender whips you up a coquito, blending coconut milk, cinnamon, vanilla and dark rum together to create a creamy concoction with a tropical twist.
With a bit more bounce in your step, you can also meet up with Chef Carmen, owner of an eponymous restaurant that's putting Cartagena's food scene on the map, as well as Moshi, a more recent offering. You'll head off to buy ingredients for a meal that you'll cook together at Carmen Cartagena, his flagship restaurant. You'll likely shop at buzzing, open-air Bazurto Market to pick up mojarra (a local fish) as well as ripe lulo (a tart citrus fruit) and coconut to flavor rice dishes. Take part in the cooking, or just watch Carmen at work, observing how he transforms raw ingredients into a plate of Caribbean and Creole-influenced cuisine.
In the evening, it's time to dance. The nights are silkily warm and everyone knows how to salsa. It doesn't matter if you don't, though — someone's always happy to show you. Make for Café del Mar, where you can dine alfresco or dance to live music in the rooftop bar. The ambience is infectious, with people spilling out of the café's doors and into the street, beer in hand.
Read more about trips to Colombia

Start thinking about your experience. These itineraries are simply suggestions for how you could enjoy some of the same experiences as our specialists. They're just for inspiration, because your trip will be created around your particular tastes.
View All Tours in Colombia