Visit the Yangtze River, China
Famed for her beauty and feared for the destructive power unleashed when seasonal floods break her banks, the Yangtze River, or Chang Jiang, has long held an iconic place in Chinese culture, art and literature.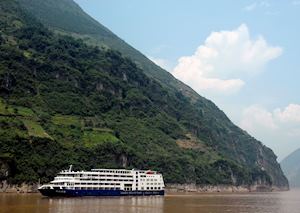 Rushing from the cold mountains of Qinghai across China's vast hinterland to Shanghai and the East China Sea, the world's third longest river gives life to some of China's most fertile land, and has carved out scenery that has inspired poets and painters for millennia. The epic river journey through the Yangtze's Three Gorges has long been considered among China's premier spectacles. While some boats travel all the way between Chongqing and Shanghai, there is also a shorter three night route between Chongqing and Yichang, which is the stretch with the best scenery, including the Three Gorges.
The three gorges of Qutang, Wu and Xiling are the obvious highlight of any Yangtze river cruise. Qutang is the shortest but the most striking. At its narrowest it is just 100 meters wide, and the enormous rock cliffs on either side are dramatic and imposing. Wu (witches) Gorge is more verdant with a swirling mist often shrouding the jagged peaks. Xiling is the longest and least spectacular, but used to be the most dangerous, until the river was tamed. Then there is the dam itself — a giant construction resembling a science fiction film set.
Speak to someone
who's been there

Start planning your tailor-made trip to the Yangtze River by contacting one of our China specialists