Sometimes merry with fun fairs, carollers and ice rinks, other times nostalgic, Christmas markets have their roots in almost every European country over the festive season. Cathedral squares and historic lanes become giant light displays with decorated fir trees and canopies of fairy lights. Wooden huts offer a feast of edible treats and trinkets, from local cheeses to stocking fillers not usually found on the high street. You can plan a trip at this time of year just to visit the markets, which are easy to explore independently. We asked our specialists to name their most-liked.
1. Germany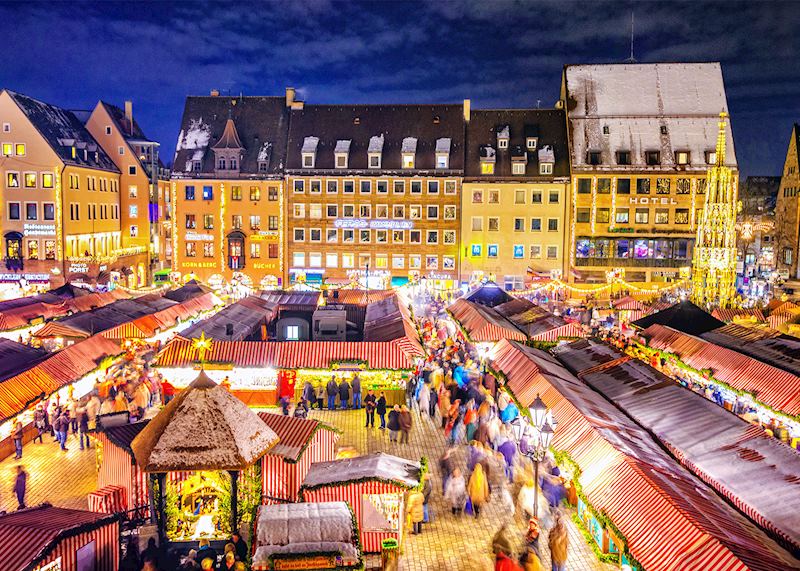 By Germany specialist Taylor
As far as scholars can tell, 'Advent markets' — the forerunner to the modern Christmas market — got their start in Germany, which might be why they set the standard across the continent. The Striezelmarkt in Dresden is the oldest example at almost 600 years old. In comparison, Nuremberg's Christkindlesmarkt is practically a newcomer, only dating from 1628. New or old, they offer lively temporary villages of small open-air pavilions selling ornaments, small toys, mulled wine, gingerbread, and hearty food.
The best German city for Christmas markets: Nuremberg
The largest market here is the Christkindlesmarkt — translated as 'the Christ Child Market'. Every year, one of the local students is elected to be the market's angel — to apply, she must be at least '1,60m tall and free from giddiness'. Wearing a tall golden crown and long golden sleeves that look like wings, she presides over the market for the whole of December. It's one of the most popular markets in Europe and I love the wintry bustle.
What else to see and do in Nuremberg: Explore the tunnels underneath the city with a guided tour that includes stops at a beer brewery and whisky distillery.
2. UK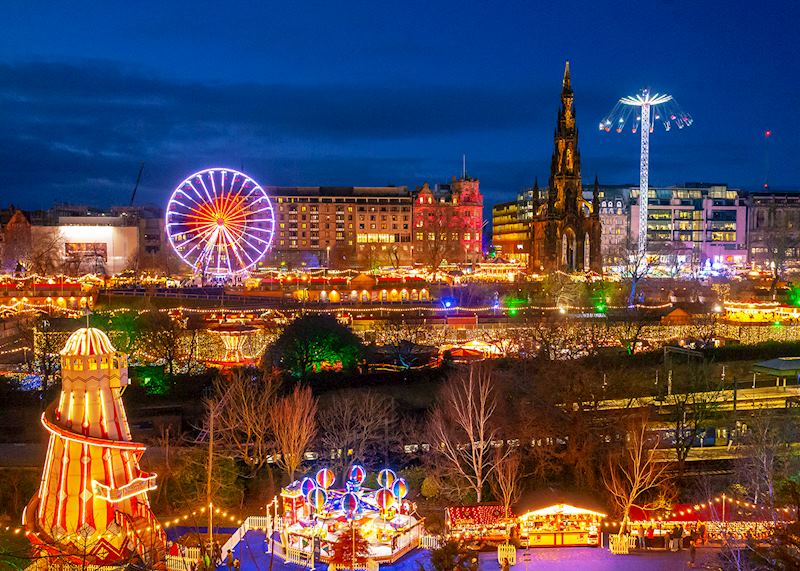 By UK specialist Brittany
Compared to mainland Europe, Christmas markets in the UK are still in their infancy — the first to arrive was as recent as 1982 in Lincoln. Ever since, they've gained stature. Bath's market is particularly picturesque, set against the backdrop of the city's graceful Georgian streets and buildings.
Medieval cities such as York and Chester lean heavily on tradition, with alpine chalets packed with trinkets and local produce. Increasingly, historic landmarks like Blenheim Palace and Leeds Castle are opening up their grounds to craft traders, with illuminations and light trails.
The best UK city for Christmas markets: Edinburgh
The Scottish capital bursts with light from mid-November until early January, when it hosts the country's largest light trail inside a major city. There's also an illuminated Ferris wheel, soaring 60 m (196 ft) high. I recommend the artisan market, which sells local produce — from cashmere scarves to venison burgers — and enlivens the Old Town's labyrinthine lanes. And, there's a large skating rink and fairground rides beneath the watchful eye of Edinburgh Castle.
What else to see and do in Edinburgh: hear about the medieval Old Town's darkest secrets on a ghostly walking tour, discover top food spots by following a tasting trail, and visit the region's centuries-old castles and palaces.
3. Norway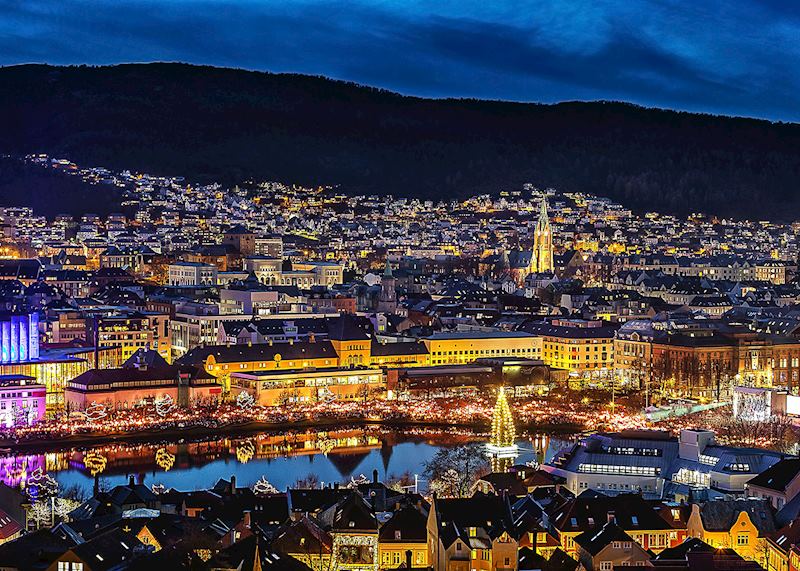 By Europe specialist Aislyn
Norway loves gingerbread cities at Christmas. The original was in Bergen, but now you'll find them in towns and cities across the country. At the same time, lots of markets appear across the country, all with their own character. Oslo, for example, has ice skating and a Ferris wheel, while at Trondheim there are fireside troubadours and theater.
The best Norwegian city for Christmas markets: Bergen
In Bergen, stall holders flock to the piazza next to the lake and park to sell homemade, edible gifts in the month up to Christmas. I like to nibble them in a heated lounge while sipping apple cider or mulled wine. For extra sugar and spice, don't miss the world's largest gingerbread city, known as Pepperkakebyen, on display nearby. Mini houses, trains, landmarks, and ships are all based on the city and made entirely from gingerbread.
What else to see and do in Bergen: hike any of the seven peaks circling the city and sample just-caught oysters, traditional brown cheese, and desserts on private tours.
4. Denmark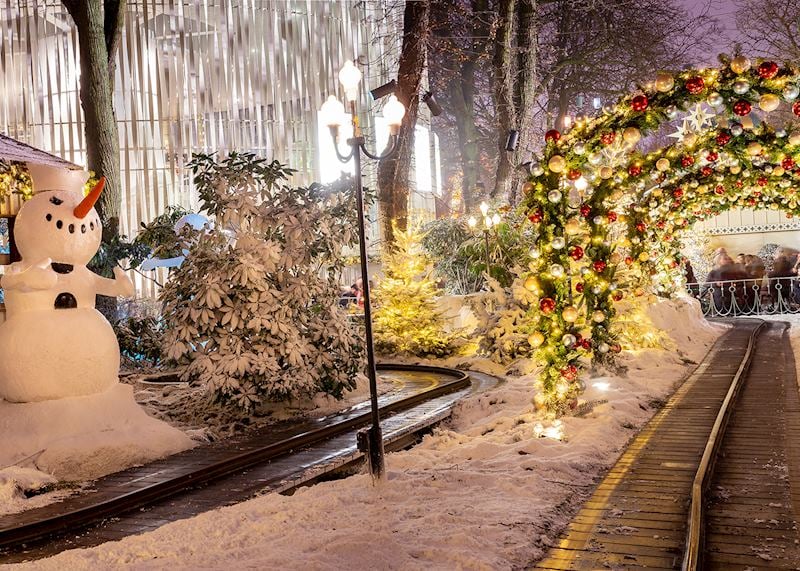 By Europe specialist Aislyn
Copenhagen is home to the most popular Christmas markets in the country, but doesn't have a monopoly by any means. To the west, Egeskov Castle is one of the largest castle-based markets in the country, offering stalls selling arts and crafts and soul-warming nibbles.
The best Danish city for Christmas markets: Copenhagen
With more than 1,000 light-covered Christmas trees and around 60 stalls selling food and drinks, historic Tivoli Gardens has the city's largest market. For me, it's a bonus that the amusement park's rides are open as well. Five other locations, including the 17th-century King's New Square and the waterfront, also offer wooden stalls. For a fairytale-like atmosphere, The Hans Christian Andersen Christmas Market at Nytorv Square is named after the Danish storyteller who created Little Mermaid.
What else to see and do in Copenhagen: act like the locals and see the city's parks and canals on private cycling and boat tours, and take a masterclass in making smørrebrød, traditional open-faced sandwiches.
5. Belgium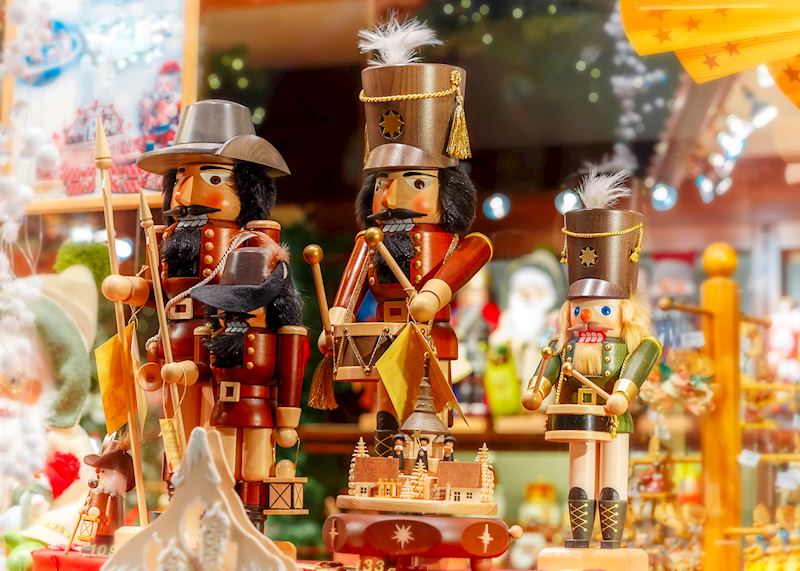 By Belgium specialist Sharidan
Brussels, Bruges, Antwerp, Liège, Ghent, Oostende… Christmas markets are a staple of the Belgium winter scene. Each one bustles with craft stalls and festive decorations, as well as waffles and Belgian beer of course — they're usually paired with entertainment and sound and light shows.
The best Belgian city for Christmas markets: Bruges
Overlooked by a medieval bell tower, the Market Square and Simon Stevinplein are the main draws for wintertime festivities in this canal-threaded city. I love to stroll among the pretty wooden stalls selling hot chocolate, local beers, cheeses, and handmade gifts. An ice rink, choral concerts, and horse-drawn carriage rides over the cobbles lend themselves to what Bruges calls its 'Winter Glow'.
What else to see and do in Bruges: view Gothic cathedrals, step-gabled houses, and canals with a guide, and visit Flanders on a full-day trip around the fields and memorials where soldiers fought during World War I.
6. France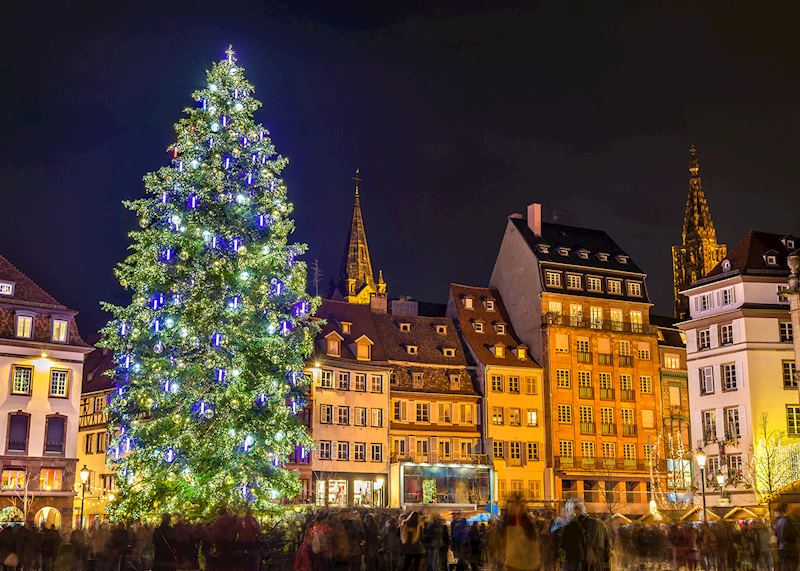 By France specialist Aislyn
Once called Christkindelsmärik, market of the Infant Jesus, the first Christmas market in France dates from 1570. It's still going strong in Strasbourg, with a distinct vintage feel, as is the market spread across the northeast city of Metz. The cathedrals at Reims and Amiens also make dramatic backdrops for stallholders selling regionally made glass decorations.
The best French city for Christmas markets: Strasbourg
This market's been a yearly fixture of the Alsatian capital for four centuries and has the tallest decorated Christmas tree in Europe, standing proudly in the central square. All across the city though, streets are transformed with a blaze of lights, and windows and balconies twinkle with ornaments. Dotted among them are 300-odd wooden chalets selling traditional treats, such as mulled wine and small cakes called bredle.
What else to see and do in Strasbourg: admire the half-timbered houses and medieval villages of Alsace on a full-day private tour, and sample the region's distinctive blend of French and German cuisine with an expert.
7. Croatia
By Croatia specialist Samantha
Zagreb is the biggest hitter in Croatia, but the cities of Dubrovnik, Šibenik, and Split also host Christmas markets, called advent markets, in their ancient squares and along their seafront promenades. They all have wooden stalls selling local souvenirs and local food, with a cheerful party atmosphere.
The best Croatian city for Christmas markets: Zagreb
I find that advent in Croatia's capital is a city-wide experience with concerts performed by local soloists, ensembles and orchestras, and nativity scenes in churches. The market itself is in the brightly lit central square, Ban Jelačić. The fountain is decorated with a festive wreath and traders sell handcrafted gifts and roasted chestnuts and mulled wine in the shadow of a giant tree.
What else to see and do in Zagreb: dig into the historic roots of the city on a private walking tour, and hop across to nearby Slovenia to poke around castles and Lake Bled's blue-green waters.
8. Switzerland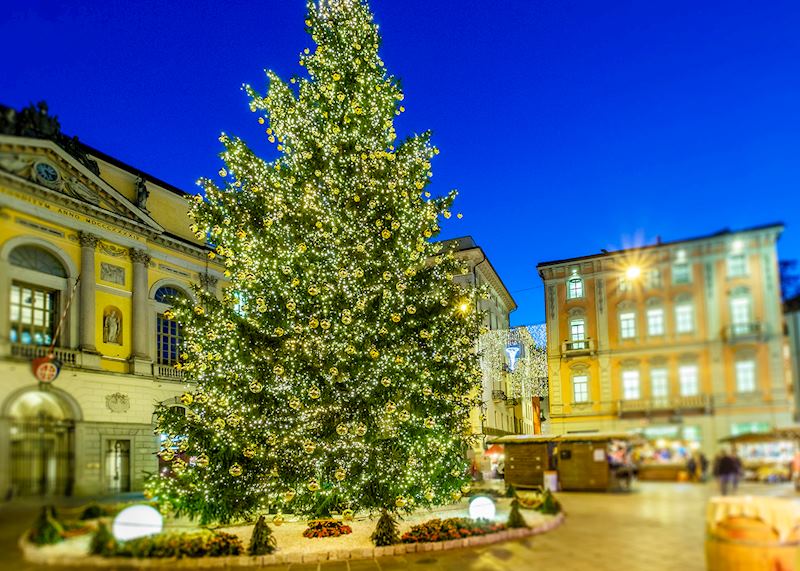 By Switzerland specialist Samantha
With snow-capped mountains and lakes as backdrops, Christmas markets in Switzerland take on a storybook air. The one at Montreux along the shores of Lake Geneva is the best known, but Basel hosts the oldest and largest with almost 200 stalls. Zürich, meanwhile, is all glitz — one of Europe's largest indoor Christmas markets, its 15 m (50 ft) tree sparkles with thousands of Swarovski crystals.
The best Swiss city for Christmas markets: Lugano
From the Christmas tree lights in the Piazza della Riforma to the handicrafts-loaded market stalls and food huts along Via Nassa, this resort city dedicates the month of December to all things festive. The events calendar includes concerts, street performers, and musicians. I recommend the skating rink, plus regional bites and drinks, including bratwurst, mulled wine, and panettone.
What else to see and do in Lugano: fall in love with the region's food, wine, and scenery on a delicious day that begins with a local chef's cookery class, continues with lake cruising, and finishes with preparing, then tasting, creamy risotto in a lakeside grotto.
9. Sweden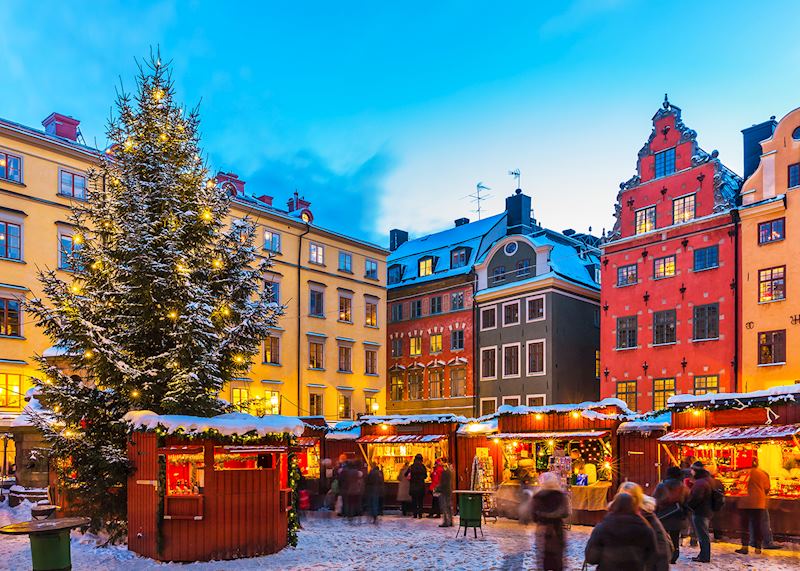 By Sweden specialist Victoria
A Scandinavian Christmas isn't complete without a market for holiday shopping and traditional food and drinks. Delicacies include fried herring, smoked reindeer, and warm cinnamon rolls. The longest standing is in Stockholm and the largest now takes place at Liseberg Amusement Park in Gothenburg. You're likely to see royal palaces and castles opening up to market traders, complete with choirs and horse-drawn carriages embracing the festive spirit.
The best Swedish city for Christmas markets: Stockholm
There are so many excellent markets that I can't decide. The oldest, ongoing since 1837, is in the historic Gamla Stan, the Old Town, with traders setting up wooden stalls among the squiggle of lanes. My other must-visits include the fair at the royal stables, and Schysst Jul, where only fair trade and organic goods are sold. A fourth is the Skansen Christmas market in the grounds of Stockholm's open-air museum.
What else to see and do in Stockholm: be a sailor for the day on a yacht around the Baltic's islands, and head northward to Sweden's oldest town and largest cathedral with a private driver-guide.
10. Italy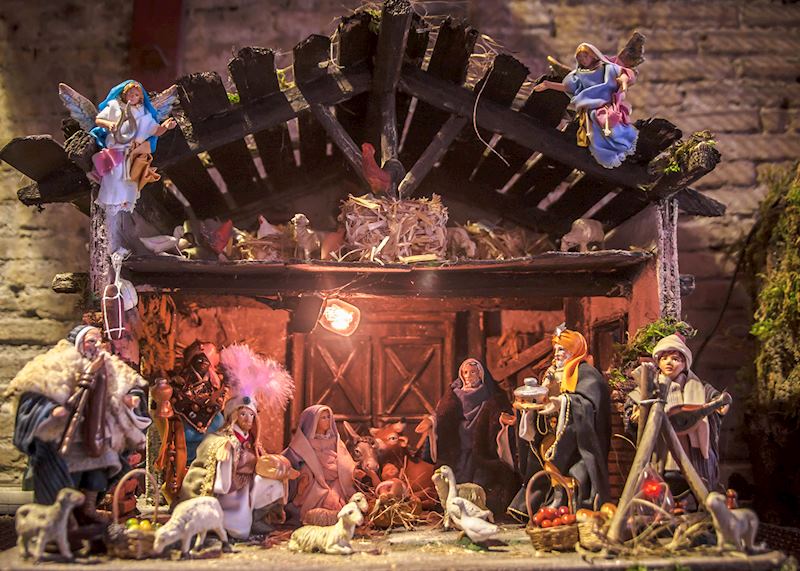 By Italy specialist Laura
The Christmas market tradition is relatively new to Italy. Known as Mercatini di Natale, the first emerged in 1990 in the northern city of Bolzano before spreading down through the rest of the country. Now, you'll find festive music, lights, food, and local handicrafts from Milan to Trieste.
The best Italian city for Christmas markets: Naples
In my opinion, nowhere else does nativity scenes quite like Via San Gregorio Armeno in the oldest district of Naples. Hundreds of shop owners along this narrow street display handmade terracotta nativities with shepherds, sheep, fishmongers, and hunters.
You'll also find quirkier figurines based on pop stars, politicians and other public figures, often with a satirical slant. Stalls offer traditional Neapolitan cuisine, from ricotta-stuffed calzone to mostaccioli pastries.
What else to see and do in Naples: peel back the layers of the city on a private tour that features a 17th-century palace, the world's oldest opera house, and Cappella Sansevero where the Veiled Christ marble sculpture is said to rival Michelangelo's David.