Tailor-make your trip to Auckland & Northland
Known as the 'winter-less north', Northland has a lot to offer the sunseeking traveler. The journey from Auckland is not a short drive, but with the main highway never more than a short detour from the coast, there are plenty of excuses to break the journey.
Bay of Islands
The Bay of Islands, famous for its teal blue waters and lovely sailing days, is a popular spot for exploring some of the country's most evident colonial and Maori history. Most significant of all is Cape Reinga, the tip of the country, sacred to the Maori people as their spirit's leaping point, whisking them after death back to their mythical homeland, Hawaiki.
Auckland
Just below Northland is the largest and most cosmopolitan city, Auckland. Former host to two America's Cup challenges the twin harbors are perpetually awash with sails. A large metropolitan area, Auckland is made up of four major cities - Auckland city, the North Shore, Waitakere, and Manukau - and each presents a different side to Auckland living.
The North Shore
The North Shore is defined by its picture-perfect bays and familial feel; Waitakere is dramatic with rugged beaches and densely forested ranges; Auckland city is vibrant, corporate and buzzing, while Manukau city, largely populated by the Maori and Polynesian communities, feels earthier.
Start planning your trip to Auckland & Northland

Start thinking about your experience. These itineraries are simply suggestions for how you could enjoy some of the same experiences as our specialists. They're just for inspiration, because your trip will be created around your particular tastes.
Highlights of Auckland & Northland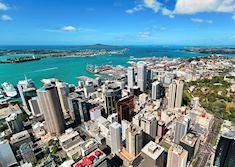 The Auckland Bridge Climb offers an unforgettable 1 and a half hours of adventure under, around, up and over the Bridge. Also popular is the International Film Festival which attracts audiences of over 100,000 people.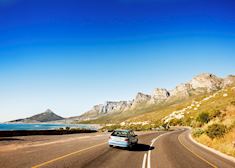 Take a boat trip, swim with the dolphins or enjoy a spot of fishing. Traveling further afield, catch the car ferry to Russell and take a stroll around the small, historic township, the original capital of the country.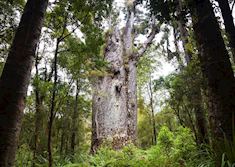 Often overlooked, the west coast of Northland is home to majestic stands of Kauri trees, wild coastlines and the longest drivable beach in the North Island.
Some of our favorite places in Auckland & Northland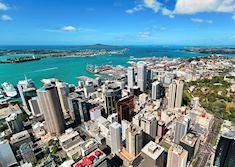 New Zealand's largest city is modern, gleaming and metropolitan, but beyond its shiny waterfront you'll find a rich Maori history and access to offshore island reserves. It's also the gateway to exploring the beaches of New Zealand's undervisited Northland region.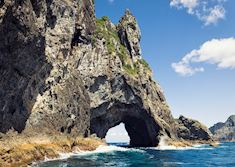 The small townships of the Bay of Islands are steeped in colonial history, and set against a patchwork of gently rolling farmland and ancient forests of venerable kauri trees. The 144 islands are scattered in the clear Pacific waters, which are abundant with marine wildlife.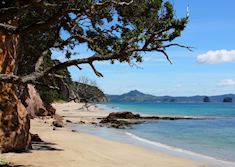 The Coromandel Peninsula provides a retreat and change of pace from New Zealand's largest city, Auckland. Coves, beaches, rainforested valleys, a relaxed lifestyle, good private touring and a thriving arts and crafts scene await you.
Accommodation options in Auckland & Northland