Rachel's always had a drive to explore new areas of the globe. Whether living with a family in Italy, running a beach bungalow in Mui Ne, Vietnam, or teaching English in South Korea, travel has always been her greatest passion.
After graduating with a degree in International Affairs from U.C. Boulder, she embarked on her transcontinental journey to Asia. Arriving home 2.5 years later, Rachel began a career in international travel. Now at Audley, she's designing once-in-a-lifetime trips diving into her favorite cultures in an immersive, exciting way.
Thailand and Vietnam are such exotic marvels that it's hard to not fall in love with both of these countries and all that they have to offer. From hanging with elephants in their natural and preserved habitat in Khao Lak, Thailand, to feasting on the epic banh mis of Hoi An, Vietnam, these destinations are her two global favorites.
Speak to Rachel
Start planning your trip to Southeast Asia with Rachel by calling
1-855-773-6365


Recommend Rachel to someone you know
Help your friends and family discover the world with Audley. Recommend Rachel today.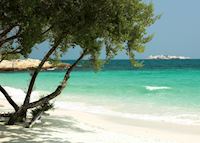 Arriving in Koh Samet by speedboat from a port just 3 hours outside of Bangkok, was truly a dream. Escaping some of the bustling city grit to a place so serene, quiet and beautiful with such minimal travel time was quite unexpected. It was amazing disembarking a boat on a remote private dock to the crystal clear and sparkling turquoise bath like water. Pulling myself out of the ocean after four hours was a challenge. Watching the sunset display such an array of colors over the ocean was a scene I could never have fathomed getting on camera and will remember forever. The ocean side accommodations with soft white sandy beaches make this easy escape a top favorite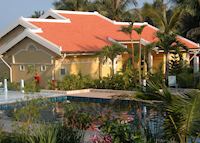 My favorite accommodation is La Veranda on Phu Quoc island off the southern coast of Vietnam. Everything about this resort offered something to remember from the versatility of the interior design to the locally sourced cuisine. It was started and still actively run by Madame Catherine, an older French woman, who designed the property to follow the journey of her life. She created energy within the property that is both enchanting and captivating from creating a colonial design peppered with more retro funky furniture. The location is quiet and removed with easy access to surrounding activity, grasping the best of both worlds. Having its own private beach and villas designed with such an artistic, unique feel left it as a place I can't wait to return to.
I'll never forget when…
While driving into the Mai Chau valley in Vietnam, we stopped at this small market run by the Muong people who lived in the village at the bottom of the mountain pass. The market itself was so local and authentic. I noticed some of the older women wearing traditional dress. I sat with one of the older women while eating egg dipped in their local pepper, which had this amazing natural orange aroma to it, and trying her freshly brewed hot tea. Our guide translated some of our communication, which made the exchange even more meaningful. The woman allowed me to buy one of her similar, authentic headscarves. At the end of this fairly brief stop, I was so touched by the encounter and exchange I had with this woman and her family, I realized I wouldn't have ever experienced this if it weren't for traveling with Audley.