The best time to visit Uzbekistan is during spring (April to May) and autumn (September to early November). It's typically warm and dry during these periods, with temperatures sitting around 21°C to 30°C during spring and 14°C to 30°C during autumn.
You can enjoy the heat of this desert region without it being uncomfortably hot, as it can be during the summer months, when temperatures climb to 37°C.
It can be very cold from November to March, dropping as low as 4°C, but this time of year also brings clear, bright skies, which provide an exceptional backdrop to any photos you take during your trip. This is also the quietest time of year, so if you're willing to dress warmly you're likely to have the country's exquisitely beautiful sites to yourself.
Speak to someone
who's been there

Start planning your tailor-made trip by contacting one of our Uzbekistan specialists
Uzbekistan Climate Guide
Destination
Jan
Feb
Mar
Apr
May
Jun
Jul
Aug
Sep
Oct
Nov
Dec
Bukhara

5°C

24mm

9°C

20mm

15°C

33mm

23°C

25mm

30°C

12mm

34°C

1mm

37°C

0mm

34°C

0mm

30°C

1mm

22°C

6mm

14°C

14mm

8°C

20mm

Khiva

2°C

9mm

5°C

9mm

12°C

20mm

22°C

18mm

29°C

11mm

34°C

3mm

36°C

2mm

34°C

1mm

28°C

2mm

19°C

5mm

11°C

9mm

4°C

13mm

Samarkand

6°C

47mm

8°C

39mm

13°C

68mm

21°C

63mm

26°C

36mm

32°C

5mm

34°C

2mm

32°C

0mm

28°C

2mm

21°C

22mm

14°C

26mm

9°C

42mm

Tashkent

6°C

53mm

8°C

51mm

14°C

75mm

22°C

61mm

28°C

36mm

33°C

12mm

36°C

5mm

34°C

2mm

29°C

4mm

21°C

28mm

14°C

46mm

8°C

56mm
Month-by-month guide for travelling in Uzbekistan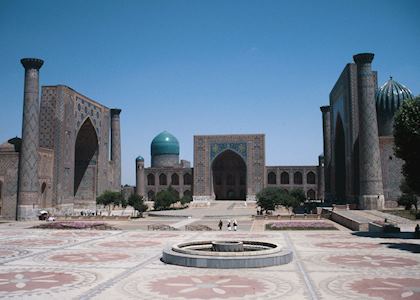 Visiting Uzbekistan in January - February
January and February are the coldest months in Uzbekistan. Temperatures don't drop too far below zero degrees but chilling winds can often make it feel colder. However, it tends to be dry and bright during this time, with clean air and blue skies that provide an excellent backdrop for photographing the country's impressive mosques and minarets. You're likely to have the various sites to yourself as the winter months don't see many visitors to the country.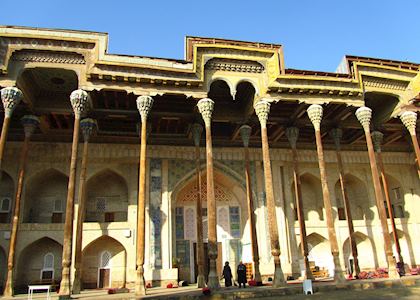 Visiting Uzbekistan in March - April
Temperatures start to warm up from mid-March, but the chance of rain increases. Late March and early April are still fairly quiet times to visit, and the country's main sites of interest will continue to be relatively uncrowded.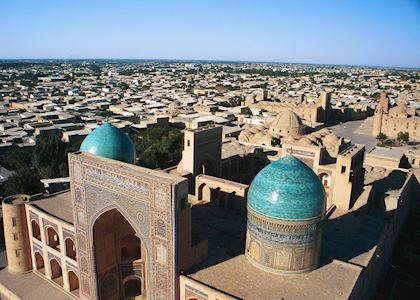 Visiting Uzbekistan in May - June
Mid-April through to early June is one of the most popular times to visit Uzbekistan, as temperatures are warm without being too high — typically mid to high 20s Celsius (50 to 60 Fahrenheit). Consequently, hotels and sites will be at their busiest.
Events & Festivals
The Silk and Spices Festival is occasionally held during May, which highlights the country's culture and traditions, as well as its local arts and crafts.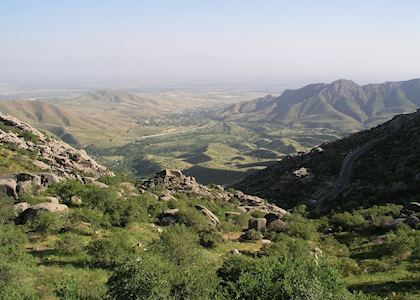 Visiting Uzbekistan in July - August
July and August are the hottest and driest months of the year in Uzbekistan, with temperatures in the mid to high 30s Celsius (above 80 degrees Fahrenheit). Visiting during this period can be quite uncomfortable, particularly with any long overland journeys, as the sun is extremely strong.
Visiting Uzbekistan in September - October
Temperatures start to cool down from September. You can expect mid 20s Celsius (mid-70s Fahrenheit), making it more enjoyable to explore the country's intriguing old towns and Islamic architecture. The autumn months are typically drier than spring, and are also when the country goes to harvest, meaning markets are ripe with fresh fruit and vegetables.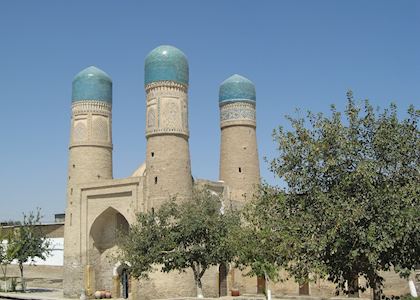 Visiting Uzbekistan in November - December
As winter falls on Uzbekistan both its temperatures and visitor numbers drop. This can be a wonderful time to make your trip if you don't mind dressing up warmly.
Why travel with Audley?
100% tailor-made tours
Fully protected travel
Established for over 25 years
98% of our clients would recommend us Travel advice
Practical tips for travelling to Uzbekistan, from social protocols to guidance on money matters, with a link to the latest government travel advice.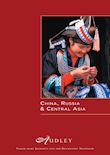 Request a brochure
Our detailed brochures feature trip ideas and travel experiences recommended by our specialists.
Trip ideas and travel guides for exploring Uzbekistan