By Southeast Asia specialist Laura
Indonesia's iconic isle is known for its sun spots, but look beyond the beach bars for a wilder land rich in history, rugged hills and untouched coasts...
When thinking of Bali, visitors may be put off by visions of crowded beach resorts, surfers and noisy bars. But, in reality, this equates to a very small part of this lush and diverse island. Away from the 'flop and drop' beaches located close to the airport in the south, an unspoiled Balinese experience awaits.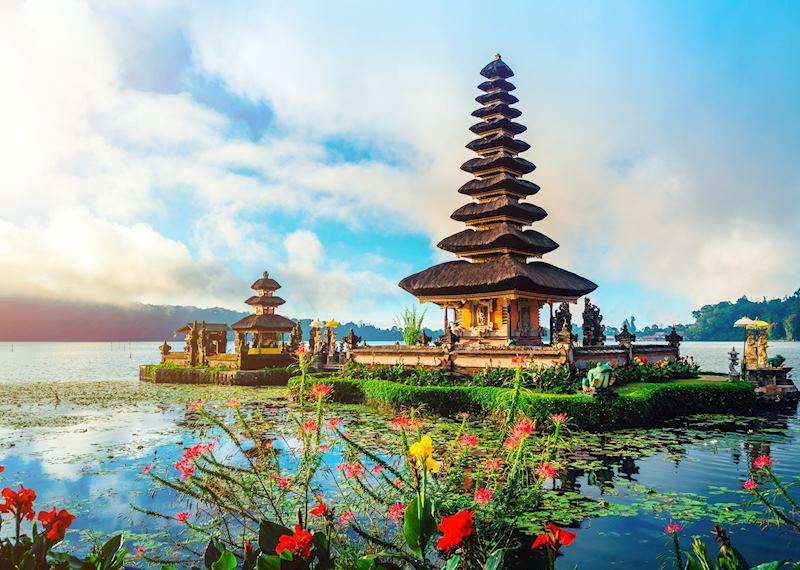 From stacked rice terraces and traditional villages to a barrage of stone-carved Hindu temples (known as pura), this is an island of culture and tradition. And then there's Bali's wild side: climbers can conquer Mount Agung, the highest volcano in Bali at 3,031 m (9,944 ft), while snorkellers will find coral reefs teeming with shoals of fish and other marine life off the coast. And if you want to relax, tranquil coastal retreats, indulgent spas and sunrise yoga lessons offer restful pit-stops in between explorations.
Mountains in Munduk
For a taste of local life, begin in the small village of Munduk, which was established by the Dutch in the 1890s as a hill station and plantation for producing coffee and spices such as vanilla and cloves. Located around two hours' drive north of Ubud, Munduk lies in Bali's cultural heart. At around 1,500 m (4,920 ft) above sea level, the area affords sweeping views over the surrounding green hills and a refreshingly cool climate.
Munduk is also ideal for trekking, with a network of routes lacing its jungle, ranging from easy to more challenging hikes. On a recent trip, I enjoyed a strenuous six-hour trek right from the door of my hotel with a local guide. It was a memorable day, walking through steep jungle trails while soaking up misty mountain views.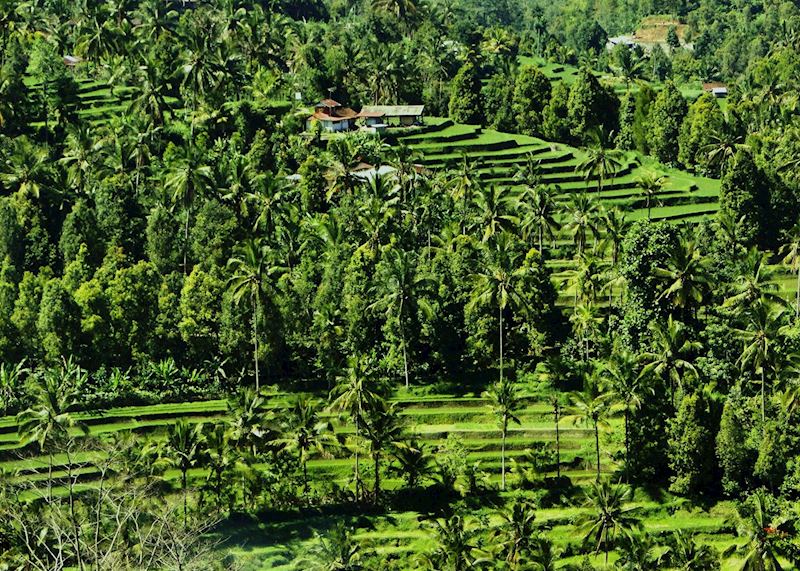 We picked our way across waterfalls and through villages, passing rustic wooden houses where pigs and chickens roamed in well-kept gardens. Our guide showed us around the village where he lived, introducing us to some of the local families, who were all warm and welcoming. We barely saw any other visitors all day.
Arriving at our accommodation at the Munduk Moding Plantation, we enjoyed a much-needed alfresco massage at the hotel's spa, surrounded by the sounds of the jungle. We later finished the day with a delicious dinner prepared from locally sourced ingredients followed by coffee made from the property's own coffee plantations.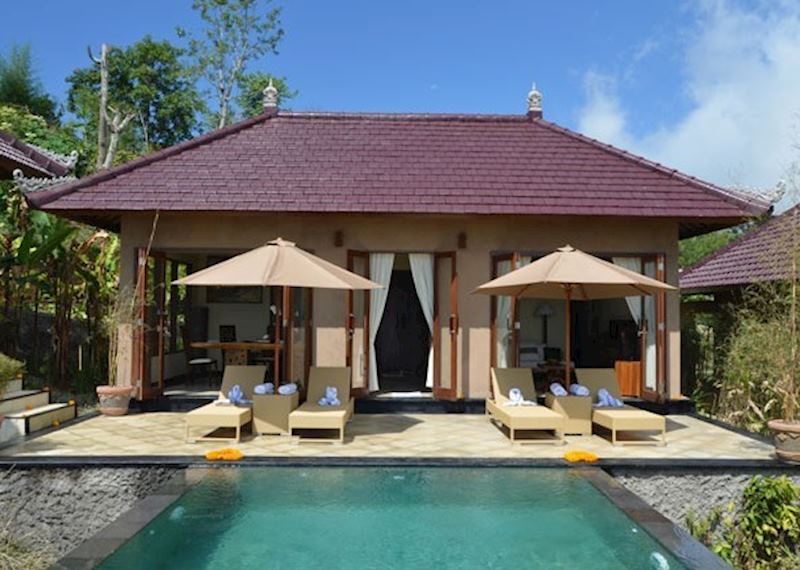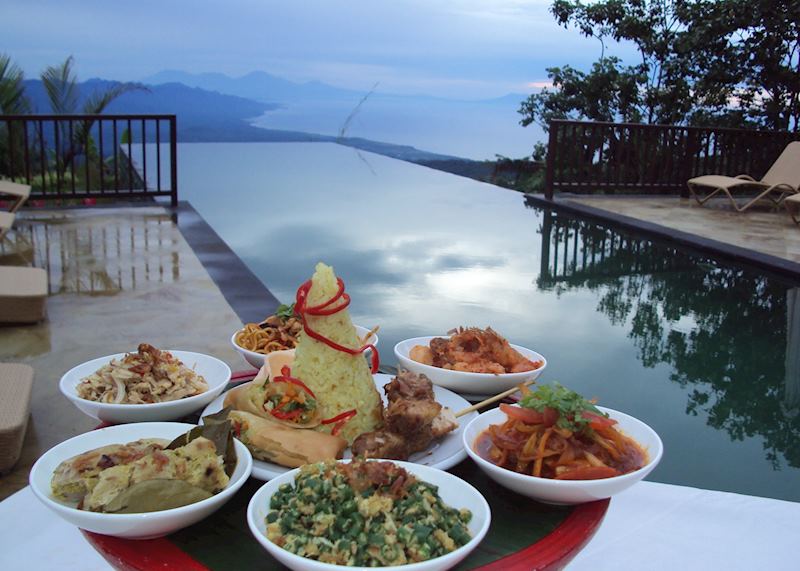 But while hotels can arrange excursions for you, I recommend spending some time soaking up the incredible views of the surrounding hills first and breathing it all in.
Bali's Wild West
For any nature enthusiasts, Bali Barat National Park is a wild paradise. Located in western Bali, the park spans 190 sq km and covers a mix of savanna, woodland and lush mangroves reminiscent of the Australian bush.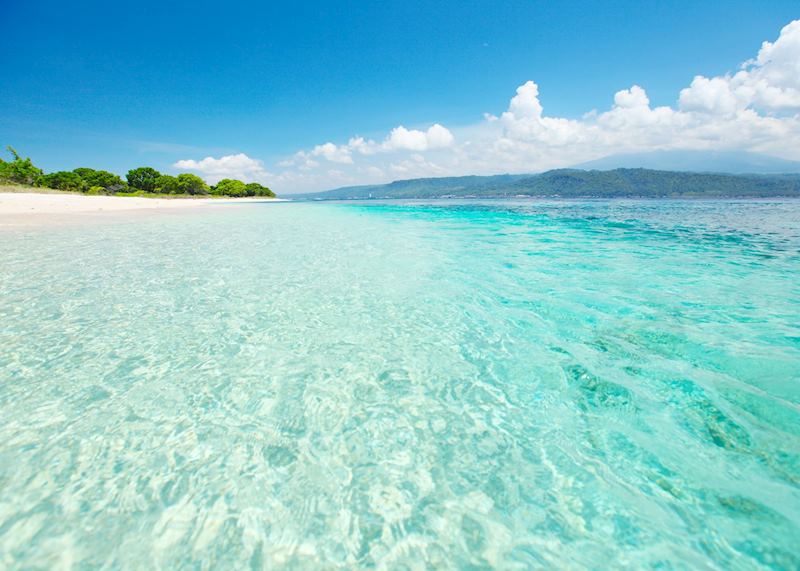 There are relatively few visitors here compared to the developed resorts in the south. Whether exploring the park on foot, by bicycle or 4x4, you will likely encounter curious leaf monkeys and macaques in the trees, as well as mouse deer and an abundance of birdlife. Walking and birdwatching tours with knowledgeable local guides can be arranged through hotels (I stayed at The Menjangan in the heart of the national park). Here, my secluded beach villa opened out right onto the sand.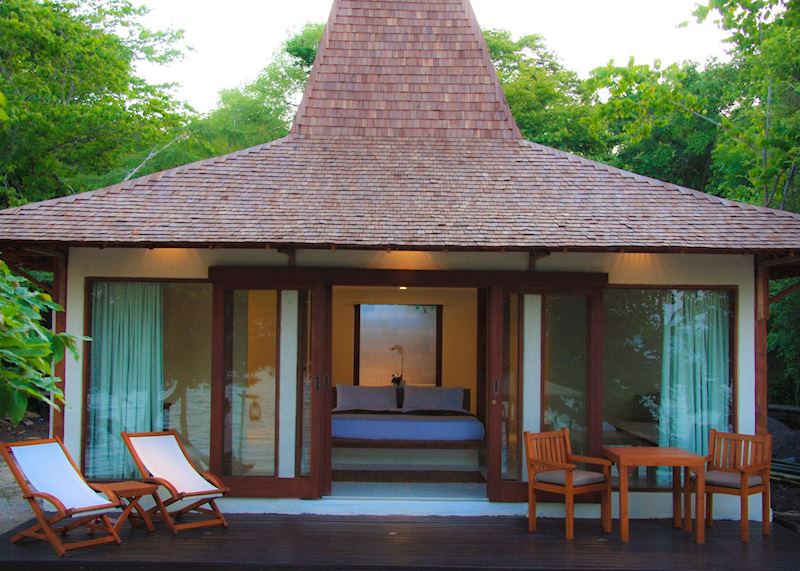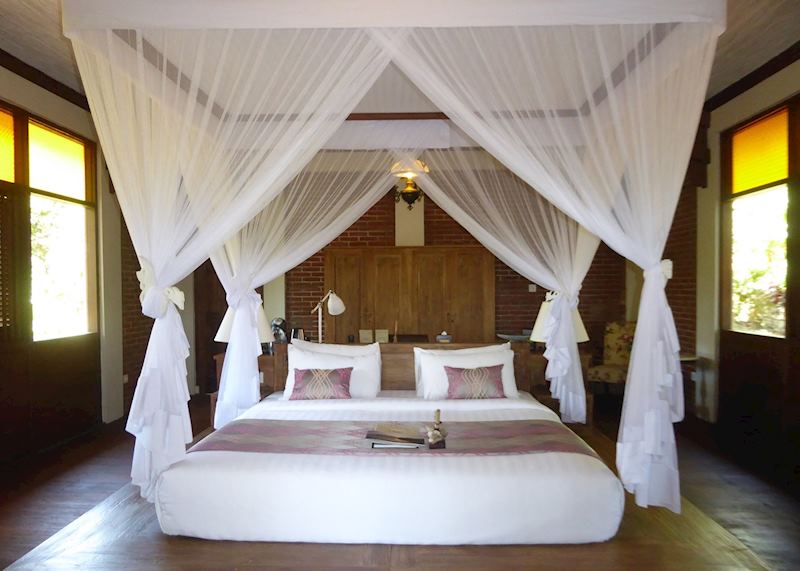 A real highlight of the area is the world-class snorkelling and diving at Menjangan Island, just off the park's east coast. Coral reefs shelter an abundance of fish, and the clarity of the water makes it easy to see their detailed patterns and vivid shades. I joined a small group for a half-day snorkelling trip. After being kitted out with our snorkels and fins, we had a safety briefing before boarding the boat for a 20-minute high-speed ride out to the reefs.
There are seven dive sites to choose from around the island. We snorkelled in two different sections of coral, taking breaks to feast on fresh papaya and bananas on the boat. In the water, clouds of fish swirled around us and darted through the reefs. You can usually spot electric orange gorgonian sea fans, neon blue angelfish and blue-spotted stingrays. We were particularly lucky to see turtles gliding through the deeper water.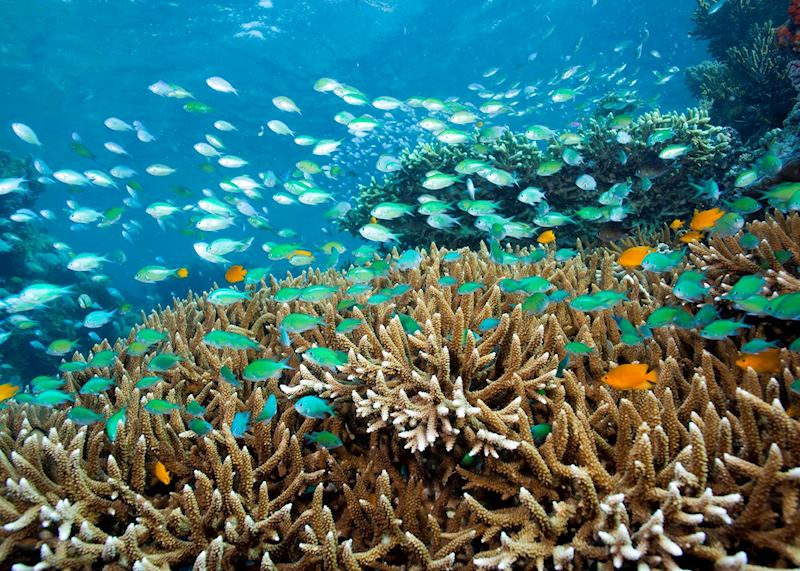 Tasting in Tembok
On my last visit to Bali, I spent time in the small fishing village of Tembok, on the island's tranquil northeast coast. It's the perfect place to unwind and reflect while enjoying some of Bali's more popular pastimes — fragrant food, spa treatments, yoga and meditation. I left the area feeling so relaxed and de-stressed that I was almost floating.
I stayed at The Spa Village, which was handy as it afforded me the chance to experience some of Bali's holistic traditions. And thanks to its complimentary activities, I also crammed in some yoga, as well as stargazing sessions and cookery classes.
All meals were included, which somehow always managed to be both delicious and nutritious. The food was definitely a plus for me, the fluffy pink crab meat my preferred dish. The chefs make good use of fresh ingredients, from seafood caught that morning to tropical fruits growing in abundance around the island.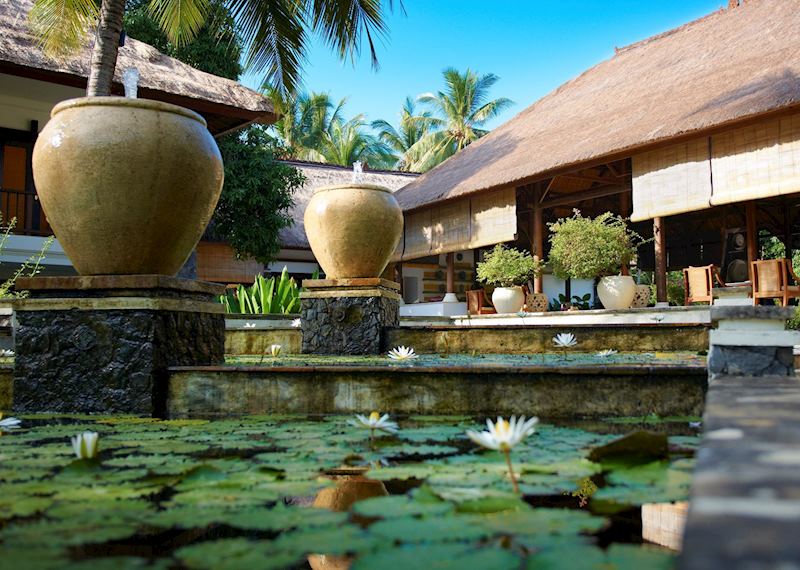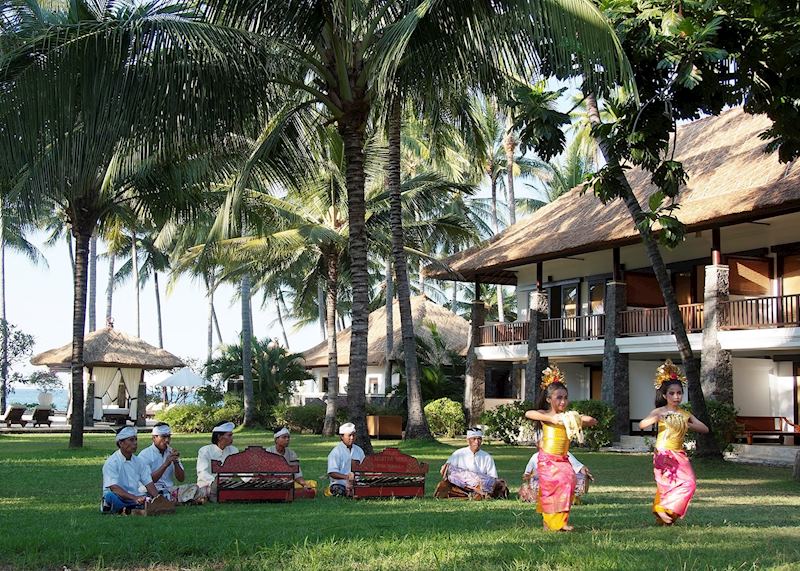 A 50-minute spa treatment is included in your stay, and there are enough options on the menu to satisfy even the most die-hard spa lover. Having sunburned my back from snorkelling, the therapist suggested a skin-soothing aloe vera wrap that helped cool down my lobster-pink skin.
The staff here are from the local area and are keen to immerse you in their culture. As the Balinese are devout Hindus, prayers and ceremonies are part of everyday life here. During your time in Tembok, you can visit some of the local villages to witness the daily prayers and offerings at temples, and if you're lucky, a vibrant wedding, too.
Visiting these villages also gives you the chance to try a few local delicacies. The best food is simple but very tasty, with classics like babi guling (roast suckling pig with the crunchiest crackling) and nasi goreng, the staple meal of fried rice with meat, seafood or vegetables and topped with crispy shallots and the obligatory fried egg and prawn crackers.
Eastern promise
For me, Bali's east coast is a perfect combination of relaxation and the opportunity to learn more about Balinese history and culture. It's only an hour-and-a-half drive from the airport, so if you're looking to escape the madding crowds, you don't have to travel too far.
The downside for some is the lack of golden sand, but I think that the darker volcanic sand and rocky coves give this shoreline a more wild, untouched feel (plus the properties in the area have huge swimming pools to compensate). The coastal views and rugged beauty of this coastline more than make up for the absence of long sandy beaches.
I explored the area with a knowledgeable local guide, taking in some of the historical sites, temples and expanses of volcanic landscape. We headed to Klungkung, the site of Bali's most powerful dynasty, to see the Kherta Ghosa (Hall of Justice). This was formerly the supreme court of the kingdom of Klungkung, and I was fascinated by its brightly painted ceiling murals depicting heaven and hell — a remarkable sight.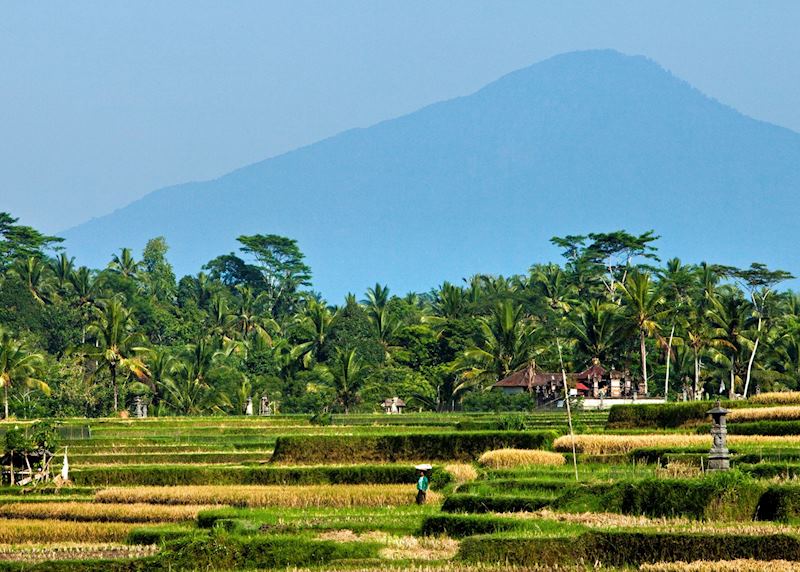 The village of Tenganan was next — thought to be the oldest Aga (an indigenous people) village in Bali. It has kept many of its traditions and is one of the last villages still to produce handwoven ikat cloth. We finished the day with a visit to the highest — and one of the most sacred — mountains in Bali, Mount Agung (which is actually a stratovolcano). This involved climbing up to the island's most important temple: Besakih (the Mother Temple). This lies perched nearly 1,000 m (3,280 ft) up the side of the mountain. There, a series of 23 separate temples have been constructed on its slopes, and I arrived panting, as my guide slowly explained their history and importance.
The Alila Manggis, located near the resort town of Candidasa, is one of my preferred accommodation options in Bali. This is an effortlessly stylish property that sits right on the coast, allowing you to look out over the ocean from the large pool. Sun-recliners lie in the shade of swaying palm trees and many of the rooms open out onto the green lawn, making for a peaceful spot to relax.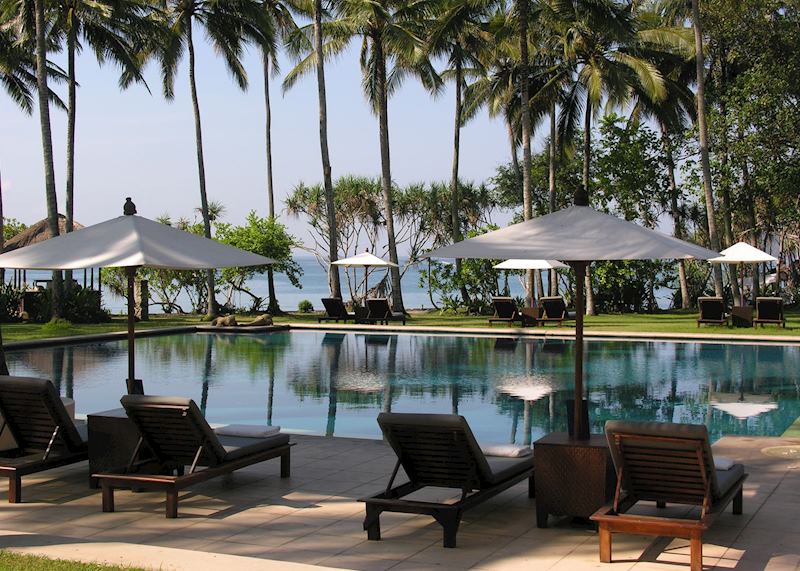 The hotel's Seasalt restaurant also serves some of the best food I've tasted in Bali, all in an open-air pavilion that catches the sea breeze. I recommend trying their megibung, a traditional eastern Bali feast shared between friends and families, where a variety of tapas-style dishes are served on a carved wooden stand called the dulang.
For the ultimate in luxury, however, I suggest staying at the Amankila, which is perched on the clifftops overlooking the ocean. The resort is surrounded by thick jungle and set around a three-tiered infinity pool. Each of the individual villas is the size of a small house and features an expansive terrace facing the ocean. The complimentary kayaks are also an ideal way to explore the surrounding coastline — the perfect end to any Bali trip.
Start planning your trip to Bali

Start thinking about your experience. These itineraries are simply suggestions for how you could enjoy some of the same experiences as our specialists. They're just for inspiration, because your trip will be created around your particular tastes.
View All Tours in Indonesia