Written by Mark
Southeast Asia Specialist
Since my first trip to Cambodia in 2003, I've been back many times and seen it change. Back then, little infrastructure was in place, streetlights in Siem Reap were minimal and the roads were pot-holed. Now the city roads are safer and there's a vibrancy in the evenings where brightly lit restaurants and markets invite you in to sample something new.
Siem Reap revisited
Having been to Siem Reap five times now, I was looking forward to seeking out new hotels and eateries, perhaps seeing a popular temple from a different angle. On my recent trip I noticed a surge of visitors, including a new wave of regional visitors. To get the best out of your time here away from the masses, you need access to someone in the know. Enter my guide, Sinath.
Sinath grew up in a small village just outside of Siem Reap and talks with joy about a childhood exploring the jungle around the temples, hunting tarantulas to sell at the market and rambling among the thousand-year-old ruins. When English-speaking visitors first arrived, Sinath worked as a tuk-tuk driver to sharpen up his English before beginning to guide.
Fast-forward several years and there we were, discussing a shared passion for his homeland's history, heritage and architecture. We decided to explore Angkor Thom, the region's largest temple site. The plan was to turn what's usually a 15-minute drive to the temple site into a morning bicycle ride, allowing us to explore the countryside and see fishermen, lotus ponds and street-food sellers along the way, before finishing with Angkor Thom itself.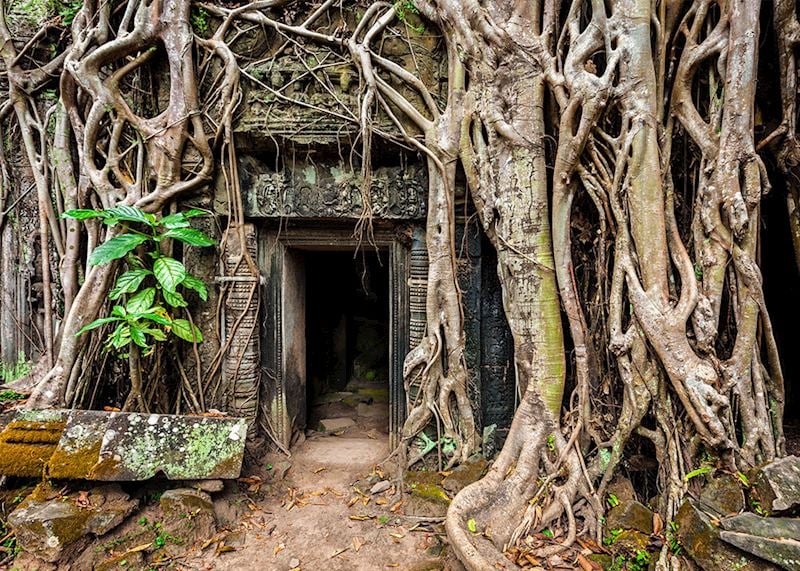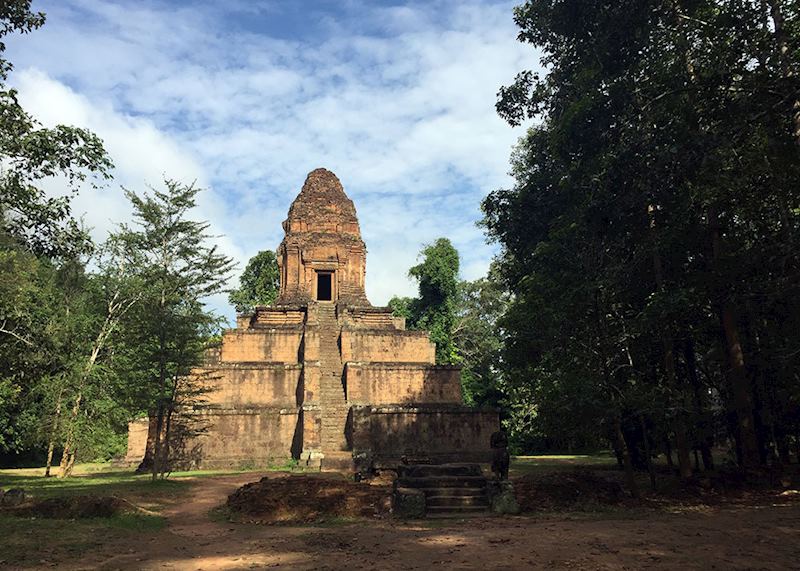 We stopped to admire the pyramid-shaped Baksei Chamkrong temple. I've never seen it before, even though it's tucked just behind a main road. We then cycled over the moat and through the well-known South Gate of Angkor Thom. Rather than following the line of cars, we turned right and cycled up onto the ramparts, and within minutes the sound of diesel engines was silenced by leaves waving in the morning breeze, bird song and a boatman slapping his oar in the water. You wouldn't know you were cycling atop an ancient city wall, with sky-high trees on the left and the freshwater moat on the right, with some scrub to stop you going too close to the edge.
On each of the four corners of the city walls is a small temple, overgrown and unused in the soft morning light. They were once used as a place of worship, and in later years were lookout posts. We stopped at one and sat on an 800-year-old rectangular stone, looking out over the moat and lotus fields as a lone crane pecked its way through the reeds.
Arriving at Angkor
We continued along the ramparts as the Gate of the Dead came into view. The sun hadn't quite reached it yet, and the cooler air and walk down to the entrance made for an eerie arrival. Most visitors enter Angkor Thom at the South or East Gate so this one is rarely used.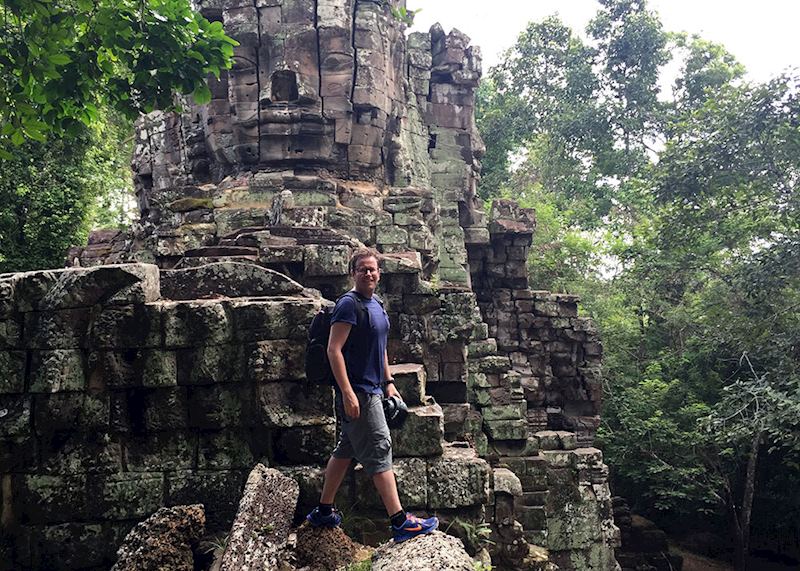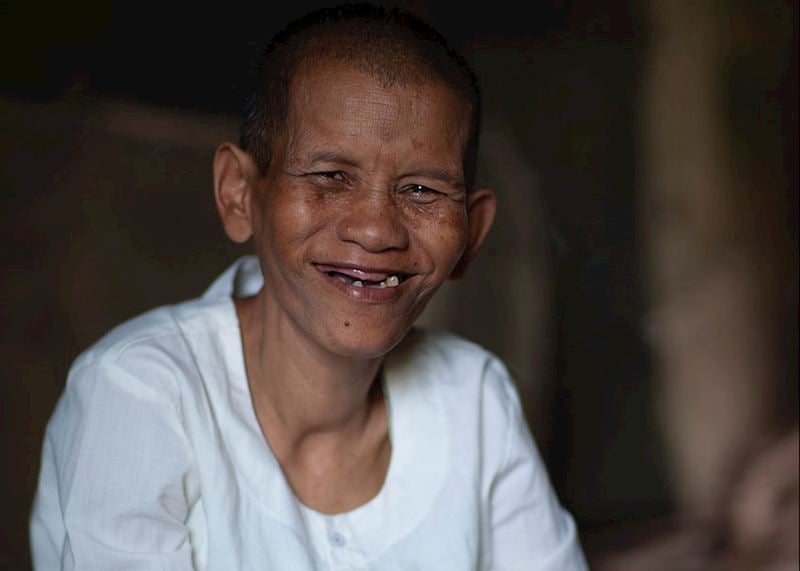 We cycled to the drum beat of a local celebration and eventually arrived at Angkor Thom, which was once home to one of the biggest populations of its time. Like most of this region, it's now covered with banyan trees stretching for sunlight. The standout feature of Angkor Thom, for me, is Bayon, a temple built as an ode to Jayavarman VII, where 216 smiling faces adorn the tops of towers with a striking resemblance to Jayavarman himself. The story of his reign can be found on two bas reliefs, much like a stone Bayeux Tapestry.
Just outside Angkor Thom is Ta Prohm, a temple that is being suffocated by the jungle. Tall trees use temple towers as their support and, as the years have drifted by, the vines and roots constrict walls, roofs and lintels, in some instances causing irreparable damage. It's easy to see why it's one of the most photographed temples at Angkor.
Often overlooked are the people who keep the temples in order and continue to keep these sites photogenic. Nestled inside a stupa, avoiding the sun, I met Prom (pictured), a Buddhist nun who lives in a neighbouring monastery. She comes here every day to sell bracelets to visitors who use her stupa as a walkway from one side of tree-wrapped Ta Prohm to the other. The money she makes goes back into the monastery, helping to maintain the building and buy food. As I bought bracelets from her, she wrapped them around my arm and gave me a blessing.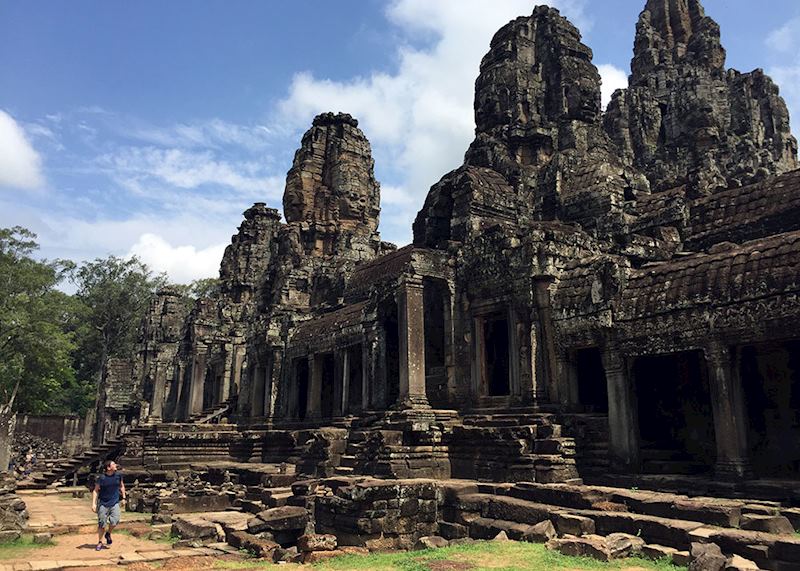 I've been to Angkor Thom numerous times and, for me, this was the most interesting way to experience it. A less-beaten path changes the way you see a temple. You don't have to necessarily wander far, you just need to have the right people guiding you.
Khmer cuisine
Historically, the cuisine in Thailand and Vietnam has rightly received accolades. However, it was only on this trip that I sat up and really noticed the creativity of modern Khmer cuisine.
Over the years there have been quality restaurants associated with high-end hotels or French-Cambodian joint ventures in Siem Reap, particularly the seven-dish gastronomic menu at Embassy Restaurant or the Cuisine Wat Damnak's tasting menu. These restaurants, among others, have allowed local aspiring chefs to aim for a new level of creativity.
Mie Café is an unassuming wooden Khmer house set back from a side-street, away from the bright lights of downtown. Chef Pola, who's worked in Switzerland under a two Michelin-starred chef, mixes his homeland's ingredients with European flair and presentation, resulting in a unique take on classic Cambodian cuisine.
Young chefs like this are scattered through Siem Reap. Pou's Restaurant and Bar is a relaxed local bar that serves exceptional food. Chef Mork Mongly, still in his 20s, created Pou's, delivering creative dishes with aplomb — his tasting plate was mouthwatering.
Phnom Penh
Leaving Siem Reap, I opted to take the 40-minute flight to the capital, rather than several hours in a car, and seeing the shiny new Vattanac Tower (home to the five-star Rosewood Hotel) from the air sums up Cambodia at the moment. Though the country has sometime focused on its long — and often troubled — history, it's clear that Cambodians are now looking to the future.
There seems to be a real sense of pride that the country can be seen to compete with the likes of Thailand and Vietnam again — even the local remork (Cambodian tuk-tuk) drivers are proud of the skyscraper. And for me, there's a sense of irony that next door to the newest five-star hotel you have another landmark building — Raffles Le Royal: the old and the new side-by-side.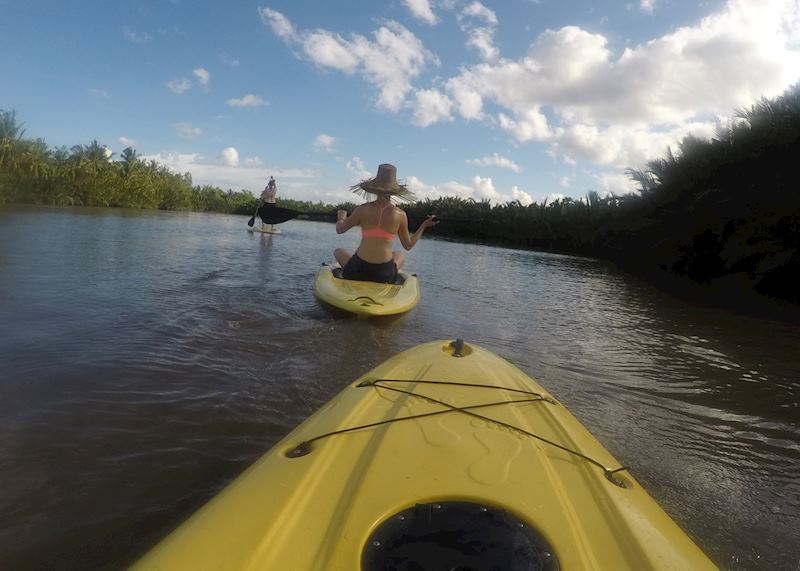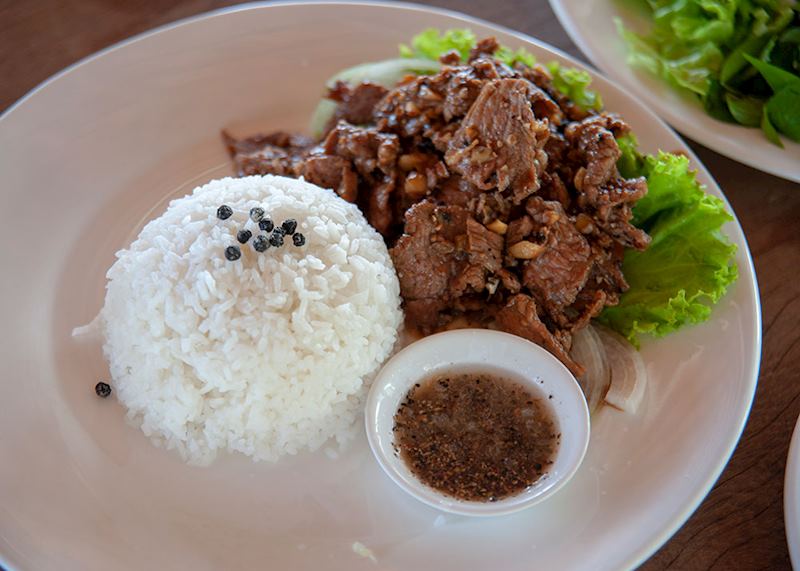 Kampot pepper
For the final stop of my trip, I headed toward the coast, to the riverside town of Kampot. It now has a few more guesthouses and restaurants, but it's still a sleepy backwater. You can trek in Bokor National Park and kayak in the mangrove forests, and I arrived for a combination of the two, with the addition of exploring the Pepper Trail.
Much has been said in the culinary world of the qualities of Kampot pepper and how different varieties range from lemon notes to a long-lasting firepower. My palate isn't adept to the subtleties, but I do always buy a packet to bring home, and I find it adds more depth to a Bolognese. The industry boomed under French rule in the 19th and early 20th centuries and French chefs still swear by its qualities. Today, it's the Champagne of pepper and, like Champagne, it also has protected status.
I visited one of the pepper farms that's open to the public, where you can head out to see the vines and the growing process, before wandering back to an open-air kitchen to indulge in a spot of cooking using Kampot pepper.
Of course, you get to eat the fruits of your labour — they've restored a traditional teak Khmer house where you can enjoy a pepper tasting. Dishes range from black pepper beef to green pepper Kep crab. If you want to see some of Cambodia's countryside and indulge in the finest pepper, then I cannot recommend this part of the country highly enough.
Read more about trips to Cambodia

Start thinking about your experience. These itineraries are simply suggestions for how you could enjoy some of the same experiences as our specialists. They're just for inspiration, because your trip will be created around your particular tastes.
View All Tours in Cambodia