Written by Natasha
Southeast Asia Specialist
For me, Thailand at its best is the crunch of a fresh spring roll, Bangkok's Grand Palace glittering in the sun or an elephant trumpeting in the jungle. You don't have to follow the crowds to experience the real essence of Thailand. I've created this 12-day trip idea with a fresh take on the highlights, taking you from hidden corners of Bangkok to remote jungle and secluded beaches.
Days 1-3: glittering palaces and fragrant cuisine in Bangkok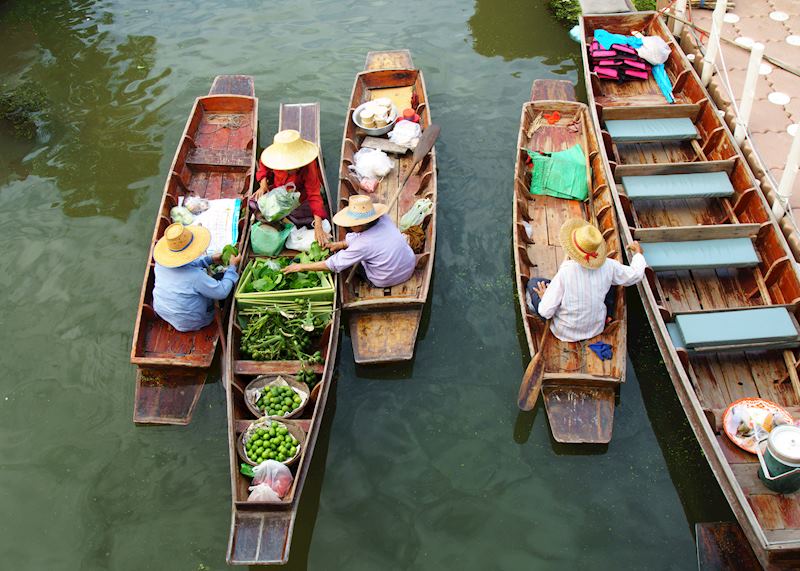 Just thinking about Bangkok makes me hungry. So, on arrival, the first thing I suggest you do is take a private food tour with a city resident. You'll see food stalls, markets and hawkers everywhere, so the experienced tastebuds of a local are a welcome guide. They can take you to quiet streets and hidden cafés that few visitors find, enabling you to come to grips with Thai cuisine in peace. I'm partial to sai ua, a large coil of grilled sausage that hails from the north.
This local insight is also invaluable when exploring some of the better-known sights around the city, including the postcard-popular Grand Palace. A guide can plan your day to avoid any busy times, and everyone I met shared a genuine enthusiasm for Thailand.
Bangkok is a city of markets, but they can get busy. Instead, with a private guide, you can head out into the surrounding countryside to float along the waterways of Amphawa. This sleepy riverside town hosts a floating market, where pineapples, bananas and flowers are piled precariously high in narrow boats, their vendor squeezed in at the stern.
Days 4-5: wild elephants in Kui Buri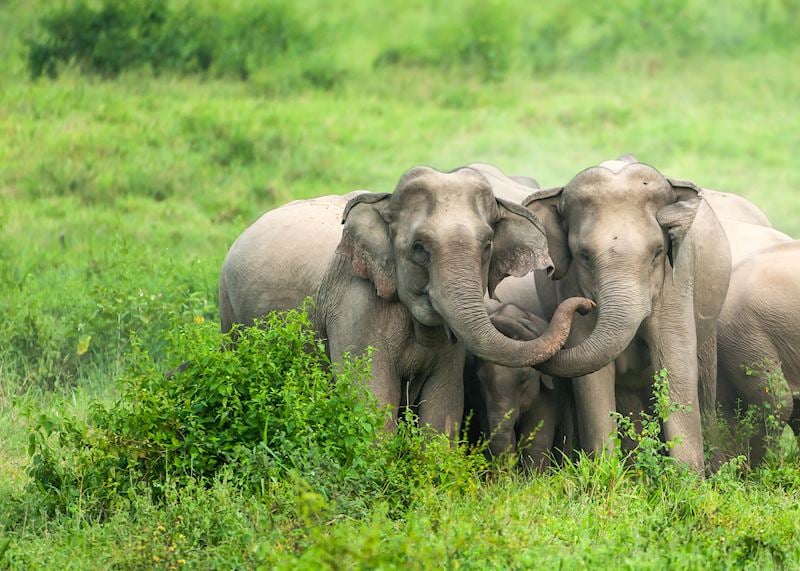 Thailand is well known for its elephant sanctuaries, but it's still possible to see these gentle, inquisitive creatures in the wild. Kui Buri National Park, in central Thailand, has a healthy population of around 250 wild elephants. The forest-covered Tenasserim Hills create a natural arena where you can view the elephants. You're also likely to see a range of birdlife as well as golden jackal and deer.
There are no private-pool lodges or restaurants here — instead, you'll stay in a locally owned guesthouse in Ruam Thai village, a farming community along the park boundary. You'll explore the park in an open-top 4x4, accompanied by your private guide and national park ranger.
There are a number of points where the vehicle stops and, if safe to do so, you can to step out with the ranger. While sightings are common, you're not here for an up-close encounter. Instead, you're looking to (with any luck) observe the herd from one of the viewing platforms. And, what a herd. Down in the long grasses, it often exceeds 40 elephants, with tiny youngsters tucked under the mothers.
Days 6-8: outdoor adventures and modern history in Kanchanaburi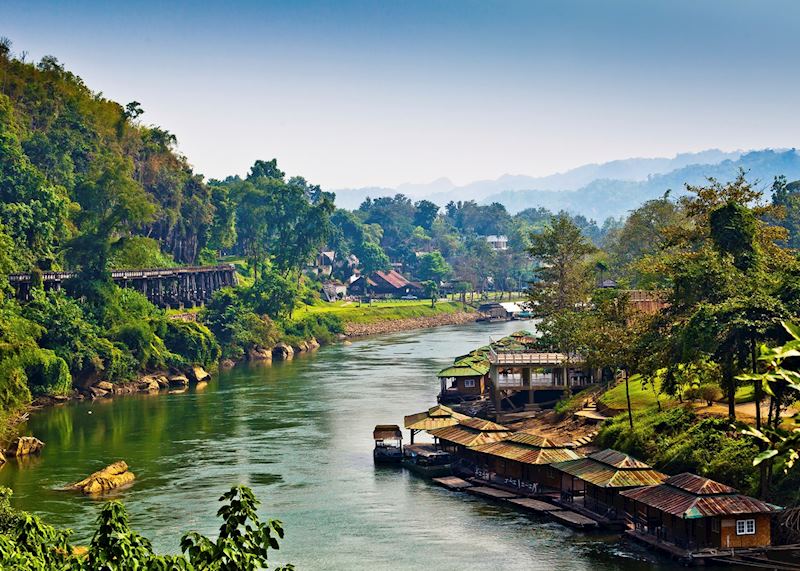 While this is a country of photogenic landscapes, I'd say that central Thailand really takes the crown. Lush farmland growing tapioca and papaya gives way to hills blanketed in thick forest, topped with mist in the early morning light.
The Kwai River cuts through the landscape in a series of tight turquoise curves, with life in the region clustered along its banks. Kanchanaburi, synonymous with Pierre Boulle's 1952 novel, The Bridge Over the River Kwai, makes an ideal base for exploring. Stay at The Float House, and you are right on the river itself, in your own floating thatched-roof villa with a private terrace looking out to the forests of Erawan National Park beyond.
If you're itching to explore, you can kayak, canoe or river raft the waterways, and cycle or trek through the forest. I also suggest a private tour of Erawan Falls, a series of aquamarine pools that are so ideal for swimming, it's hard to believe it isn't a manmade leisure resort. You're shaded by jungle greenery and if you stand still long enough, you might feel the tickle of fish on your toes.
The natural history here could keep you occupied for days, but it's the modern history of Kanchanaburi that I've found most memorable. Take a tour with a private guide and you'll begin with The Thailand-Burma Railway Centre, a well-designed museum dedicated to preserving the history of the 'Death Railway,' before taking a ride on the train itself. This is where your guide comes into his or her own — they take real pride in being the custodians of the stories belonging to those who lived and died building the route.
Days 9-12: an island escape on Koh Samet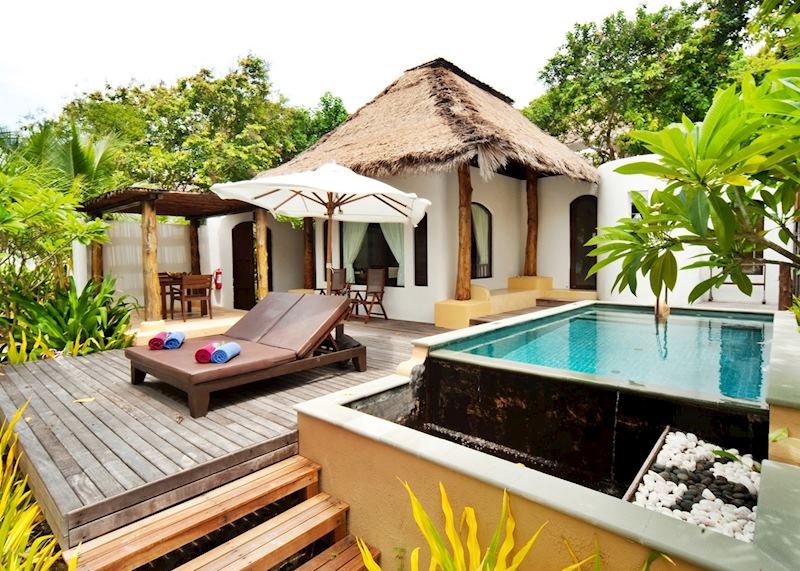 Journeying through Thailand, there's something new to see around each corner. On Koh Samet, however, life becomes refreshingly simple. Most of this tiny island is covered in thick jungle, with forested hills to the south that shelter secluded beaches shared by one or two hotels. Cradled by the mainland in the Gulf of Thailand, it's one of the driest islands in the country, boasting year-round sunshine and bathwater-warm coves.
The Paradee Resort is on a bay of its own, with a private island feel and low-rise thatched villas scattered across the beachfront. I've never really felt the need for shoes here — you step from your bedroom straight onto the beach.
Days are best spent lying languid by the pool or in the sea, where the water's so clear you can see your feet. Snorkel and the stage is set for shoals of fish glittering among the reefs. While diving, I was once lucky enough to see a whale shark silently gliding through the deep.
Despite the island's secluded feel, it's about three hours by car and boat back to Bangkok for your onward flight.
Read more about trips to Thailand

Start thinking about your experience. These itineraries are simply suggestions for how you could enjoy some of the same experiences as our specialists. They're just for inspiration, because your trip will be created around your particular tastes.
View All Tours in Thailand