New hotels, safari camps and lodges are frequently springing up across Africa, each offering something different.
They can range from sleek, modern options in South Africa's cities to rustic safari camps in Tanzania's Serengeti National Park. There are open-air 'Skybeds' where you can fall asleep beneath twinkling stars, the sound of nearby wildlife reminding you that this is no ordinary stay.
Our Africa specialists regularly travel to their destinations, ensuring we remain up-to-date with the latest offerings. Below, we've picked out some recent additions.
Best for… watching the world go by
Chobe Water Villas, Caprivi Strip, Namibia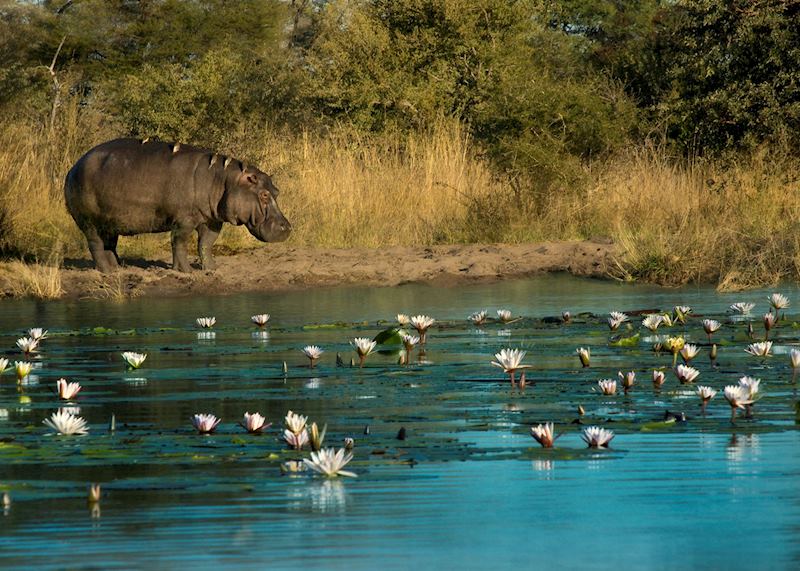 Offering 16 thatched villas set on stilts on the banks of the Chobe River, this boutique safari lodge allows you to balance superb wildlife viewing with relaxation time spent gazing over the surrounding waterways and floodplains.
The property is situated in the private Kasika Conservancy on the eastern tip of Namibia's Caprivi Strip bordering Botswana. It overlooks Sedudu Island, home to dense populations of elephant, lion, buffalo and hippo. Just across the river is Chobe National Park — known for its 50,000-strong elephant population and migratory zebra herds.
In this green, untamed land, hyena shriek, wild dog howl and giraffe tread gracefully between acacia trees. You can explore on guided game drives through the bush and sunset boat trips along the river, spotting crocodiles, hippo and reed-dwelling birds.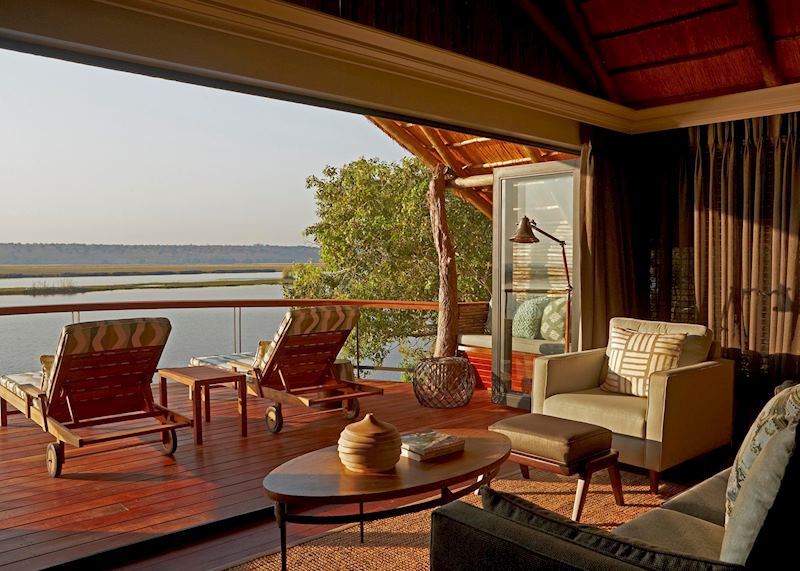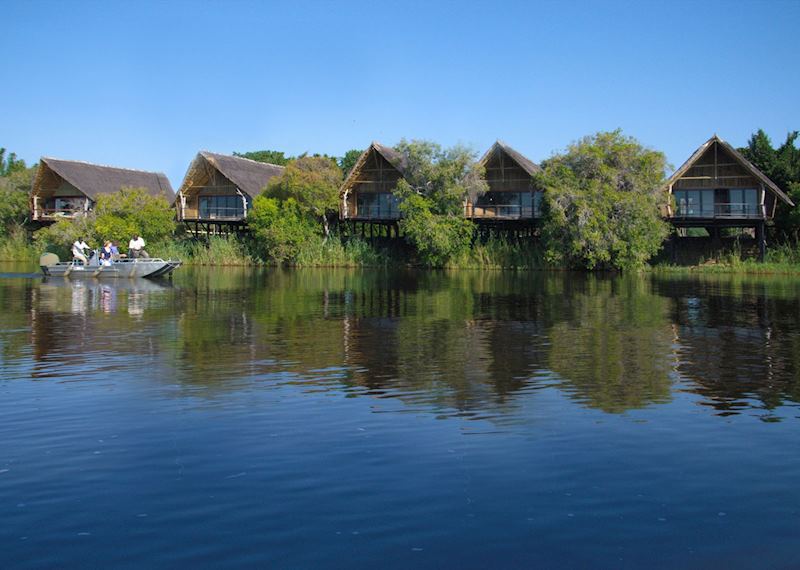 Back at the lodge, your modern, open-plan villa has a lounge area with bespoke furniture and floor-to-ceiling folding glass doors, a bedroom area with a special cooling system, and an en suite bathroom. Each villa also features two private decks: one facing the river and the other offering sunset views over the bush.
Communal areas at the lodge echo the villas' contemporary style, coupled with high thatched ceilings that let in plenty of natural light. There's a dining area where African and European dishes are served, a cocktail bar and a library. Outside is a spacious deck with loungers and a garden shaded by acacia trees, as well as a large infinity pool facing the river.
Lauren's specialist tip:
I recommend watching the sunset aboard the property's own boat. From the upper deck you have views across Chobe National Park — look out for elephant and hippo wallowing in the water as you enjoy a complimentary drink from the bar.
Best for… history enthusiasts
The Satyagraha House, Johannesburg, South Africa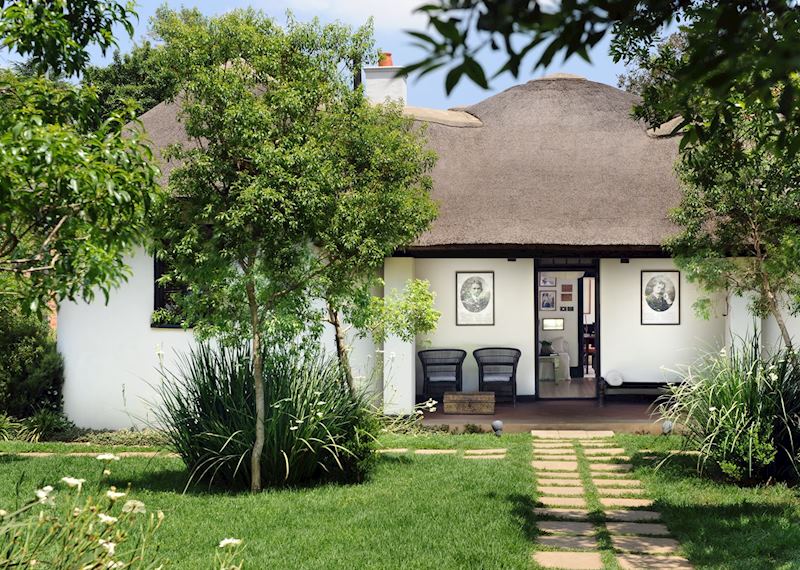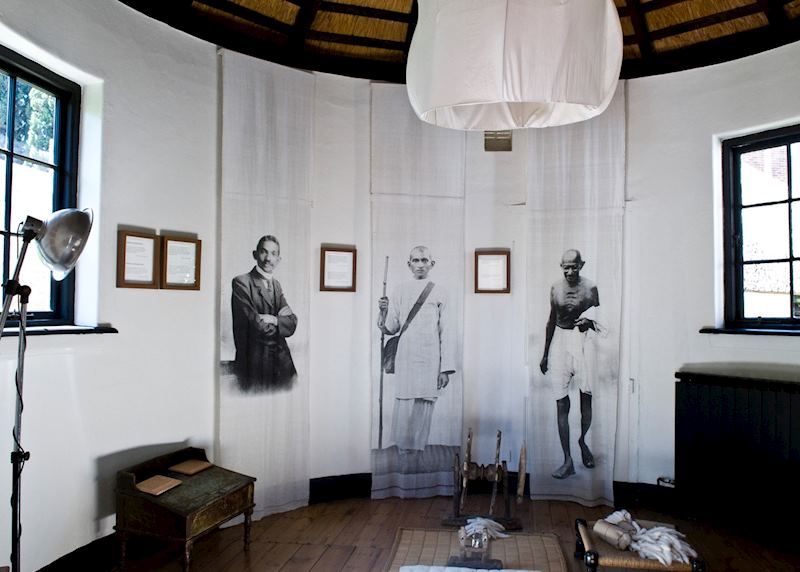 This historic guesthouse and museum, located on the outskirts of Johannesburg, dates back to 1907 and was home to Mahatma Gandhi between 1908 and 1909. It's believed that during Gandhi's time here he began to develop his passive resistance philosophy (known as 'Satyagraha' in Sanskrit) which he adopted when leading India to independence toward the middle of the 20th century.
Today, the house has been sensitively renovated with the help of historians and curators who have ensured that the property has maintained its original character. Its seven rooms are spread across the main house (which resembles a traditional African farm building), another cottage that was constructed several years later, and a more modern wing built in 2010.
Simple but comfortable, the rooms align with Gandhi's modest lifestyle, as does the food served here, which is vegetarian-only and alcohol-free. It's easy to forget that you're close to one of South Africa's busiest cities as you stroll the property's peaceful gardens.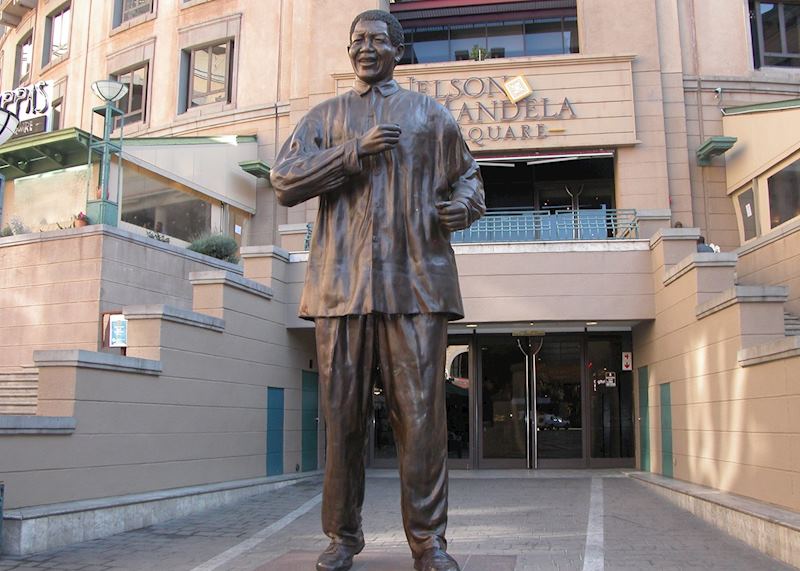 During your stay you have access to the house's museum dedicated to Gandhi's life and work. Staff here will also be happy to tell you more about the life of Gandhi and the house's history.
Exploring further afield, you can trace Gandhi's footsteps on a historic tour around Johannesburg, visiting Constitution Hill. This former fort and military prison once held Gandhi and Nelson Mandela and is now home to South Africa's Constitutional Court.
Zoe's specialist tip:
Climb up the staircase into the loft to see Gandhi's bedroom, which has been left as it was when he lived there.
Best for… stargazing
Skybeds, Khwai Concession, Botswana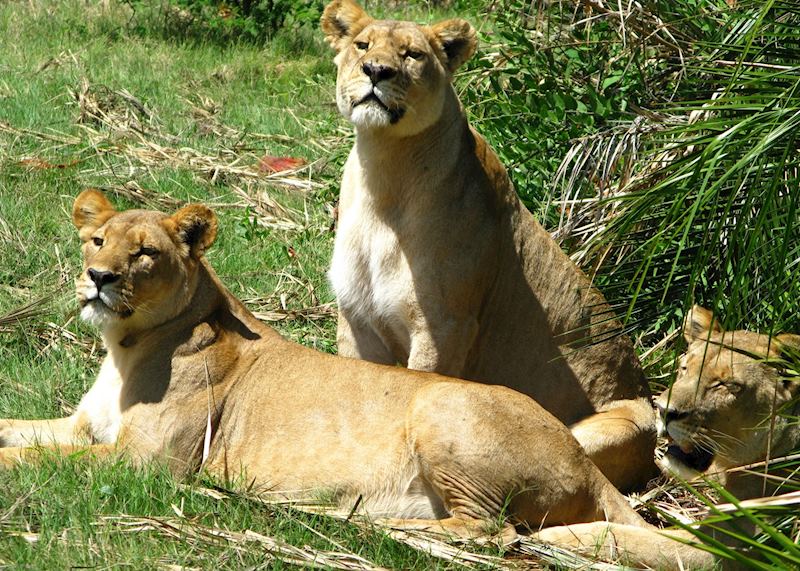 Most African safari camps and lodges allow you to get closer to the natural world, but few offer as immersive an experience as Skybeds in the Okavango Delta's private Khwai Concession, Botswana. Here, traditional tented accommodation is replaced by three-tiered open-air platforms raised on wooden stilts. While rustic in appearance, the Skybeds each have their own fully enclosed bathroom complete with flushing toilet.
The stars are your ceiling as you lie in your four-poster bed veiled by a mosquito net. Spend your evenings spotting shooting stars and joining up constellations, the only light coming from romantic lanterns and the glow of the moon.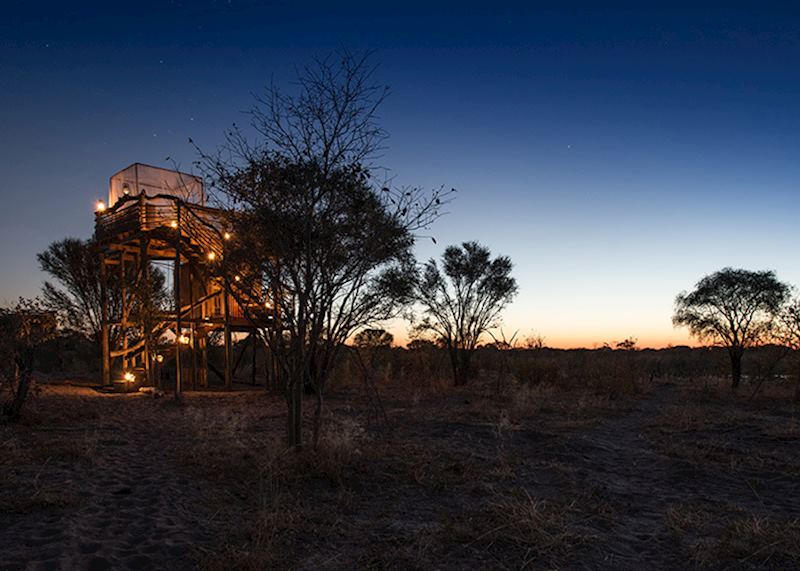 Positioned around a waterhole, the Skybeds also double up as wildlife viewing platforms. Even at night, you can listen out for herds of elephant, zebra and kudu coming to drink in the moonlit water, as well as smaller nocturnal species such as jackals, galagos (bushbabies), porcupines and honey badgers.
During the day, you can head out on guided game drives around the reserve for a chance to see lion, leopard, wild dog and buffalo out on the grassy plains.
Danielle's specialist tip:
It would be a good idea to do some research on the constellations before you arrive or download an app on your phone that tells you where they all are. My favorite constellation in Botswana is the Southern Cross as you can only see it in the Southern Hemisphere. Also, make sure you take some extra warm clothing as it can get quite chilly once the sun goes down.
Best for… a great value safari
Ang'ata Serengeti, Central Serengeti, Tanzania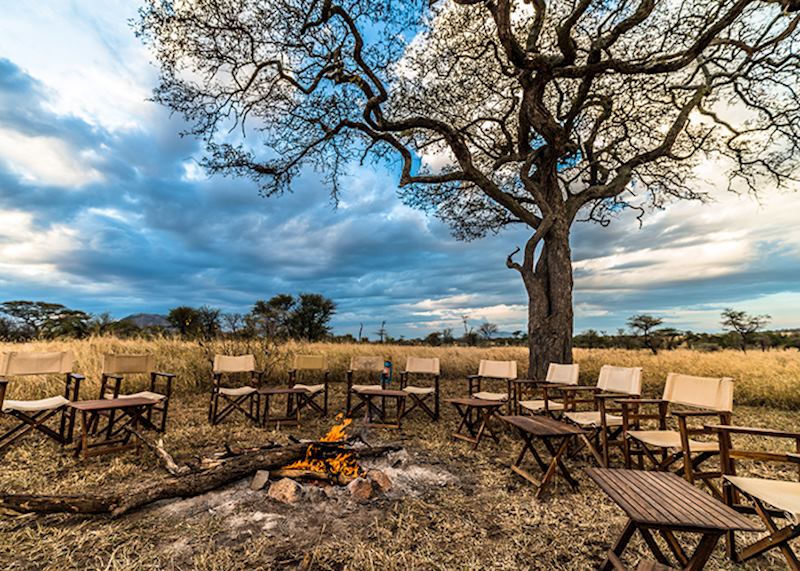 This intimate tented camp offers an authentic safari experience, moving away from the plush luxury of other properties to focus on the Serengeti's main draw: its wildlife. Enjoying a prime location in the central Seronera region of the park, it sits unimposingly among open plains and valleys filled with animals ranging from lion, leopard and elephant to cheetah, hyena and Kirk's dik-dik.
Wildlife is free to wander through the camp, so you only need to be sitting on your private deck to experience a close encounter. The 12 canvas tents also include a large double bed (or two twin beds) and an en suite bathroom with a traditional bucket shower. For families, two tents can join to form one larger unit.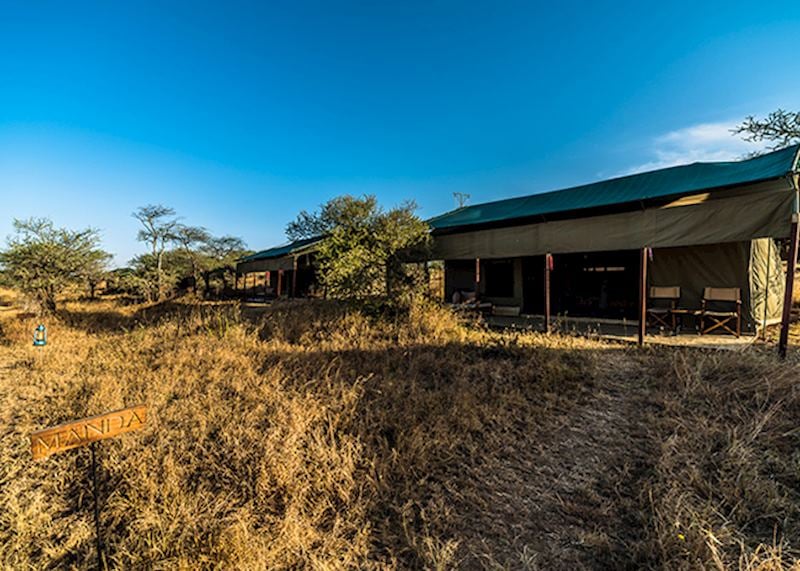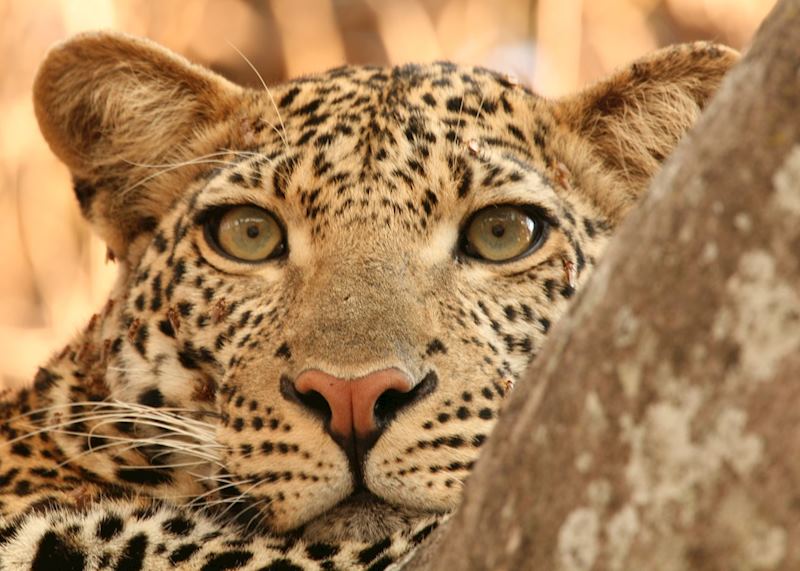 Over in the main communal area, family-style dinners are served in the dining tent, and you can relax and chat to fellow guests in the lounge tent, whose furnishings and decor have a strong African theme. Wi-Fi is available here, but the remote location makes the signal sporadic.
Game drives are offered twice a day with guides whose knowledge and passion shines through as you track wildlife through the bush. Photographic tours are also available for those looking to hone their skills and capture some of the key moments of their safari.
Thomas's specialist tip: I found that using a bucket shower is something of an art and requires a stop-start approach to running the water. The staff here are very friendly, so don't be shy and ask for a second bucket if you want to rinse your hair properly.
Best… for sybarites
The Silo, Cape Town, South Africa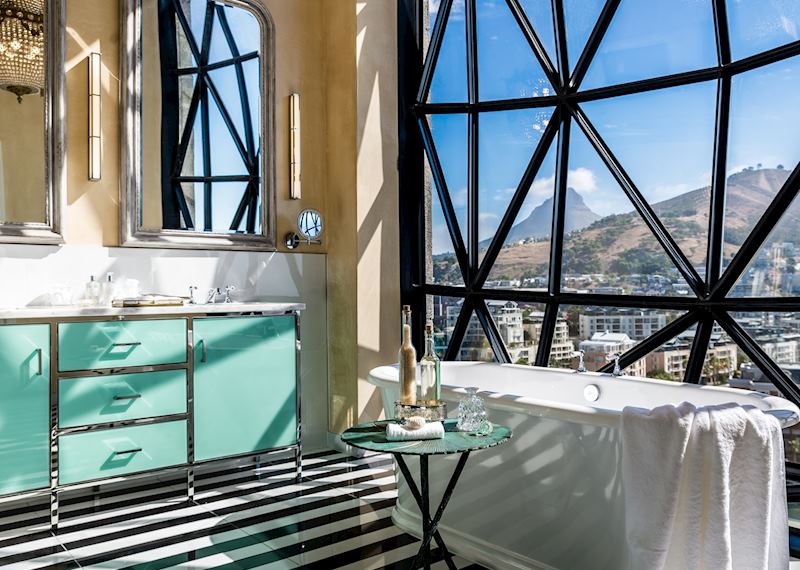 The Silo is at the cutting edge of contemporary design and opulent luxury. The eagerly anticipated hotel spans six floors of a former grain silo complex dating back to 1924. Now stylishly renovated but with minimal change to its exterior, the building stands tall above Cape Town's V&A Waterfront, where designer shops and gourmet restaurants beckon.
With sleek interiors designed by Liz Biden, modern artwork adorning the walls and custom-made furnishings throughout, no expense has been spared in the hotel's creation. Bulging pillowed windows allow sunlight to filter into every room, offering panoramic views over the city and water.
The best vistas, however, can be enjoyed from the property's rooftop, which features a pool surrounded by loungers and a tempura bar serving fresh oysters and cocktails. Meanwhile, The Granary Cafe on the sixth floor serves breakfast, lunch, dinner and afternoon tea in a modern but formal setting using seasonal, locally sourced ingredients.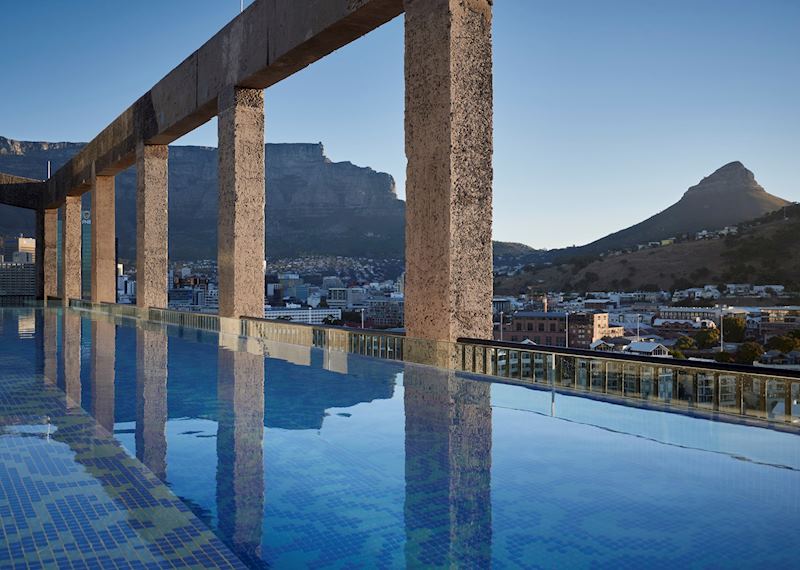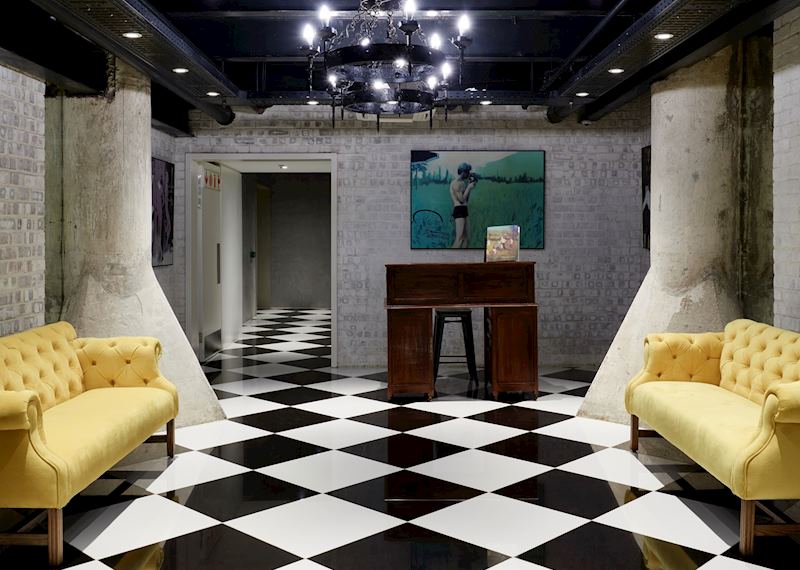 With just 28 rooms and suites, there's an air of exclusivity here. You can choose from two room and five suite categories; each includes a balcony and views over the waterfront, distant mountains, the ocean, the city or Table Mountain itself.
The five floors below the hotel house the Zeitz Museum of Contemporary Art Africa (opening in September) — private tours of the gallery are offered to Silo guests. Alternatively, head to The Silo Spa, where a range of therapies tailored to your skin type can be enjoyed in its five treatment rooms.
Vanessa's specialist tip: Look up at the high ceilings, which help tell the story of the building's industrial past. In the reception area you can still see the original grain hoppers, while rooms and suites feature original steel girders.
Best for… desert landscapes
Spitzkoppen Lodge, Damaraland, Namibia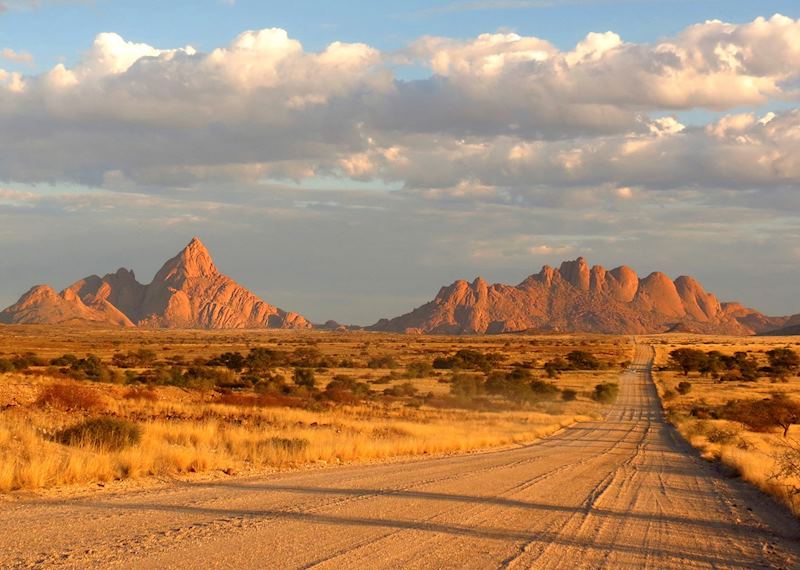 Surrounded by the dusty, burnt-orange landscape of southern Damaraland, Spitzkoppen Lodge is set at the foot of the Spitzkoppe inselberg (a group of granite peaks and towers).
Its 15 wooden chalets, tucked among wind-sculpted rock formations and 150 million-year-old boulders, have been specially designed to blend into the landscape. Electricity is provided via underground cables rather than pylons to reduce visual impact, while water is purified using the property's own reverse osmosis plant.
Each chalet has an en suite bathroom and is supplied with its own hot water tank. Large glass doors lead onto a private terrace — sitting here gazing over the sand, rocks and distant Brandberg and Erongo Mountains, it feels like you could be on another planet.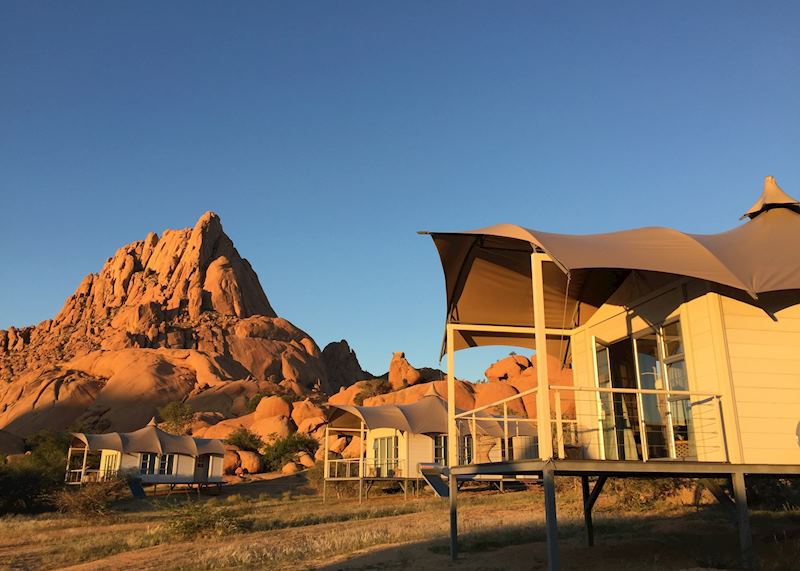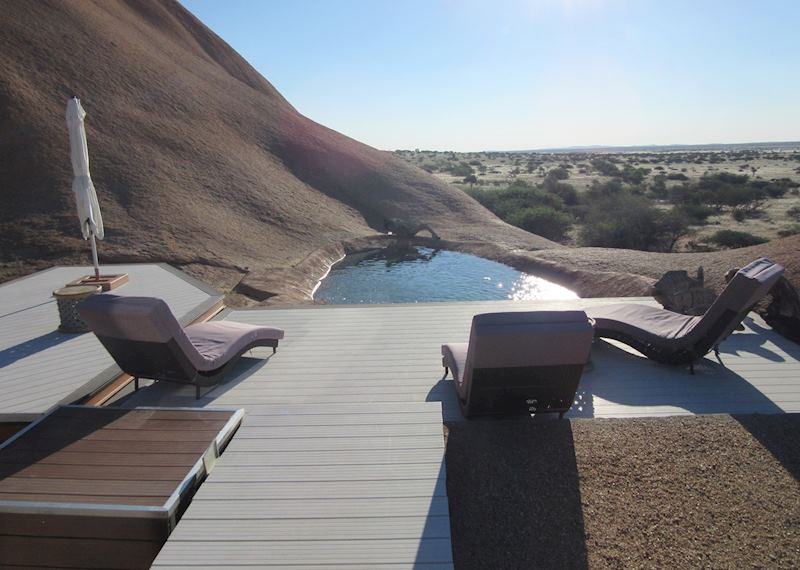 Raised wooden walkways loop through the rocks, linking each chalet to the main lodge. Here you'll find an airy dining lounge and bar area opening onto a split-level deck with 360-degree views. You can take a refreshing dip in the natural pool and gather around the fire pit to share sundowners. This is an excellent spot for stargazing, with very little light affecting the darkness of the night sky.
In addition to wildlife such as zebra and springbok roaming nearby, this area is littered with ancient rock art painted by San People thousands of years ago. You can visit some of the best sites with a guide. Horse riding, cycling, hiking and photographic tours are also offered, while the diverse birdlife around the inselberg makes for excellent birdwatching.
Philippa's specialist tip: At sunset, head to the Rock Arch in the main Spitzkoppe area. Standing under the arch, you can get some excellent photographs as the light changes the rock from sandy yellow to rusty orange.
Best for… elevated views
Kubu Kubu Tented Camp, Central Serengeti, Tanzania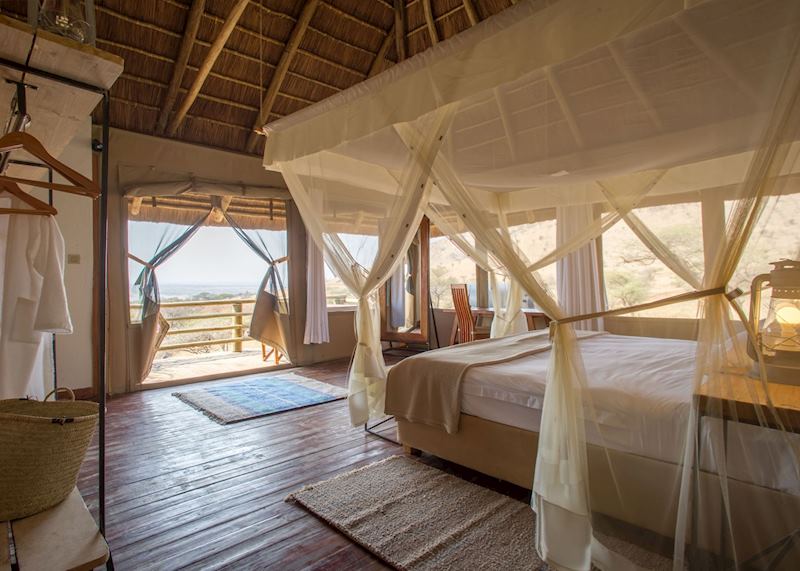 Set on a ridge in the central Serengeti, Kubu Kubu Tented Camp offers uninterrupted views of the park's vast plains from its 25 tents. Sitting out on your balcony with a pair of binoculars, you can pick out grazing herds of antelope, lion and cheetah awaiting their next prey. If staying between April and June, you might catch herds of wildebeest, zebra and gazelle making their way north during their annual Great Migration.
Each spacious tent sits on a wooden platform, with a thatched roof and canvas walls ensuring they blend into the landscape. Solar-powered, they have an en suite bathroom and a traditional outdoor bucket shower.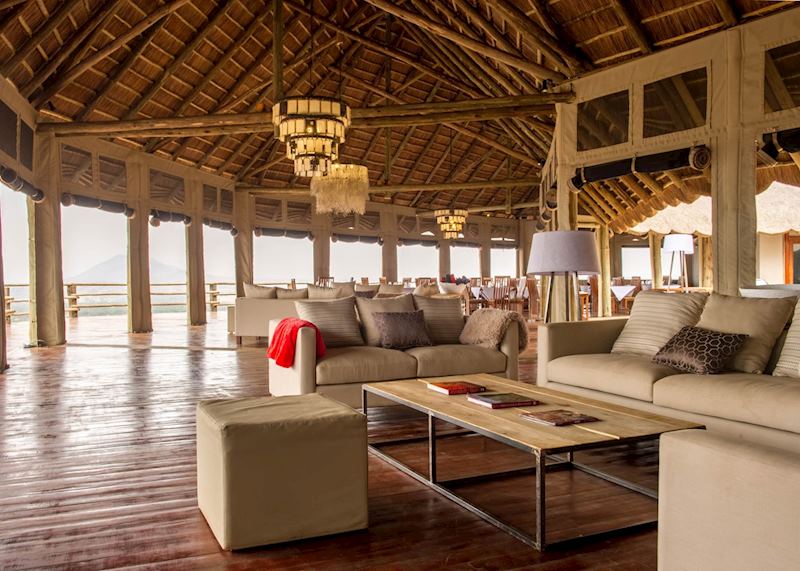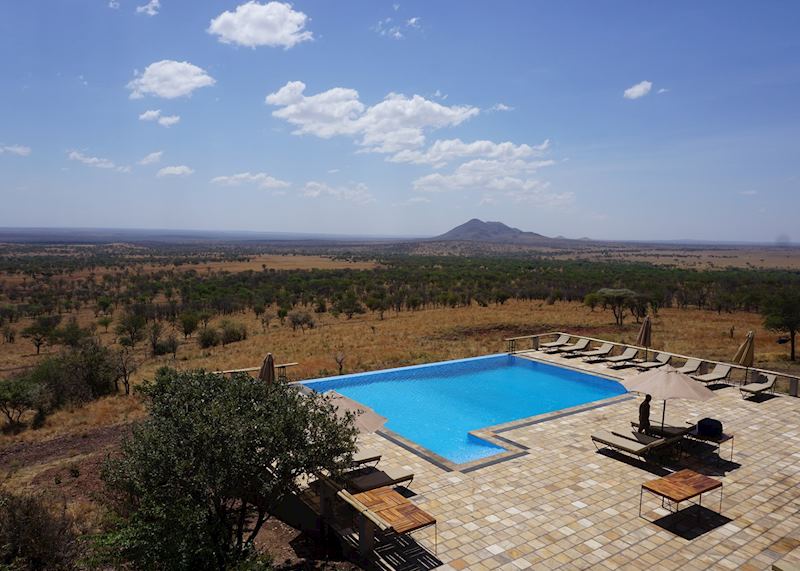 Completely unfenced, the camp is occasionally visited by wildlife wandering through. In the large communal tent is a lounge and dining area filled with plenty of natural light, while the large infinity pool offers sweeping panoramas of the surrounding bush.
Morning and afternoon game drives get you closer to the Serengeti's wildlife. The best spots are around the Seronera River, where brightly plumed birds flit between reeds and leopard lie slumped in the shady branches of riverine forest along the banks. For a different perspective, the camp can arrange a sunrise hot air balloon safari, followed by a breakfast picnic in the bush.
Katie's specialist tip: I found the best spot for taking in views across the Serengeti was the camp's infinity pool. Soaking in the refreshing water between game drives, I watched herds of elephant and antelope roaming in the distance.