What's at the top of your wish list? Big cats? A majestic rhino? Or the spectacle of the Great Migration?
With habitats ranging from high-altitude forests to coastal dunes and kopje outcrops to shimmering grasslands, Africa's safari heartlands are remarkably diverse. There's so much to see, it would be impossible to encounter more than a fraction of the continent's wildlife species in a single trip. So how do you choose where to go and what to look for? The more flexible you can be, date-wise, the wider your options, since certain wildlife-watching experiences are seasonal.
If you're keen to see mammals then, as a rule, the dry months are best, while the 'green season' is ideal for birdwatching. Your timeframe is a factor, too. It won't take you long to come across warthogs and baboons, but rare creatures like pangolins can be more of a challenge. If you've set your heart on seeing a particular wildlife species or event, you can tailor your itinerary to boost your chances of success. We've put together some ideas to get you started.
IF YOU WANT TO SEE…BIG CATS
TRY
Etosha National Park and Okonjima Nature Reserve, Namibia.
WHEN TO GO
For your best chance of seeing predators on the hunt, visit in the late dry season, which is July to October in Namibia. Water is scarce during these months so animals congregate at waterholes and rivers, creating a perennial game of cat and mouse as predators lurk in the shadows, waiting for an opportunity to pounce.
WHAT TO EXPECT
'While on safari in Etosha National Park in Namibia, we saw two cheetah silently padding toward our jeep,' remembers safari specialist Danielle. 'They had spotted some springbok and were using our vehicle to cover their approach. They exploded into action so rapidly that we could barely turn our heads quick enough to follow them.'
'Okonjima Nature Reserve is great for cheetah. Home of the AfriCat foundation, they work with rehabilitating cats that are injured in the wild, so a visit here provides a lesson in conservation and a responsible wildlife encounter,' says safari specialist Harriet. 'Namibia is home to the largest wild cheetah population in the world, which leads to human and wildlife conflict, so organizations like this are really important for the survival of these beautiful cats.'
Okonjima is set in a protected nature reserve that's home to wild leopard. 'Some of my best leopard sightings were here,' says Danielle. 'Often when you spot a leopard you just catch a glimpse of a tail as they sleep in a tree, but we spent a good half hour watching one out on the open plains. For something unusual, I'd suggest Ongava Game Reserve, where you might see a pride of lion at a waterhole rather than asleep under a tree. Ongava borders Etosha National Park, so it's in a fantastic location for game viewing but it also has the relaxed rules of a reserve, allowing for night drives and walking safaris.'
GET ME THERE
A driving safari covers Namibia's classic safari terrain, including Etosha National Park.
SPECIALIST TIP
The lodges we work with are places which support wildlife conservation through research, community development and anti-poaching initiatives.
DID YOU KNOW?
With muscular bodies, sharp claws and a low point of gravity, leopard are by far the best climbers among big cats. Cubs start learning at the tender age of three months.
IF YOU WANT TO SEE…THE 'LITTLE FIVE' (AND OTHER SMALL CREATURES)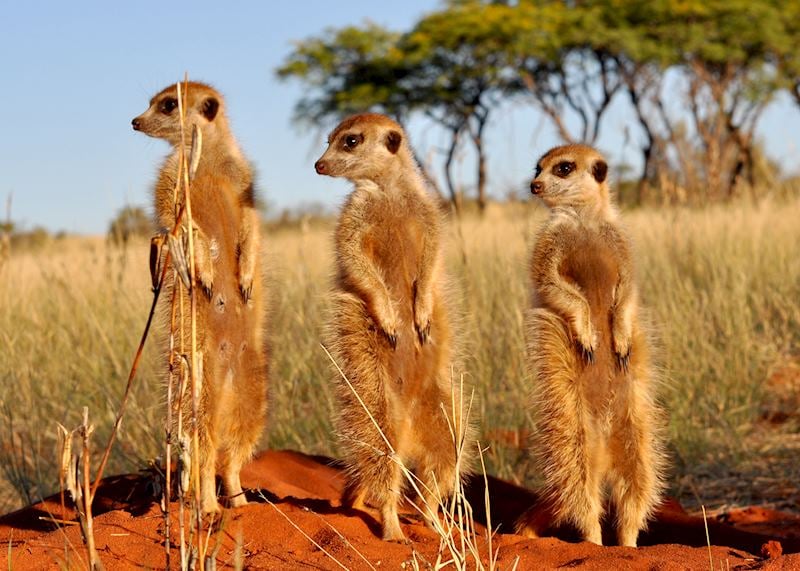 TRY
Northern Kalahari, South Africa.
WHEN TO GO
Dry season is best (May to October).
WHAT TO EXPECT
'The 'Little Five' — antlion, elephant shrew, leopard tortoise, rhino beetle and buffalo weaver — have been some of my best sightings,' says safari specialist Chris. 'Searching for Africa's smallest animals often involves walking, which makes the experience really immersive. It's amazing to crouch among meerkats in the Tswalu Kalahari Reserve or to spot lesser-known wildlife such as oryx, African wild cats or bat-eared foxes.'
GET ME THERE
South Africa has a wide range of possibilities for how you plan your safari, from a week in the Kruger to a driving tour.
Searching for Africa's smallest animals often involves walking, which makes the experience really immersive.
IF YOU WANT TO SEE…WILD DOG
TRY
Nyerere National Park, Tanzania.
WHEN TO GO
January and February are the best months to see wild dog in Nyerere National Park. The young pups (typically born in June to August) have matured enough to join the hunt and now the pack range throughout the reserve.
WHAT TO EXPECT
'Wild dog are rare but Nyerere National Park is home to Africa's largest population,' says French, safari specialist. 'They've recently been seen hunting near the airstrip for Nyerere National Park lodges; the guides share sightings over the radio. When an alpha female is denning (rearing pups), the pack will stay around unless a pride of lion hassles them. It's impressive to watch them stand up for themselves — they're very protective of each other and can quickly switch from playfulness to extreme aggression.
'Wild dog seem unconcerned by vehicles; if you're lucky enough to find some, they may come so close, you'll catch their powerful smell. Once, on a night drive, I saw them returning from a successful hunt, the males keeping watch while the youngsters played.
'They're easiest to spot when they're moving, and following them is exhilarating. When they're hunting, the pack runs extremely fast, sometimes splitting up then re-forming.'
GET ME THERE
This classic safari in Tanzania starts in Nyerere National Park and ends with five days on the beach in Zanzibar.
DID YOU KNOW
Wild dog are the most lethal hunters of all African carnivores. By hunting in packs, they can bring down prey ten times their body weight. Despite this, they're endangered — well under 2,000 remain in the wild.
IF YOU WANT TO SEE…THE BIG FIVE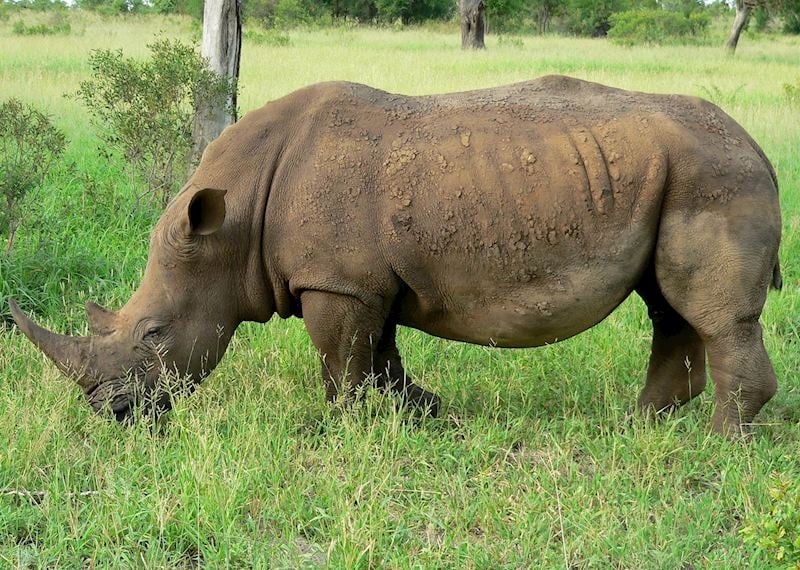 TRY
Kruger National Park, South Africa.
WHEN TO GO
During the dry season (April to October in the Greater Kruger); thirsty animals such as elephant converge at rivers and waterholes, and the vegetation is sparser, making sightings clearer and easier.
WHAT TO EXPECT
'The Kruger is, in my opinion, the best place in the world to see lion, leopard, rhino, elephant and buffalo in a single trip,' says safari specialist Alex. 'It's not at all uncommon to see all five in your first game drive. The one that's usually hardest to find is the leopard — but the Kruger is a leopard hotspot.
'A self-drive safari in Kruger National Park can be a really great experience. Alternatively, go to one of Greater Kruger's private reserves, where you'll have highly trained guides and trackers. They have amazing eyesight, so they'll see things that you'd otherwise miss — plus they know the characteristics and territories of the animals you're looking for and can take you off-road to get up close.'
GET ME THERE
On this Big Five itinerary in South Africa, you also have time in Cape Town and following the Garden Route before heading out on safari in the Eastern Cape.
IF YOU WANT TO SEE…THE GREAT MIGRATION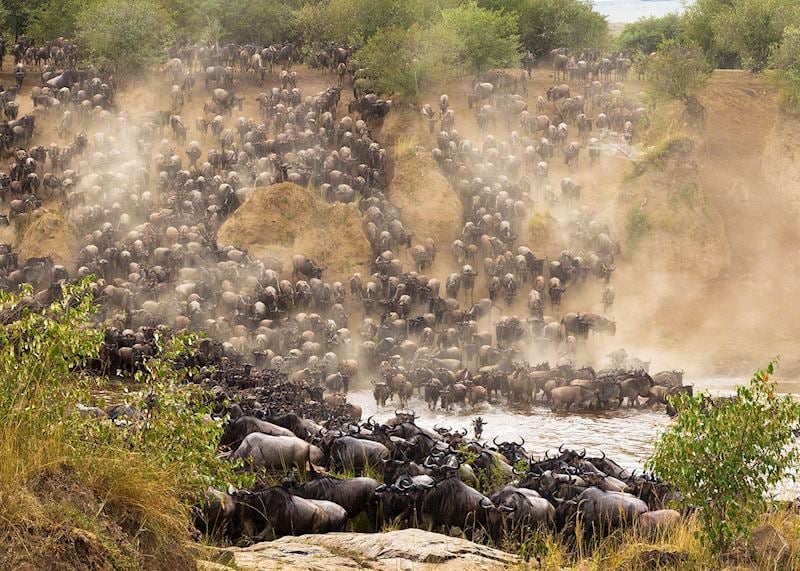 TRY
Masai Mara National Reserve, Kenya & Serengeti National Park, Tanzania.
WHEN TO GO
You can see vast herds of wildebeest and zebra at any time of year. They produce calves in the southern Serengeti in December to March, then head north via the western Serengeti and the Grumeti River in April to June, spending July to October in the Masai Mara (with the famous Mara River crossings usually peaking between late July and September). The herds then return south via the eastern Serengeti in November and December.
WHAT TO EXPECT
'The Migration is a photographer's dream,' says Richard. 'Like all safaris, there's a certain amount of luck involved — if you're desperate to see a river crossing in the Masai Mara, you may have to stay for a few days, waiting for news — but in the meantime, there's a fantastic safari experience unrolling all around you.
'Watching a river crossing is undoubtedly thrilling, however, if you want a more intimate, quieter encounter, I'd suggest visiting the southern Serengeti and bordering Ngorongoro Conservation Area between January and March. Here the females give birth to their young in the safety of uncountable numbers, gorging on the nutrient-rich 'super grass' fed by volcanic substrate formed long ago.
GET ME THERE
A classic safari in northern Tanzania sees you tracking the Big Five to the backdrop of the Great Rift Valley and Ngorongoro Crater.
IF YOU WANT TO SEE...BIRDS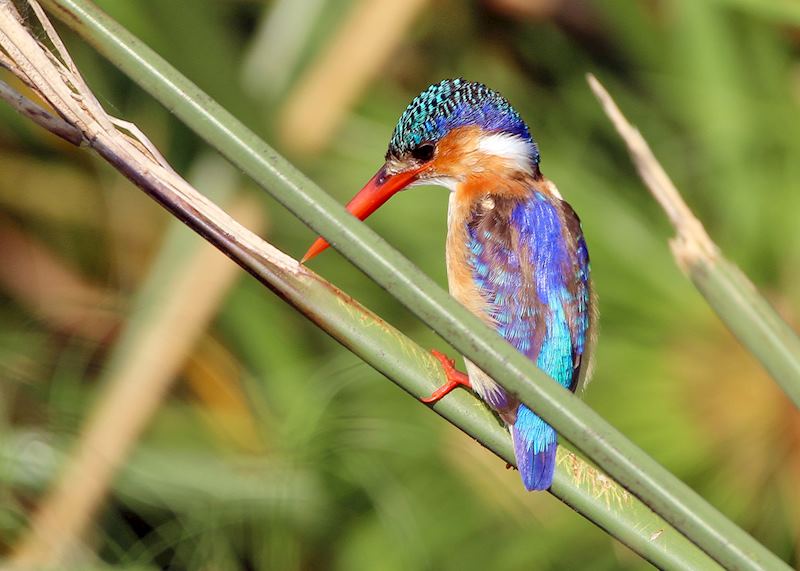 TRY
WHEN TO GO
Birdlife in the Okavango Delta is good all year round. However migratory species such as southern carmine bee-eaters arrive around September to nest in the riverbanks. November through to March provides the most productive viewing of birds in their breeding plumage.
WHAT TO EXPECT
'Botswana's recorded over 580 different bird species,' says safari specialist Philippa. 'The majority of which have been seen in and around the delta's waterways. It's a haven for water-based birds that reside in the papyrus and reeds, including the wattled crane, egrets and kingfishers. I'd recommend combining a mokoro (canoe) trip with a walking safari — glide silently through the channels and then explore small islands on foot.'
The delta provides a habitat for flocks of red-billed quelea, arrays of green pigeon, crimson-breasted shrikes, sunbirds and waxbills. But it's not all about the small birds — the delta is listed as the best place in Africa to see Pel's fishing owl, ostrich roam the drier areas and the heaviest flying bird — kori bustard — is often spotted too. The guides in the delta have the best birding knowledge I've ever experienced, taking any chance to talk you through breeding performances, nest building techniques, social interaction and habitat influences.'
GET ME THERE
Visiting in green season, you can safari in Botswana's Okavango Delta.
SPECIALIST TIP
Carry your own binoculars and bird reference book and be patient, either in a hide or just on the veranda of your room. Sit quietly and let the birds come to you.