By Canada specialist Emily
When you picture encountering a polar bear in the wild you might imagine seeing a speck of creamy-yellow fur on a distant iceberg. But, head to the town of Churchill, on the shores of Hudson Bay in northern Canada, and you can get right up close to the world's largest bears with the help of expert guides.
Hundreds of bears roam this area over the summer Unable to hunt, they lie in the tundra and occasionally dip into the water to keep cool. By the end of October, large numbers of them gather along the shoreline, pacing in anticipation as they wait for the slate-grey waters to freeze over so they can resume seal hunting.
Stay In Churchill itself and you can take tundra vehicles out to see them, or base yourself in a wilderness lodge where guides can lead you through the tundra on foot.
Visiting Churchill: the Polar bear capital of the world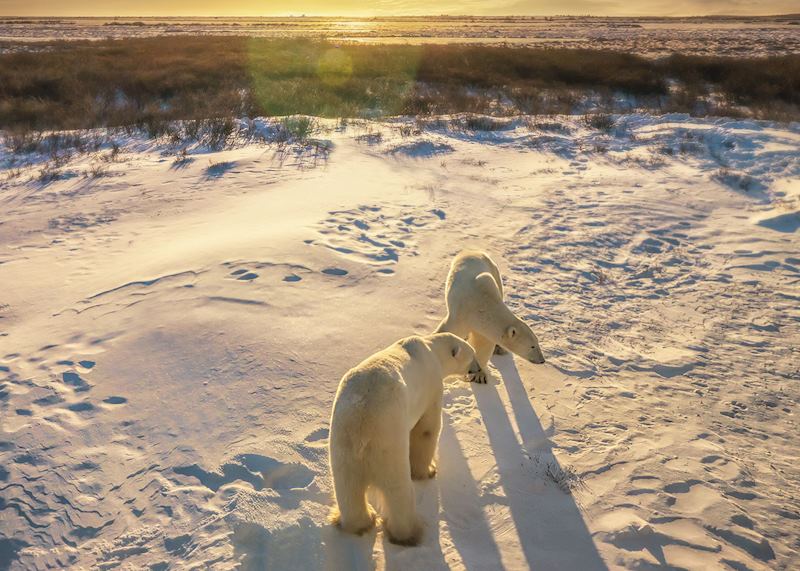 While you can see polar bears in the Arctic and Svalbard, it's difficult to know where to look along their vast coastlines and your chances of seeing them up close are slim. Canada itself is home to roughly 17,000 polar bears out of 25,000 worldwide, and by far the best place to see them is Churchill, in northern Manitoba.
Their presence here, on the edge of Hudson Bay, is almost guaranteed every year. In fact, they're so commonplace there's an unwritten rule in the town: people leave cars and houses unlocked in case someone needs a quick escape. However, I found that Churchill residents are generally unafraid of the bears and are very respectful of them. They're used to living alongside them and know how to behave to live in harmony.
Should any bears linger in town, they're sedated and taken to a polar bear holding facility. Here, they're tagged to help with polar bear research, then flown far north of Churchill, where they're released onto the tundra.
Many of the bears arrive on ice floes that drift into the bay in spring. They then disperse across the surrounding tundra, using the area as a base throughout the summer when, unable to hunt for seals, they live off their fat reserves. As winter approaches, they congregate around the bay waiting for the water to freeze before heading off once more to eat their fill of seals.
You can join six or seven-day tours to see polar bears, arranged by specialist lodges in and around Churchill. These tours only operate during two short windows: July to August and October to November, so planning ahead is essential.
Getting to Churchill
The easiest way to reach Churchill is via a two-hour flight from Winnipeg, where you usually spend a night either side of your tour. At a hosted dinner in Winnipeg, you can meet your guides and fellow guests and go through arrangements for the week ahead.
A safety note on seeing polar bears on foot

When out tracking polar bears, every precaution is taken to ensure your safety. Guides are trained to read bears' body language. They're also expert marksmen and will have firearms on hand during walking trips just in case.
In Churchill itself, people are on high alert and it soon becomes common knowledge if a bear has wandered onto the streets. It's always best to check with your guides, lodge staff and local residents if you want to walk around town unaccompanied.
When to see polar bears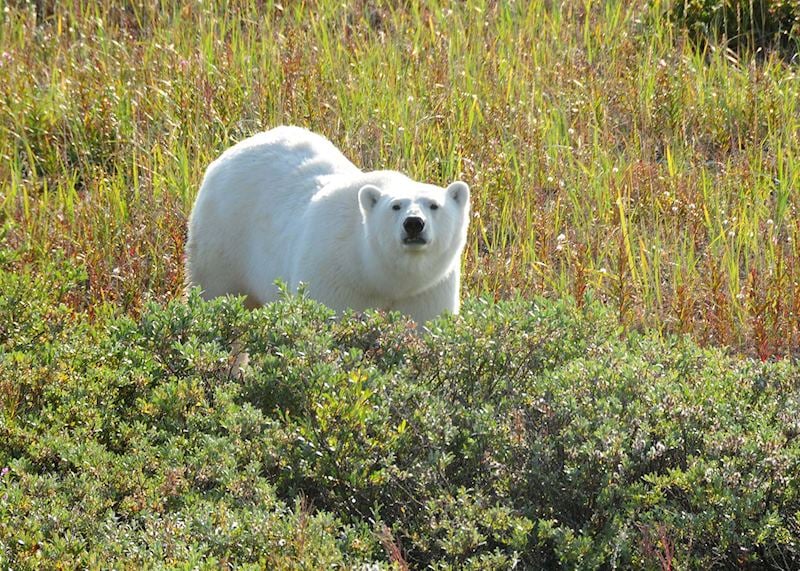 Visiting in the summer season
In July and August, the bears are more spread out, but your guides will know where to find them based on where they were last seen. I visited at this time of year and had no trouble spotting them. I also like the pleasant temperatures at this time of year — it's sometimes T-shirt weather.
The tundra is ablaze with purple fireweed several feet high. While it's beautiful to see, it does require you to remain vigilant in case a bear is hiding among the foliage.
One of the best reasons to visit in the summer, other than the bears, is the prospect of beluga whales. Around 58,000 of them migrate to Hudson Bay's cool waters in June to breed, before returning to warmer coastal waters in September. Kayaking out on the bay puts you almost within touching distance of these inquisitive creatures.
Visiting in the winter season
In October and November, the biting cold means you need to take plenty of layers and you probably won't want to spend long outdoors. But, with the anticipation of winter in the air, polar bears gather in their 100s along the 160-km (100-mile) coastline between the Nelson and Churchill Rivers. They cluster on headlands and capes, the largest concentration of polar bears in the world. It's easy to see up to 30 of them pacing the shore in a day.
The darker evenings also mean you're more likely to see the northern lights shimmer across the sky, though sightings are never guaranteed. Some lodges offer evening outings to see the spectacle and give you the option to be woken in the night if the lights are showing.
Polar Bear watching experiences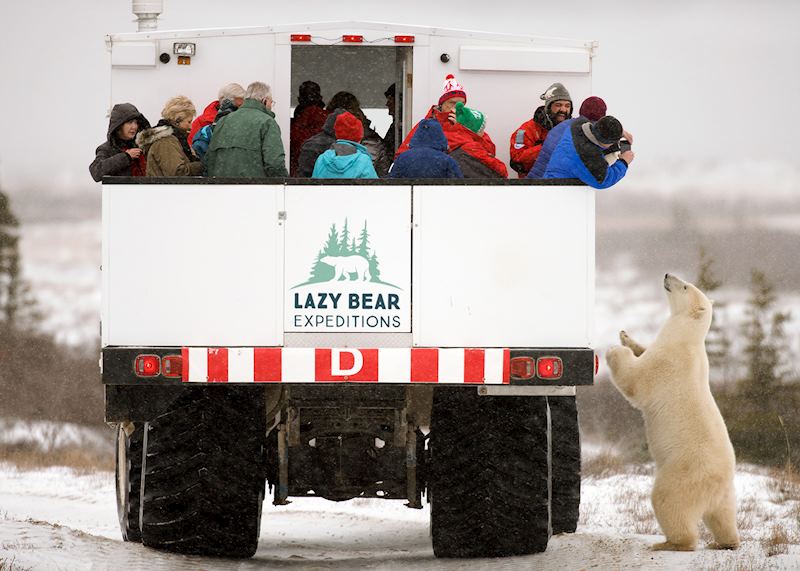 Tundra vehicle trips
The most popular way to view the bears in winter is by tundra vehicle with a guide (though you can also do this in summer, too). These giant six-wheel vehicles have no trouble rumbling across the wild landscape. They let you cover more ground than on foot, so you're likely to see more bears. And, the vehicles are heated, so you don't need to worry about the sub-zero temperatures outside.
For most Audley polar bear trips there is a maximum of 16 passengers in each tundra vehicle, which guarantees everyone a window seat. However some lodges' tundra vehicles do accommodate more passengers; your country specialist will be able to discuss the options with you. While you're in a larger group than if walking, I found that everyone showed the same level of reverence for the landscapes and wildlife we saw. When a large male polar bear lumbered toward our vehicle, a hushed silence descended on us all, with the exception of a few stifled gasps.
The bear sniffed cautiously at the tractor-sized wheels before hoisting himself up onto his hind legs to peer through the windows, clouding the glass with the steam of his breath. We were the ones being observed.
Another highlight was coming across a pair of male polar bears sparring just a short distance away. We could hear them smacking and swiping each other with their great paws as they wrestled in the snow.
The vehicles have an outdoor platform at the back, so you can grab some fresh air while looking out across the tundra, the weak sun casting a silvery light over the snow. You might spot Arctic foxes and Arctic hares sprinting across the flat, barren landscape, or caribou grazing on the sparse vegetation.
You're generally out in the vehicle for most of the day, rising for breakfast at 7am and returning to the lodge in the early evening. Your guide packs food and drink for the day's outing, and the vehicles are equipped with a toilet.
Throughout the day, your guide tells you about the lives and traits of polar bears and other wildlife you encounter, until you feel you know their habits inside out. The guides we work with are some of the most experienced and highly trained in the region, and their knowledge and enthusiasm is infectious.
Where to stay

Lazy Bear Lodge is on Churchill's main street. Its owners, Wally & Dawn, spent ten years constructing it in the style of a traditional log cabin, using spruce and tamarack trees left behind by a forest fire. I love its simple, rustic feel, and sense of place in this remote part of the country.
Inside, you can relax by the large stone fireplace in the evening. Freshly cooked local dishes, from bison steak to braised elk, are served in the Lazy Bear Café. Ingredients are also foraged from the surrounding land, including wild berries and mushrooms. The rooms are simple but comfortable, each offering two double beds, Wi-Fi and an en suite bathroom.
In addition to tundra vehicle tours, the lodge also runs guided tours of Churchill and dog-sledding trips. You can also request to be woken if the northern lights are displaying, giving you the chance to see this natural phenomenon.
Polar bear walking safaris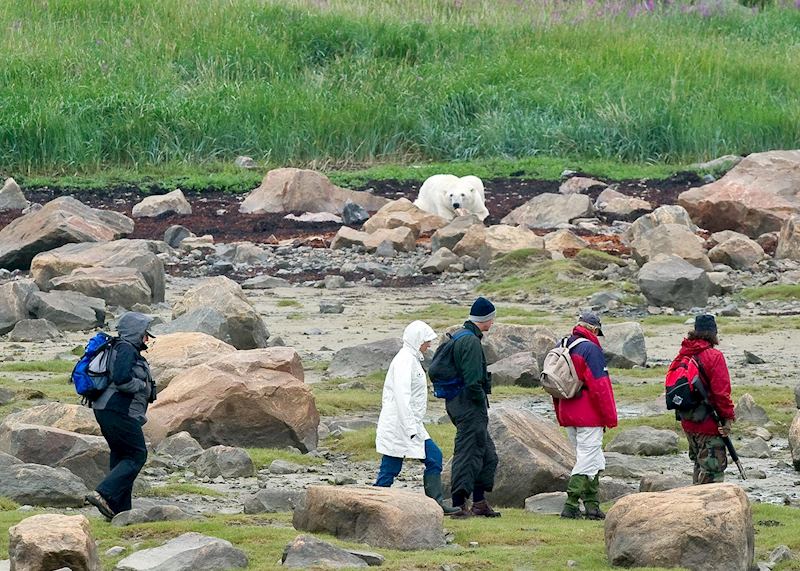 While best done in summer, you can head out on foot in search of bears in all seasons. Rising relatively early, you're led by an experienced guide out onto the tundra in a small group. Your guide is armed as a precaution and will tell you exactly where to walk and what to do when you encounter a bear. Mine explained that the bears are usually more wary of us than we are of them. He occasionally bashed rocks together to forewarn any that might be lying nearby.
I felt I was in safe hands as we walked among the vivid fireweed and dusty boulders strewn across the landscape. 'Keep an eye on these boulders,' my guide told us, 'because they might not be boulders.' During the summer, the bears' coats are often greyish with dust and dirt and can be easily mistaken for a rock.
It wasn't long before I encountered my first wild polar bear, a somewhat sleepy solitary male. They're often alone at this time of year as females with cubs give them a wide berth.
He was lying among the fireweed close to the coast, visibly panting in the summer heat — what's pleasantly warm to us is uncomfortably hot for a bear designed to withstand temperatures well below freezing. Standing at a safe distance, we watched as he snoozed in the sun. Occasionally, he'd get up and wade into the water to cool off before returning to his resting spot.
For me, being out on foot sharing the same space as these bears had more of an impact than seeing them from a vehicle. You're exposed to this powerful predator, but there's a mutual respect that makes you feel safe being within a few steps of it.
Where to stay

Set right on Hudson Bay's shore, a 30-minute light-aircraft flight from Churchill, Seal River Heritage Lodge is a family-run property. Built entirely of wood, it has large windows looking out over the water and surrounding tundra. While I was there, polar bears would occasionally come up to the lodge and peer through the windows.
There are just eight rooms here, so you experience highly personal service. The lounge has a stone fireplace and leather sofas where you can relive the day's experiences with fellow guests. The bar serves tea, coffee and snacks all day, and drinks in the evening. You can read about the area and its wildlife in the small library.
The restaurant has a circular layout so everyone can enjoy the views as they dine. I was in awe of the food's quality considering the location — ingredients are flown in from Winnipeg at the same time as guests.
The lodge also offers safaris focused on photography, as well as boat and kayaking trips on the bay.
Boat and kayaking trips on Hudson Bay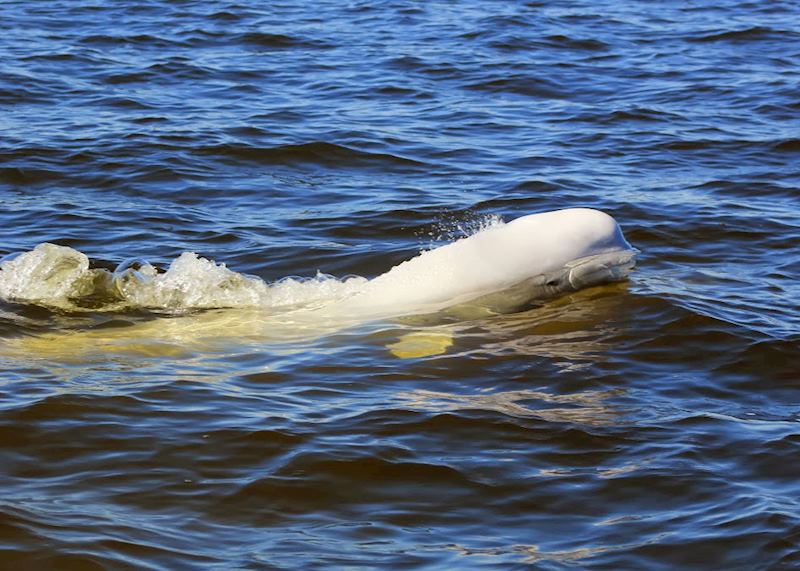 Whichever lodge you stay at, you can usually venture out on the bay, either in a kayak (during the summer only) or a larger boat. The main focus is seeing the thousands of beluga whales present in the water at this time of year.
Slightly bigger than dolphins, these ghostly white whales are incredibly curious and will often trail behind your kayak or boat. A few playfully nudged my kayak — the faster I paddled, the more whales followed me.
Out on the water, you're also able to see otherwise hidden parts of the coastline. Polar bears often traipse along the shoreline, foraging for anything edible that will tide them over until seal hunting season, and, during the summer, cooling off from the day's heat.
I was on the top deck of the boat when we spotted a female polar bear and her two cubs clambering over the rocks. We were able to manoeuvre closer to them, and the captain turned off the engine so we could listen to their movements.
We watched as the cubs wandered into the water several times, only to be rounded up and pulled back onto land by their mother. Our guide told us that around 60% of polar bear cubs don't make it past the age of three, due to predation from wolves or even male polar bears. It made me feel all the more fortunate to see them in such close proximity.
What to wear on a polar bear watching trip
Binoculars are provided, and you can hire weatherproof clothing (sometimes on a complimentary basis), including thick polar jackets and waterproof trousers. I also recommend bringing plenty of layers, as the weather can be changeable. Sturdy footwear is essential.
Read more about trips to Canada

Start thinking about your experience. These itineraries are simply suggestions for how you could enjoy some of the same experiences as our specialists. They're just for inspiration, because your trip will be created around your particular tastes.
View All Tours in Canada