One of the most thrilling sights in the Arctic is to see Ursus Maritimus, the world's largest bear, in its native environment. There are a number of places to see polar bears in the wild, your first sighting will be one of those you-and-nature moments you will never forget.
Indeed, at first it doesn't even matter that the bear might be a long way away as the excitement of seeing one is enough. However, visit Churchill in Canada (also known as the 'polar bear capital of the world') and the bears may come to you!
Start planning your trip to Canada
---
Start thinking about your experience. These itineraries are simply suggestions for how you could enjoy some of the same experiences as our specialists. They're just for inspiration, because your trip will be created around your particular tastes.
When and where to see polar bears
We work closely with a selection of specialist operators in Northern and Arctic Canada that run trips to see polar bears in a responsible and sustainable manner.
Our most popular trips are small group adventures, travelling on land in tundra buggies around Churchill. Alternatively you can choose to spot polar bears on a guided walking safari or from the water, either from the deck of an Arctic cruise ship or exploring by zodiac as the bears swim amongst the ice floes.
Travelling this far north necessitates being prepared for weather extremes at any time of the year. For travel during October and November it is sensible to dress in plenty of layers including a fleece, wind-proof jacket, sturdy thermal high-leg boots, waterproofs, scarf, gloves and warm socks. Winter parkas and boots are usually provided. Summer visitors should also dress in layers and take waterproofs, comfortable boots and insect repellent.
Polar Bear near Churchill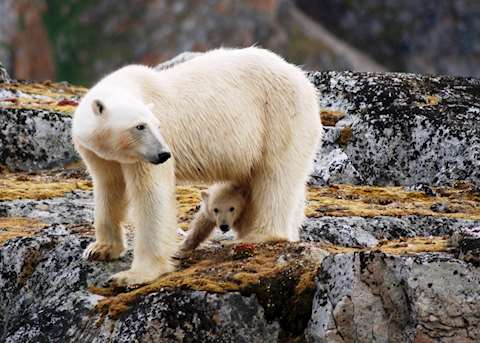 Polar Bear and cub, Spitsbergen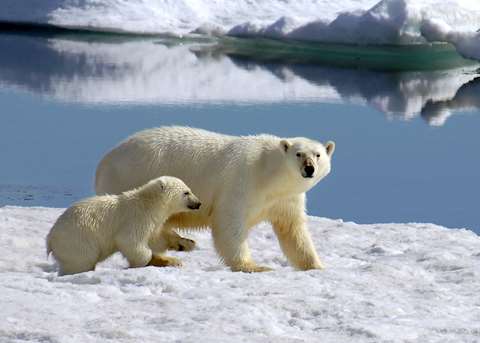 Polar Bears
Alaska
Barrow
Barrow is the only place in Alaska from where you are likely to see polar bears. This small settlement is home to the Inupiat people and is normally reached by light aircraft from Fairbanks, about 500 miles away.
Canada
Akpatok Island
Akpatok Island is an uninhabited island about 70 km from the mainland of northern Quebec. It is home to numerous birdlife including Arctic terns, puffins, razorbills and thick-billed murres. It is also a favourite summer hang-out for polar bears. While there is plenty of ice the bears stay out at sea and feast on seals. When the ice melts they come ashore; the males continue hunting around the seashore while the females den.
Cambridge Bay
Cambridge Bay was called Ikaluktuutiak by the indigenous Inuit, which translates into "good fishing place". Archaeological sites were subsequently found with evidence of fishing. It is similar to Nain in population size.
Churchill
Churchill, which lies on the edge Hudson Bay in Canada's Manitoba region is probably the best known place in the world for seeing polar bears. During the winter, when the bay freezes over, the bears live some 40 to 150 miles out on the ice, hunting seal along the leads. When the spring comes, large pieces of ice called "floes" are blown south and ground the bears on the bay's southern shore. The bears ride the floating ice onto the beach, and by July, have dispersed inland along the coast.
By mid-October, some 600 to 1,000 bears are massed along a 100-mile-long stretch of coast between the Nelson and Churchill rivers, forming the largest concentration of polar bears in the world. Many of the bears, mostly males, cluster on headlands and capes, especially Cape Churchill. When the first hard freeze occurs, the bears disperse out once again over the frozen bay in search of seals
The unique Tundra Buggy, with its high ground clearance is as an ideal platform to view the bears close-up. With expert guides on board you will spend a whole day learning all about the polar bears, and hopefully getting to see them at close range. It is not uncommon for these curious bears to come right up to the vehicles, often standing up to get a better look inside. The vehicles are warm, equipped with lavatories, and lunch and drinks are served on board.
Resolute
Resolute, or Resolute Bay as it's sometimes known, is a tiny Inuit community on Cornwallis Island in Nunavut. Its northerly location meant it became the final resting place of several of the crew from the ill-fated Franklin's expedition of 1845. These days it is an ideal location for expeditions to the North Pole, and of course, for polar bear spotting.
Best time to go: July and August; October and November
Svalbard
Spitsbergen is the largest island of the Svalbard archipelago in the Arctic Ocean. The sovereign territory of Norway, it is one of the closer places to mainland Europe where you can go to see polar bears, although sightings are not as numerous as they would be if you were to visit Churchill in Canada.
The island and its surrounding waters are also inhabited by a range of other wildlife, including walrus, seals, whales, reindeer, Arctic fox as well as numerous seabird colonies.
Best time to go: May to August.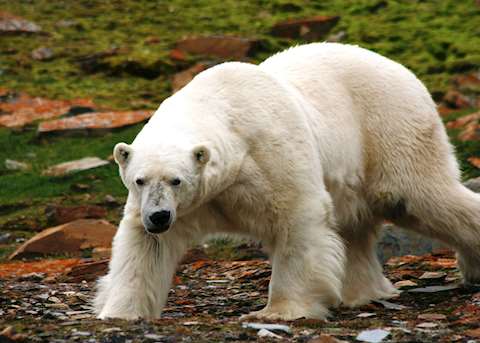 A large male Polar Bear, Svalbard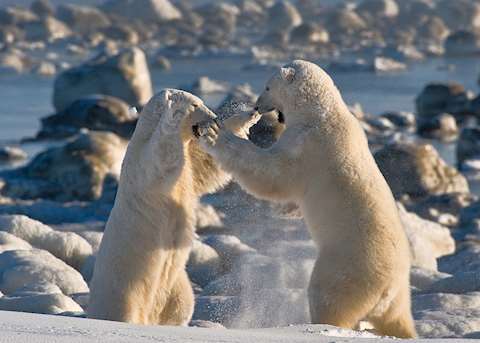 Sparring polar bear near Seal River Heritage Lodge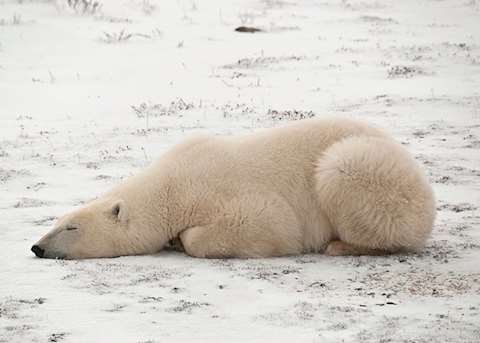 Polar bear in Churchill, Canada
About polar bears
Polar bears are found in Russia, Denmark (Greenland), the remote Norwegian archipelago of Svalbard, Canada and Alaska; Audley operate trips to all of these places.
They are the largest land predators in the world, preying mainly on seals although they will eat any animal they can catch, including humans (it's the only animal known to actively stalk humans).
In winter, they spend most of their time on Arctic ice floes, patiently waiting beside seal breathing holes for a seal to appear. In summer they have to retreat back onto land as the ice melts and it's here that they have to change their hunting approach by sneaking up on seals while they rest.
Their remarkable sense of smell enables them to detect a food source from over 30km away, which unfortunately, often brings them into conflict with humans.
Polar bear facts
Type: Mammal.
Population: 20-25,000 worldwide.
Diet: Mainly seals but also walrus, beluga whale and bowhead whale carcasses, birds, vegetation and kelp.
Reproduction: Typically a litter of 1-3 cubs is born between November and January.
Lifespan in the wild: 25-30 years.
Size in length: 7.25-8 ft (2.2-2.5 m).
Weight: Males 880-1,322 lbs (400-600 kg); Females 440-660 lbs (200-300 kg).
They are insulated by a four inch layer of fat, plus two layers of fur. This combination allows the bear to survive temperature drops as low as -50°C, in addition to enabling it to swim for long periods in the freezing Arctic waters. A further aquatic adaptation to aid swimming is partially webbed feet.
The best method of seeing them close up is via an organised trip on the specially adapted Tundra Buggy. From one of these vehicles you can often get (safely) within touching distance and it is then you realise just how big these animals really are.
The polar bear's current conservation status is classified as low risk but no one really knows how global warming will affect its long term survival.