By Canada specialist Caroline
Idyllic beaches and endless sunshine don't top everyone's lists when it comes to planning a honeymoon. Canada is growing in popularity as a honeymoon destination, appealing to couples with a sense of adventure.
You can go hiking through its vast, mountainous countryside, take a boat ride along its rugged coastline to see humpback whales and orca, observe the natural behaviour of grizzly bears in dense forests and sample the diverse range of food available in its cosmopolitan cities.
Below, I talk about just some of the experiences a honeymoon in Canada could entail, whether you take a week to explore one region or embark on an extensive three-week journey across the country.
Recommended honeymoon experiences in Canada
Watch grizzly bears

Wildlife is arguably Canada's biggest draw, and exploring the country's wild landscape in search of grizzly and black bears, moose, wolves and otters makes an excellent alternative to a safari. For me, bear watching is one of Canada's best wildlife experiences.
You can do this as part of a guided experience from a wilderness lodge. I stayed in Great Bear Lodge, which is set in the remote Great Bear Rainforest on British Columbia's coast. Floating on the water, the lodge is accessed by seaplane from Port Hardy and has just eight rooms. I fully embraced the peace and solitude.
The seaplane flight out to the lodge, over tree-covered mountains and a maze of estuaries, is an experience in itself. While rustic, the accommodation is all-inclusive and your bear watching experience is tailored around what you want to see and do, in groups of up to ten people.
What you see also depends on the time of year. At the beginning of the season (May or June), you're likely to see fluffy bear cubs with their mothers. Your guide will take you out in a boat on the estuary where you'll have an excellent, but unobtrusive, vantage point for watching the cubs as they follow their mother around and play fight.
Toward the end of the season (September and October), the bears will be feeding up in preparation for their winter hibernation, so they're usually a lot more active and present in larger numbers. You'll still be taken out in a boat, but you'll then be able to get off at viewing platforms for a closer encounter with the bears as they feast on migrating salmon.
Observing grizzly bears in their natural habitat — and at such close range — really allows you to take in their size, movement and the way they interact. The guides are extremely knowledgeable and experienced, so you feel completely safe in their hands, while still close to nature in a remote, wild location.
Encounter wildlife around Vancouver Island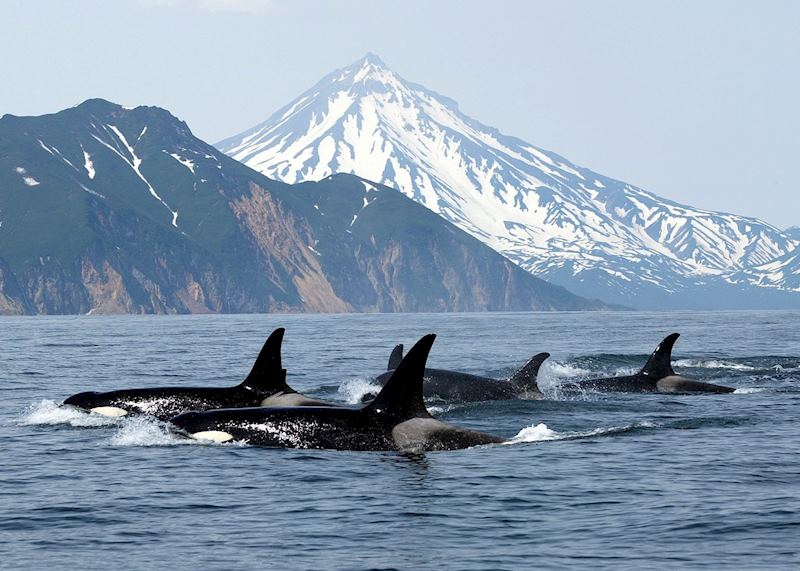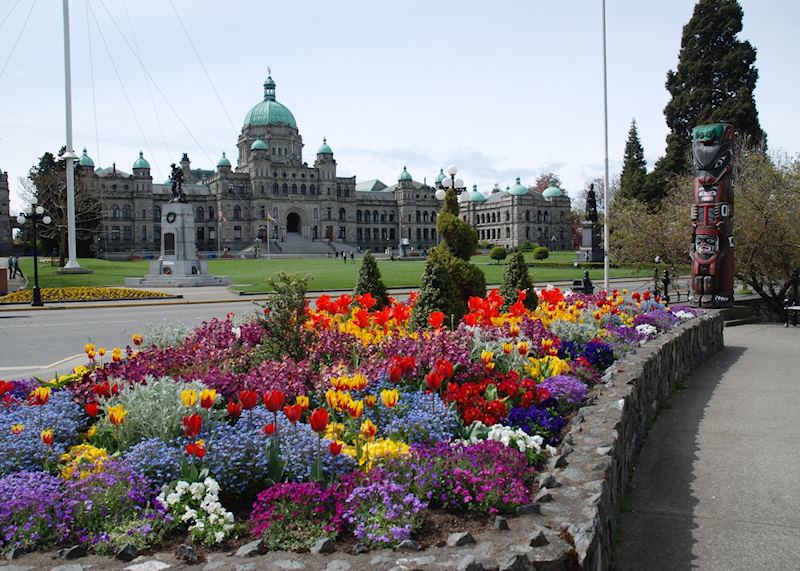 Just an hour and a half ferry ride from Vancouver, Vancouver Island is another great place for getting close-up views of Canada's varied fauna.
I'd start with a visit to the island's main town, Victoria. Aside from a charming colonial feel, cobbled streets and grand architecture, it has a good range of shops and seafood restaurants.
From here, you can join a whale watching boat trip out on the Strait of Georgia, which has three resident pods of orca. Between June and October, you'll also have a good chance of seeing grey and humpback whales breaching the water.
The experience was just fantastic; we spent around an hour looking for orca pods and then, suddenly, we were surrounded by about 30 of them feeding, breaching and swimming under the boat — adults and calves. Because they're so used to encountering boats in this area the orcas come quite close to you. I was just 20 m from four or five of them as they swam along playing.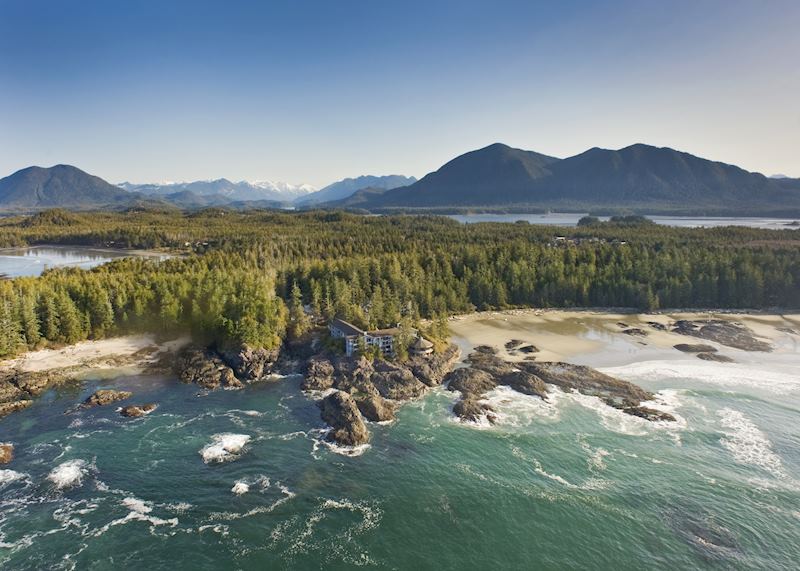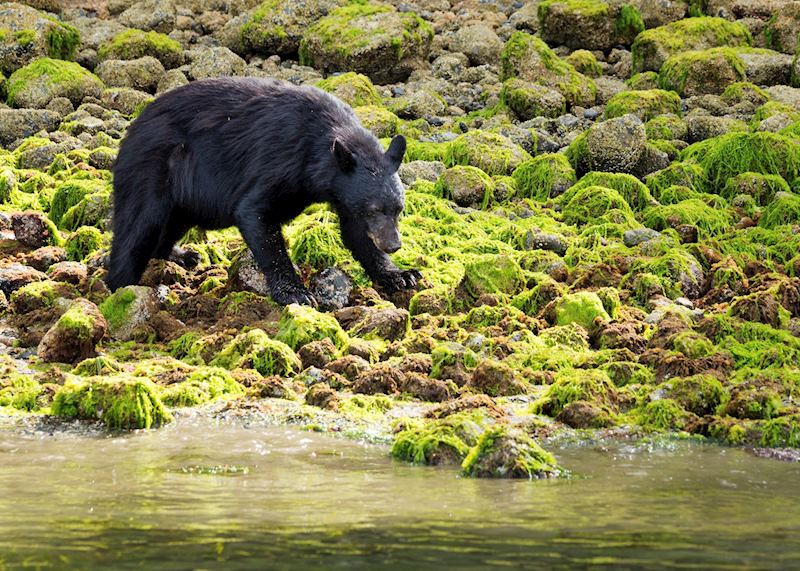 Further up the coast is Tofino, which is known as one of the surf capitals of North America. It has some lovely beaches, as well as being surrounded by dense rainforest and scenic lakes.
It's also a black bear hotspot. I suggest taking a four-hour guided Zodiac boat trip out on the peaceful estuaries. It's best to go in the morning at low tide, when black bears come out to feed on small sea creatures beached on the rocky shoreline.
My guide told me that because of the bears' poor eyesight they tend not to pay any attention to you, so you can usually take some excellent photographs. When I was there, I saw several mother bears with their cubs. The cubs stay with their mother for two years, and the ones we saw were about a year and a half old and starting to gain confidence. I watched one cub chase a smaller cub up a tree, where it hid for more than 20 minutes.
You're also likely to see other wildlife such as sea lions, otters and bald eagles, which your guide will point out.
The Wickaninnish Inn is one of my top accommodation options for the Tofino area. Set right on the edge of Vancouver Island's rugged west coast, it looks straight out over the ocean and is backed by dense pine forest. The service is fantastic and facilities include a spa, daily yoga sessions and a cosy library with views of the quiet beach below.
A secluded stay in the Rockies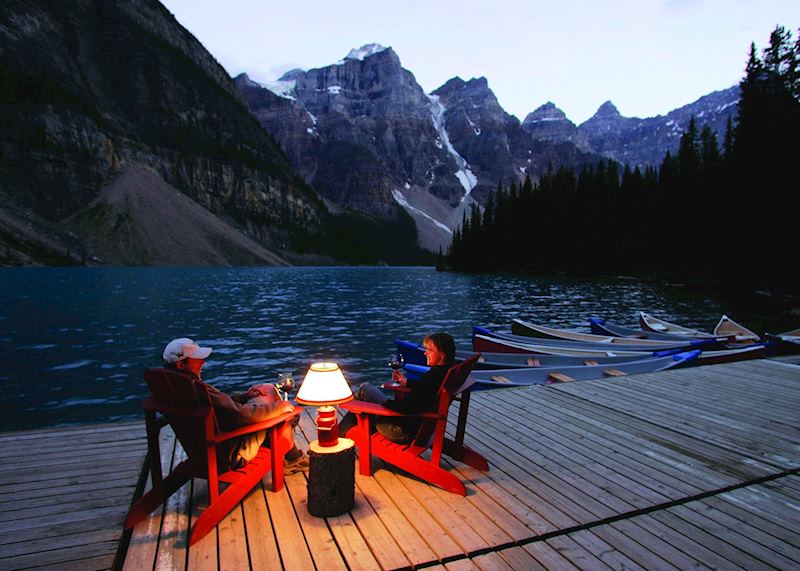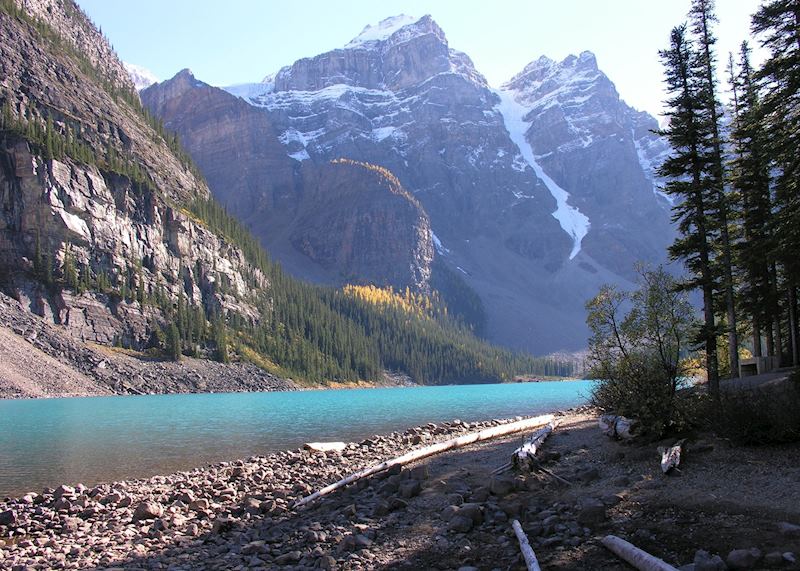 It's hard to pass through the Rockies without feeling the urge to stop and explore. Unsurprisingly, it's one of the most popular areas to visit in Canada, yet you can always find secluded spaces. That's whether you're out hiking in the mountains, kayaking on a lake or relaxing in your lodge.
Possibly my top property in all Canada is Moraine Lake Lodge. While just 20 minutes from the small town of Banff and 15 minutes from Lake Louise, it really feels like you're in the middle of nowhere.
The lodge is set on the edge of one of the most iconic lakes in the Rockies, with its glacier-fed water turning a distinctive shade of turquoise in the summer. Canoes can be hired from the lodge, and you'll have exclusive access to this part of the lake once it's closed to the public in the evening.
The emphasis is on enjoying nature, so there are no TVs or phones — it's a complete detox from technology. There are also only 20 rooms, so it feels very intimate and relaxing.
The lodge is ideal if you're honeymooners looking for peace and privacy. Its Honeymoon Suite features a Jacuzzi bathtub and private balcony looking out over the lake and surrounding mountains. In the evening, you can dine in the on-site restaurant, which has large windows stretching up to the ceiling for taking in the lake views.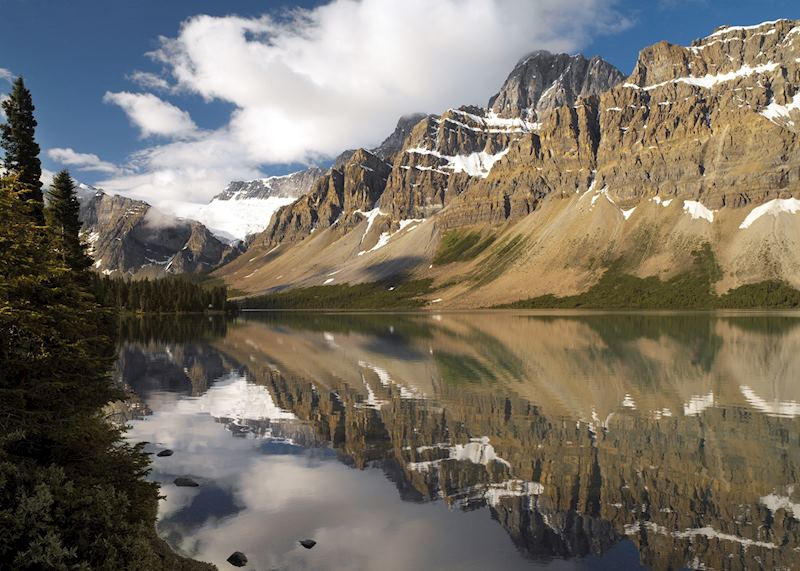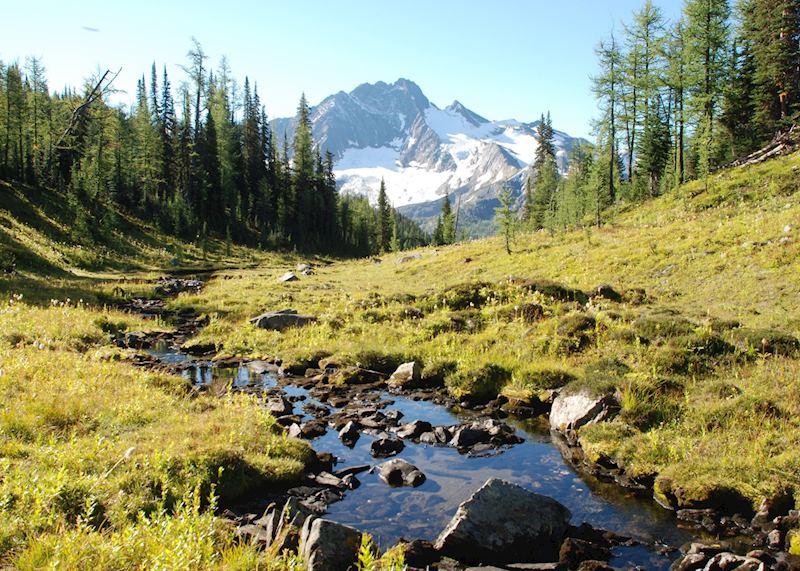 If you prefer to stay closer to civilisation, there are several towns to choose from in the area that still offer easy access to the great outdoors. From Banff you can arrange to do activities from walking and cycling to horse riding, white-water rafting and heli-hiking.
I'd definitely recommend a ride on the Banff Gondola — a cable car that glides you up to the top of Sulphur Mountain, where you have amazing views over six different mountain ranges.
The Rimrock Resort Hotel is a good accommodation option for honeymooners who want a secluded setting coupled with the convenience of a nearby town. Set in the mountains looking down over Banff, it offers a free shuttle service to and from town. It also has a spa and wonderful mountain views from each room.
Discovering Vancouver's food scene

Set beside the Pacific Ocean, Vancouver is a multicultural city whose modern buildings are surrounded by rainforest-covered mountains, river estuaries and the Salish Sea. I like the compactness of its centre, it's so easy to explore on foot.
The diversity of the people here is reflected in the food. Walking through the city streets, you'll encounter restaurants serving anything from local and Japanese seafood to Chinese, Vietnamese, Italian and Belgian menus.
I also discovered a big focus on sustainability and using local ingredients. One of my top restaurant choices is Forage, which sources all of its ingredients within the local area and leads the way in reducing energy use and waste.
For a really special evening, enjoy a romantic meal at CinCin — a high-end Italian restaurant that has an excellent reputation with locals, visitors and even celebrities. I always save this for my last night in the city and have never been disappointed.

A great way to sample Vancouver's everyday dishes is to join a guided tour of the city's street food trucks and carts. Over two hours, you'll be able to taste your way through Vancouver's streets, where local and ethnic treats are cooked and served up on carts in front of you.
I watched the vendors as they smoked fresh salmon, baked naan bread and prepared gourmet hot dogs from their tiny carts amid mouth-watering smells. Many of the vendors will let you try their produce for free.
I recommend staying at the Wedgewood Hotel & Spa in downtown Vancouver. An intimate, boutique property, I find it always delivers a fantastic service and there's a great range of treatments in the spa. It's also convenient for Stanley Park, a four sq km public park that juts out into English Bay and Vancouver Harbour and features numerous forest trails, beaches and lakes.
See the Northern Lights

The Aurora Borealis can regularly be seen from Canada's Northwest and Yukon Territories. If you don't mind braving the cold, I'd definitely spend five or six days up there to increase your chances of seeing the lights.
Yellowknife, the capital of the Northwest Territories, makes a good base for seeing the northern lights. The town is set on the banks of the vast Great Slave Lake, more sea-like as it stretches out to the horizon.
Just a 20-minute ride in a bush plane (a small, unscheduled plane used to access remote areas) will take you to Blachford Lake Lodge, an eco-friendly hotel that has dedicated viewing decks for watching the northern lights.
You can even experience the phenomenon while soaking in the lodge's hot tub — a good way of keeping warm in the icy air.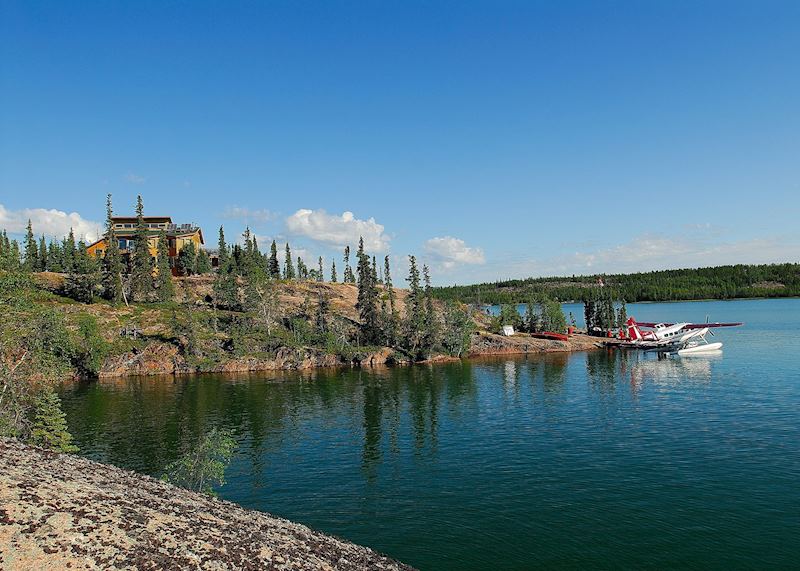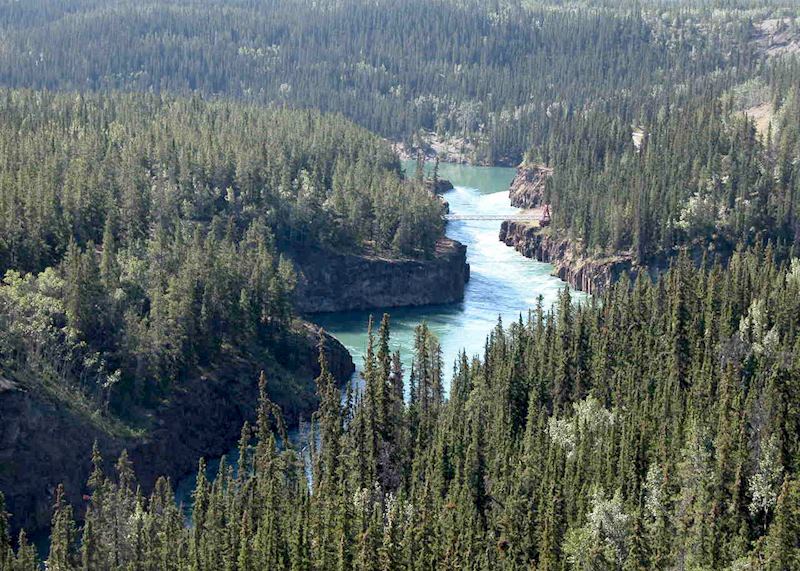 Another option is to stay in Whitehorse, the Yukon's largest town. During the day, you sightsee around the town. Tour the SS Klondike paddle steamer ship, enjoy a guided canoe trip on the Yukon River, or head out for a hike in the surrounding mountains.
Whitehorse is also known for its dog sledding. You can opt to visit the kennels to meet the dogs, or go on a four-day sledding adventure exploring the untrodden wilderness.
Often, you can see the Northern Lights from your accommodation, most lodges in the area have viewing decks. Alternatively, you can take a guided tour, where you'll be taken out at 9.30pm each evening to a heated cabin or a roaring fire. Here, you can sip on hot chocolate and gaze up at the sky as it flashes with contorted streaks of green, blue, pink and purple light. It can take a lot of patience and a late bedtime, but I won't forget the experience in a hurry.
Less obvious highlights
The countryside of the eastern provinces

The historic colonial towns, quaint French villages and rolling green countryside of eastern Canada give it a completely different feel to the rugged west. Rail journeys or internal flights across the country mean you can experience both regions, but I'd also recommend a trip to the east in its own right.
The Québec countryside makes a lovely self-driving destination. I'd suggest taking a car out to the Saguenay Fjord National Park in the south of Québec. Forests, cliffs and the deep blue water of the River Saguenay create a beautiful backdrop to activities such as hiking, kayaking and camping.
The park is also a habitat for black bears, beavers, moose, peregrine falcons and several species of whale, including the blue, beluga, minke and fin.
En route to the park, you may pass through French-speaking villages, where the landscape — shaped by an old crater — includes cliff sides, wildflower meadows, hills and mountains covered with trees that turn from green to golden brown as fall arrives.
Further eastwards is the Gaspé Peninsula, where you can stay at the luxurious Chic-Chocs Mountain Lodge, an all-inclusive wilderness lodge set in the mountains of Matane Wildlife Reserve. The views, which you can soak up from your own balcony, sweep out across green or snow-covered forest. There's also a sauna and a hot tub for relaxing in after you've spent the day outdoors.
An authentic ranch stay

Dotted around Alberta and the Cariboo region of British Columbia's interior are ranch properties inviting guests to have a taste of the authentic cowboy lifestyle. They're great fun because you can try all sorts of different ranch-based activities, from horse riding and wrangling to quad biking, archery and white-water rafting.
I particularly like how you can learn all about the inner-workings of a ranch, including how to care for the animals.
The Echo Valley Ranch & Spa skirts the edge of Marble Range Provincial Park, whose snow-capped mountains create a dramatic backdrop. I like this ranch because it gives you the best of both worlds. It offers a good range of activities, including cowboy cookouts, gold panning and photography safaris, as well as a relaxing Thai spa and comfortable, stylish rooms. It's also fairly small in size, so it never feels crowded or busy.
Best time to go on honeymoon in Canada
Start planning your honeymoon to Canada

Start thinking about your experience. These itineraries are simply suggestions for how you could enjoy some of the same experiences as our specialists. They're just for inspiration, because your trip will be created around your particular tastes.
View All Tours in Canada