I lived and worked in Asia, Australia, and Central America for over 12 years, travelling extensively through these divergent regions. I can now read and write in two Asian languages, have acquired a repertoire of great stories from the road, and I'm a big proponent in the idea that travelling can genuinely make you happier.
I'm passionate about sustainability, and I have seen first-hand how well-planned tourism can fund local initiatives, boost local salaries, and create a cultural exchange between people of different backgrounds. This is what drew me to Audley, with its responsible travel credentials, but it's also why I chose to specialise in Costa Rica.
Costa Rica is biodiverse, but Costa Ricans are also passionate stewards of their land — continually educating, protecting, regrowing. As a tourist you not only get to see one of the world's most sustainable countries in action, but you also get to be a part of it.
Speak to Natalie

Start planning your trip to Costa Rica with Natalie
Q&A with Natalie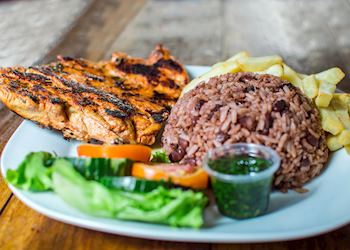 What's the best local dish you've tasted?
Costa Rica isn't famed for its food, and is probably best known for gallo pinto (rice and beans usually served with plantains and eggs). Although this is arguably Costa Rica's most typical meal, thankfully there is a little bit more to the cuisine than just this simple fare. My personal favourite in Costa Rica is ceviche. This is a dish usually made of raw fish, such as tilapia or mahi mahi, cured in lime juice and served fresh with a side of crisps. It's sour, tangy, healthy and delicious, and is great to wash down with a chilliguaro, a traditional Costa Rican cocktail made with local liquor, salsa lizano, and tomato juice.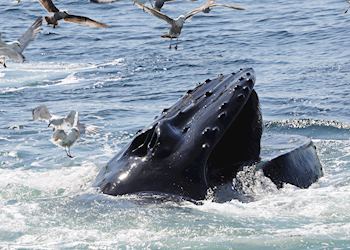 What's your most vivid travel moment?
Travelling by boat in Costa Rica's Osa Peninsula, we happened to come across a humpback whale and her baby. The captain cut the engine and our little boat came to a halt, bobbing along on the water just metres away from where the whales had just disappeared below the surface of the water. We waited in silence, hearing only the slap of the waves against the body of the boat for a few minutes. Finally, they resurfaced, right next to our boat. We heard a hiss of air as water came blasting out of the mother whale's blowhole. Copying her movement, the baby whale broke the surface of the water too, bringing its whole head right out of the water right in front of us. It was the closest I've ever been to a humpback whale and it was a truly magical experience.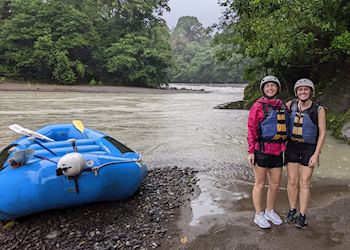 Where would you love to travel next?
There's still so much I've yet to explore in Costa Rica. I'd love to visit during the turtle nesting and hatching season, when it's possible to see sea turtles come up onto the beach and lay their eggs, or seeing the baby hatchlings emerge from their shells and make their way back to the ocean. And, I'd love to go back and do more white-water rafting too.