Due to an exceptional increase in demand, Cuba's hotels and guesthouses are now full until April 2016. We'd be delighted to look into your travel options beyond this time, or discuss alternative destinations should you wish to travel sooner.
Cuba has a warm tropical climate with two distinct seasons. The best time to visit is from December to May, when you can expect dry, sunny days and plenty of blue skies. The wet season begins in June and, previously, visitors to Cuba would have avoided travel entirely between August and October, when there is also a risk of hurricanes. However, as interest in visiting in Cuba has increased, the subsequent pressure on hotel availability means many are now prepared to run the risk of unpredictable weather to see the country sooner rather than later, and visiting in low season will still be an atmospheric experience.
Speak to someone who's been there
Start planning your tailor-made trip by calling one of our Cuba specialists on 01993 838 685
Month-by-month guide to travelling in Cuba
Visiting Cuba in November - April
Cuba's dry season brings the sunniest days and pleasant temperatures, making it a wonderful time to visit. Early planning for visiting Cuba is now essential year-round, but this becomes all the more important during the dry season. You should begin planning a minimum of nine months in advance for this period in general, but at least 12 months in advance if you wish to visit between December and February or over Easter.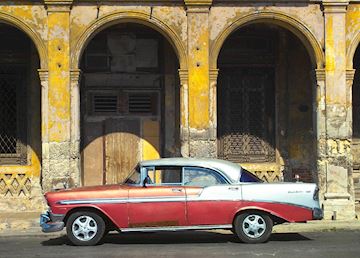 ---
Events & Festivals
Havana's Jazz Festival (December): This is a big event in the city, with formal concerts taking over many venues, but also the odd impromptu performances to be found. Read more »
---
---
Cuba Climate Guide
Place
Jan
Feb
Mar
Apr
May
Jun
Jul
Aug
Sep
Oct
Nov
Dec
Baracoa

28°C

218mm

28°C

144mm

29°C

143mm

30°C

150mm

30°C

289mm

32°C

173mm

32°C

192mm

32°C

200mm

32°C

191mm

31°C

359mm

29°C

331mm

28°C

340mm

Havana

26°C

64mm

26°C

54mm

28°C

44mm

29°C

59mm

30°C

117mm

31°C

177mm

32°C

123mm

32°C

131mm

31°C

165mm

30°C

174mm

28°C

77mm

27°C

54mm

Trinidad

28°C

22mm

28°C

33mm

30°C

31mm

31°C

45mm

32°C

146mm

32°C

220mm

33°C

145mm

33°C

180mm

32°C

213mm

31°C

163mm

29°C

48mm

28°C

17mm
Trip ideas and travel guides to exploring Cuba
Cuba has an intoxicating atmosphere whenever you choose to travel, but I particularly recommend March. The dry, sunny days are ideal for exploring before the mercury really begins to rise. Although you still need to plan far in advance, late March and the month of April (providing you avoid Easter) are not quite as crowded as January and February.
Johnny, Latin America Specialist