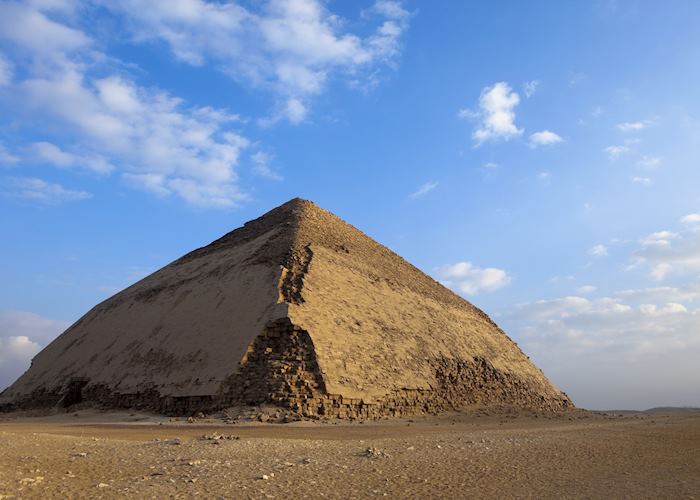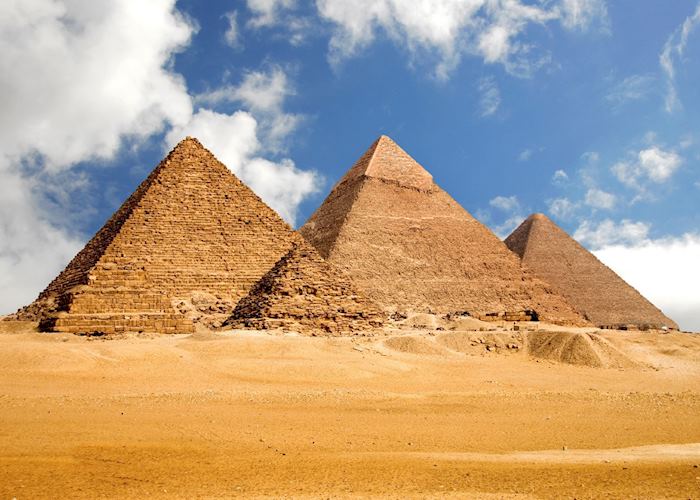 Giza, Saqqara & Dahshur
Giza, Saqqara & Dahshur, Egypt
As the only survivor of the Seven Wonders of the Ancient World, the pyramids at Giza occupy a unique place in world history, and are a perennial favourite with travellers.
The first tourists were the ancient Greeks, some four thousand years ago, and the fascination with these mystic monuments has continued unabated ever since. The largest pyramid is the Great Pyramid of Cheops, comprising over 2,300,000 blocks at an average weight of 2.5 tons. The pyramid of Chephren still has part of the original smooth casing intact at the summit, giving an indication of what the pyramids must have looked like upon completion. Guarding the pyramids, the Sphinx is thought to have been moulded by Chephren from a protrusion of soft rock uncovered during the building of Cheops' pyramid. It was the Greeks who named it the Sphinx after a mythical creature that questioned travellers with riddles, killing those unable to answer them.
Nearby Saqqara was where the royalty and nobility of Memphis were buried, and far more has survived here. There are a large number of mastabas and temples to explore; the most important monument is the Step Pyramid of Zoser. This predates the Great Pyramid of Cheops by about 75 years and marks the moment when the pyramid age began, under the architectural aegis of the remarkable Imhotep. Building on increasingly larger mortuary mastabas for his pharaoh, Zoser, Imhotep eventually struck on the idea of a stepped pyramid, and it was directly from this design that other larger and more famous pyramids took their inspiration.
The furthest of the Ancient Egyptian sites visited from Cairo, Dahshur is an impressive pyramid field with two particularly notable examples, both the work of one pharaoh, Snofru. The Red Pyramid, so called after the red limestone used in its construction, is the second largest in Egypt, only exceeded in size by the Great Pyramid at Giza. Entering the tomb by clambering down a steep, narrow passageway is a thrilling experience but not for the faint hearted! The Bent Pyramid is remarkable in two ways. Firstly the angle of the slope changes abruptly halfway up the face of the pyramid, and secondly its limestone cladding is, uniquely amongst pyramids, almost fully intact. This gives a very rare insight into how the pyramids must have looked when first built.
Speak to someone
who's been there

Start planning your tailor-made trip by contacting one of our Egypt specialists
Photos of Giza, Saqqara & Dahshur