By Japan specialist Rebecca
According to my artistic friends, Hokusai's The Great Wave off Kanagawa is a masterful study in the use of negative space. I've always thought that was a great way to describe Kanagawa itself — the calming yin to Tokyo's yang. Where the capital city is a frenetic hub of activity, Kanagawa is its more restful counterpart, with the laid-back coastal town of Kamakura and the wide-open spaces of Hakone National Park. Just a short train ride from Tokyo, the prefecture can act as a sort of caesura, a place to reset and take a restorative breath before the rest of your trip.
What to do in Hakone National Park
I've been visiting Japan regularly since 2016 and I've never seen Mount Fuji. It's starting to feel a bit personal, to be entirely honest, but I soothe myself with the knowledge that it's actually a fairly common situation. The stratovolcano is notoriously shy and difficult to see without perfectly clear conditions.
That said, if you would like to see Fuji, I suggest planning your trip during the cooler months between November and March, when the air is crisp and clear (and chilly). I also suggest visiting Hakone National Park. These sprawling grounds — formally Fuji-Hakone-Izu National Park — encompass forested hiking trails, an open-air sculpture museum, a pavilion packed with works by Picasso, and the Enoura Observatory, which offers views of the ocean. There are also a variety of classic viewpoints for the lucky few to glimpse the mountain's distinctive silhouette. It's easy to while away the hours here, soaking up the landscapes.
I suggest starting with the circular route that lets you circumnavigate the whole park in a small train, bus, gondola, and — I'm not kidding — pirate ship. I'll arrange for a Hakone Free Pass Ticket, which will get you on all these forms of transport and provide access to all the various attractions. The ship and gondola have exceptional views of the mountain (if it's a clear day) and you can stop at various points along the way to visit the museums.
I also suggest a guided tour of the Tokaido Highway. Still paved (in parts) with the original stone, this easy path will take you to Amazake Chaya, a 400-year old teahouse that's been run by the same family for 13 generations and seems unchanged from the Edo period.
From there, you can walk to the small village Hatajuku to browse examples of the local craft, known as yosegi. You'll find boxes and other items decorated with this intricately inlaid wooden mosaic work. The area is so rich in history and culture that you really need a knowledgeable guide to illuminate the road's significance and introduce you to the local characters, like the teahouse owners, as well as show you off-the-path gems like a soba restaurant where the locals dine. If you prefer to explore on your own, however, I can provide directions and information to help provide context.
I can also arrange for a private guide to accompany you on a hike through the park. Your guide will help choose the right route for you and explore the region's natural history as you go.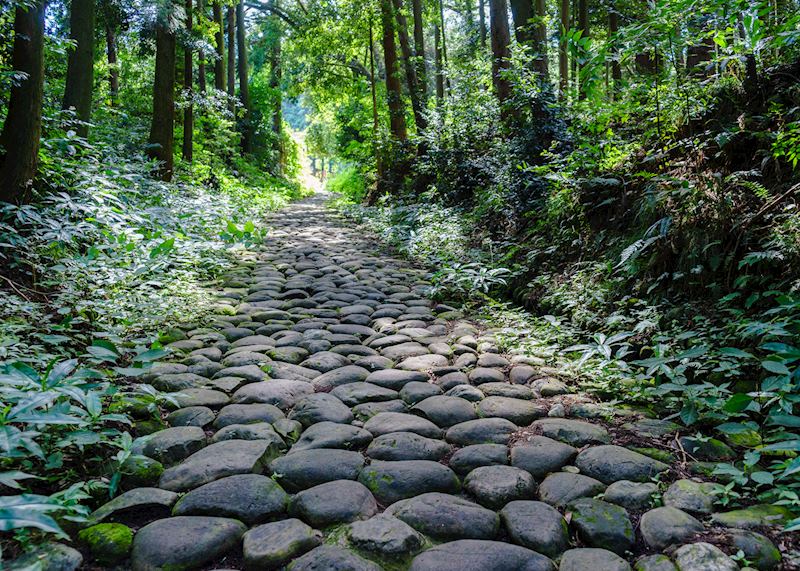 Where to stay in Kanagawa
The same geological forces that created Mount Fuji mean that the park is rich in natural hot springs, and Hakone is home to some of the country's best ryokan (traditional rustic inns). After a day of hiking and exploration, there's little more satisfying to me than relaxing in the steamy water of an outdoor onsen in a mountainside ryokan, admiring the views.
The best in the park — arguably in the entire country — is Gora Kadan. Tucked into the grounds of the imperial family's rural retreat, the ryokan is an opulent option with private hot-spring baths for many of the rooms and exceptional views of the park.
The architecture here thoughtfully blends modern comforts, traditional Japanese aesthetic, and a deep love for the surrounding land. Every stone, every window, every piece of furniture is placed with thought and care to reflect and respect the natural beauty of Hakone. That meticulous attention to detail carries over to the attentive service and the remarkable multi-course kaiseki meals prepared with perfectly seasonal ingredients.
If you're willing to trade Gora Kadan's imperial price tag for a slightly-less-imperial heritage, I suggest Hakone Ginyu Spa Resort. The onsen and views are just as impressive, as is the service, but the building has a slightly more modern feel. If you want to fully embrace modernity, you can also stay in KAI Sengokuhara, a contemporary ryokan with a sleek minimalist decor that still retains a strong sense of place — you'll find local artwork on the walls — and classic ryokan traditions, including elaborate kaiseki meals.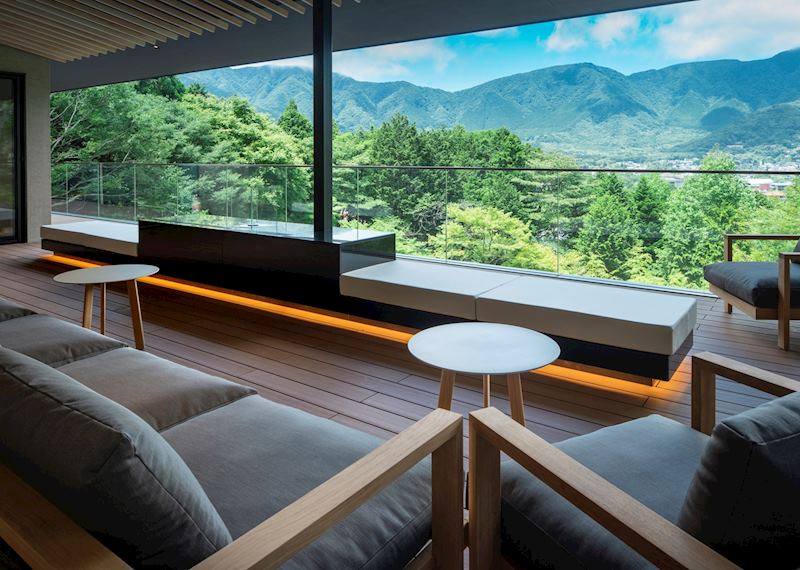 What to do in Kamakura
After a relaxing evening and filling breakfast in your Hakone ryokan, I suggest taking the short train ride from Hakone to Kamakura. Today it's a sleepy seaside town, but from the 12th to the 14th centuries, this was the capital of the country. During that time, Japan also saw a rapid expansion of Buddhism, which explains the preponderance of holy sites throughout the town.
You can spend the morning exploring these temples and shrines on your own, but I suggest a guided tour to help illuminate the history and philosophy embedded in each sacred space. You'll start with the biggest and best-known landmark: Kotoku-in Temple, where you can see Kamakura Daibutsu, a massive bronze Buddha that towers as tall as a three-floor home.
Your guide will then take you up a hillside to Hasedera Temple, home to a soaring wooden statue of Kannon, the Goddess of Mercy. It's one of the largest in Japan and worthy of witnessing, but I think the real attraction is the coastal view from the terrace.
Your tour will end on Komachi Street, which you'll enter through vermillion torii, a traditional Japanese gate. The street is packed with small boutiques and fashionable shops as well as a huge range of cafes, bakeries, and restaurants.
I can also arrange for you to spend some time with Saori, a local garden designer. She'll take you through the area's hidden gardens, not usually open to visitors, and introduce you to the plants of the area. You'll not only get a glimpse into the private corners of Kamakura, but also have a chance to learn about the unique style and traditions behind Zen gardens in particular.