You'll find some of the world's most spectacular trekking in Kyrgyzstan.
More than 90% of the country is mountain wilderness, a mixture of rolling alpine steppe and glaciated valleys, culminating in the highest peaks of the Tien Shan range ("Mountains of Heaven").
The highlight of any trek is the opportunity to meet nomads, whose yurts dot the landscape.
Many nomadic families welcome visitors, providing them with an insight into a life only tenuously connected to the modern world.
If you're looking for serious adventure, it's possible to trek to the Inylchek Glacier, one of the largest on Earth, sited high on the wild and snowy Chinese border.
Where to go trekking in Kyrgyzstan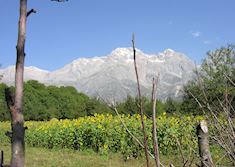 The leafy village of Arslanbob (Arstanbap in Kyrgyz) nestles at 1,600 m beneath the granite cliffs of sacred Mt Babash-Ata (4,465 m), some three to four hours' drive from the southern city of Osh.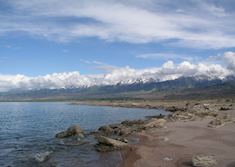 Lake Issyk-Kul is the second largest alpine lake in the world, measuring over 170 km in length and 70 km at its widest point. The name meaning "warm lake" is a reference to the fact that it has never frozen.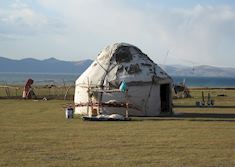 Song-Kul is tucked away in a natural bowl formed by the surrounding mountains. During the summer months nomadic herdsmen set up yurt camps in the fertile pastures surrounding Song-Kul lake.