Stretching out into the Pacific both to the north and to the east, this sprawling region encompasses unspoiled landscapes flanked by some of New Zealand's finest coastal scenery. Aucklanders flock to the local beaches to enjoy the sun, surf and sand, and to relax into the region's laid-back lifestyle.
During the spring much of the bush is set ablaze with the vivid red bloom of the native pohutukawa trees, which, set against the rich green of the forest, the deep blue of the ocean and the endless golden sands, provide a spectacle of colour.
Maori culture
The communities here are as colourful as their landscapes, and many retain a very strong Maori culture: there are some fantastic examples of Maori carvings, marae and intricately decorated churches dotted along the main roads.
Vineyards and local life
This is a richly fertile region, producing vast quantities of New Zealand's fruit and encompassing its oldest wine-growing industry, which now enjoys international acclaim. Townships vary from lively holiday resorts to the sleepy remnants of gold-mining settlements and impressive Spanish Mission and art deco creations.
There is plenty here to entertain the mind, as well as ample opportunity to relax and soak up some of the many hours of sun this region enjoys.
Start planning your trip to New Zealand

Start thinking about your experience. These itineraries are simply suggestions for how you could enjoy some of the same experiences as our specialists. They're just for inspiration, because your trip will be created around your particular tastes.
Highlights of the Coromandel & Pacific Coast
Recommended places on the Coromandel & Pacific Coast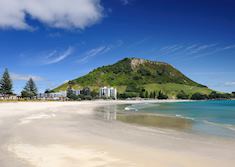 The Bay of Plenty is an area of thriving agriculture and endless coastline, popular with the Kiwis themselves, many of whom escape from the towns to their 'baches' along the stretch of coast between the principal town of Tauranga and the popular Papamoa Beach.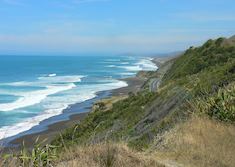 Stretching out into the Pacific Ocean, the littlevisited and unspoilt Eastland harbours some of New Zealand's most dramatic scenery. Gisborne, the country's most easterly city, is renowned for its long hours of sunshine and fertile plains.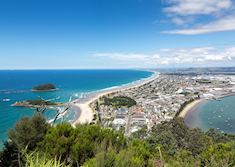 Tauranga sits on the beautiful Bay of Plenty and enjoys a temperate, sunny climate, a thriving economy and is the kiwi growing capital of New Zealand.
Accommodation options on the Coromandel & Pacific Coast