Amongst its tranquil lakes and bush-clad hills, New Zealand's Thermal Plateau hides a Dante-esque world of bubbling mud pools and gushing geysers; this is a region rich with the geothermal energy of the Earth's molten core.
A rift valley 155 miles (250 kilometres) long runs from Mount Ruapehu in the south, through Rotorua and north to the country's most active volcano, White Island, in the Bay of Plenty.
This geothermal activity not only shaped the landscape but also the culture of the region, with many geographical features delineating tribal boundaries and perceived as areas of great sacredness.
The Thermal Plateau's natural wonders
The region is rich in natural wonders, including cave formations where glow-worms scatter like constellations among the stalactites, crystal-clear rivers that spill into dramatic waterfalls and pristine trout-filled lakes, and snow-capped peaks that rise above dense native forests, making it is easy to understand its spiritual importance.
Maori culture
The region is one of the best to experience Maori culture and the ideal place to sample a traditional hangi (feast) or attend an energetic kapa haka (song and dance display).
The Thermal Discovery Highway
One of the country's greatest touring routes, the Thermal Discovery Highway, links the geothermal and cultural highlights of a fascinating, ever-changing landscape and offers something enticing around every corner.
Start planning your trip to New Zealand

Start thinking about your experience. These itineraries are simply suggestions for how you could enjoy some of the same experiences as our specialists. They're just for inspiration, because your trip will be created around your particular tastes.
Some of our favourite places on the Thermal Plateau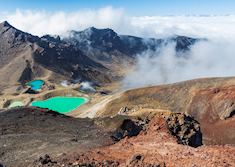 The Tongariro Alpine Crossing is one of the most popular day walks in New Zealand and there are a number of shorter guided and independent walks in this area.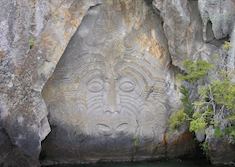 Lake Taupo is known around the world as one of the finest trout fishing lakes. Take a guided or independent trip out onto the water to catch one of these mighty fish.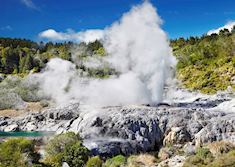 Rotorua is the geothermal centre of New Zealand; with bubbling mud pools, steaming geysers and colourful silica terraces, a visit to one of the local thermal attractions is a must-do.
Some of our favourite places on the Thermal Plateau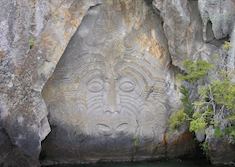 The largest lake in New Zealand, Lake Taupo is known for its trout, Maori rock carvings, white-water rafting, jet boat rides and views of the volcanic Tongariro National Park.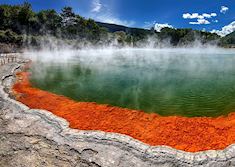 Rotorua ― where geysers spurt, mud bubbles, fumaroles hiss and sulphurous pools glow so vividly yellowy-green they earn monikers like, 'the Devil's Bath.' It's all fun to see, but there's also superb lake cruising, hiking, cycling and Maori cultural experiences.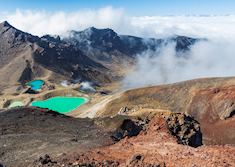 At the southern end of Lake Taupo, the three active volcanic mountains of Ruapehu, Tongariro and Ngauruhoe make up Tongariro National Park. In the winter the area is a playground for skiers and in summer a wilderness for walking.
Accommodation options on the Thermal Plateau