Visit Estremadura, Portugal
Estremadura is the historical name for the countryside north of Lisbon. Though it means 'extremities', Estremadura looks nothing like the harsh landscapes found in the Spanish region with a similar name. Instead, this land of gentle hills marks the farthest reaches of the Moorish occupation.
Various towns around Estremadura preserve different portions of Portugal's past, from the beginning of the monarchy through the dazzling heights of the Age of Discovery until the dark days of World War I. Conveniently, these sites are clustered close enough to the capital to make visiting a selection an easy one-day trip.
Batalha's unfinished chapels are, perhaps, the most haunting sight in this region. So much work and effort went into their intricate decorations, but then they were left just standing open to the sky, never completed.
Spain & Portugal specialist Geoff
Things to see and do in Estremadura
Monastery of Batalha
Built in a glorious jumble, this UNESCO-listed Dominican abbey combines 14th-century Flamboyant Gothic with the excessive exuberance of Manueline architecture (Portugal's own brand of Gothic).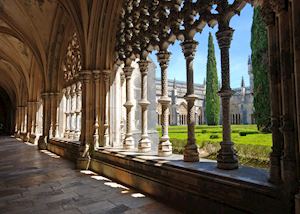 The two styles create a showstopper destination less than two hours from Lisbon. King João I, who commissioned the original abbey in 1385, is buried here along with his wife and their sons, including Prince Henry the Navigator.
The cream and white limestone exterior bristles with traceries, parapets and flying buttresses. The main portal is a frenzy of friezes. It sports six layers of ornamental mouldings that are encrusted with a veritable congregation of sculpted saints, angels and apostles, all topped with an elaborate tympanum of Jesus Christ.
The florid Capelas Imperfeitas (Unfinished Chapels) were added, but never fully realized, toward the end of the century-long building process. Open to the sky, these hauntingly unfinished chapels fairly drip with Manueline ornamentation. Twined and knotted ropes, wrought from stone, fight for attention amid a tumult of armillary spheres, snails, angels and clover-shaped protrusions.
Monastery of Alcobaça
After the frothing excess of Batalha, the austere ambition of Alcobaça's monastery is a stark contrast. This 12th-century church has a latter-day Baroque façade, but inside you'll find severe simplicity typical of Gothic Cistercian architecture. The nave, in particular, is a narrow, soaring space filled with smooth, pale stone columns that rise to a dizzying height.
The monastery was commissioned by Afonso Henriques, first king of Portugal, to fulfil a vow made before the Battle of Santarém, in worship of Saint Bernard of Clairvaux, a primary reformer of the Cistercian order. It was built in accordance to his precepts and has kept a purity of design that makes it a UNESCO World Heritage Site.
But the main attraction here is a chance to glimpse the everyday life of medieval monks. The kitchens are a highlight, belying Cistercian austerity and instead hinting at a life of culinary pleasures or even gluttony. The massive fireplace alone is said to have been big enough to spit roast multiple oxen.
This is also where you'll find the tombs of Dom Pedro and Dona Inês de Castro, star-crossed lovers who are Portugal's own Romeo and Juliet. The tombs were damaged by French troops in 1811, but a sculpture (by an anonymous artist) still tells the story of the 14th-century prince who defied his father to be with the woman he loved, with tragic results.
Óbidos
An hour north of Lisbon, Óbidos is a well-preserved medieval town tucked behind classically crenelated fortifications. The narrow, cobblestone streets are jammed with whitewashed buildings topped with terracotta tiles and brightened by touches of Mediterranean blue or golden yellow. The main street attracts plenty of visitors, but the back roads and residential lanes are calm and the walls drip with bougainvillea vines.
The castle at the top of the hill cuts a striking silhouette, with golden-stone towers and imposing ramparts. Though it has been converted into a pousada (upmarket state-run hotel), you can still enjoy expansive views from the walls, taking in the orange-roofed town and surrounding countryside.
Street stalls often sell ginja, a traditional liqueur made from sour cherries and served in an edible chocolate cup.
Shrine of Fátima
Until the early 20th century, Fátima was a tiny village that scraped by on subsistence farming and herding sheep. But on 13th May 1917, three peasant children experienced a vision of the Virgin Mary. That miracle and subsequent visions have turned this former village into an important pilgrimage destination.
Twice a year, on the 13th of May and October, a vast square (bigger than the piazza in front of St Peter's in Rome) is packed with as many as six million of the faithful. They arrive via car or donkey cart, walking or on their knees, to pay homage to a Mary and her miracles. Visitors can take home holy water from a fountain in the square.
At one end of the square, the white neoclassical Basílica de Nossa Senhora do Rosário de Fátima is an imposing but fascinating tribute to the power of faith. As a visitor, you should dress conservatively with knees and shoulders covered. Women wearing trousers or other 'masculine attire' might also be turned away.
Best time to visit Estremadura
You can visit Estremadura all year, though the weather can get very hot June to August. We recommend visiting in the spring (March to May) or the fall (September and October), when the weather is cooler.
Speak to someone
who's been there

Start planning your tailor-made trip to Estremadura by contacting one of our Portugal specialists
01993 838 461
Suggested itinerary featuring Estremadura
This sample itinerary will give you an idea of what is possible when you travel in Estremadura, and showcases routes we know work particularly well. Treat this as inspiration, because your trip will be created uniquely by one of our specialists.
Places & hotels on the map