By Audley Sri Lanka specialist Chloe
I find that the majority of visitors to Sri Lanka opt to tour the length and breadth of the country, anxious to cover all the sights but as a result spending most of their time in the car. On my most recent trip, I bucked trend, and focused on just one area, Sri Lanka's little-visited north. I saw more than I'd have ever done rushing around the entire island.
There was time to get to know my guides, to watch patiently for wildlife and to explore worthwhile areas few fellow visitors reach. The north of the island lends itself to this type of patient, curious exploration where the sights aren't postcard-worthy, but you'll find remote temples, shy leopards and a flourishing Tamil culture.
Wilpattu National Park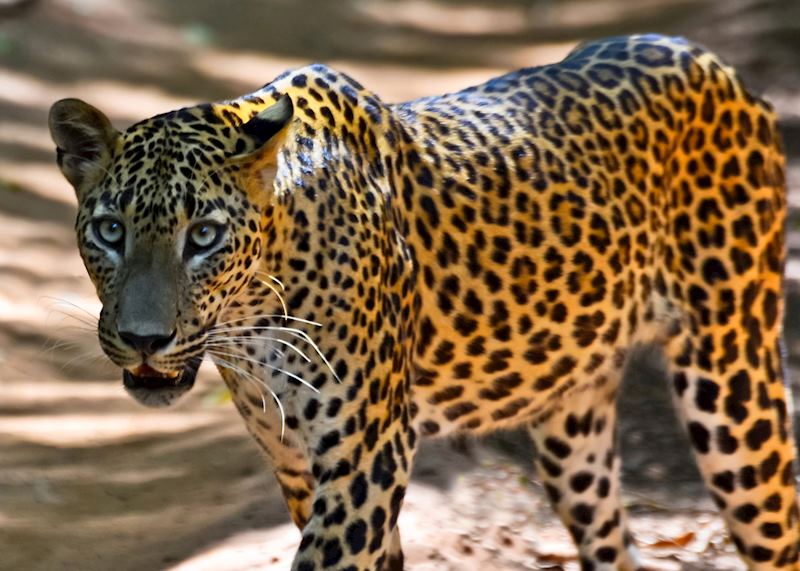 After flying into Colombo, I headed a few hours north up to Wilpattu National Park. In Sri Lanka's southern parks you're likely to encounter clusters of jeeps, but in Wilpattu you're more likely to see a gaggle of monkeys, and few fellow visitors. Its name refers to the series of 'willus' (natural lakes) at the heart of the park.
The park has a distinctive red earth, with salt grass meadows and dense monsoon forest — in some areas the vegetation is so thick that it feels like you're driving through a tunnel. The trees are much taller here than in other national parks, and you see the guides looking up regularly to monitor the behaviour of the monkeys in boughs high above — they're often the first to spot a leopard.
It's a long drive from the entrance of the park before the safari experience really begins, although the varying terrain provides plenty to admire en route. Most visitors allow time for one morning or afternoon jeep safari, but my ranger suggested we stay in the park for the full day.
My ranger and I stopped for lunch by a lake, settling down to watch the plentiful wildlife that comes to drink at the water's edge. The white-sand beaches are ideal for storks and cormorants to pick their way along the waterside, and we saw a fish eagle swoop down looking for food. Some small rat snakes were basking in the sun nearby.
Our day felt like it had been gradually leading up to a leopard sighting and, as the park prepared to close, it finally happened. We pulled up to a plain of open grassland and a female leopard nonchalantly walked out in front of us, giving us plenty of time for photographs.
Where to stay in Wilpattu National Park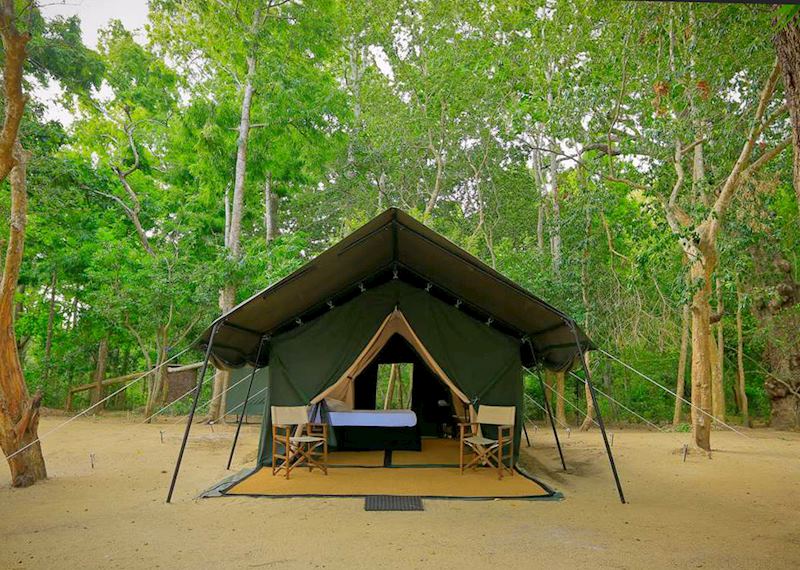 Unlike Sri Lanka's other national parks, there's no cache of safari lodges on the edge of Wilpattu. There are a few hotels in the vicinity, but I stayed for a couple of nights with Leopard Trails, a tented camp in the park's buffer zone.
You have to sacrifice air conditioning, but the tents are comfortable, with a double bed, dressing table, and an en suite with a surprisingly powerful shower. You're close to the wildlife, surrounded by monkey calls and birdsong, but, for me, it was the guides who made the difference here.
One of my guides, Indika, came from a family of rangers and had been exploring national parks since he was a little boy. His remarkable knowledge was revered by his fellow guides. Arran, who also joined us in the jeep, was particularly engaging — with a British mother, he grew up in Surrey, moving back to Sri Lanka to train as a guide.
Leopard Trails has a relationship with national parks in South Africa and my guides were due to fly out on an exchange partnership to learn from South African rangers.
Anuradhapura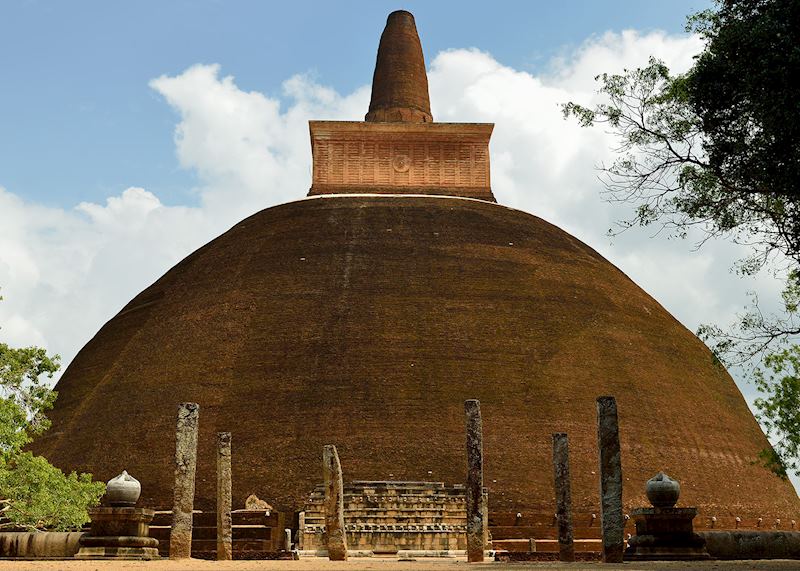 On the main highway through Anuradhapura you often see a line of coaches, whose passengers have disembarked for a quick look-around before driving onward. This once-capital of Sri Lanka is older than the Angkor Wat complex in Cambodia and larger than Thailand's Ayutthaya, but it tends to get overlooked. Many of its buildings are in ruins and, as the remains are scattered over 7,000 sq km (2,702 sq miles), you need a decent amount of time to explore fully: but it's worth it.
The city of Anuradhapura was created by King Pandukabhaya in about 500 BC and quickly became one of the largest cities in Asia. It was continuously inhabited until the 11th century, when power moved to Sri Lanka's second capital, Polonnaruwa. My guide, Terence, and I hopped between the dagobas (dome-shaped temples) and crumbling monasteries by car, but you can also hire bicycles (it's too large to explore on foot).
As the site was inhabited for more than 1,000 years, its mix of architecture catalogues the stylistic and innovative developments across Sri Lanka. It's thought that the world's first hospital was built here, as well as dagobas so monumental that only the pyramids at Giza were larger. The ruined structures still reflect the skills of the civilisation that once lived here — at their entrances you often spot an elaborately carved semicircle of stone, known as a moonstone, which represents Samsara (the cycle of life and death).
Many of the dagobas have been well cared for and are still sacred to the Buddhist faith, which I think is the main appeal of Anuradhapura: it's still an active site of worship. While you're exploring you'll happen upon vibrant blessing ceremonies, bright floral offerings and families picnicking in the temple gardens.
Where to stay near Anuradhapura
Outside Sri Lanka's Cultural Triangle the choice of places to stay reduces. Luckily, Ulagalla was a joy. Twenty private villas have been set around a 150-year-old mansion, each with a plunge pool and views across the surrounding paddy fields. Linger here a few days and you can cycle through the local village and take a guided nature walks.
Jaffna
Ethnic tensions between the Sinhalese majority and the Tamil minority led to a civil war that raged for more than 25 years. Jaffna, the headquarters of the Liberation Tigers of Tamil Eelam, or LTTE (also known as the Tamil Tigers), bore the brunt of the struggle, and while the conflict is now over, the recovery process is ongoing.
Don't let that put you off, for three reasons. Firstly, in a region struggling to right itself, any money you spend here drives a stagnant economy. Secondly, it has a culture all of its own. And, thirdly, it's one of the last few regions of Sri Lanka where you might be one of the only visitors.
As my chauffeur-guide and I drove north to Jaffna, the landscape began to flatten out, the vegetation changing from tall coconut plantations to squat, leafy-green tobacco farms. A few civil war monuments mark the way, the most significant of which is at Elephant Pass. Look past the main, grandest monument and you'll see the makeshift tank that Gamini Kularatne, a soldier of the Sri Lankan army, jumped into clutching two hand grenades. This act blew up the tank, stopping LTTE from barraging their way into Elephant Pass Army Garrison. A short film plays at regular intervals at an information point nearby that shows the battle in more detail.

Reaching Jaffna, we were joined by another guide, Mohan. Terence stayed on as a driver, but like most Sri Lankan guides, he'd never had the chance to get to know Jaffna. As Mohan was Tamil and Terrence Sinhalese, English was their common language and I could listen to them comparing their experiences on different sides of the conflict.
Our first stop was Jaffna Fort, a Dutch complex of thick grey-stone walls. You can walk across the wide, flat tops of the battlements, which drop down to the murky waters of a moat. Thanks to Dutch funding, the civil war stronghold is slowly being restored but a lot of rubble and ruined buildings remain.
We paused to look at Jaffna Library. A photograph of its burned-out shell was printed in newspapers the world over after an angry throng set it alight during the war; it was one of the biggest libraries in Asia. It's now been restored and stands proudly behind manicured gardens and neatly trimmed topiary. You can also visit it at certain times.
Mohan was also eager to take me to Nallur, a Hindu temple, to see something more vibrant. There, we followed a stream of people inside, the women clad in fuchsia, turquoise and yellow saris, the men wearing just trousers (they remove their tops as a sign of respect). A prayer ceremony was about to start, and Mohan invited me to join him as he performed his puja (worship).
Music flooded the temple and a thunderous drumming announced the start of the ceremony. Each statue within the temple must be visited in a specific order, the worshipper lighting incense and candles every time. It's a dynamic experience as everyone rushes to visit each god before the ceremony ends. Afterwards, you can explore the temple at a less frenetic pace, admiring the detailed murals and the figurines that adorn every available surface. The ceremony occurs regularly throughout the day.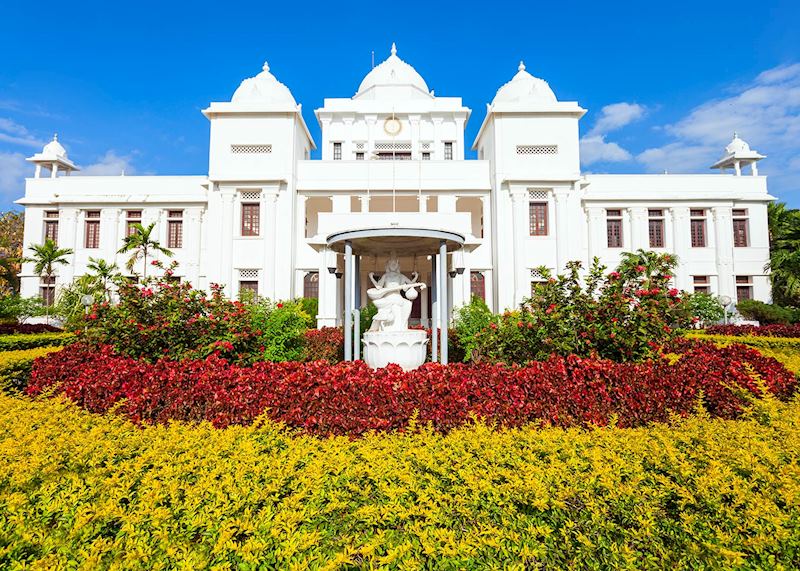 Kayts village
The Jaffna Peninsula is tipped with a cluster of low-lying island and islets. Velanai Island, known more frequently as Kyats Island after its main village, is connected to the mainland by a peninsular road.
The sea here is shallow and, as we drove along the causeway from the mainland, we could see flamingos dunking their beaks into the water to feed. You can birdwatch along the coast, where waders, ducks and other migrant birds come to feed.
I spent the day (there are no hotels on the island) wandering the streets, which are lined with weathered Dutch-colonial mansions. During the war many Tamil families fled, the majority moving to India or Canada, never to return and leaving their homes to crumble. A bright-blue house with creepers emerging through the windowpanes stood next door to a well-kept turquoise family home.
The community is being rebuilt, and in-between the ruins are vibrantly painted toddy bars, multi-hued Hindu Temples and bright-yellow churches.
Where to stay in Jaffna
The accommodation options in Jaffna are limited but I suggest the newly opened Jetwing Jaffna. It's an angular concrete block on the skyline, but it was clean and very comfortable. From the rooftop bar you can see across the Jaffna Peninsula and I'd argue that the restaurant, with a menu of fresh fish and a fiery red crab curry, is the best in town.
Onward from Jaffna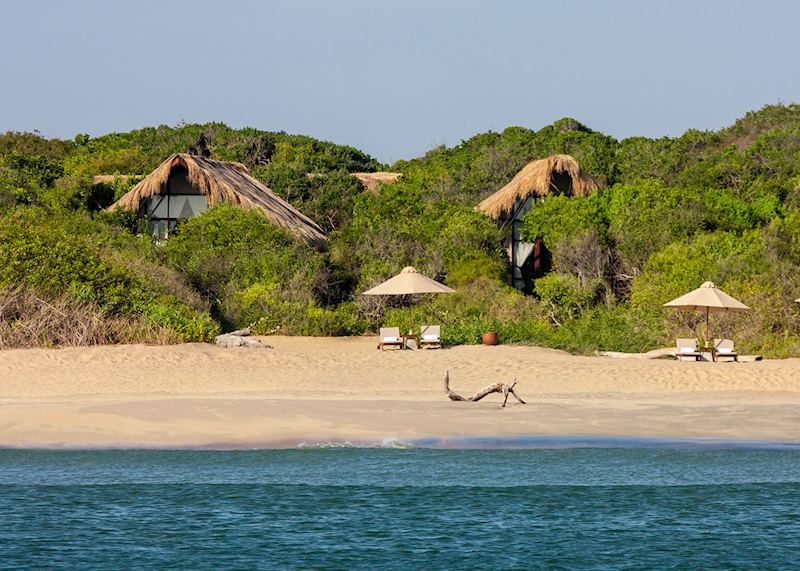 At Jaffna Central Railway Station, you can now catch the Queen of Jaffna to travel 400 km (250 miles) straight back south to Colombo. The railway tracks were damaged during the war, but in 2014, 24 years after it had stopped running, the line reopened with joint celebrations in Jaffna and Colombo. This comfortable six-hour train journey is hoped to give Jaffna the economic boost it needs to continue rebuilding.
Sri Lanka's northern coast
From Jaffna you're also well-placed to journey to Sri Lanka's northeast coast.
About four hours' drive south of Jaffna, the city of Trincomalee curves around one of the largest natural ports in the world. Fort Frederick presides over the city, where the Sri Lankan military stand guard near monks from the Gokarna Temple, which the fort was built around. Visitors are welcome, and you can admire the coastline stretching out below.
North of the city, the coastline becomes more rural and eventually turns into long stretches of jungle-flanked beach. I stayed here at the aptly named Jungle Beach. Each wooden cabin is so well hidden that, from the beach, it's hard to make out any signs of a hotel at all. This is a beach stay for those who get restless: I filled my days with snorkelling, whale watching and cycling.
A six-hour drive from Jaffna will bring you to Passikudah. After the long drive, on relatively new, flat roads, you're rewarded with some of the finest, longest beaches in Sri Lanka. In a county with relatively rough, exposed waters (there's nothing south of Sri Lanka until you reach Antarctica), the sea here is defiantly placid.
Passikudah is best for long, languid days on the beach or lazing by the pool. Uga Bay is an elegant 46-room resort built with the teak beams and clean lines of traditional Sri Lankan architecture in mind. Next door is Maalu Maalu, a more family-orientated hotel themed around a waadiya (a traditional fishing village).
Start planning your trip to Sri Lanka

Start thinking about your experience. These itineraries are simply suggestions for how you could enjoy some of the same experiences as our specialists. They're just for inspiration, because your trip will be created around your particular tastes.
View All Tours in Sri Lanka