No matter how many times you have seen Petra on television or in film, nothing prepares you for the first time that you exit the tiny cleft of the Siq (the narrow canyon leading into the city) and are confronted by the Treasury Tomb.
Built by the Nabateans, who grew rich through their control of the frankincense trade routes through Arabia, Petra fell into obscurity about a thousand years ago, while its existence and location were kept a closely guarded secret by the local Bedouin.
In 1812, Johann Ludwig Burckhardt tricked his way into the site, and almost immediately tourists began to follow, in large numbers. Fortunately, even the largest crowds disappear in this vast site.
Start planning your trip to Petra
---
Start thinking about your experience. These itineraries are simply suggestions for how you could enjoy some of the same experiences as our specialists. They're just for inspiration, because your trip will be created around your particular tastes.
How long will I need to see the sights of Petra?
We would recommend at least two full days (and a three night stay), to give you enough time to see the central areas of the site and also explore some of the more remote areas such as the Monastery, the High Place of Sacrifice and Aaron's Tomb.
Petra Archaeological Park is spread over 102 square miles, so there is a fair amount of walking to be done and you will need to pack sturdy walking shoes and take plenty of water with you.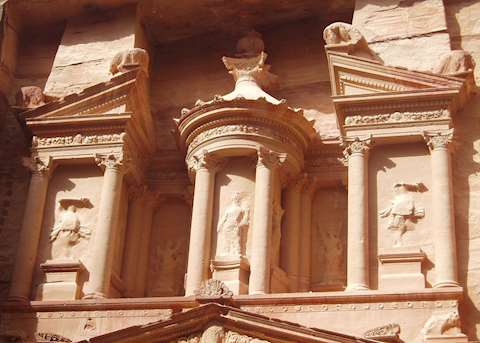 The Treasury, Petra
Petra, Jordan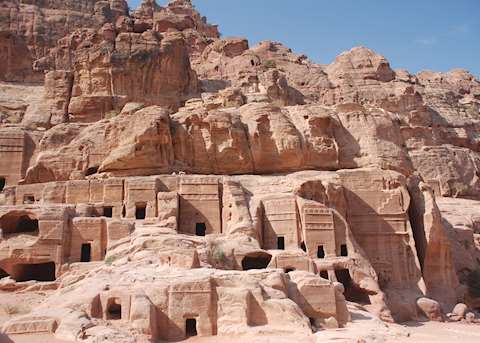 Petra, Jordan
What's the best way to enter Petra?
On your first day we'd recommend entering Petra through the Siq. This will bring you to the Treasury and from there you can continue along the central route, taking you past the Roman theatre, the Silk Tombs and the ruins of colonnades and shops.
On your second day you may wish to explore an alternative route in Petra. One option is to trek from Little Petra, meaning you will arrive in the site from a totally different direction and avoid the crowds.
Speak to your guide if you wish to use one of these alternative routes into Petra and take a good map of the site with you.
Where to stay in Petra
As the closest hotel to the site of Petra, Petra Guest House Hotel offers an excellent location and a touch of charm that can be lacking from other hotels in the area.
The Petra Marriott is a good option for a quieter stay and a base from which to see the famous Rose City.
Opposite the entrance to the Petra Visitor Centre, the Movenpick Resort Petra offers a comfortable stay and a convenient location for visiting Jordan's most famous tourist attraction.