The best times to visit Jordan are spring (March to May) or fall (September to November). The days are warm, with temperatures between 61°F and 99°F, but the nights are cool. It's not too hot for exploring sites or hiking in the nature reserves, where flora and fauna are abundant.
It's very hot in summer (June to August), with temperatures of up to 102°F. In contrast, Jordan often experiences snow in winter (December to February) and the nights get very cold, especially in the desert regions. Most of the rain falls at this time, in short, sharp showers.
Creating tailor-made tours for over 25 years

Excellent
TrustScore

4.7 | 3345 reviews

Month-by-month guide for traveling in Jordan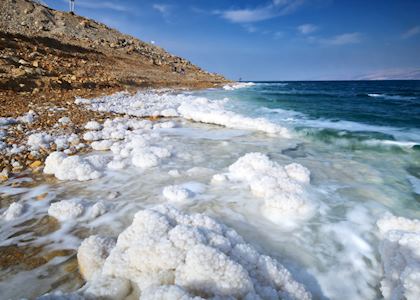 Visiting Jordan in January - February
The winter months in Jordan are very cold: Amman is typically assailed by biting winds, while Petra experiences snowfall and temperatures hovering a few degrees below freezing. Around Aqaba and the Dead Sea the climate is warmer and more pleasant. January is also the wettest month of the year.
Events & Festivals
Aqaba Traditional Arts Festival: This celebrates the culture of the Bedouin people, and is a showcase of local traditional arts and crafts in the city of Aqaba.
Visiting Jordan in March
In March the country emerges from the chilly temperatures of winter, and the rainiest time of year is over. As this is only the start of spring the sites are still relatively quiet. However, nights in the desert can be quite cold still.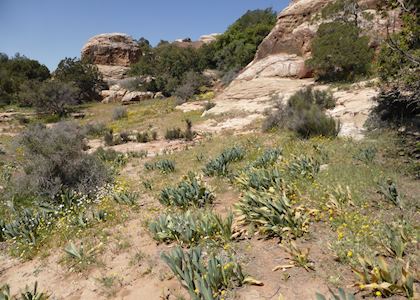 Visiting Jordan in April - May
Wildflowers coat the valleys and even the desert from April through to early June, creating a kaleidoscope of color across the country. Temperatures are warm but not too hot and, thanks to winter's rain, the valleys and forests are lush. This is one of the most popular times to visit Jordan.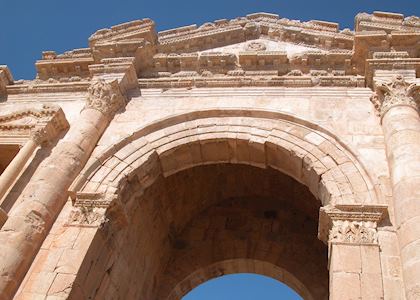 Visiting Jordan in June - August
The heat increases over the summer months from June to August, so if you plan on visiting during this time we advise taking lots of water and finding shade often. However, this is dry heat rather than being humid, so if you don't mind the high temperatures it can still be comfortable. As this is the low season, hotels tend to decrease their rates accordingly.
Events & Festivals
Jerash Festival: A celebration of Jordanian arts, culture, literature, food, and music. This is a large and lively event, and often includes optional seminars and workshops in addition to the main celebrations taking place in Jerash.
The dark skies of the desert: At this time of year, the skies provide the perfect canvas for watching the Perseid meteor shower, which occurs annually, and can bee seen in Wadi Rum.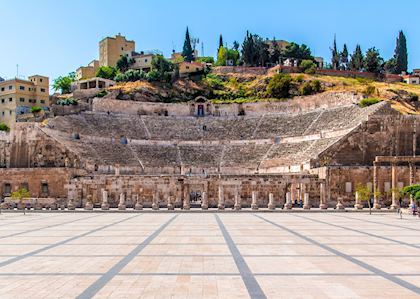 Visiting Jordan in September
Although still a summer month, toward the end of September temperatures do start to cool off slightly.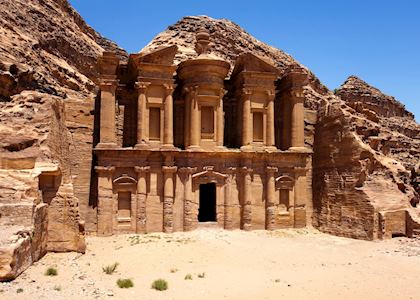 Visiting Jordan in October - November
Fall isn't always a particularly distinct season in Jordan, although it falls roughly from the end of September through to the end of November. Temperatures have cooled from the heat of summer but are not yet into the depths of the winter chill, and there is often a bit of rain around mid-October which provides sustenance to the ground after a dry few months, creating green landscapes once again. This is a very pleasant time to visit Jordan.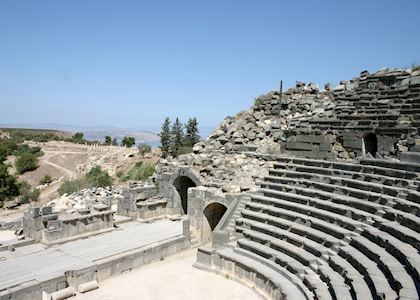 Visiting Jordan in December
December is the start of the winter season in Jordan, with temperatures plummeting and rain and snow often falling throughout the country. However, this is a quiet time to visit, so sites may be empty.
Jordan Climate Guide
Destination
Jan
Feb
Mar
Apr
May
Jun
Jul
Aug
Sep
Oct
Nov
Dec
Amman

54°F

3"

55°F

3"

61°F

2"

72°F

1"

81°F

0"

86°F

0"

88°F

0"

90°F

0"

86°F

0"

81°F

0"

68°F

1"

57°F

3"

Aqaba

68°F

0"

72°F

0"

77°F

0"

84°F

0"

93°F

0"

99°F

0"

100°F

0"

100°F

0"

95°F

0"

90°F

0"

79°F

0"

70°F

0"

Petra

55°F

1"

59°F

1"

64°F

1"

72°F

0"

81°F

0"

86°F

0"

102°F

0"

88°F

0"

84°F

0"

79°F

0"

68°F

1"

59°F

1"

The Dead Sea

68°F

1"

72°F

1"

79°F

1"

88°F

0"

95°F

0"

100°F

0"

102°F

0"

102°F

0"

99°F

0"

93°F

0"

84°F

1"

72°F

1"

Wadi Rum

57°F

1"

63°F

0"

68°F

1"

75°F

0"

84°F

0"

90°F

0"

93°F

0"

91°F

0"

90°F

0"

82°F

0"

68°F

0"

59°F

0"
Why travel with Audley?
100% tailor-made tours
Fully protected travel
Established for over 25 years
98% of our clients would recommend us
Request our brochure
Covering all seven continents, The world your way shows you how you can see the world with us. It features trip ideas from our specialists alongside hand-picked stays and experiences, and introduces our approach to creating meaningful travel experiences.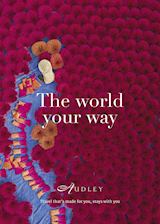 Trip ideas and travel guides for exploring Jordan