Ever since I was a little girl I had a dream of going to Australia. My parents had been there on their honeymoon and I idolised their photos of koala bears and snorkelling trips to the Great Barrier Reef.
Throughout the years I became even more invested in the country's 60,000 plus years of Aboriginal history, its beautiful terrestrial and marine life and surf culture. When I finally landed in Sydney in February 2020 for a semester abroad — although I had never been so far away from "home" — I felt so close to it at the same time. Although that particular experience was cut short due to COVID-19, I was lucky enough to return for three months at the end of 2022 and again in 2023.
It was these trips that reaffirmed my love for the country and allowed me to explore the incredible coastlines, rainforests and Red Centre.
Speak to Emily

Start planning your trip to Australia with Emily
01993 838 800
Q&A with Emily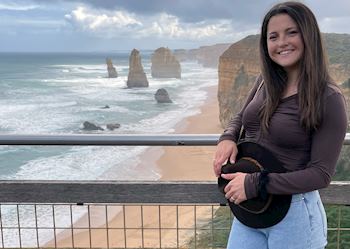 What's your most vivid travel moment?
The day I spent driving the Great Ocean Road was one of the most memorable days of my life. I had been feeling a bit run down in Sydney the day prior, but was excited for the opportunity to finally drive the famous coastline from Melbourne to Port Fairy, even more so thanks to my recent obsession with surfing and Bell's Beach in Torquay being regarded as the 'Colosseum' of professional surfing. When we arrived in Torquay, which is also the Road's official startline, I was overcome with the most excitement and joy I had felt in a very long time. After a delicious lunch in town we proceeded to Bell's. I could've stayed on the cliff and watched the surfers all day but thank goodness I didn't because the next two hours of winding road ahead were full of the most picturesque coastlines bathed in golden afternoon sun. Despite it being autumn, upon arrival in Apollo Bay I went for a refreshing dip in the ocean. The whole day was bliss.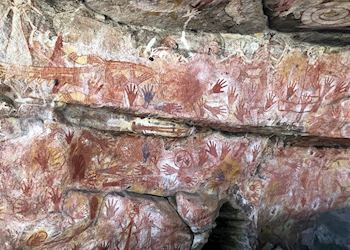 Which book, film or artwork captures Australia the most?
"First Australians" is a 2008 documentary short series produced by Blackfella Films. Coming from an anthropology background I believe it's important to be a culturally responsible traveller. This film fascinates viewers with indigenous history and stories of the pivotal "Dreamtime," and contemplates the arrival of British Colonial forces in the 18th century and their impact on contemporary Australian society. When I began my semester abroad in 2020, a professor of Aboriginal Australian studies had the class watch this film; I am incredibly grateful for the knowledge and curiosity it gave me to better understand the place I was in.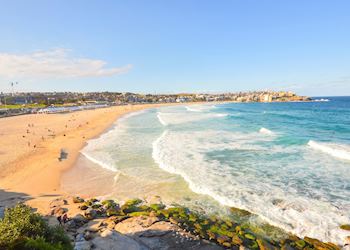 Your best piece of travel advice?
My best advice for a trip to Australia is two-fold. The first tip is no matter where you are/where you're going, bring a swimsuit. There is almost always a river, ocean or rock pool to jump in that will offer sweet refreshment from the heat. Secondly, give it time. As most people know, making the trip to Australia takes quite a lot of time and effort, so once you're there make sure you have plenty of time to settle in and soak up every bit of your itinerary. Australia is an extremely large country with so much to offer and explore.