This slither of land between North and South America packs in incredible diversity. To celebrate the launch of our new brochure to the region, our specialists give you the low-down to help you plan your adventure.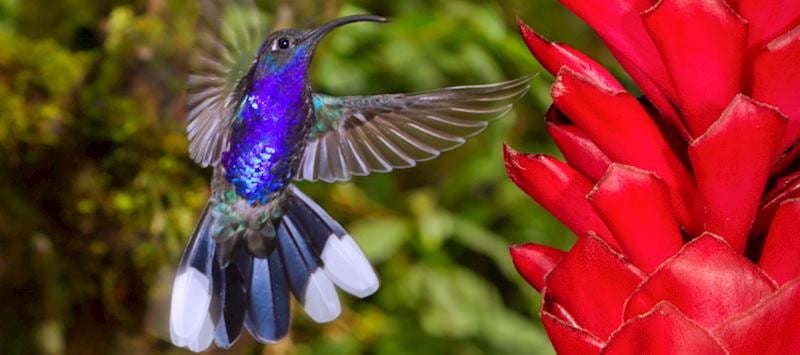 The Region
Time zone: GMT -4 (Cuba); -5 (Central American isthmus)
Flight time from the UK: 10 hours +
When to go: Expect it to be hot most of the time, with rain possible throughout the year. The majority of regions benefit from a dry season between November and April. The Caribbean coasts of most countries can be exposed to hurricanes between July and October.
In brief: Interconnected yet diverse, the region is a cultural and historical melting pot. Colonial cities give way to tropical forests and azure waters teeming with life, while you can expect to see ancient cities from fallen civilisations and experience a vast array of cuisines. But no matter where you are, you can be sure of a warm welcome.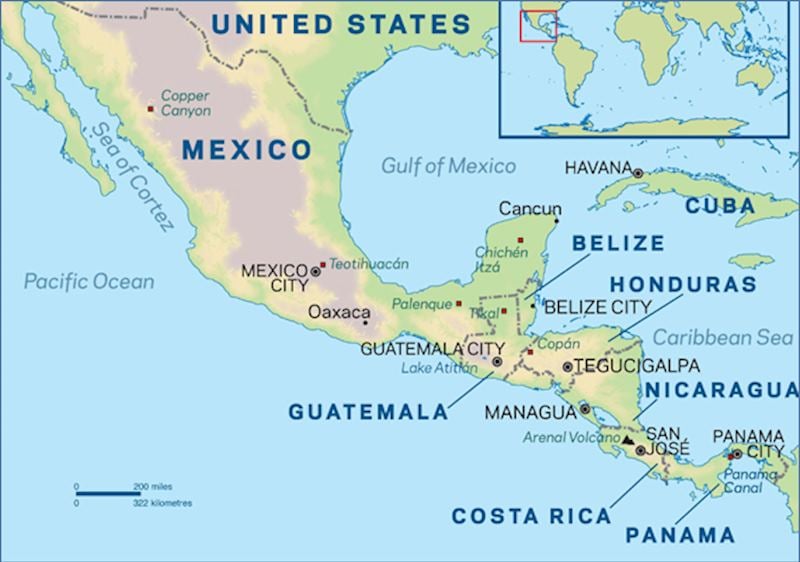 We Recommend
1. Cuba
With each visit we make to the only communist nation in the West we see changes. While Castro's legacy and the crumbling buildings will remain, there are glimpses of 'outside' technology coming to the island.
2. Costa Rica
Visit some of the 26 national parks in Costa Rica. Whether it is prolific birdlife in the cloudforests, or monkeys, tapirs, sloths and other mammals, this is the region's wildlife hotspot.
3. Mexico
Travel the route of the Toltecs, Zapotecs, Aztecs and Maya through Mexico. Visit ancient cities to see how these civilisations would have lived. End with some time on a pristine beach on the Mayan Riviera.
4. Guatemala and Belize
Enjoy the pretty colonial towns of Guatemala and hop over to neighbouring Belize for time on a beautiful Caribbean beach.
5. Panama and Nicaragua
Try something new. Panama and Nicaragua are learning from neighbouring Costa Rica and are not only excellent destinations within their own right, but less visited too.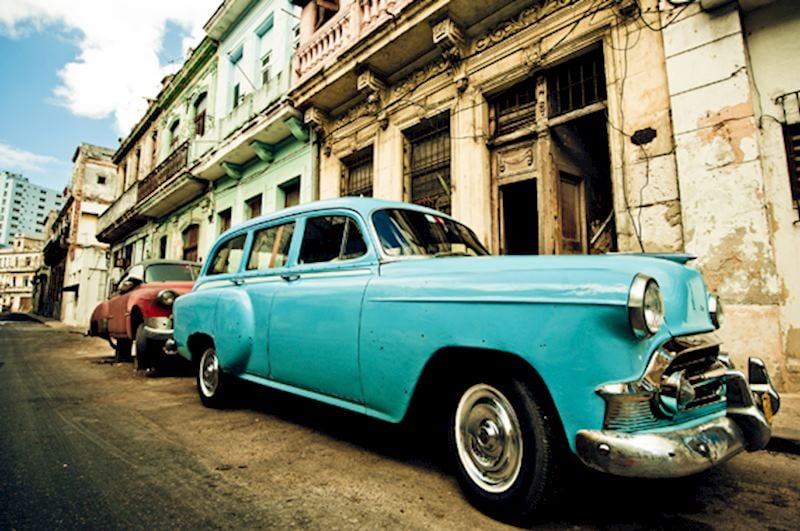 Cuba
Cuba is a country that stands on the cusp of change, says Anna.
In a nutshell
Just touching distance from the USA but a world away from its geographical neighbour, Cuba is a living, breathing case study of the triumphs (and failures) of communism. Crumbling colonial buildings stand next to Soviet tower blocks, and 1950s Cadillacs share the streets with boxy Ladas, as well as horses towing carts. Aside from its history, visitors come to sample the world-famous cigars and rum, vibrant music scene, stunning countryside and picture-perfect Caribbean beaches.
What's new
Since Fidel Castro took power in the revolution over 50 years ago, Cuba has struggled under the US trade embargo, the collapse of the Soviet Union and the global economic crisis. However, Fidel and his brother Raul are well into their 80s and nobody is really sure what will happen when they're gone. Now really is the time to visit before it changes beyond recognition.
Favourite experience
My ideal afternoon would be a stroll along the Malecón, Havana's famous sea wall where locals gather to go fishing, spend time with friends or play chicken with the occasional crashing wave! I'd spend the evening listening to live music accompanied by a mojito or two!
Belize
This small country punches well above its weight, says Rebecca.
In a nutshell
Small but perfectly formed Belize is a veritable melting pot with strong Maya, Creole and Garifuna influences. Rarely can you get from reef to rainforest in such a short and easy hop! It offers more than just excellent snorkelling and a wide variety of jungle-based activities; you might fancy discovering some of its little-known Maya sites or even a spot of caving!
What's new
Why not visit Belize in December 2012 — when the Maya predict that the world is going to end! Visiting Caracol, Lamanai or even little-known sites such as Lubaantun and Nim Li Punit in the far south promises to be all the more interesting this year. There are various mystical and celebratory events going on, minus the crowds of the better-known Maya sites in Mexico.
Favourite experience
Snorkelling in the pristine turquoise waters at Hol Chan Marine Reserve off Ambergris Caye. It was so peaceful and relaxing; spotting green turtles, sting rays, nurse sharks and barracudas.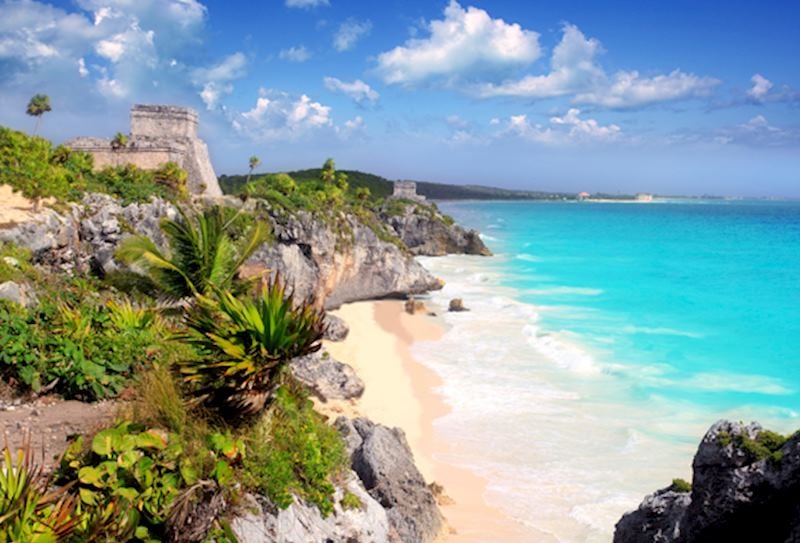 Mexico
A rich history makes this country fascinating, says Lizzie.
In a nutshell
Over eight times the size of the UK, Mexico's a vast, diverse country. The rich colonial history combined with the easily accessible archaeological sites (whether you're interested in Toltecs, Aztecs, Zapotecs or Maya) mean that this is the perfect place to mix culture with relaxation.
What's new
Mexico has a fantastic network of public coaches, and the very comfortable first class ones are an excellent value way to cover some of the long distances, cutting down on domestic flights and giving you a chance to enjoy the country's impressive landscapes.
Favourite experience
In the small Maya village of San Juan Chamula, the local communities still practice indigenous rituals in the Catholic church. Here, flickering candles cover the floor, filling the church with a smoky haze, while curanderos (medicine men) prescribe traditional remedies for a variety of ills.
Guatemala
Great markets and amazing wildlife are just two of the attractions for Richard.
In a nutshell
Guatemala is arguably the most colourful and culturally proud country in Central America. Exploring the market towns of Chichicastenango or Comalapa where locals wear traditional dress is a great experience. As are the jungleclad Maya sites of Tikal and Yaxhá, the charming colonial town of Antigua or the breathtaking volcano-rimmed Lake Atitlán.
What's new
In central Guatemala the cloudforests and limestone karst mountains are still under-visited. Nearby the Biotope del Quetzal Reserve is the country's best spot for birdwatching.
Favourite experience
I will never forget the Day of the Dead festival in Todos Santos. Hundreds of traditionally dressed locals took part in the annual horse race. Each rider rode up and down a half-mile course, swigging home brew at the end of each lap. The last man riding was crowned the race winner.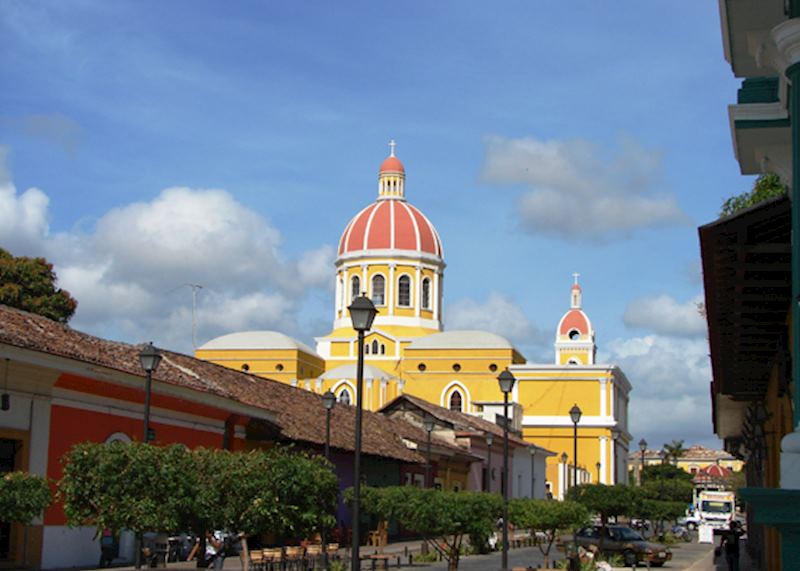 Nicaragua
Volcanoes, vibrant cities and great beach hideaways capture Nick's imagination.
In a nutshell
Development is progressing at a pleasantly slow rate. Smouldering volcanoes provide a stunning backdrop to the vibrant cities of Granada and León, while the cool climate around Matagalpa provides the ideal conditions for producing some of the region's best coffee. Along the Pacific coast, rainforest meets white-sand beaches making it perfect for a few days' relaxation.
What's new
Morgan's Rock Ecolodge is a long-term Audley favourite property on the Pacific. Further along the coast the Aqua Wellness Resort has recently opened with a greater focus on wellbeing with a beautiful spa, yoga classes and organic food.
Favourite experience
Listening to the sound of the forest from the open-sided bungalows, relaxing in the infinity pool overlooking the Pacific — my time at Morgan's Rock is one of my best memories of Nicaragua!
Costa Rica
If you're a fan of wild cats or wild water, this is the place for you, says Sarah.
In a nutshell
Costa Rica certainly packs a punch when it comes to wildlife and landscapes. Luxuriant rainforests, teeming with colourful miles of windswept beaches. For the adventurous, Costa Rica is home to countless canopy zip lines, world-class white-water rafting and surfing.
What's new
Whilst still rare to spot wild cats in Costa Rica, sightings of puma and jaguar in the Osa Peninsula appear to be up this year. See for yourself at one of our favourite lodges, El Remanso, where they have even sighted puma near to the lodge. Excitingly, jaguars have been spotted for the first time in Piedras Blancas NP.
Favourite experience
Sitting atop an inflatable dinghy, facing the roaring white water of Costa Rica's Pacuare River I found myself wondering what I had let myself in for — but it was a genuinely exhilarating experience.
And Finally...
We explore the Central America programme's two remaining countries.
Panama
Famous for the awe-inspiring canal, Panama will always draw visitors to witness this incredible feat of engineering first hand. However, more travellers are switching on to what else the country has to offer — pristine rainforest, exceptional birdwatching, cultural interaction with indigenous groups such as the Kuna and picture-perfect tropical islands.
Honduras
Most people venture into Honduras from neighbouring Guatemala to visit the impressive jungle-clad Maya site of Copán with its impressive ball courts and stelae (carved statues). Beyond this, the Bay Islands off the north coast rival Belize for some of the finest coral reefs and diving in the Caribbean.