Written by Toby
Africa Safari Specialist
Do you love all types of wildlife? Then there is never a bad month to visit the rainbow nation.
The rand-sterling exchange rate means South Africa is good value (and very popular) right now. Book early or travel off-season to secure the best choice.
January: Great for penguins in Cape Town
January is simply lovely in Cape Town. Days are long, warm and dry, and the lively Minstrel Carnival is in full flow. It's also an ideal time to visit Boulders Beach, home to around 2,000 African penguins. In January it's a hive of activity: juveniles are moulting, and adults are fattening up for breeding season. 'Avoid the crowded visitor centre and park down by Boulders Beach Lodge,' says South Africa specialist Toby Buckridge. 'From here you can access the swimming beach to take a dip with the penguins.'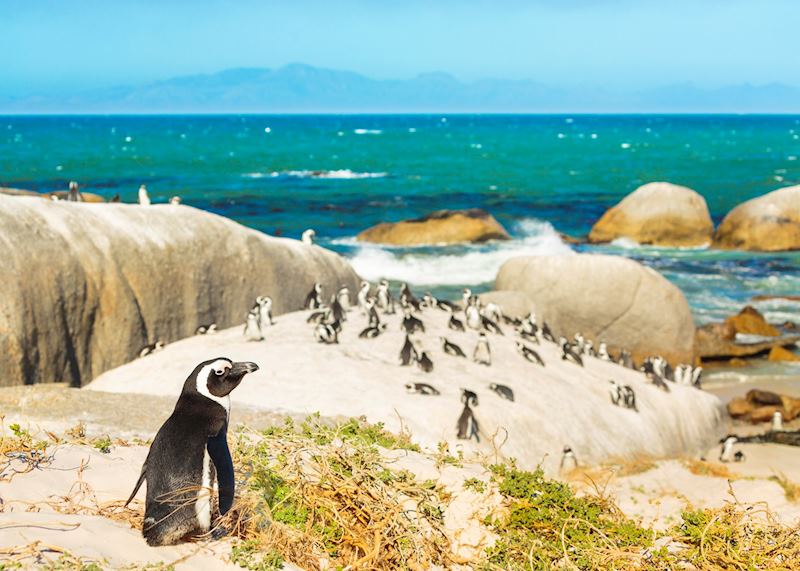 February: Great for birds in Tsitsikamma
South Africa's Garden Route, which runs from Mossel Bay to Storms River, is one of the world's great drives. Warm, sunny February is ideal for stopping at the beautiful bays, coastal towns and idyllic lodges en route. It's good for Tsitsikamma National Park, too — a chunk of ocean-hugging forest rich in hiking trails, flowering fynbos, marine wildlife and birds.
During the austral summer, migrant species further boost the bird count. 'The best way to see Tsitsikamma is to kayak from the ocean to the Storms River mouth,' says Toby. 'Then explore the river's upper shallows by lilo — here, the cliffs are draped with foliage, creating a cathedral-like stillness.'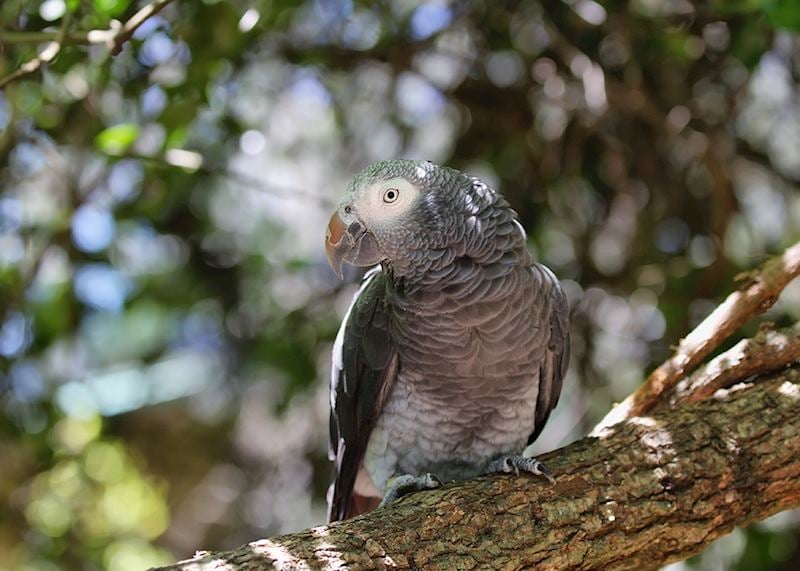 March: Great for lion in the Kalahari
The Kalahari is best avoided in scorching summer. Instead, visit between March and May, when temperatures are cooler but nights not too cold. 'This is also the best time to see wildlife,' adds Toby. 'It's the end of the rains in this arid region, and animals congregate around pools and rivers.
There are lots of newborns, which attract predators. And birdlife is abundant — it's a particularly good place to spot birds of prey.' Key animal species to look out for include the dark-maned Kalahari lion, cheetah, wild dog, leopard, gemsbok and meerkats.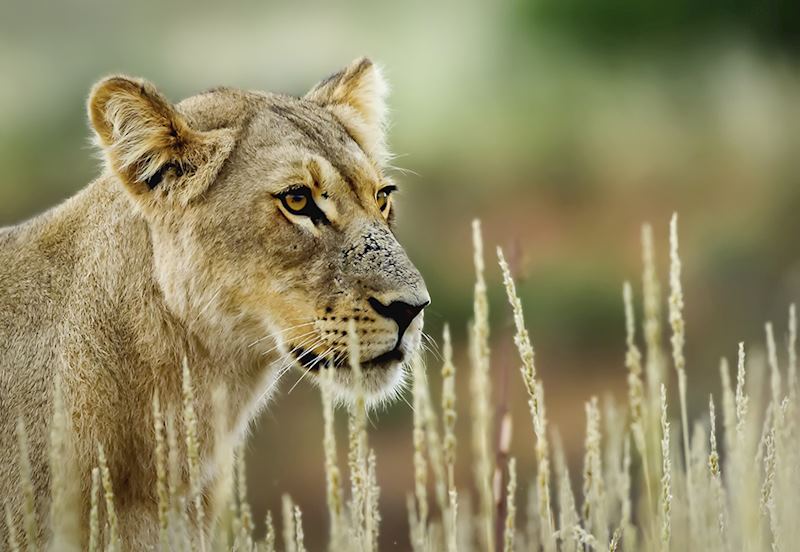 April: Great for malaria-free safaris in Madikwe
Madikwe Game Reserve, on the Botswana border, sees far fewer visitors than Kruger but you'll find all of the Big Five, as well as brown hyena, cheetah and wild dog — this is game-viewing at its finest. The drier months (April to October) are the best time to visit, when wildlife congregates around waterholes. Because Madikwe is malaria-free, it's a good option for families; there are lodges that offer excellent children's programmes with activities including Bug CSI and bush skills.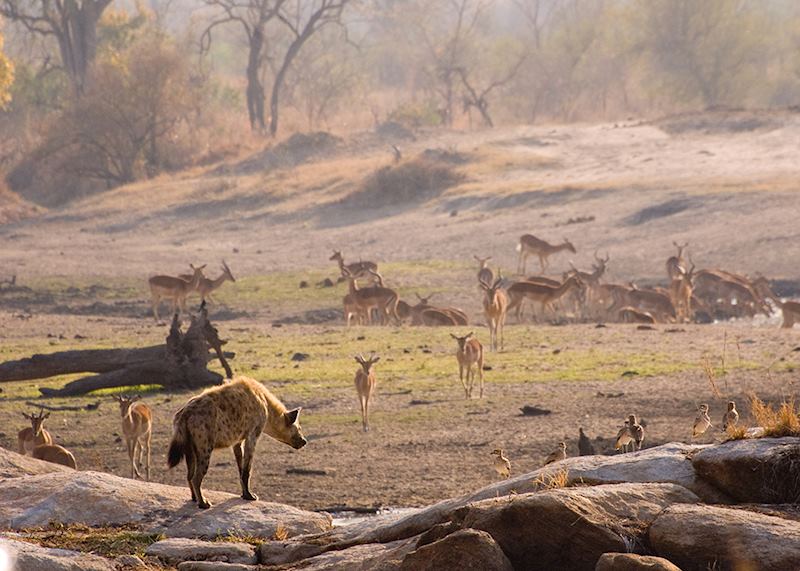 May: Great for elephants in Addo
Addo Elephant National Park is good year-round. But by May, the summer crowds have gone and the temperature is easing. The malaria-free park is home to hundreds of species, not least the 'Big Seven': the regular five (lion, leopard, buffalo, elephants, rhino) plus great white sharks and southern right whales (May to October).
You can choose whether to self-drive or join guided excursions. 'Hiring a car enables you to explore at your own pace,' says Toby. 'You'll have the flexibility of being able to stop as often and for as long as you wish, concentrating on the species you're most interested in.'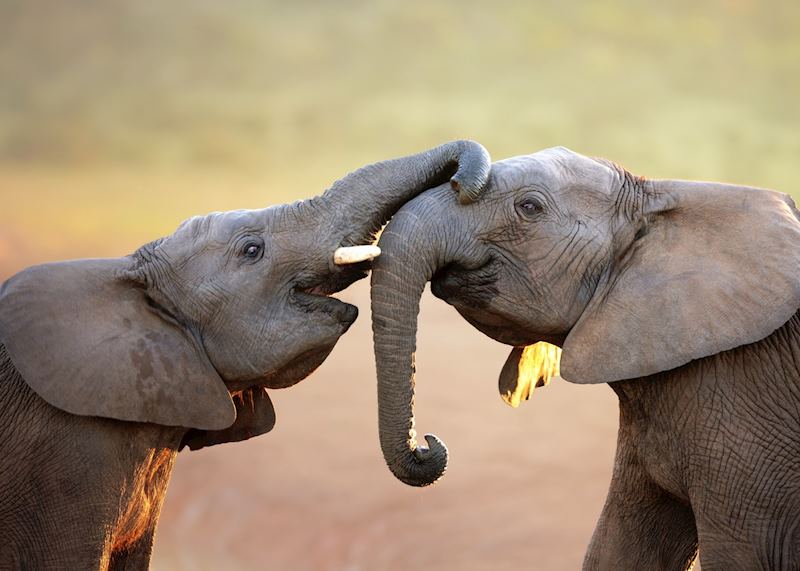 June: Great for everything in Kruger
Kruger is one of Africa's premier wildernesses. Some 147 species of mammals and 507 species of birds inhabit this vast area, which encompasses both the national park and a scattering of private game reserves. The wildlife gathers at water sources during the dry winter months (May to October), so this is prime time for ticking off the Big Five and more.
To get away from the peak season crowds, head to the park's lesser-visited north. 'It has a real wilderness feel,' says Toby. 'The relatively open terrain makes this great countryside for large herds of game, including elephants. You may also see rare antelope such as roan and sable.'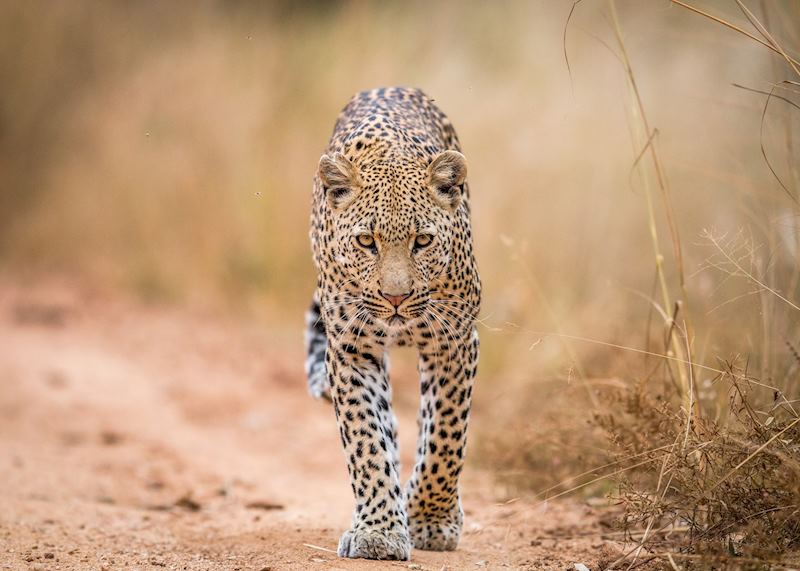 July: Great for great whites off the Western Cape
Mid-winter is a great time to sail out from the Western Cape town of Gansbaai, along a strip of ocean between Dyer Island and Geyser Rock known as 'Shark Alley'. As the water temperature dips, migratory fish depart, so only year-round species remain. This concentrates the feeding activity of great white sharks in a smaller area. The 60,000-strong colony of Cape fur seals on Dyer Island provides rich pickings; for this reason shark sightings tend to be particularly good in July, when freshly weaned seal pups are most vulnerable.
'As well as sharks, you may spot dolphins, whales and seabirds including albatross and shearwaters,' says Toby. 'The brave can also cage dive — this involves floating beside the boat in a tough steel cage. You don a mask and snorkel, and pull yourself down below the surface of the water for the ultimate shark close-up.'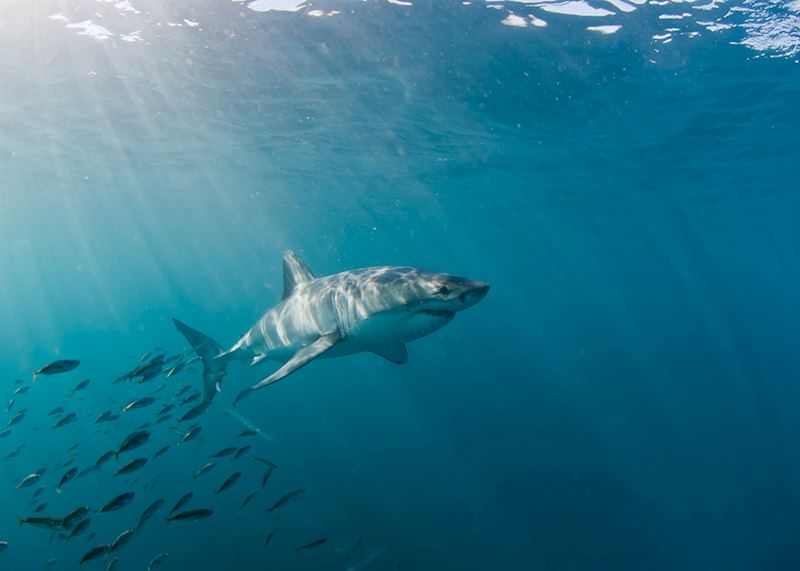 August: Great for rhino in Hluhluwe-iMfolozi
April to September brings dry, warm days and cooler nights to this huge, varied national park in KwaZulu-Natal. Encompassing dense forests, dry bushveld and sweeping savannah, it is one of the best places in the country in which to spot both black and white rhino, along with the rest of the Big Five.
'In the winter months the vegetation dies back, making game easier to spot,' says Toby. 'Set wilderness walking trails traverse the park, too, and guided walking safaris run from mid-March to December. You might see a little less wildlife than you would from a vehicle, but being on foot adds an extra frisson to any encounter.'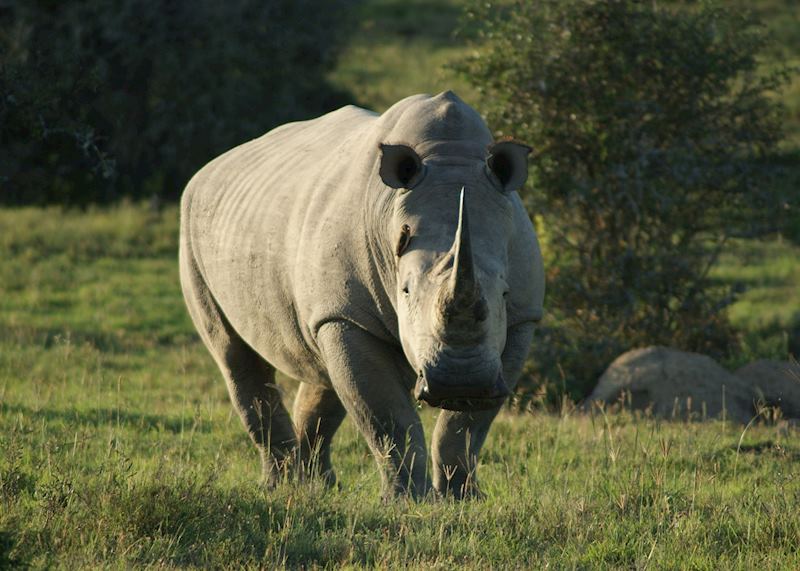 September: Great for wild flowers in the Western Cape
Wild wonders aren't all about wild animals. Come spring, South Africa's semi-desert Namaqualand region is transformed into a riot of colour, briefly carpeted in a vibrant sea of flowering fynbos and daisy species. Depending on the timing of the winter rainfall, the flowering usually occurs between early August and mid-September.
'Namaqualand is the most impressive region for the spring flowers,' says Toby, 'but you don't have to travel to such remote areas to see them. My first choice is West Coast National Park near Paternoster, only a couple of hours' drive from Cape Town. In particular, head to Postberg for the Postberg Flower Trail — a wonderful walk open for only a couple of months every year (August and September) during the flower season.'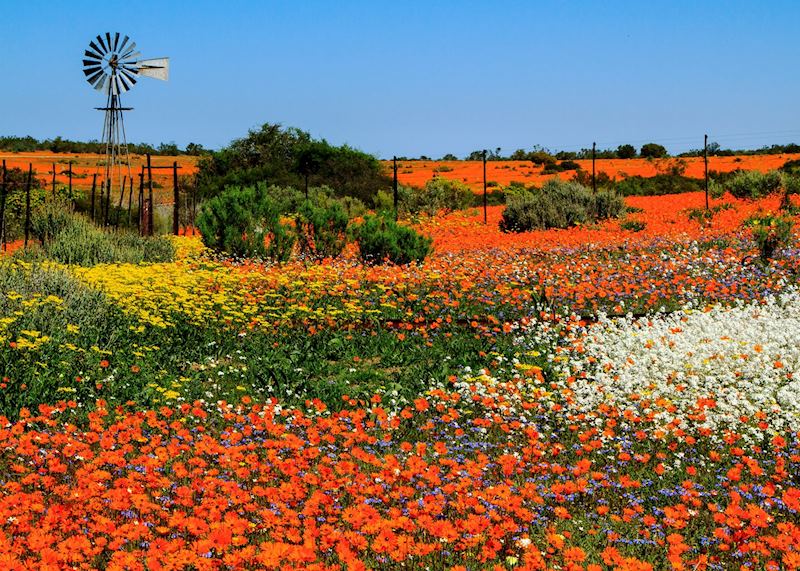 October: Great for southern right whales in Hermanus
Every year, hundreds of southern right whales migrate along South Africa's south coast. And every year, the small town of Hermanus celebrates their passage. The whales can usually be seen June to November, but numbers peak in September to October, which is when the annual Hermanus Whale Festival is held — a celebration of cetacean-spotting, food, music and eco-activities.
'The beauty of whale-watching here is that you can spot the creatures from dry land,' says Toby. 'The whales often come very close to the shore, and the long stretch of low cliffs around Hermanus provides an ideal vantage. I'll never forget the look of awe in my daughter's eyes the time we saw a mighty whale rise out of the ocean right in front of us.'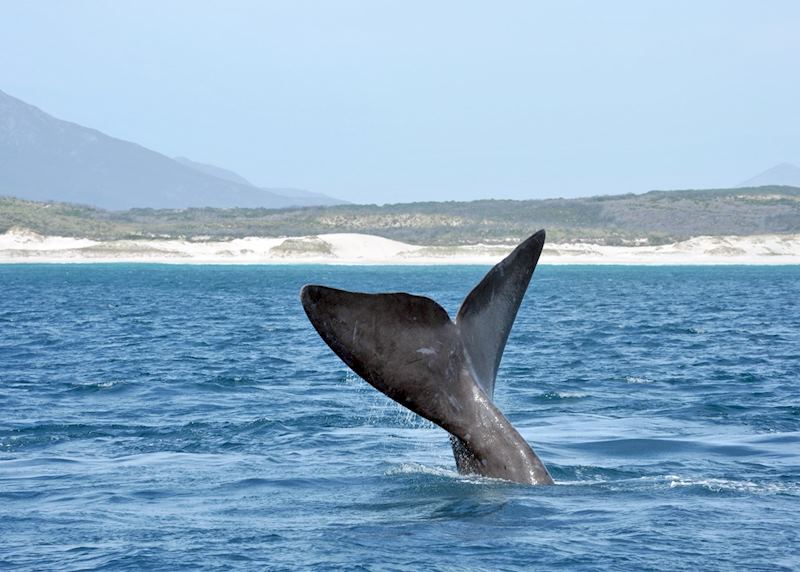 November: Great for turtles along the Elephant Coast
The Elephant Coast of KwaZulu-Natal is a watery wonderland, encompassing reefs, beaches, dunes, lakes, swamps and reed beds. Each season has its appeal. Winter (June to August) is driest, February to April is best for birds. In late spring, before the heat rises too much, increased rainfall leaves the landscape lush.
You might spot humpbacks, which pass by from June to November. And from October to December, hawksbill and loggerhead turtles arrive. 'Join a guided night-drive or walk across the beach to look for turtles digging nests,' says Toby. 'Also visit Lake Sibaya for hippo, crocodiles, flamingos and pelicans.'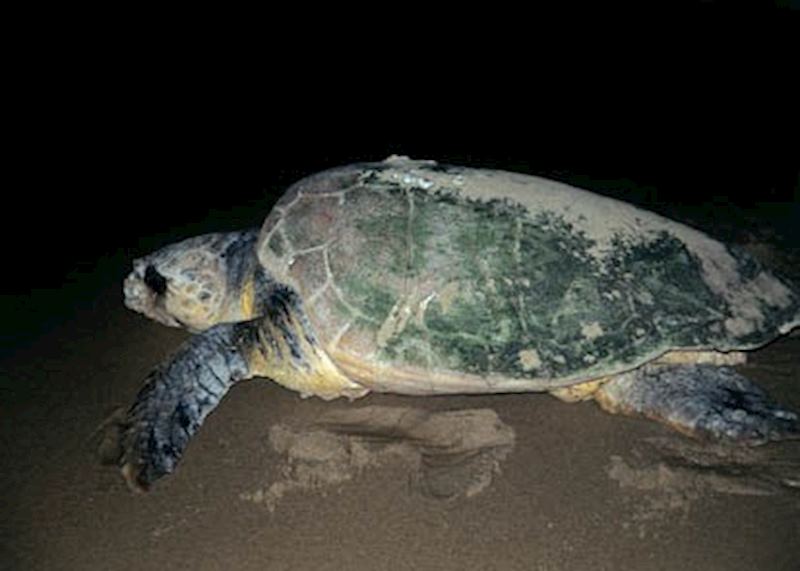 December: Great for drama in the Drakensberg
Late spring and early summer are a fine time to head into uKhahlamba-Drakensberg Park, dominated by spearlike peaks. The scenery here is striking, as can be the weather — summer afternoons may be enlivened by thunderstorms. But the warm temperatures and many hiking trails make it worth risking a possible shower. Also, the alpine wildlife is at its best.
Fresh from the wildflower flourish of spring, the slopes are still green, and the abundant birdlife (300 species have been recorded here) busy displaying in full breeding plumage. Resident mammals in the park include eland, baboons and small antelope.
Start planning your trip to South Africa

Start thinking about your experience. These itineraries are simply suggestions for how you could enjoy some of the same experiences as our specialists. They're just for inspiration, because your trip will be created around your particular tastes.
View All Tours in South Africa