Relishing street-food snacks, visiting Buddhist temples and standing on powder-white sand are rightly on every visitor's to-do list. Dig a little deeper, and you'll find Thailand has much more to offer.
Ride a brand-new train, cook with a celebrated Thai chef or trek through a national park by torchlight. Our Thailand specialists share their top hidden spots, as well as some new experiences that haven't made the guidebooks yet.
Cruise along the River Kwai
by Dan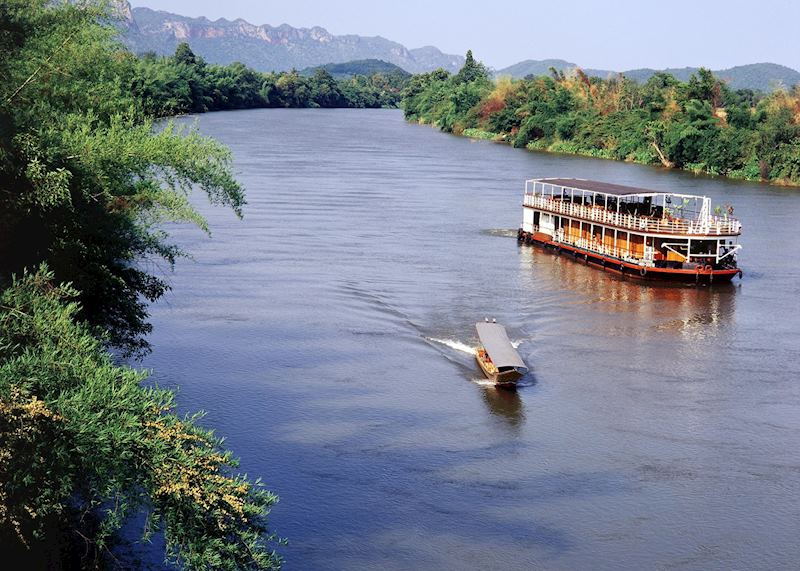 Once the highways of Thailand, the country's rivers and tributaries are still busy with ferries, barges, longtail boats and sampans (row boats). It's possible to follow in their wake, cruising many of the waterways and stopping off to explore towns, villages and historical sites along the way. I joined the RV River Kwai, which cruises through the province of Kanchanaburi.
The boat itself is a two-storey teak vessel, based on the original designs for the 19th-century Irrawaddy Flotilla Company fleet. The three-night itinerary is cleverly designed to take in the highlights of the region, including visits to Hellfire Pass and the bridge over the River Kwai, and a ride on the Death Railway. There's also time to explore lesser-visited sights including the needle-sharp stalactites of Kaeng Lawa Cave and the Khmer temples of Prasat Muang Sing.
While on board, I relaxed on the top deck. You're unlikely to see many other visitors pass by: this is the only cruise boat on the River Kwai. Instead, you can watch a steady flow of hand-pushed longtail boats, fish farms and limestone karsts on the horizon.
Explore from Bangkok without any flights
by Tom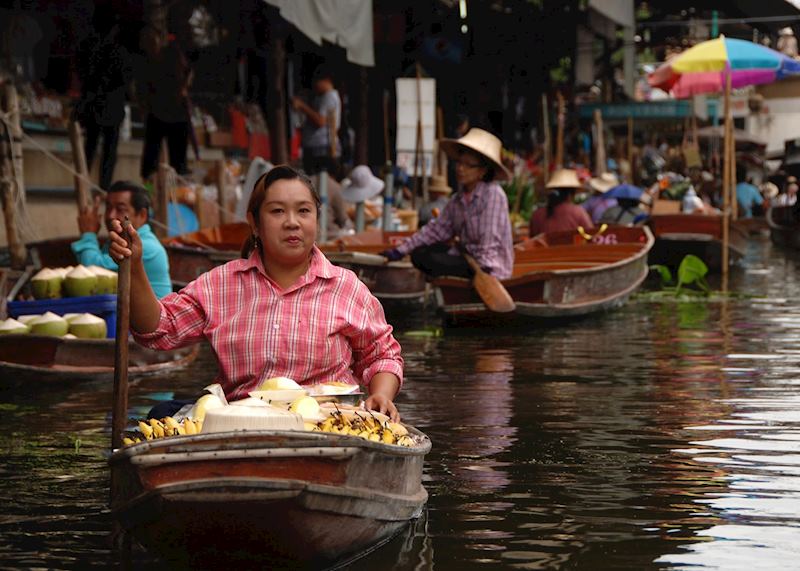 After taking an international flight into Bangkok, you can avoid any domestic flights with a little know-how and planning. I've tried and tested this 'flightless' approach to a Thailand trip and found it an ideal way to explore with my children. Bangkok works well as a base, within easy reach of a selection of temple sites, market towns and villages.
Kanchanaburi, a two and a half hour drive to the north of Bangkok, would be my first stop. The Bridge on the River Kwai was filmed here, 15 years after Allied prisoners of war and other slave workers built a bridge across the river for the Empire of Japan's Burma Railway.
It's a popular destination and to dodge the bustle I hiked a 2.5 km (1.5 mile) path to Hellfire Pass, a channel hand-cut by the prisoners with remnants of the rail tracks still in place.
Driving one and a half hours south from Bangkok will bring you to Amphawa's floating markets. I particularly enjoy getting around by boat here, mingling with the local people as they examine the range of vegetables and fruits before making a purchase.
Regardless of how long I spend in Thailand, I always try to end with a few nights on the beach. Koh Samet is a two and a half hour drive from Bangkok, followed by a picturesque 30-minute speedboat ride. Still undeveloped, the island makes a claim to the whitest sand beaches in the country. A small row of hotels occupies the island's west side, but I head to the Paradee Resort on Koh Samet's secluded east coast for a more tranquil escape.
Embrace local life on the country's railways
by Matthew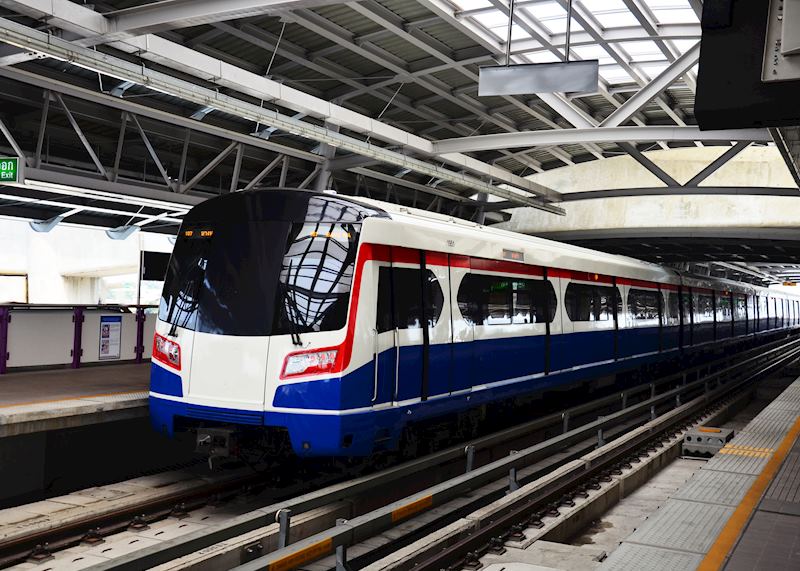 Taking advantage of the extensive train network is one of the best ways to travel in Thailand as far as I'm concerned. On journeys to date, I've sat next to families keen to share their snacks, businessmen intrigued by my travels and students wanting to try out their English.
I'm excited about a new fleet of trains running from Bangkok to Chiang Mai, which promise to make the journey far more comfortable. Refreshingly, these trains aren't aimed at tourists. Fares will be on par with older trains, so you'll still have the chance to meet a variety of people.
Each new train has a choice of first- or second-class sleeper compartments. I was also particularly pleased to hear that the trains will be fully wheelchair accessible — a first for Thailand.
Cycle around the temples of Sukhothai
by Charlotte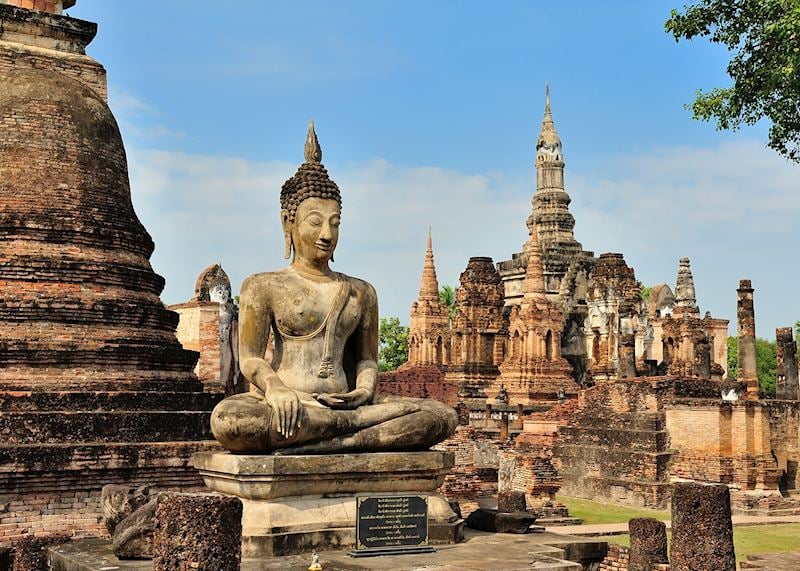 I particularly enjoy visiting the ancient Siam capital of Ayutthaya, but I've become equally enchanted with lesser-known Sukhothai, a short boat ride up the river.
Capital of the Thai Kingdom in the 13th century, it has fine examples of classical Thai architecture in the shape of more than 200 temples and Buddha statues. The landscape is completely flat, with few cars on the roads, and I took a cycling tour to explore the vast site.
My guide picked out a few of the most interesting temples for us to visit. One of these, Wat Mahathat, was built at the spiritual heart of the site, fronted by a giant seated Buddha.
I recommend taking the tour in the late afternoon to avoid the midday heat. We paused at sunset to sit by the edge of a sacred lake and watch the sun drop down behind the temples.
Discover the quieter island of Koh Yao
by Robert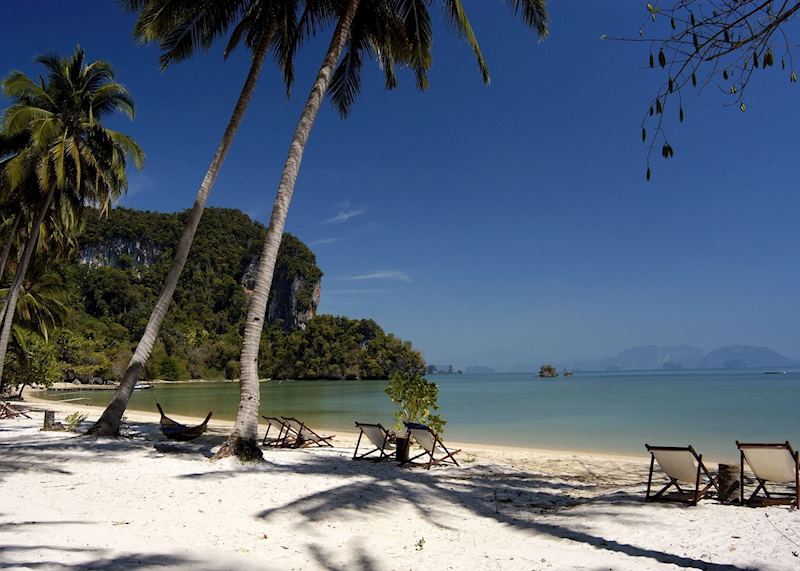 Some of Thailand's islands have a just reputation as busy places with uninterrupted lines of beach bars and resorts. Yet, it's still possible to find a quieter spot.
The islands of Koh Yao lie hidden in plain sight — right among the limestone cliffs of Phang Nga Bay, a 30-minute boat ride from Phuket. With only a scattering of fishing villages and a couple of hotels, they're my first choice for relaxing after exploring the country.
The Six Senses sits surrounded by jungle on a rugged hillside on the east coast of Koh Yao Noi. The 54 stand-alone villas are the epitome of barefoot luxury with spacious living areas and private pools. The hotel's strong ecological ethos extends even to the resident chickens, which are played jazz to relax them.
A more rustic alternative is the Koh Yao Island Resort. The rooms and villas don't have air conditioning, but I enjoyed the open-air feel of the property and my room's views right across the bay.
Hike Thailand's oldest reserve: Khao Yai
by Sophie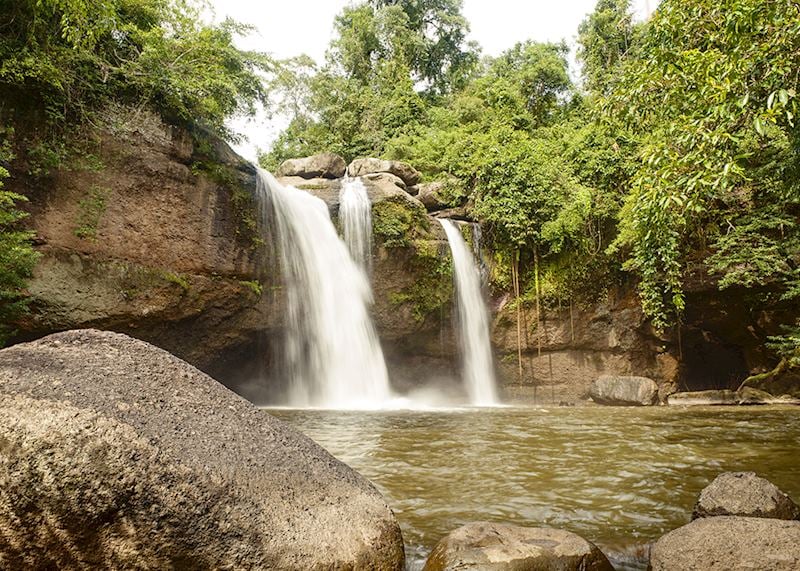 Despite being a two-hour drive from Bangkok, Khao Yai National Park attracts only a trickle of visitors, and I find it an ideal antidote to the buzz of the city. A UNESCO World Heritage Site, the park protects one of the largest intact monsoon forests remaining in Asia.
It's best explored on foot, and I took a walk with a national park ranger who, at the smallest sound, could lead me to macaques, hornbills and the elusive wild Asian elephant. Along the way, we stopped to cool off at the Haew Suwat Waterfalls, used as a location in Danny Boyle's 2000 film The Beach.
Most of Thailand's national parks only offer simple accommodation, but here you can stay in the luxurious and contemporary Kirimaya Golf Resort and Spa. During the evenings, you head back out into the park with your ranger, walking down the trails by torchlight, looking for civets, porcupines and the tiny mouse deer. You can also head to caves deep in the park to watch the nightly bat exodus at dusk. Millions of bats spiral into the air, swirling to avoid any lurking predators.
I suggest combining a stay here with a visit to Ayutthaya before heading onto the beach.
Try a cooking experience that's a bit different
by Mat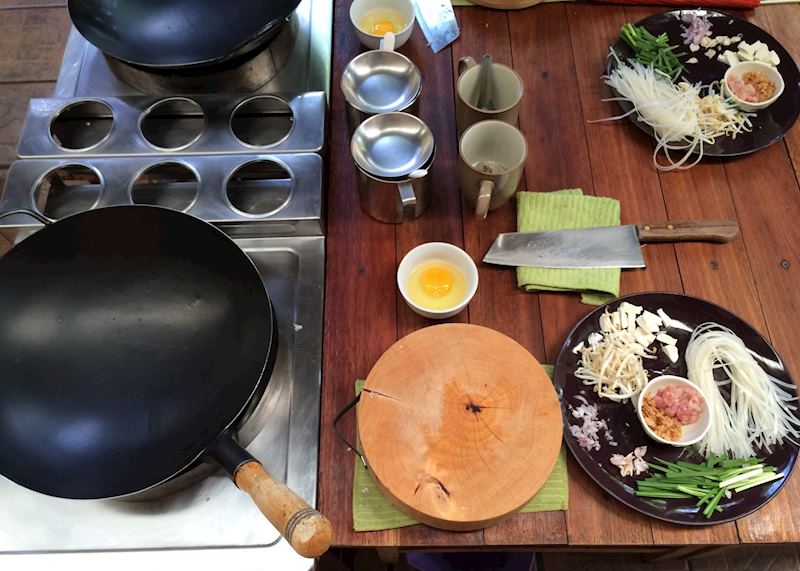 I've found that almost every hotel and restaurant offers a Thai cooking experience of sorts. With many cooking courses sounding similar, it can be difficult to know which to try. I've picked out two experiences that offer something a little more unique.
Take a cookery course with a celebrated Thai chef
Siripen Sriyabhaya, otherwise known as Yui, is a chef who has made her name on television in Thailand but still manages to find time to run a cookery school from her home in Chiang Mai.
It's here international chefs come to learn their Thai cookery skills — Yui has an impressive list of past students. Running each lesson herself, for classes of eight students, Yui squeezes in a lot of techniques that are instrumental in learning how to cook Thai.
Yui may be a draw for professional chefs, but she's more proud of her work with complete beginners (she gleefully told me about one student who had once burned his kitchen down). We learned how to tackle two classic dishes, red panaeng curry and tom yum goong (hot and sour prawn soup), so carefully explained that I can recreate them at home.
Spend the day cooking with a Thai family
I stepped away from the professional kitchen to spend the day with a Thai family in Chiang Mai. We began in the garden. Helped by one of the family, I picked fresh chillies and basil leaves, and foraged for cilantro root. Meanwhile, the rest of the family — all four generations — had begun to prepare the rest of the ingredients.
I was then patiently coached through preparing a number of dishes, pounding the fragrant curry pastes and balancing the delicate salty and sweet tastes. By the time we sat down to eat together, I felt a welcome guest of the family and that I'd gained a real appreciation of the complexities of Thai food.
Chiang Mai connects easily with Chiang Rai, a great starting point for touring northern Thailand and the Golden Triangle: the convergence of Myanmar, Laos and Thailand.
Find hidden luxury at the Four Seasons Tented Camp by Alex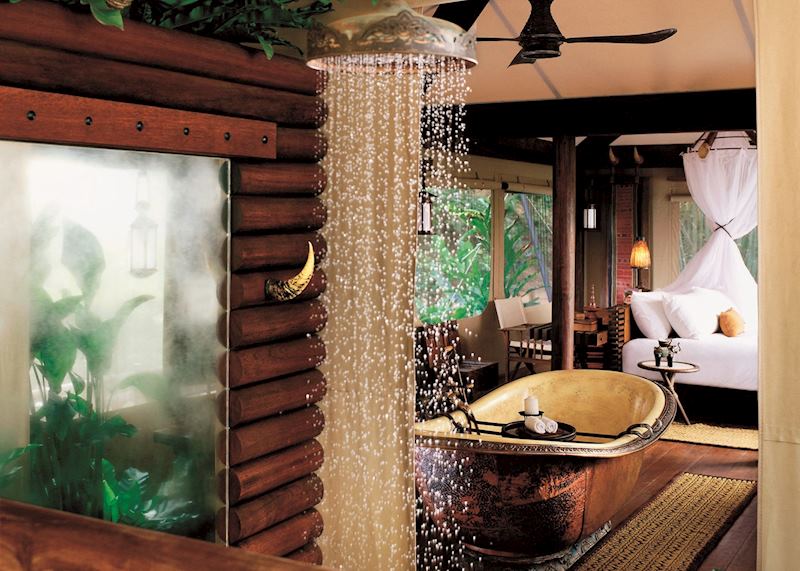 Thailand has world-renowned beach resorts and skyscraper hotels but I suggest looking a little further for a luxurious stay. The Four Seasons Tented Camp is hidden away in Pantip, northern Thailand, bordering Myanmar and Laos. With only one other hotel in the area, it's a secluded escape — and with only 15 tents, it's also pretty exclusive.
The hotel is only accessible by riverboat and I was greeted at the dock with all the ceremony you'd expect of a top-class hotel. Sipping an iced juice, I was led to my tent. The open-plan tents have spacious terraces and are spaced at discreet distances between the trees; some have private hot tubs. Days are spent by the pool, learning to wash and feed the elephants in the attached sanctuary or taking a market tour across the border in Laos.
Designed in the style of a 19th-century explorer's camp, it felt like a real adventure — albeit a rather comfortable one. While feeling isolated, the camp is actually a short drive from Chiang Rai Airport, making it simple to travel onward to Bangkok.
Start planning your trip to Thailand

Start thinking about your experience. These itineraries are simply suggestions for how you could enjoy some of the same experiences as our specialists. They're just for inspiration, because your trip will be created around your particular tastes.
View All Tours in Thailand