By Canada specialist Jamie
Western Canada might conjure images of snow-topped mountains and emerald lakes. But, I'd argue that Vancouver Island, off the coast of British Columbia, has just as much allure.
You can walk through dense temperate rainforests of moss-draped trees to see grizzly bears fishing for salmon. Paddle along the rocky coastline and in sheltered bays in a kayak. Take a boat trip for close-up views of orcas and dolphins. Stroll deserted beaches strewn with driftwood in the north of the island, or spend a relaxing couple of days browsing the art galleries and wineries of Salt Spring Island, between Vancouver Island and the mainland.
How can Vancouver Island fit into a wider trip?

Vancouver Island is worth a visit in its own right. But, you can explore all of the areas I've highlighted below as part of a self-drive trip taking in Vancouver Island and the Canadian Rockies. You could also pair a visit to the island with a drive along the Sunshine Coast Highway, as outlined in our western Canada self-drive guide. Or, add on time for bear watching at one of the province's dedicated lodges.
Whale watching from Victoria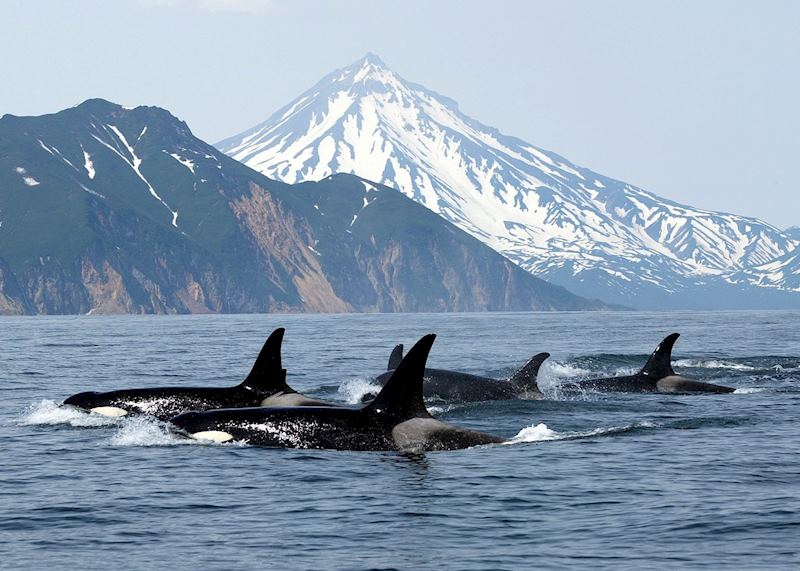 At the cry of 'orca!' everyone rushed to the sides of the boat just in time to see the black-and-white curve of an orca flash briefly above the waves before disappearing again. A few minutes passed as our eyes darted across the water, not knowing where to look or point our cameras. Then, a spurt of water to my left indicated the orca's new location.
The waters around the San Juan Islands, close to Victoria, are home to several resident orca pods. You can take a three-hour boat trip to see them from Fisherman's Wharf, where fishing vessels are moored up beside brightly painted wooden buildings.
The on-board naturalist told us more about orcas as we looked out for more sightings. 'An upright dorsal fin is evidence of a healthy orca,' he explained, 'but most orca in captivity have droopy ones.' Luckily, each orca we saw seemed healthy and happy as they fluked and glided through the waves. I soon gave up on taking photographs, instead choosing to enjoy the moment.
A short seaplane flight from Vancouver, Victoria is the unassuming provincial capital of British Columbia. The city was named after Queen Victoria by its British settlers, whose influences can still be felt as you wander around. Grand Victorian brick buildings line the streets, and I even saw a kilted man playing the bagpipes on the waterfront.
You can tour its parliament building for an insight into the government's workings, and its history. I also recommend a visit to the Royal BC Museum. It contains a vast collection of historical and cultural artefacts, ranging from original totem poles to reconstructed Victorian streets and taxidermy.
Where to stay in Victoria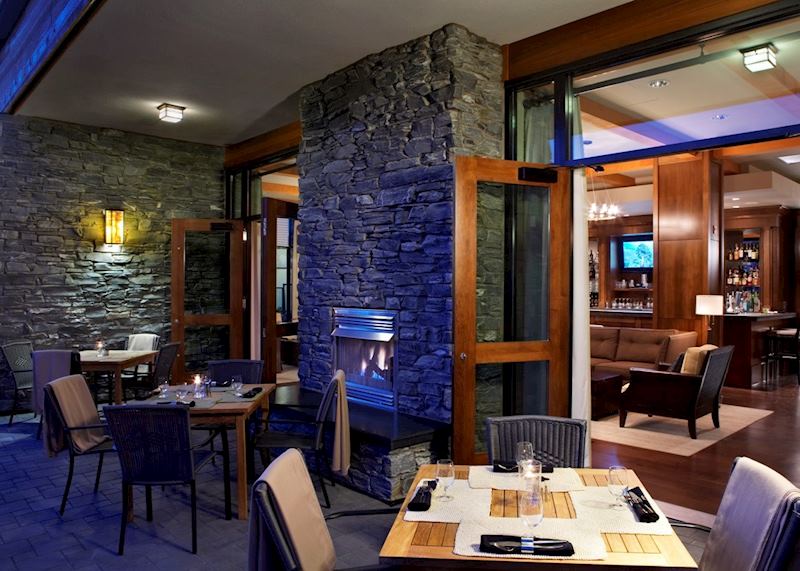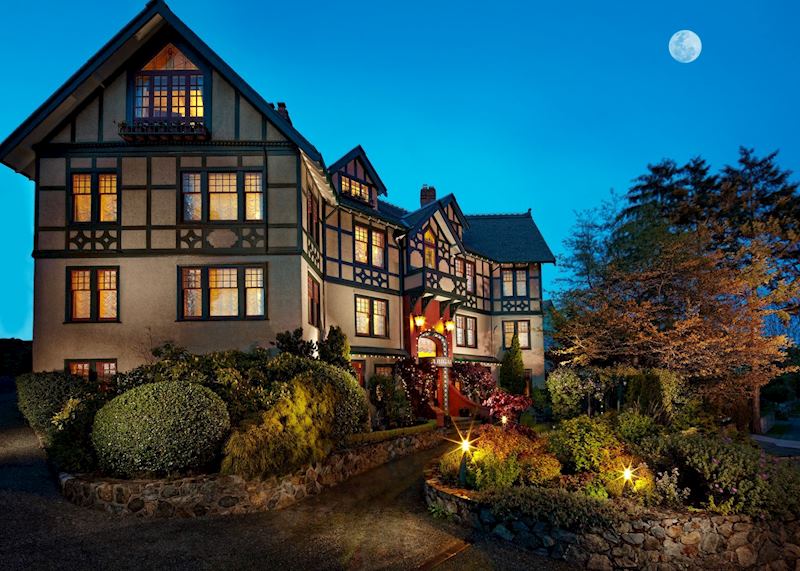 Stay at The Oswego Hotel if you prefer to self-cater, or for a more intimate, characterful stay, get a room at Abigail's Hotel.
Sea kayaking and hiking in Tofino and Ucluelet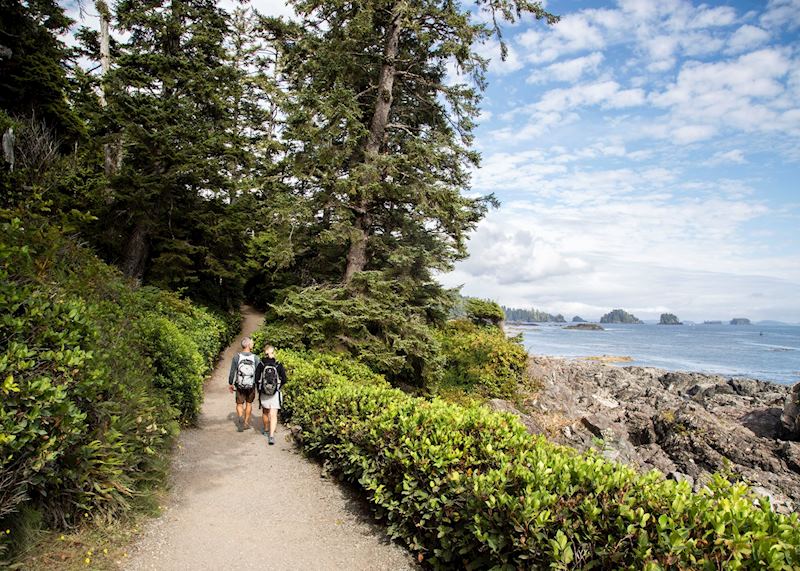 Tofino is one of Vancouver Island's busiest spots, but its popularity isn't a surprise. The town has a laid-back surfer atmosphere, sandy beaches, rainforest trails and plenty of water-based activities, from surfing to bear-watching Zodiac trips along the shoreline.
My highlight was joining a sea-kayaking tour on Clayoquot Sound. The sheltered water had a lake-like calmness as we paddled past bosky islands, the gentle hills and mountains of Vancouver Island's interior rising in the distance.
Throughout the tour, my guide told us about the region's flora and fauna. At one point he pulled some kelp from the water and offered us a taste — salty, slimy, but full of nutrients.
A short drive down the coast from Tofino, set on a peninsula, is the smaller town of Ucluelet. From here, you can hike the Wild Pacific Trail, which is split into several sections taking in rocky coastline, sandy beaches and huge cedar trees.
The 2.6-km (1.6-mile) Lighthouse Loop takes you through mossy rainforest and around the coastline for views over Barkley Sound. Pause at Amphitrite Point Lighthouse, which was built in 1915 and watches over the Broken Group Islands, a popular spot with more than 300 seabird species.
I also like the 2.75-km (1.7-mile) Artist Loops trail, which curls around another section of the windswept coastline. Several viewing decks are set directly above surge channels where you can feel the power of the waves. At one, I spotted sea lions bobbing in the water and resting on rocks.
Farther along the coast, you can stroll a 1-km (0.6-mile) loop through western hemlock, old-growth Sitka spruce and giant red cedar trees, two of which are believed to be over 800 years old. I learned that cedars were traditionally used by First Nations people for making sturdy canoes, buildings and medicines.
Where to stay in Tofino and Ucluelet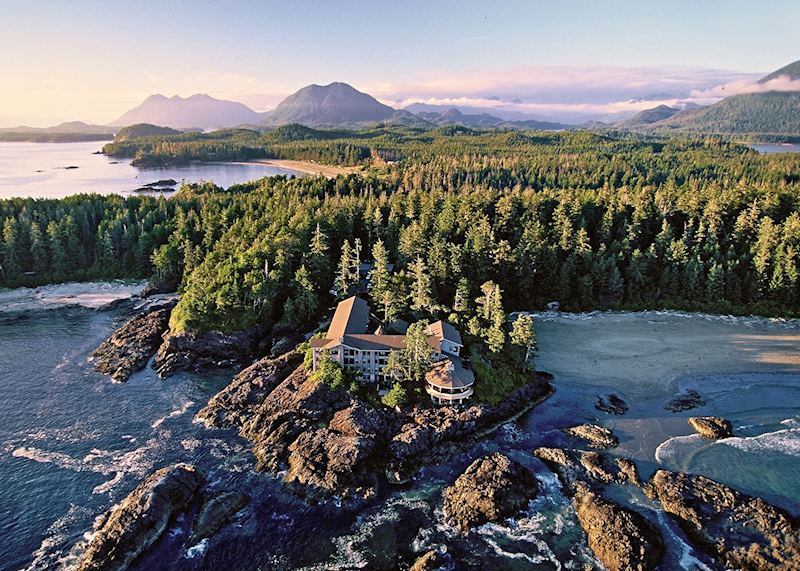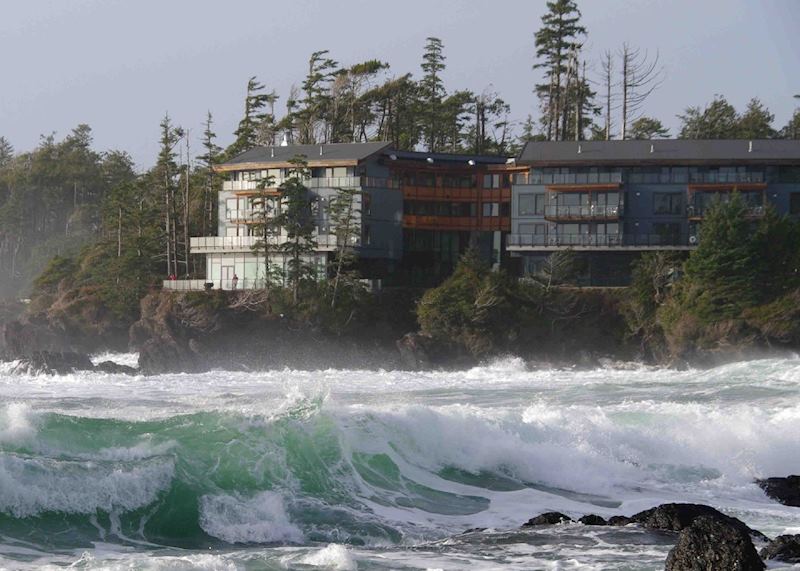 Close to Tofino, the Wickaninnish Inn has an exceptional location on wave-battered cliffs, and service levels to match. In Ucluelet, Black Rock Oceanfront Resort sits on a rocky promontory close to the Wild Pacific Trail.
Bear watching from Campbell River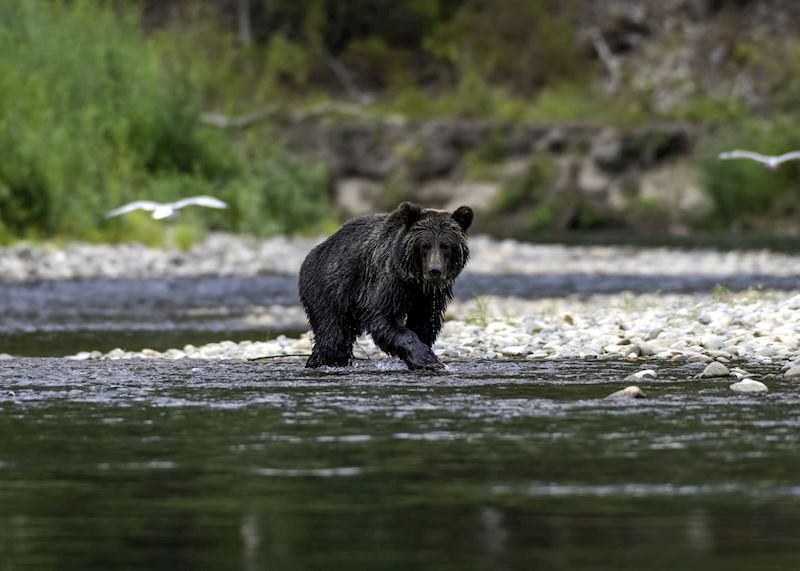 If you can't fit a bear-watching lodge into your trip, you can still have rewarding encounters with black and grizzly bears on a day trip from Campbell River (on the island's east coast) for a fraction of the cost.
You set off by boat, looking out for orcas, dolphins and seals as you head to Bute Inlet, a sheltered stretch of water that slices into British Columbia's coast. Along the way, you pass forested shards of land and gentle hills covered in firs that slope to shingle beaches.
Once ashore, you split into small groups and travel by minibus and on foot through forest. Bear-viewing platforms are strategically located along the river, and if your visit coincides with the salmon run in September and early October, you have a good chance of getting close-up views of grizzlies hunting along the banks. I watched a couple of bears snatching and clawing the fish from the water as they thrashed their way upstream.
Even if you visit outside of salmon season, you might see black bears fresh from hibernation, cubs in tow, gorging on sedge grass.
Where to stay in Campbell River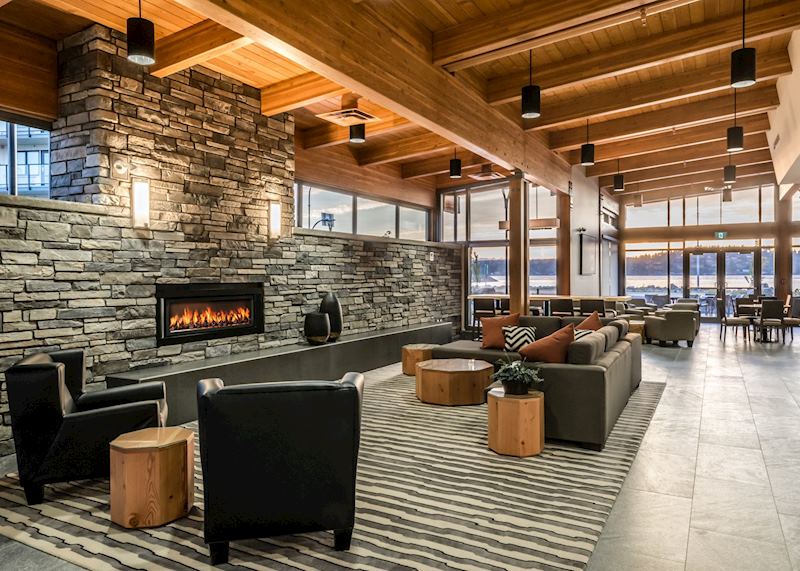 Accommodation is fairly limited, though the Comfort Inn and Suites provides a convenient, modern and comfortable base. Alternatively, stay a few nights at Sonora Resort, a remote island retreat a short boat or seaplane journey from Campbell River. It offers a mix of outdoor activities, including water sports, and you can often spot eagles, orcas and harbour seals.
Remote beaches and forests in Port Hardy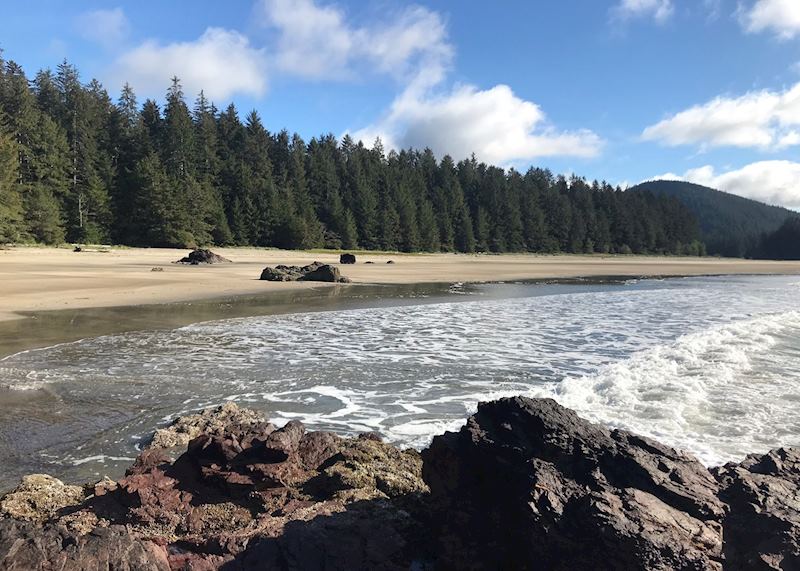 Usually a brief stopover point en route to a bear lodge, I'd argue Port Hardy is actually worth a two-night stay. The town is situated on the island's remote northwest tip, so it's not hard to find secluded spots where you can soak up the area's natural beauty.
I joined a small-group tour of San Josef Bay, close to the town, for a chance to stroll deserted beaches and old-growth forests reached only via a logging road inaccessible to cars. Our local guide, Chris, drove us for an hour and a half along the bumpy track, communicating with truck drivers by radio to ensure we could pass.
You then take an hour-long walk through the forest. The tall trees shroud you from all noises save those made by their wildlife inhabitants. Chris pointed out interesting plants, mushrooms, insects and birds as we walked, along with tracks left by larger animals such as black-tail deer and bears.
Eventually, the forest clears to reveal a huge swathe of empty sand, sheltered in a wide bay. I immediately kicked off my shoes to relish the feel of sand between my toes, the salty wind whipping up my hair. After a picnic of sandwiches and cakes, you're free to break off and explore on your own.
I entered a cave carved out by the swirling tides, where Chris identified wolf tracks. Offshore, we spotted a sea otter twirling in the shallows. And, peering into slime-coated rock pools, I was greeted with a treasure trove of starfish, limpets, whelks and timid crabs.
Where to stay in Port Hardy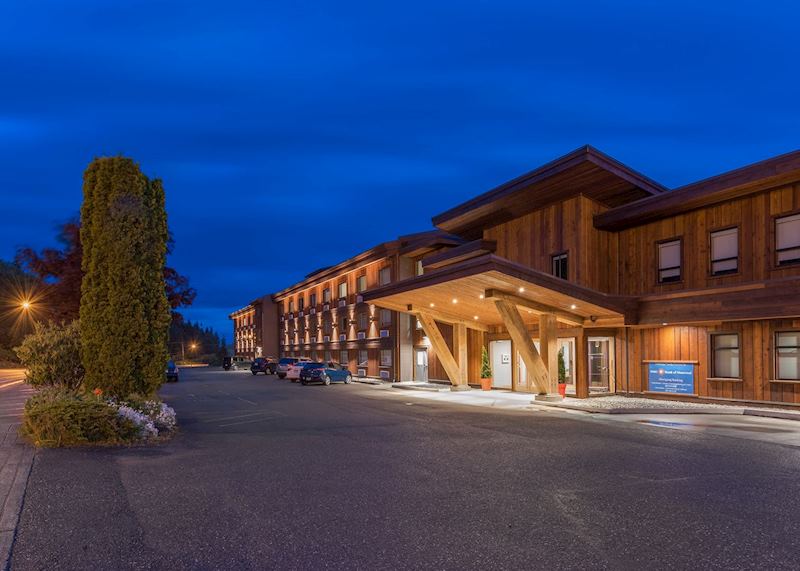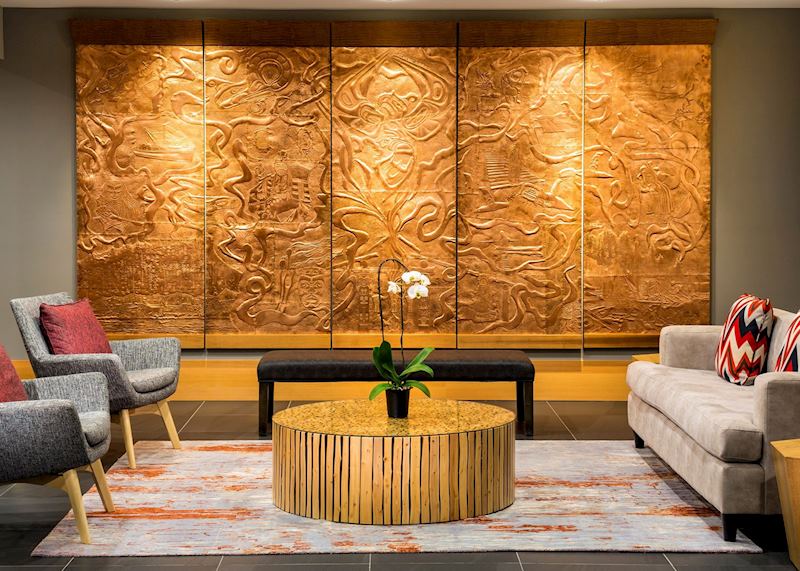 The Kwa'lilas Hotel has a central location in Port Hardy. Its decor focuses on the area's First Nation heritage, while rooms look out over mountains or the ocean.
Art and relaxation on Salt Spring Island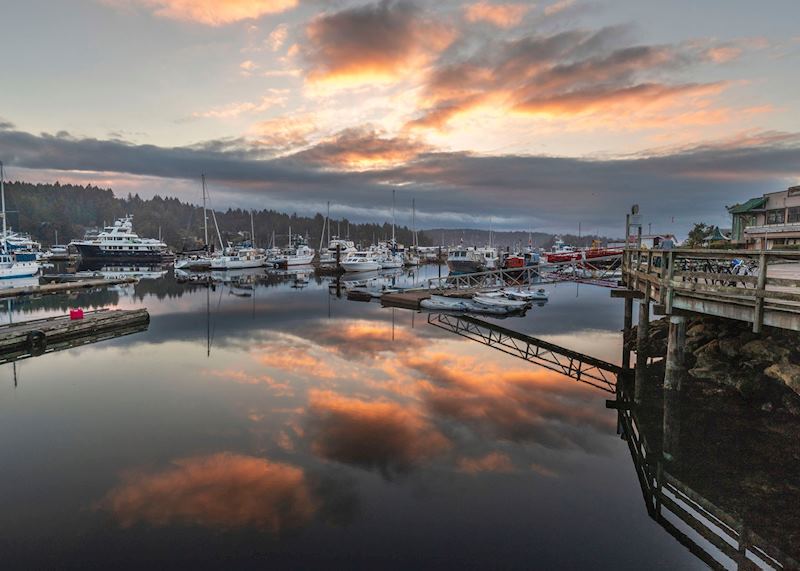 Salt Spring Island, a 45-minute ferry or short seaplane journey north from Victoria, is a laid-back, sleepy island that's particularly popular with artists. In the main town, Ganges, there are lots of galleries you can dip in and out of, and you often see people painting in the street.
You can also visit some of the island's small wineries for a taste of locally produced wines. Or, simply take gentle strolls along the marina.
Best time to visit Vancouver Island
Anytime from mid-May to early October. Mid-September to October is best for witnessing the salmon run, though temperatures will likely be cooler. Rain is possible at any time of year, making the island a popular spot for storm watching.
Read more about trips to Canada

Start thinking about your experience. These itineraries are simply suggestions for how you could enjoy some of the same experiences as our specialists. They're just for inspiration, because your trip will be created around your particular tastes.
View All Tours in Canada