Jen, Latin America Specialist
On my first trip to Central America in 2006 I went from Mexico to Panama. I loved Mexican culture, history and food, but when I got to Costa Rica something just clicked immediately. I returned to Central America in 2011, hungry for new adventures, and planned to travel from Nicaragua to Patagonia, but once I arrived back in Costa Rica I was blown away all over again by nature, the wildlife and the relaxed 'pura vida' (simple life) philosophy. I explored the whole country and not one day went by without discovering something new. I fell completely in love with the country and ended up living there for six years, beguiled by the Costa Rican lifestyle and the possibility of every day being a new adventure. Since returning to London, I've been back to Mexico twice and had a chance to explore Cuba. I can't wait to share it all with you.
Speak to Jen

Start planning your trip to Central America with Jen by calling 01993 838 469

Q&A with Jen
What's the best local dish you've tasted?
Usually, ceviche is made from raw fish or shrimp, but palmito ceviche, made with heart of palm, is fresh, light and tangy and great eaten with some tortilla chips. You'll find it in top restaurants and on streets stalls, right across Central America (for example). The central ingredient is the palmito, the heart of palm, which is cut into cubes and mixed with chopped up tomato, red onion and coriander (cilantro), sometimes it also has cucumber, peppers or avocado, and always plenty of lime juice, salt and pepper, and the secret ingredient: a shot of ginger ale.
What's the one thing you always pack?
In Central American countries, power cuts are fairly common and a headlamp comes in really handy. Along with navigating around your darkened hotel room, it also helps when exploring caves or if you underestimate how dark the walk back to your hotel is after watching the sun set.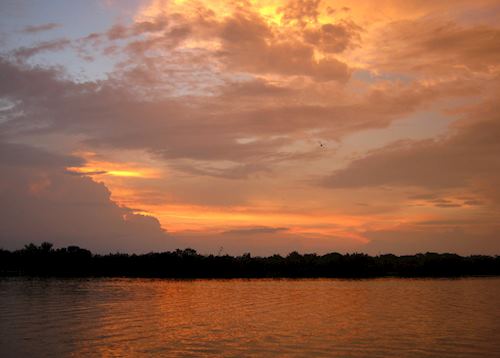 What's your most vivid travel moment?
Remote Parismina in Tortuguero National Park in Costa Rica is full of waterways and canals and I was immediately captured by its serenity. The humidity and the misty air, the black sand beach with the rough water, and the abundance of wildlife felt unreal. Walking on the beach that night in the dark was already a novel experience: I had never seen that many stars before. But when we saw a huge leatherback turtle emerging from the ocean to lay her eggs I was in awe. I made memories for a lifetime that night.