When is the best time to go on safari?
For the very best honeymoon experience, we want to help you choose a destination that suits your particular interests and works with the season you wish to travel in. We've pooled our specialist's expertise to help you discover which destinations are at their best in each month.

You'll find a range of suggestions to inspire you, from traditional beach stays, to active trips, safari experiences and cultural tours.
Speak to someone
who's been there

Start planning your tailor-made trip by contacting one of our destination specialists
Month-by-month guide for travelling on honeymoon ideas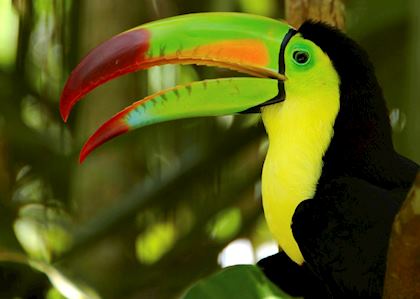 Travelling on honeymoon ideas in January
Escape the cooler climes of January on the west coast of Thailand, where jungle-topped limestone karsts are a dramatic backdrop to a beach honeymoon — which can be combined with street-food tours in Bangkok.
Sunshine and little rain makes this a good time to honeymoon in the Caribbean. We suggest an island-hopping honeymoon across the island for a variety of memorable experiences, from deserted beaches in the Grenadines to chocolate plantation stays in Saint Lucia.
Belize makes an excellent active honeymoon destination at this time of year. You could combine a rainforest lodge stay with Mayan ruins, snorkeling and diving.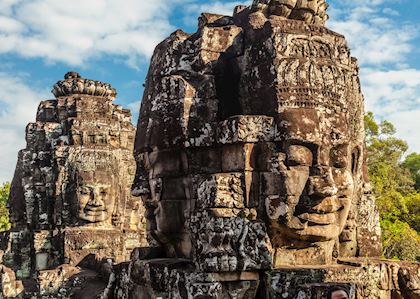 Travelling on honeymoon ideas in February
Sri Lanka sees calm skies and warm temperatures in February, for a relaxing honeymoon by the coast paired with cultural explorations inland. Combine your visit with the powder-soft sands of the Maldives, where you'll find a host of experiences designed specifically for honeymoon couples.
It's also warm and dry in Cambodia, where you could spend time exploring Angkor Wat and the city buzz of Phnom Penh, followed by a stay on an unspoiled beach or private island.
For somewhere a little different, consider an Antarctic cruise for your honeymoon, where you'll see penguin chicks and a variety of whale species.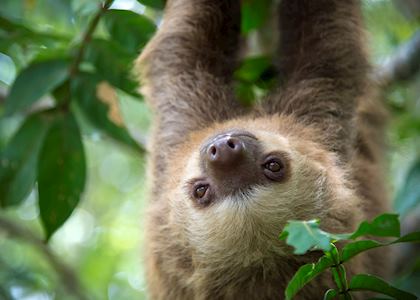 Travelling on honeymoon ideas in March
Morocco's clear skies are ideal for an under-the-stars honeymoon experience in the desert, as well as comfortable temperatures for exploring Marrakesh and the Atlas Mountains. A range of sumptuous accommodation makes this a luxurious honeymoon option.
For more adventure, March is a great time to spot wildlife in Costa Rica's cloud forests. Choose the tempo for your stay by either opting for the adrenaline-fuelled zip-line experiences or spending your days relaxing on the beach.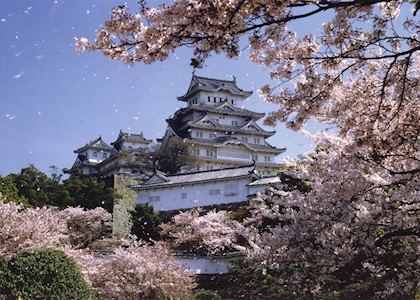 Travelling on honeymoon ideas in April
Hawaii's golden sands and jungle-covered volcanic scenery make a dramatic backdrop for a relaxing honeymoon, with opportunities for surfing and hiking.
In Japan it's peak cherry blossom season. If you're keen to see the blooms, it's important to book well in advance.
China sees comfortably warm weather and little rain, with ideal walking conditions along the Great Wall. It also celebrates its own, little-visited cherry blossom season.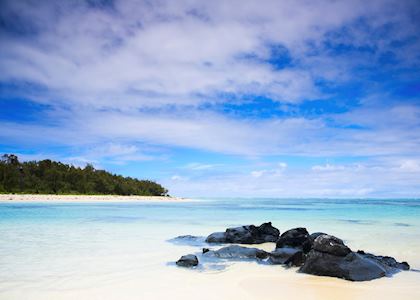 Travelling on honeymoon ideas in May
Mauritius offers a classic beachside honeymoon this month, with warm weather and clear skies, which could be combined with inland hikes and private guided tours.
For a honeymoon road trip, look to California, where you could take in LA's beaches, whale watch or explore Napa Valley's vineyards. Or consider Canada, which sees ideal temperatures across the country in May.
In Italy temperatures remain cool enough to explore and the busy summer crowds haven't arrived yet. This makes it an ideal time to see popular sites as well as seeking out lesser-known places.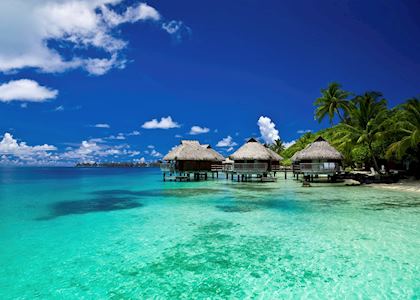 Travelling on honeymoon ideas in June
A popular honeymoon destination, the South Pacific Islands greet you with clear skies and warm waters. From Fiji to French Polynesia, consider combining destinations for an island-hopping trip with a range of experiences.
It's whale watching season in Argentina, which you could pair with time exploring Patagonia and Buenos Aires.
And it's an excellent time to honeymoon in Spain and Portugal, while temperatures are warm and the crowds are yet to arrive.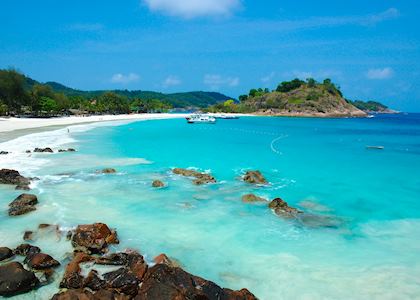 Travelling on honeymoon ideas in July
It's Northern Australia's dry season in July, with sunny days and warm temperatures. Consider a Kimberly cruise, time spotting turtles in Kakadu National Park or an outback lodge stay under the stars.
In Indonesia it's also dry and warm, ideal for those seeking an island-hopping honeymoon with plenty of diving and snorkeling opportunities. For a relaxing experience, look to the beach resorts of Malaysia's east coast, which compliment a city adventure in nearby Singapore or Kuala Lumpur.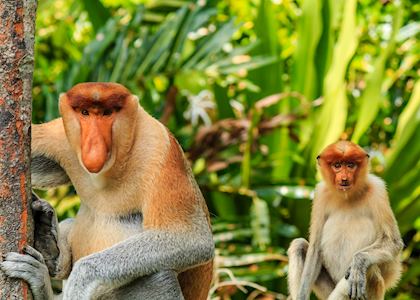 Travelling on honeymoon ideas in August
It's Botswana's dry season, which brings predators out to the waterholes for good animal sightings. With a variety of comfortable lodges available, there are plenty of opportunities to plan a luxurious honeymoon.
Borneo offers a more tropical wildlife experience, where you could combine wild orangutan spotting and jungle walks with snorkeling under sunny skies.
The white sands of Central Vietnam's beaches see almost constant sunshine, which you could team with time exploring the markets and cafes of Hoi An.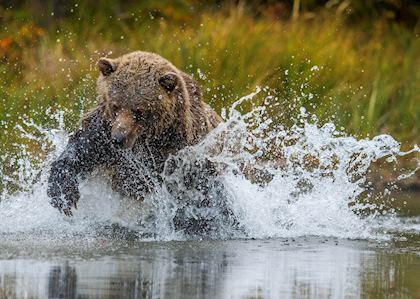 Travelling on honeymoon ideas in September
For a classic beachside honeymoon, Zanzibar's beaches are at their best in September and could be combined with an African safari or a cultural tour of the island. Or look to French Polynesia, where the September sun's rays hit the islands' lagoons at just the right angle to bring out the vivid turquoise hues of the classic Polynesian landscape.
In Peru, the busiest season is tailing off making it a good time to tackle to Inca trail, or one of its alternatives, and take boat trips across Lake Titicaca under sunny skies.
Look to Canada if you're after a wildlife-focused honeymoon, where you can go bear watching in British Columbia.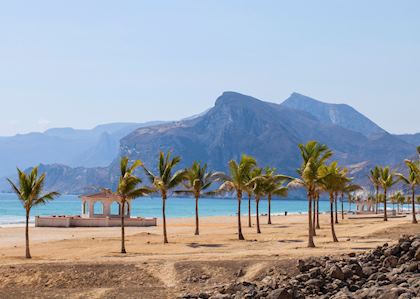 Travelling on honeymoon ideas in October
New Zealand is coming into spring, with fields awash with spring flowers, but temperatures are still cool enough for hiking. Seasonal melting of the glaciers makes this a good time to try white water rafting on the swelling rivers.
For a self-drive honeymoon, this is a good time to drive along Route 66, as the summer crowds have dispersed but temperatures are still warm.
Oman's beaches are at their best, with little rain and clear skies. It's harvest season, with fresh pomegranates, olives and grapes in abundance.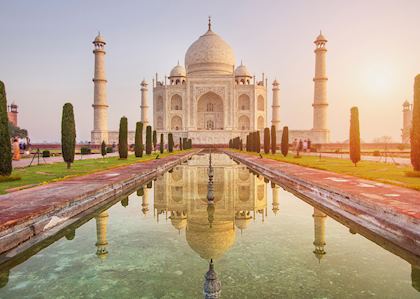 Travelling on honeymoon ideas in November
In India, the weather is comfortably warm, and if you tie your honeymoon in with Diwali, the Hindu festival of light, you'll be met with fireworks and candle displays. Or for something more active, look to nearby Nepal, where the skies are clear, crisp and ideal for Himalayan trekking.
It's whale watching season off the coast of South Africa, which you could combine with a self-drive honeymoon from Cape Town through the Winelands — with plenty of options for luxurious boutique stays along the way.
For cultural exploration, it's festival season in Myanmar (Burma) and rainfall is at its lowest.
Travelling on honeymoon ideas in December
If you're looking to escape the chill of winter on your honeymoon, the Caribbean season starts with comfortably warm temperatures and less rain. It can get busy over the festive period, so we recommend a lesser visited island like Grenada or Saint Kitts and Nevis.
If you're seeking winter sun with a dash of adventure, consider Brazil's jungles, waterways and vibrant cities. On New Year's Eve, you could gather alongside Rio's residents to watch fireworks above Copacabana Beach.
For cooler climes, honeymooning in Canada's winter season gives you an excellent chance of seeing the northern lights, while in the Antarctic, days are long and penguins and seals particularly active.
More choice for your safari
Inspiration across all our African destinations
Trip suggestions based on your interests
Advice on where to safari, when
Meet our team of safari experts Why our safaris stand out
An abiding passion for Africa, which stretches back decades, and our experts' up-to-date knowledge come together to put our safaris ahead of the rest.